Denny's Secret Menu Items You Need To Try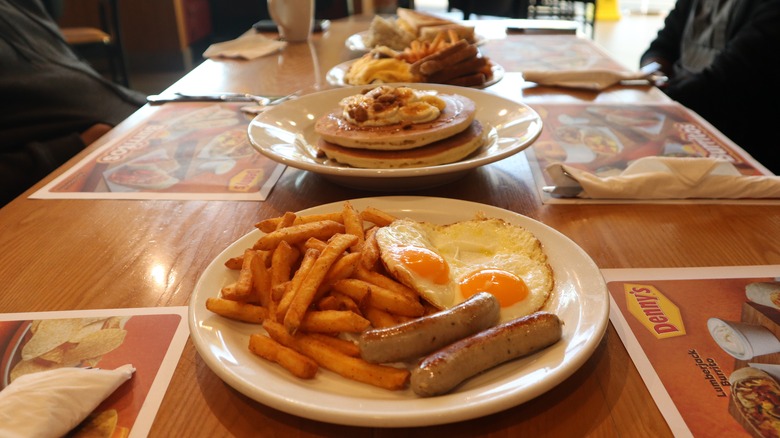 ST stocks/Shutterstock
When you think of a classic American breakfast, there are probably a few chains that come to mind — one of them is likely to be Denny's. Since its inception in California in 1953 under the name "Danny's Donuts," the iconic zigzag-shaped roof has expanded to almost 1,500 locations in the U.S. alone, with hundreds of other franchises around the world in places like Mexico, Canada, Australia, New Zealand, Japan, and the United Kingdom.
Chances are you've spent sunny mornings eating with the family or recovering from a long night at America's (self-proclaimed) Diner. You've likely tried some of Denny's classic breakfast favorites, like the Grand Slamwich, loaded nacho tots, country-fried steak, Wild West omelet, or All-American Slam. But did you know that Denny's boasts its own selection of secret menu items? If you're interested in trying less familiar dishes at the diner, keep reading. You might just discover your new favorite breakfast classic.
French toast grilled cheese
One of the best (or worst, depending on your viewpoint) qualities of America's restaurants, chefs, and home cooks is that they are constantly trying to combine different foods to create an even greater product. Many of them fail, but Denny's hit the spot with this one: the French toast grilled cheese.
The best of two breakfast worlds — savory cheesiness and sweet French toast — create an incredibly delicious (yet simple) concoction. Although many grilled cheese lovers might think that adding sweetness to the equation is an abomination, that couldn't be further from the truth. Combining the richness of the butter and cheese with cinnamon and sugar creates an absolutely mouthwatering duo that gives off similar vibes to a Monte Cristo sandwich. It will definitely have you coming back for more. 
To get your French toast grilled cheese, just ask your server. If they look confused, you can simply explain that you want a grilled cheese, but with two slices of French toast. 
Scrambled eggs cracked on the grill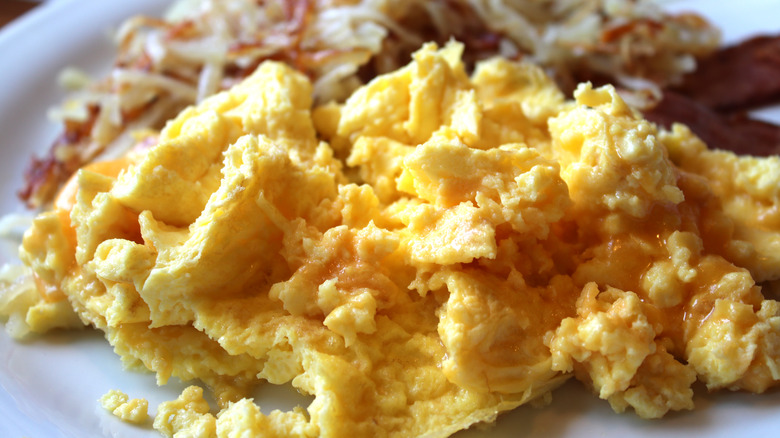 Eric Glenn/Shutterstock
We've got some good news and bad news, and you're going to have to hear the bad news first. Many breakfast establishments (Denny's included) don't actually use real eggs when it comes to your favorite morning dishes. Instead, they tend to use a liquid or powdered egg formula that allows the restaurant to make large quantities quickly. The alternatives have a longer shelf life than real eggs, and most importantly for businesses, they are way cheaper.
If you cringed a little bit at the thought of eating dehydrated or liquified eggs for breakfast, you're not alone. Although Denny's typically uses powdered eggs when making your scrambles, you can simply ask for "real eggs," "shell eggs," or eggs "cracked on the grill" to ensure that you're getting the real stuff when you order a breakfast scramble.
Pre-packaged powder or liquid eggs are typically just used for scrambled eggs. According to an ex-Denny's server, if you're getting your eggs poached, over easy, medium, hard, or sunny-side up, they're most likely made with real eggs. But hey, some people like the dehydrated stuff, no judgment.
Breaded fish
When people think of Denny's, the first dish that comes to mind probably isn't fish. But if you can manage to get it with a crispy breading, it might soon be. According to a Denny's employee on Quora, this once popular item was on the menu for more than 25 years until it was taken off. However, the word on the street is that Denny's fish and chips dish is still in the computer system, even though it's not actually on the menu.
To get your hands on arguably one of the most popular ex-menu items at Denny's, you'll have to be extra polite and see if your location can put the order in. Why put all the work in for breaded fish at a breakfast food chain? The fish comes out hot, crispy, crunchy, and super well-seasoned. If you're not craving the typical breakfast foods the next time you end up at the diner, you would do very well to get your hands on a plate of breaded fish.
Tsing Tsing chicken
Chances are you probably don't think of East Asian food in association with Denny's. This particular secret menu item looks like something you would order straight out of Panda Express or P.F. Chang's. But as we mentioned, Denny's has evolved into a worldwide restaurant chain that boasts international cuisine.
Although Tsing Tsing chicken has been discontinued in most franchises in America, it can still be found at certain locations. It's not exactly a secret menu item — it's officially on the menu, but just not at all Denny's restaurants. Unlike the typical American breakfast dishes that Denny's offers, Tsing Tsing chicken comes with steamed rice and broccoli, along with a delectable sweet and savory glaze topped with sesame seeds. Just keep in mind that this meal might be different between franchises since it's not available everywhere.
However, just about everyone who has tried Tsing Tsing chicken loves it. Several Facebook users recommend it and attest that it tastes amazing. Again, like other items on this list, you'll need to do a bit of sweet-talking and searching to find this one, but when you do, it will definitely be worth it.
Low carb substitutions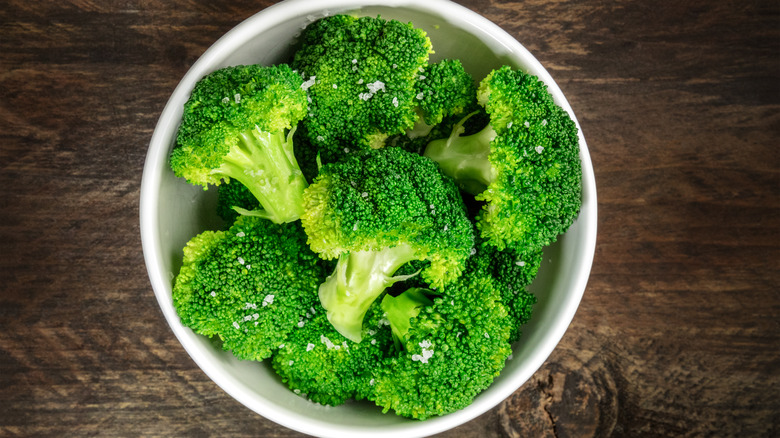 Plateresca/Shutterstock
If you're actively looking for low-carb meals, you probably aren't hunting down big breakfast chains like Denny's, given that carbs are one of the most crucial aspects of a big American breakfast. With that said, if you do find yourself at Denny's looking to alleviate a carb overload, you're in luck. The restaurant has several options when it comes to swapping out parts of your meal for healthier alternatives.
For example, you can order your burgers bunless to drop around 250 calories from your meal. Another healthy alternative is to order steamed broccoli for no extra charge instead of the usual side of french fries, rice, or mashed potatoes, eliminating up to a whopping 450 calories.
There are plenty of other ways to customize your meal for a healthier spin. If you love getting your egg fix with breakfast, order an omelet along with delicious low-carb veggies like onions, mushrooms, and spinach. Instead of toast or hash browns, get yourself a side of sausage or bacon. The salads are pretty flexible too — you can get a house salad with grilled steak, chicken, avocado, or bacon along with a tasty vinaigrette dressing.
The main point here? Denny's has a huge menu and list of ingredients to pick from, so ask nicely and the staff should be able to customize your order without any extra cost.
Add bacon to everything
Are there any two sweeter words than "extra bacon?" Although Denny's is a staple breakfast chain in many American diets, some people might be torn between a classic hit like the Grand Slam Slugger or something bacon-less like a country-fried steak. There's no need to choose; you can add extra bacon as a side to your meal or add it to just about anything you desire.
Ask employees to add bacon to your zesty nachos, on top of your spaghetti bolognese, in your Mega Philly Melt, or to double up on the strips in your beef bacon Slamburger. There isn't a menu item that can't be enhanced with more bacon. Just be ready for some weird looks if your love for the stuff spreads to the dessert menu. Bacon-topped Pancake Puppies sundae, anyone?
Historically, Denny's is no stranger to bacon maniacs. Back in 2011, Denny's ran a promotion called Baconalia that caused waves throughout the U.S. The promotional menu included caramel bacon-stuffed French toast, bacon pepper jack tilapia, BBQ bacon mac 'n cheese bites, and the ultimate bacon breakfast with six strips of bacon. There were even desserts such as a maple bacon milkshake, maple bacon sundae, and salted caramel brownie sundae with bacon.
Cheesy hash browns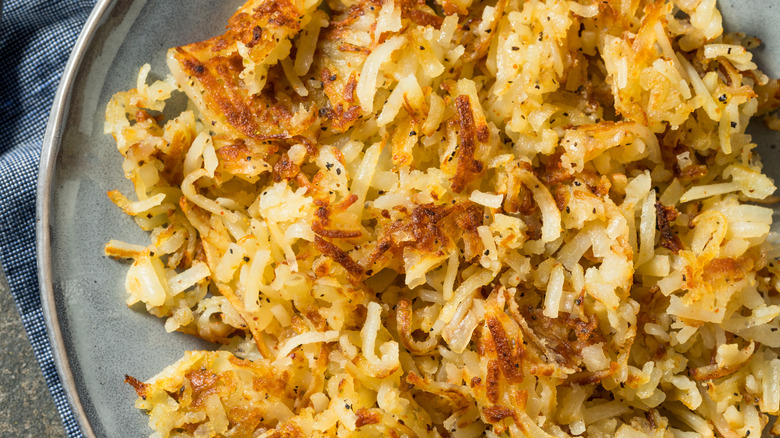 Bhofack2/Getty Images
If you can get bacon added to just about everything, the same should go for cheese. But we're not going to go through every dish you can add cheese to — we'll leave further experimentation up to you. Instead, we're going to cover one very specific, delicious concoction. If you've ever been to Denny's, you know that one of the tastiest items on the menu is a serving of hash browns.
Denny's version is crispy, crunchy, light, buttery, and fluffy all at the same time. They are perfectly seasoned and make an excellent side served with pretty much any item on the menu. Drizzling warm melted cheese on top adds just the right amount of richness to counterbalance the crunchiness of the potatoes beneath. Yes, there's nothing fancy or gourmet about this secret item, but if you're a cheese-lover, you pretty much can't go wrong with this one.
Fried cheese melt
Continuing with the theme of extra cheesy cheesiness, another signature item from Denny's secret menu is the fried cheese melt. This isn't just any ordinary grilled cheese sandwich — it's been taken up to the next level. The sandwich is made with two standard bread slices toasted to buttery perfection, with several layers of cheese in between.
What sets Denny's version of the classic grilled cheese apart? The restaurant throws in four to five of its crispy mozzarella sticks in between as well. So you get the buttery, comforting creaminess of a grilled cheese sandwich, along with the crunchy, savory cheesiness of mozzarella sticks. The deep-fried seasoned breading adds a totally different layer of complexity to the traditional sandwich.
According to the folks on Reddit, this creative concoction is an absolute hit with those who have tried it. Just get some tomato soup or a cup of marinara sauce on the side for dipping, and you might have found your new favorite meal from Denny's.
Add Beyond Meat patties to your breakfast meal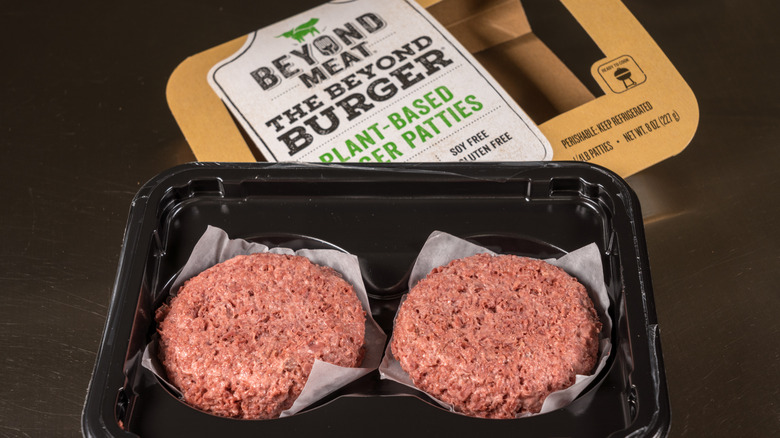 Steve Heap/Shutterstock
If you're a regular at Denny's and don't eat meat, you're probably aware that Beyond Meat burgers are available on the menu. For the uninitiated, the dish features a 100% plant-based patty topped with crisp lettuce, sliced tomatoes, onions, pickles, cheese, and sauce, all on top of a multigrain bun.
Although the burger is just about as good as a burger can get without including meat, some people might get tired of getting the same old dish every time they go to Denny's. Luckily, there's a cool little hack that vegetarians and vegans can enjoy. Instead of sticking to the menu format, try a substitution or customization. For example, you can order one of Denny's signature scrambles without the meat (with or without eggs and cheese depending on your diet), and substitute it with the Beyond Meat patty. According to one bold Redditor who tested it out, "It was surprisingly delicious."
Get That Cookie Dough Pancakes
Depending on your level of activity on social media, these pancakes may or may not be familiar. Since its inception, TikTok has become one of the premier destinations to discover how to get the most bang for your buck at restaurant franchises. While some places might not actually like their secrets being spilled, Denny's fully embraced the movement.
In 2022, Denny's reached out to several foodie TikTok influencers to help create a new set of menu items. According to Chief Brand Officer John Dillon, the promotion was an attempt to bridge the gap with the next generation. Dillon explained, "We didn't want to just work with this diverse group of social stars to 'hack the menu.' Instead, we wanted to take it to a new level and tap into their creative personalities to create distinctly new menu items that are bursting with bold flavors" (via PR Newswire).
Among the first items from the Social Stars Influenced Menu were Get That Cookie Dough Pancakes, created by popular TikTokers @es_jenny_solares and @EnkyBoys. These pancakes are filled with chocolate and cookie dough and topped with cream cheese icing. On the side, you can get eggs, hash browns, and your choice of protein.
The Jala-Bac burger
This TikTok-inspired menu item is fantastic for anyone who loves burgers and spicy foods. The Jala-Bac burger is the brainchild of TikTokers @PaqJonathan69 and @ElTheEgg. It features an entire blistered jalapeño pepper that sits right on top of the pillowy brioche bun. Inside, you'll find a juicy hand-pressed beef patty, white cheddar cheese, lettuce, tomato, bacon, and pickles. Don't forget the wavy-cut fries on the side, as well.
According to the promotional video, the goal was to come up with a dish that offered a little bit of heat and spice, unlike most of the items on Denny's menu. Keep in mind, the huge blistered jalapeño is only meant for those who can handle the heat. If you're looking for that extra kick, make sure your local Denny's is still serving up this TikTok creation on its menu, as it may only be around for a limited time.
Clearly very fruity pancakes
If you couldn't tell by the name, these pancakes are clearly very fruity. This menu item was inspired and designed by TikTokers @CallMeBelly and @Mattheperson. The base is a stack of Denny's incredibly fluffy buttermilk blueberry pancakes drizzled with blueberry syrup. The pancakes are topped with the freshest strawberries and bananas available to complete the stack. That's not it, though. As is the tradition at Denny's, you also get crispy hash browns, a couple of eggs prepared however you like, as well as your choice of bacon or sausage.
Elliott Norris (@CallMeBelly) explains that he worked on this recipe for months, aiming to create something "over the top, [...] and a little fruity, of course." The results are indeed very fruity. If you're trying to get a serving of vitamin C with your Denny's breakfast, look no further. Along with the rest of the TikTok menu, you can find this item at most locations.
Shortberry dream cakes
We're not done with your sugar fix just yet. If you're the kind of person who would prefer to eat dessert for breakfast, lunch, and dinner, this one's for you. This wild pancake concoction — Shortberry dream cakes — was created by TikTokers Dmitri Robinson and Kelz Wright. The treat consists of a stack of buttermilk pancakes topped with all of your favorite strawberry shortcake ingredients: fresh strawberries, pieces of shortbread cookies, strawberry sauce, and of course, vanilla cream. Pair that with hash browns, eggs, and your choice of bacon and sausage for a complete meal.
This dish has reached influencers across various social media platforms; famous mukbang YouTuber Hungry Fatchick shared her love for the sweet, creamy, caked-out pancakes in a video that went viral. Another food reviewer, The Southern Snack, called the dish "messy but divine" and wished the pancakes were loaded up with even more strawberry deliciousness.
Brisk-It-All Melt and the Brisk-B-Q Melt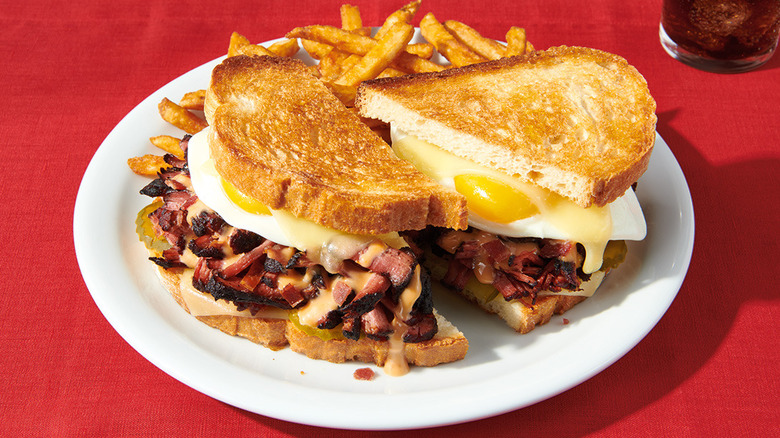 Denny's
These two brisket-centered dishes are served up by TikTokers The Rapping Chef and Grace Africa. First, they created the Brisk-It-All Melt (get it?), filled with slow-smoked brisket burnt ends, two fried eggs, diced-up crispy bacon, Diner Q sauce, sharp white cheddar, and tangy pickles, sitting between two pieces of grilled artisan bread. Add some wavy-cut fries on the side to finish it off — talk about a heavy meal.
If you're looking for something just a little bit lighter, get the Brisk-B-Q Melt. This one comes with the same mouthwatering brisket that falls apart, white cheddar, sauce, and pickles, minus the eggs and bacon. If you're craving some Southern-style barbeque, your first thought probably isn't to head straight to a breakfast diner. But for what it is, Denny's hit it out of the park with this one. Go see for yourself — but make sure it's on a cheat day.