15 Least Expensive Grocery Chains In The U.S.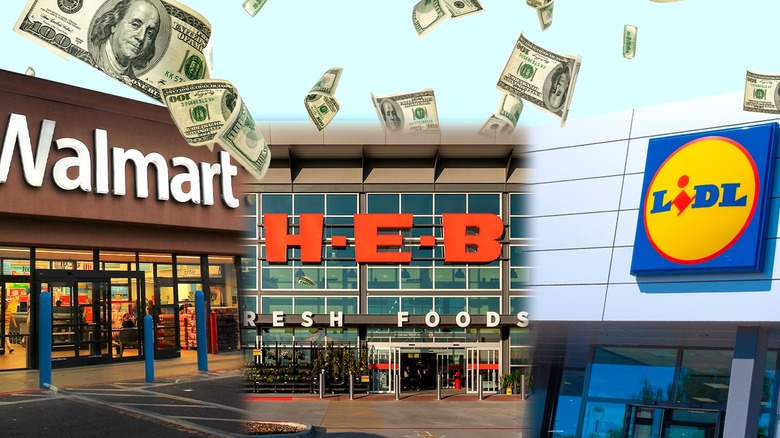 Static Media / Shutterstock
Perhaps one of the hardest parts of "adulting," or just trying to make it in the world is the realization that you will never stop buying groceries (or cleaning your kitchen). Truly, grocery hauls are a weekly occurrence for most people, and it can get taxing trying to meal plan, budget, and then go find everything you need every single week. Especially when groceries seem to be so expensive, it can take a lot out of your budget just to feed yourself or your family.
Fortunately, there are some grocery stores that make staying on budget a lot easier. In a world of Whole Foods and Erewhon, cheap grocery stores might not seem like a thing anymore, but rest assured, they most certainly are. There are quite a few chains that have good prices on everyday groceries, and while some are more regional than others, there's sure to be a cost-efficient option close to where you live.
Aldi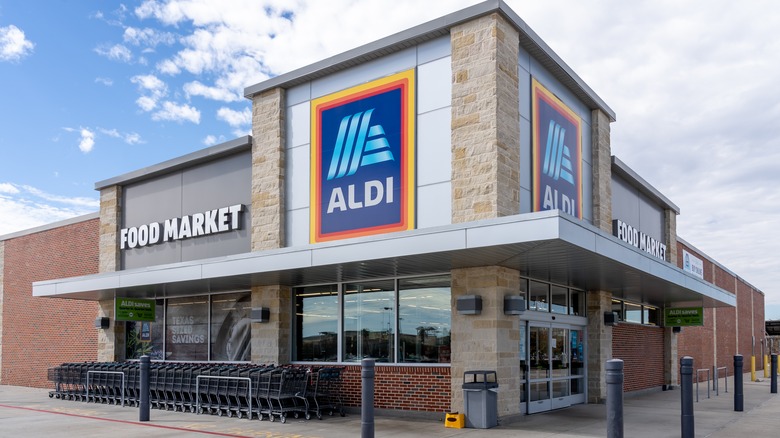 JHVEPhoto/Shutterstock
Undoubtedly one of the most well-known cheap grocery stores out there is Aldi. The German-owned chain is practically famous for being among the cheapest places to buy groceries, but because of that, people have looked down on Aldi for a long time. It's somewhat understandable to assume that a grocery store so cheap would mean lower quality items, but Aldi has been proving the critics wrong for decades.
Not only has it revamped its offerings, but its prices have managed to stay low, too. It's no secret that today's grocery shoppers are savvy and tend to be more health-conscious. It's a lot more common for customers to closely examine ingredient labels and choose items that are organic or that fit their dietary preferences. Aldi started offering more organic items back in 2014, while also promising to keep those items priced an average of 25% lower than its competitors, according to Forbes. As customers know, organic items are usually more expensive, so Aldi's prices make it a lot more feasible to stay healthy. Aldi has nearly 2,300 locations across the U.S. and is definitely the place to go if you want to save money. Just be prepared to be your own bagger, and remember to bring a quarter to rent a grocery cart.
Market Basket
One regional grocery chain that really goes above and beyond to offer customers the best prices it can is Market Basket. The Northeastern grocery store makes it possible for shoppers to buy quality products at low prices, and if you have one nearby, it's definitely worth checking out. Additionally, the way that it's able to keep prices low is seriously impressive and unlike so many other grocery stores out there.
Market Basket has a small number of corporate employees as well as no debt to pay off, according to Boston.com, which also reported that the chain has a highly impressive compensation and benefits package that makes employee turnover really low. Market Basket's slogan is "more for your dollar," and that's certainly what you get when you shop there. And when you want the most bang for your buck, buying the Market Basket brand of items is sure to save you more money, too.
Trader Joe's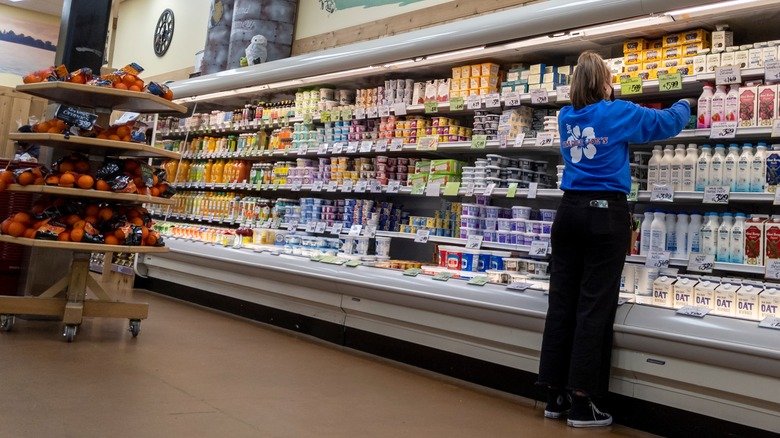 Colleen Michaels/Shutterstock
Oh, Trader Joe's. The grocery chain is famous among customers for having a wide selection of frozen foods and meals, delicious snacks, and so much more. But with all the tasty offerings from Trader Joe's, you might not expect that the chain would also have low prices, but that's another reason why customers are so obsessed with Trader Joe's.
Trader Joe's prices are so low for a number of reasons, including the fact that it doesn't spend money on marketing or advertising. But perhaps the main reason why you can get groceries for such a low price at Trader Joe's is because about 80% of what you can buy is the store's own brand. So, instead of paying more for name-brand items at Trader Joe's, you get the chain's brand of just about everything, making it cheaper, but also just as delicious. So when you need groceries and have a Trader Joe's nearby, remember that it's possible to stick to your budget while still getting great quality produce, meats, dairy, and even snacks.
H-E-B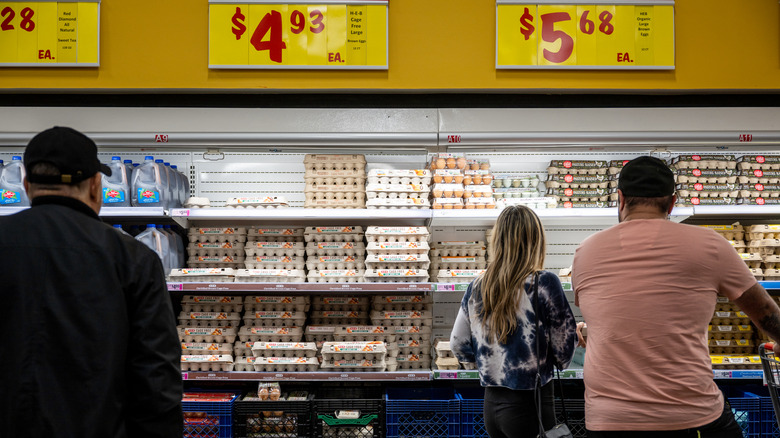 Brandon Bell/Getty Images
Texans everywhere have a pretty strong passion for the local grocery store H-E-B. The chain exists only in the Lone Star State (plus in Mexico) and offers everything that all other grocery stores do, but with a Texan twist on many items. Need Texas-shaped tortilla chips? Check. What about a waffle maker that makes Texas-shaped waffles? Check. In-store made fresh tortillas and tamales? H-E-B has you covered.
And it also can pretty much guarantee great prices and deals on its high-quality grocery items. Not only does it carry its own brand of just about every grocery item you could need at a much lower price than bigger name brands, but it also regularly offer incredible deals with its in-store (or online) coupons. Its "Combo Loco" deals will give customers a free item with the purchase of another item, usually two that go well together or would be perfect for a recipe. And its weekly ad also features low prices on more expensive items, such as chicken, steak, and even brisket, a staple for many Texans' diets.
Costco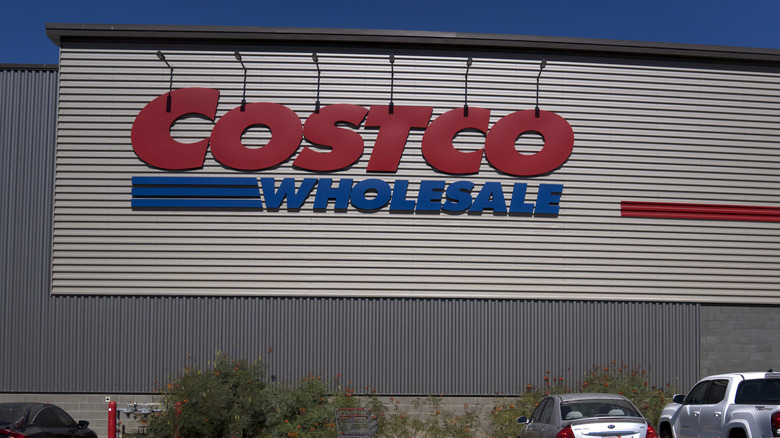 Eric Thayer/Getty Images
Okay, okay, so you might be skeptical that Costco is on a list of least expensive grocery stores. After all, there's an annual membership fee, and it almost seems impossible to walk out of the store without spending at least $100. But when you really do the math, you could save big bucks by shopping at Costco. According to CNET, you could save $1,000 per year, on average, just by shopping at Costco.
And honestly, that might be on the low end. Yes, you'll spend more up-front shopping at Costco as you're buying in bulk and therefore purchasing, say, 10 boxes of macaroni and cheese all at once instead of just one per week. But when you break down the numbers, the price per item is always cheaper at Costco. Not to mention, it regularly has sales to make those prices even lower, and you can't beat its $5 rotisserie chicken.
Sam's Club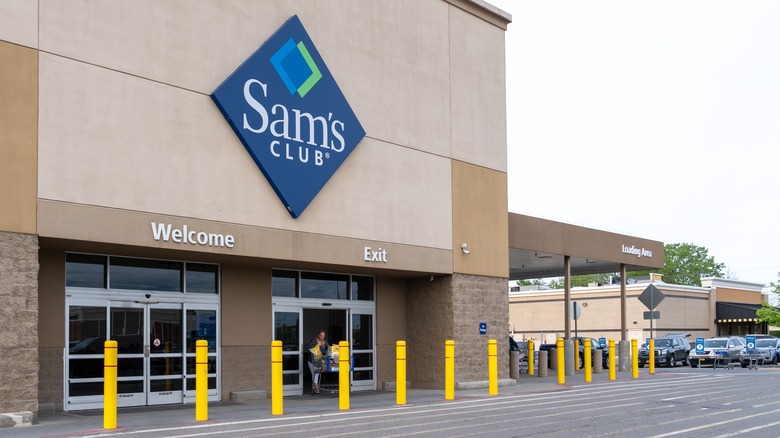 JHVEPhoto/Shutterstock
Much like Costco, Sam's Club is a members-only wholesale store that offers deals on items in bulk. But while Costco might be more well-known, Sam's Club is still a great affordable way to get groceries. Owned by Walmart, Sam's Club also has an annual membership fee, but it's actually lower than Costco's fee, with pretty much all the same perks. And again, you might find yourself spending more up-front at Sam's Club, but in the end, you'll find that it'll pay off.
One of the main differences between Costco and Sam's Club is that Sam's Club doesn't carry as many organic options as Costco, so if that's important to you, then you might want to stick to Costco. However, Sam's Club will probably end up being cheaper than Costco as it sells fewer organic, fancy grocery items compared with Costco. Still, Sam's Club is a great affordable grocery chain, and if you can snag a membership when it's offering deals on one, then it's definitely worth it.
Walmart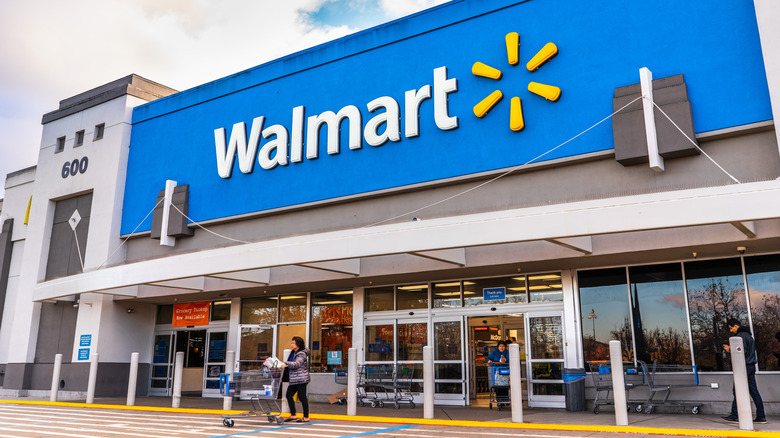 Sundry Photography/Shutterstock
It's no secret that Walmart is one of the most widespread, affordable, and accessible stores out there. Selling everything from groceries, clothes, personal care items, and even auto care, camping supplies, and so much more, Walmart seems like it has it all. And with its low prices on merchandise, it can be a great place to get your groceries while staying on, or below, budget.
A 2018 study from Clark found that Walmart's items in general were 34% cheaper than Amazon, which is a pretty impressive feat when you think about it. But how does the chain do it, and how can you be sure you're getting the best price on your groceries? Well, the chain keeps operation costs low, gets lower wholesale rates, and makes its own brand of almost every grocery item to ensure low prices, too. The Great Value brand is a great way to save some bucks while still getting everything you need on your grocery list.
Food4Less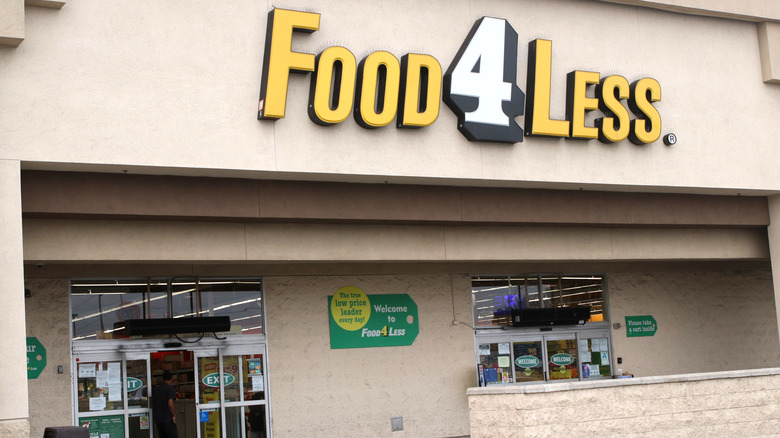 Eric Glenn/Shutterstock
If you've never heard of Food4Less, you're certainly missing out. The chain, which is a division of The Kroger Co., prides itself on being a "no-frills" grocery store, and that's exactly what you get when you shop there. Yes, you have to bag your own groceries, but the savings make it all worthwhile.
And people really love the store, too. "The organic section is quite large so there is a great variety of organic products, it's all very well organized and not overpriced," one customer said on Influenster. "They always have many cashiers open so it's not a long way to check out." So while you might have to bag your own groceries, you still get a great deal, including on some high-quality items. Food4Less might have bargain items, but it also has name-brand items so you aren't missing out on anything. Additionally, its weekly ads and membership rewards program make saving money quite simple. So, if you're lucky enough to have a Food4Less near you, definitely check it out.
WinCo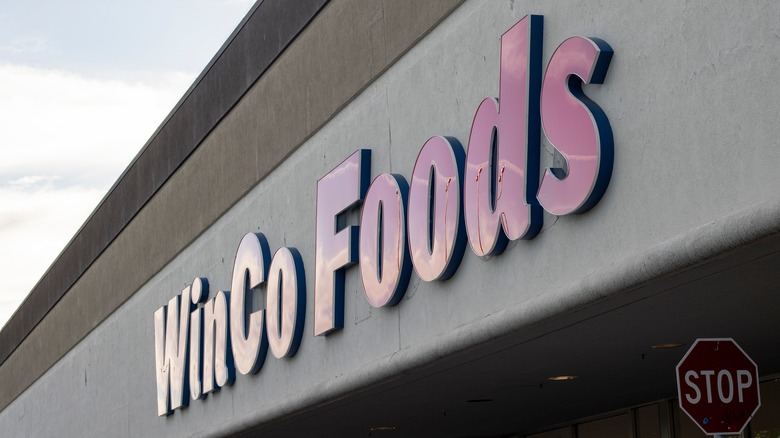 Tada Images/Shutterstock
Another regional grocery chain that you might not have heard of is WinCo. The store has locations in Arizona, California, Idaho, Montana, Nevada, Oklahoma, Oregon, Texas, Utah, and Washington, though not all of those states have a ton of locations throughout them. But, if you do find yourself near a WinCo, it's worth your time to check it out. The chain offers typical grocery items at incredible prices, and its store brand of items are even cheaper.
According to a 2018 report from ABC 15, WinCo is much cheaper than pretty much all of its competitors. Comparing prices from Safeway, Walmart, and Fry's, WinCo had the same items for much cheaper, according to the report. And with WinCo's coupons and weekly savings ad, there are plenty of ways to make those prices even lower. And unlike other discount grocery stores, there's no bagging your own groceries or paying to use a shopping cart. Really, WinCo is a great store if you have one nearby.
Food King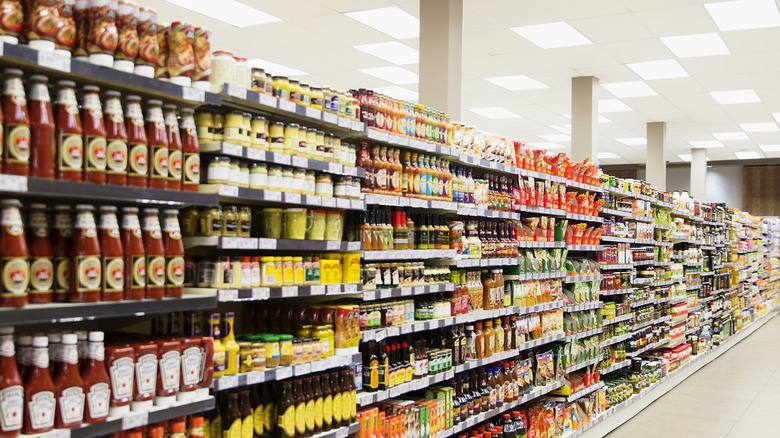 Dan Dalton/Getty Images
Yet another regional grocery chain offering incredible deals on food items is Food King. With more than 25 locations across Texas, New Mexico, and Colorado, Food King offers its customers heavily discounted grocery items. But the way it's operated is what makes Food King so different than other grocery stores. Food King states on its website that it prices "every item at cost and then we just add 10% at checkout." Basically, Food King charges what it costs the store to buy the items and stock them on the shelves.
And while Food King doesn't have a membership fee, the family-owned chain covers its expenses, including its employees, and makes its profit through that 10% charge at checkout, so you do technically have to pay a fee for your groceries. Still, you end up saving a lot of money at Food King, so that 10% is well worth it.
Dollar General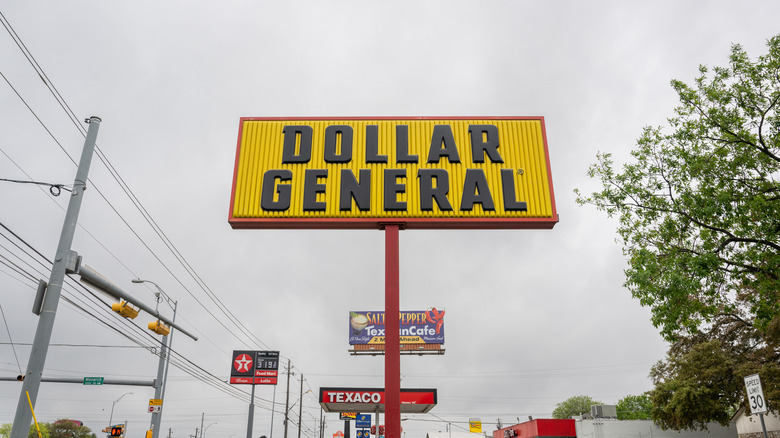 Brandon Bell/Getty Images
When you think of Dollar General, you probably think of a place to grab a cheap snack to sneak into the movie theater or a great place to buy toiletries and cleaning supplies. But you might not know that Dollar General also carries a lot of grocery items that you can buy to stock your fridge, freezer, and pantry at a seriously low price. And Dollar General is probably the easiest, most convenient way for most Americans to save a buck (or $20) on their weekly groceries.
According to Progressive Grocer, a 2021 report found about 75% of Americans lived within five miles of a Dollar General. The chain has opened about 1,800 more locations since then, meaning you probably have one nearby. And as if the name alone wasn't enough to convince you that the store has great deals on groceries, Dollar General started operating a new store concept, Dollar General Plus, which is larger and carries a lot more grocery items than you standard Dollar General. And with its own store brand to save even more money on certain items, Dollar General is probably a great place to grab cheap groceries.
Lidl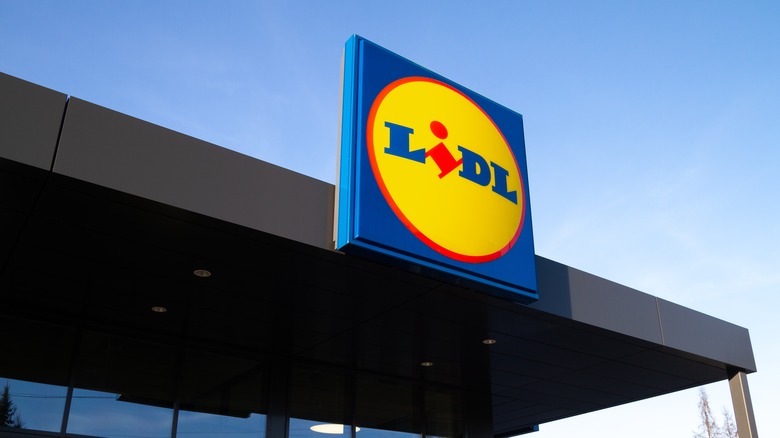 Longfin Media/Shutterstock
As confusing as it might be, Aldi and Lidl are in fact not the same store, or even owned by the same German company. And while the two are similar, some have found Lidl to be an even better shopping experience than Aldi. First, you don't have to use a quarter to rent a shopping cart, but you do have to bag your own groceries.
The prices at Lidl are impressive, and a lot of that has to do with how the chain has managed to cut down on labor. As cashiers don't have to bag groceries, and most merchandise is bought in ready-to-display packaging, there's less need for labor, so employees aren't as burnt out. Stores can get by on fewer workers. Lidl isn't as widespread as Adli — it has more than 150 stores along the East Coast — but it's slowly starting to expand across the United States, so if you're able to go to one, it's sure to be a great way to save money on your grocery budget.
Grocery Outlet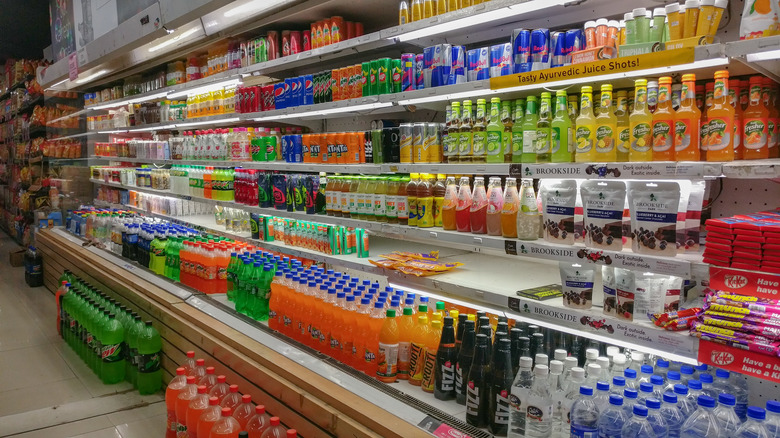 PhotographerIncognito/Shutterstock
Just like Dollar General or Food4Less, a store called Grocery Outlet practically screams "cheap food!" And that's exactly what you can expect from the chain. Formally known as Grocery Outlet Bargain Market, the grocery store offers almost unbelievable savings on the same food you would find for much more at just about any other grocery store. So how does Grocery Outlet do it?
Well, it's all in how the chain buy its items. Unlike other grocery stores, Grocery Outlet purchases its stock from grocery reclamation centers, which contact the store when they have a surplus of groceries they need to get rid of or that are about to go bad. So, when you're shopping at Grocery Outlet, you always have to be aware of the expiration dates. You mostly don't have anything to worry about, though. Additionally, Grocery Outlet has a small inventory, making it easy for the store to keep its 400 or so locations stocked. And for those great prices, closely checking the dates on everything you buy is well worth it.
Save-A-Lot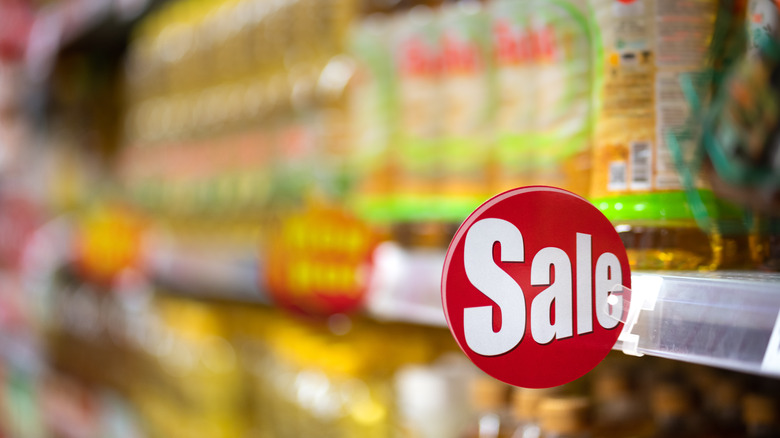 Thank You For Your Assistant/Getty Images
Another discount grocery chain you should know about is Save-A-Lot. The chain has locations in 30 states, but you probably haven't heard of it as much as stores like Aldi or Trader Joe's. The store is set up a lot like Aldi, with products in their original packaging on the shelves, giving a very efficient feel to the store.
And prices at Save-A-Lot are also incredibly efficient. Of course, its store brand of items are priced super low, but so are items you would think would be more expensive, such as meat and produce. And while there are relatively fewer options of each product, that's part of what makes Save-A-Lot so cheap and so good at staying cheap. But, fewer options mean a lot of big name-brand items aren't at Save-A-Lot, so if you don't particularly care about the label of the canned green beans or cake mix you're buying, then this is a grocery store for you.
Piggly Wiggly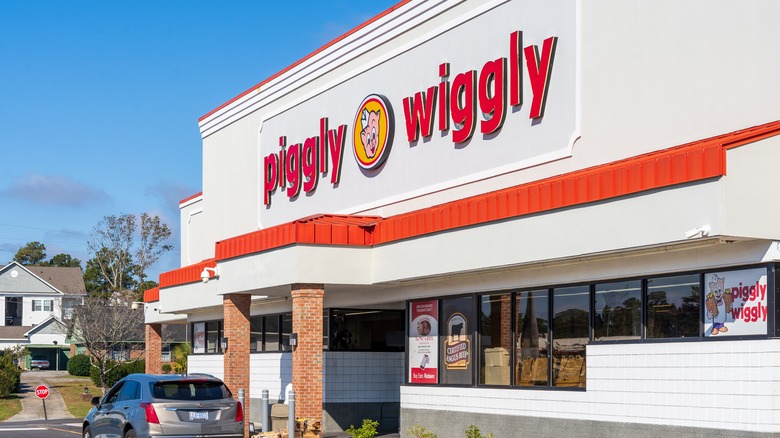 Red Lemon/Shutterstock
Despite the silly name and its depiction in movies as a funny Southern grocery store, there's nothing funny about how cheap Piggly Wiggly is. Not only is the chain innovative in more ways than one for starting to refrigerate produce, price all items, and even have checkout stands, but it's also first-in-class when pricing its items in general. Since its start, Piggly Wiggly has been able to spend less money on administrative costs and employee labor so that it can offer items for lower prices. 
Additionally, Piggy Wiggly offers weekly ad deals and coupons, and some locations offer special discounts for senior citizens. And that's not even all the ways you can save at the store. Shopping its store brand will end up saving you a ton in the long run, and the items are just as good as bigger name brands. Overall, Piggly Wiggly is a great, affordable grocery store, and with locations in 18 states, it might just become your new favorite.