Aldi Vs. Costco Vs. Trader Joe's: Where Should You Buy Croissants?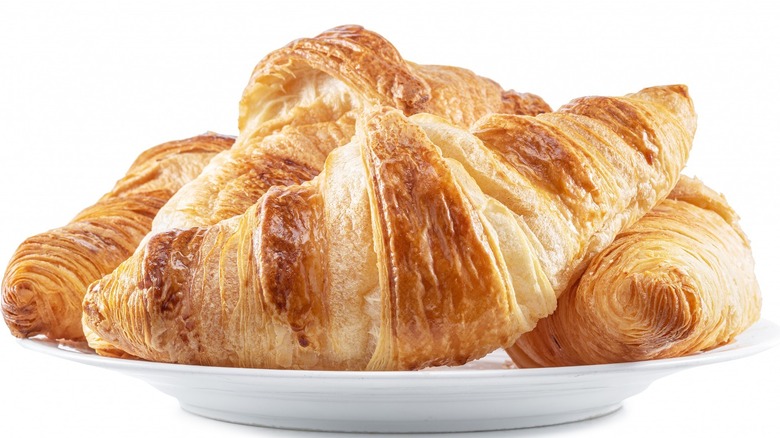 Valentyn Volkov/Shutterstock
There are certain dishes home cooks rely on someone else to make for them, and croissants fall into that category. The buttery French pastry is a labor of love requiring technical knowledge and lots of time, plus, some may argue, it's better not to know how much butter is actually used.
Croissants are made with a yeasted dough folded with sheets of butter, called laminating, to create layers of flakey yumminess. The exterior should shatter like glass as you bite into it, while the center is airy and tender. Luckily, croissants can be found in the bakery section, from supermarkets to big box chains, making it easy to add croissants to your morning routine.
Among all the places to shop, Aldi, Costco, and Trader Joe's have a reputation for delivering quality buttery croissants. While each is said to offer delicious options, they are sold in different-sized packaging, affecting the price.
Depending on your location, Trader Joe's croissants are sold in packs of three for $3.49, making them ideal for a couple or a hungry single (no judgment). For $.50 more, however, you can get a pack of six all-butter croissants from Aldi, making them a better deal. If you don't mind purchasing in bulk, Costco's package of a dozen croissants is the cheapest of the three options at $5.99. If you don't have 12 hungry mouths to feed, leftover croissants can be stored in the freezer for several months.
Costco croissants
Aside from being the best price, Costco's Kirkland brand all-butter croissants are so popular, multiple social media sites are dedicated to pastry. Reddit community members share how they enjoy their Costco croissants and make them taste like they were baked in a Parisian boulangerie, improving their texture. Users recommend baking the packaged croissants in a toaster oven at 350 degrees for eight minutes, crisping the outside and increasing its flakiness. Others, in a rush, microwave a split croissant for 30 seconds, warming it through and loading more butter on top.
On Instagram, the croissants have their own hashtag, #costcocroissants, where users upload recipes. Shoppers can purchase frozen croissants from the Costco bakery to make "croiffles," a croissant cooked in a waffle iron. Defrosted, unbaked croissants are sprinkled with sugar and placed in a waffle iron until golden brown. The croiffles are eaten as is or topped with whipped cream and sprinkles if you're feeling festive. Some users like to stuff Costco croissants with melted chocolate chips, pastry cream, or chocolate hazelnut spread like Nutella for a quick pain au chocolat.
Croissants make delicious breakfast sandwiches filled with eggs, cheese, and bacon. To use up stale croissants, replace the bread in recipes like French toast, strattas, or bread pudding with leftover croissants. The result will be buttery, delicious, and maybe a little fancier.