Can You Order Taquitos At Chipotle?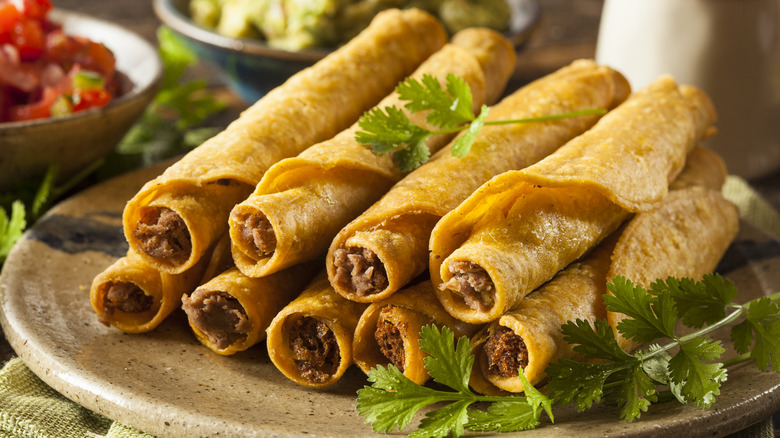 Bhofack2/Getty Images
Chipotle is famous for its gargantuan burritos and hearty burrito bowls. Most customers tend to opt for one or the other, filling them with their choice of rice, beans, protein, veggies, and cheese. Although its burritos and bowls are massively popular, the casual Mexican restaurant offers more than just the classics.
Beyond the burritos and bowls, Chipotle also offers other Mexican staples like tacos with crispy or soft shells, robust quesadillas, or even a zesty salad. The chain often adds new items to its menu like the recent chicken al pastor or the since-removed pollo asado that hit the market in March of 2022.
Although they have plenty to offer hungry customers, there are some iconic Mexican foods that Chipotle doesn't offer, like taquitos. Taquitos are stuffed and tightly rolled tortillas that are baked or deep-fried for a crunchy finish, and — to be blunt — they're downright delicious. As much as we'd love Chipotle-crafted taquitos, there seem to be no plans for the fried delicacies to hit the menu anytime soon.
Make your own taquitos with Chipotle ingredients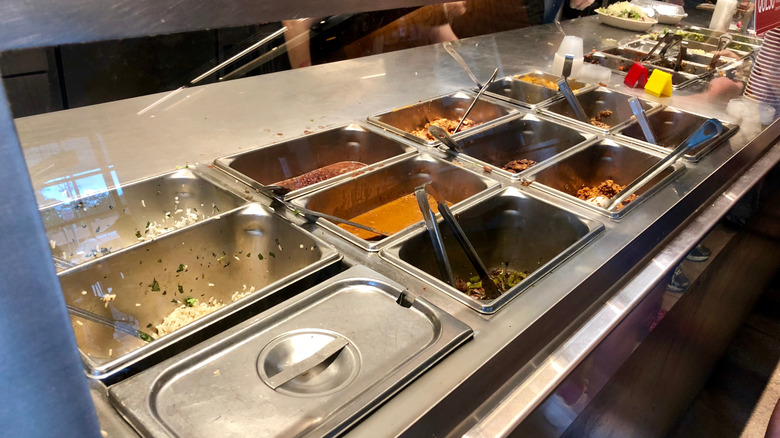 Robert Gregory Griffeth/Shutterstock
Although Chipotle doesn't have taquitos on its menu, that doesn't mean you can't make your own with the chain's fresh and familiar ingredients. Making a taquito is a fairly simple process and all you need is a few ingredients — corn tortillas, protein, and cheese — most of which Chipotle already offers.
To create your own Chipotle taquitos, order a burrito bowl with just protein and cheese along with a handful of flour tortillas on the side (a substitute for corn tortillas). The exact number of tortillas you need depends on how many taquitos you want to make. Then, you can head to your own kitchen, fill the tortillas with the ingredients, roll them up, and place them in frying oil for just long enough to get a crispy tortilla. Since the meat will already be cooked, you don't have to worry about undercooking. For a healthier cooking alternative, you can stick them in the oven and bake them for a crunchy texture without the extra calories from the oil.
Once you've finished frying or baking them, you can top them with a side of Chipotle's guacamole, pico, and shredded cheese for a well-plated platter of taquitos. Talk about a menu hack!