12 Of The Wealthiest Billionaires In The Food And Drink Industry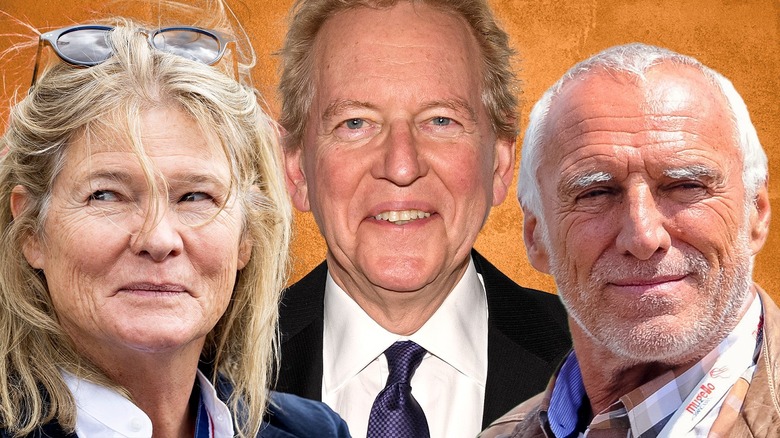 Static Media / Getty / Shutterstock
Behind nearly every piece of candy or bar of chocolate, not to mention practically every slice of pizza or burger that you relish, there is a business person who conceived of that product and then brought it into the world. Likewise, there's bound to be another business-savvy individual behind every chug of beer or glass of cold soda who made thirst-quenching their lot in life. 
The food and beverage industry may be known as a tough and at times even volatile market, but it's certainly diverse when it comes to products. Take a trip to the store, and there is almost always just the thing for whatever craving your palette may demand. 
Making these cravings their business is exactly what has made some of these food and beverage industry execs the world's wealthiest people. Many of their companies have been in existence for decades, while others are still young enough to be held by their founders. If you've ever wondered who the wealthiest people within the industry are, read on. You may learn a new thing or two about the people behind some of your favorite foods and drinks.
Mars family (Mars Inc.)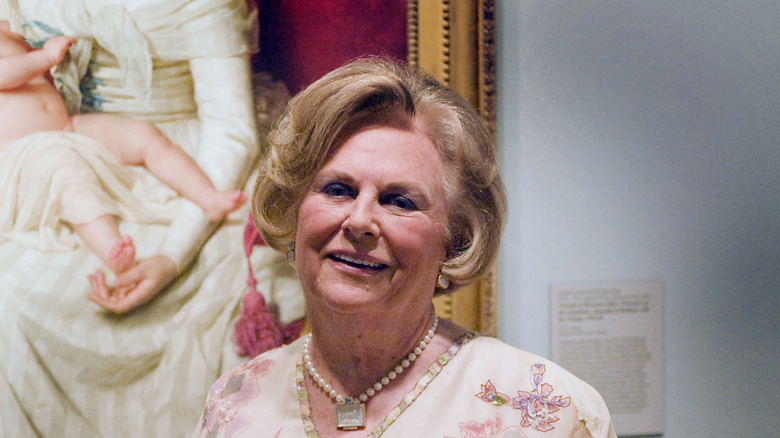 Bloomberg/Getty Images
Behind every pack of M&M's or Skittles, every Mars bar, Snickers, or Twix, is the mysterious Mars family. Along with their long list of delicious treats, the family has earned a long-standing reputation for being extremely private. That is, until recently. 
Mars Inc. was founded by Frank Mars in 1911. In 1929, Frank's son joined the team and helped develop the now-popular base for the company's Milky Way bar. What started as a company crafting candy sold out of a home kitchen went on to be listed among Forbes' America's Richest Families, with an estimated net worth of $94 billion in 2020. 
When Frank Mars died in 1999, his daughter Jacqueline and son John took over as co-owners. While all the siblings inherited shares in the company, they haven't actively managed it. Jacqueline's son David Badger is the current chairman. John has largely remained out of the limelight barring his 2015 honorary knighting by Queen Elizabeth II. Over the years, Mars Inc. expanded its reins beyond candy and beverages, with business interests that include a pet care portfolio that began when it acquired Chappel Bros, a dog food company, in 1934. By 2014, it acquired major brands (including Iams) from Procter & Gamble for $2.9 billion.
Mateschitz family (Red Bull)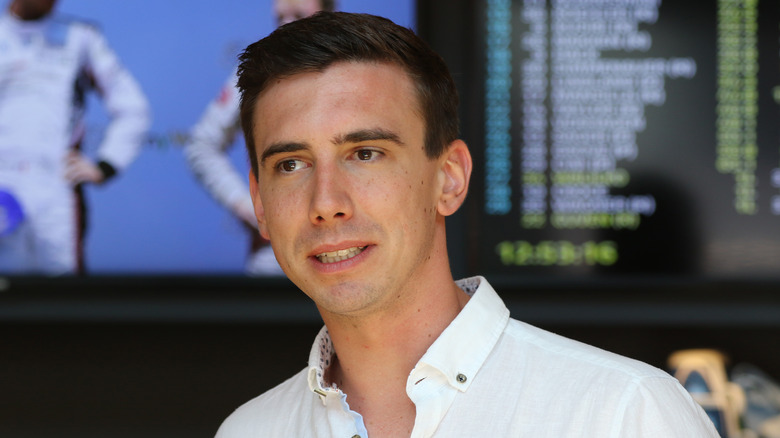 Atpimages/Getty Images
Often referred to as Europe's richest millennial, Mark Mateschitz joined the ranks of the wealthiest billionaires in the food and beverage industry in 2022. An only child to father Dietrich Mateschitz, Mark inherited a 49% stake in the energy drink company Red Bull following his father's death in October 2022. Dietrich co-founded the globally acclaimed beverage company with Chaleo Yoovidhya in 1987. He was introduced to the concept of energy drinks while working for a German firm and attending a work trip in Asia.
With an estimated net worth of $35.8 billion, it appears Mark was inspired by his father. He too founded a beverage company, Thalheimer Heilwasser. However, it is unclear whether or not he actively manages the company since he became a Red Bull shareholder. Besides the energy drink empire – which boasts ownership of sports teams in Formula 1 and MSL — Mark also inherited his father's vast portfolio of properties. This includes an Austrian castle as well as an estate in London and an island in Fiji. He has since bowed out of his responsibilities as the company's Head of Organics and opted to instead focus on his role as a shareholder.
Giovanni Ferrero and family (Ferrero)
Hot on the confectionary heels of Mars Inc. is the Ferrero Group. With an estimated net worth of $32 billion in 2020, the Ferrero Group is critically acclaimed for its signature spread Nutella, namesake Ferrero Rocher chocolates, and Tic Tacs. Currently at the company's helm is Giovanni Ferrero, whose grandfather Pietro Ferrero founded the company when he opened a confectionery shop in Alba, Italy in 1946. By the time 1964 rolled around, Giovanni was one of the newest additions to the family. Nutella, which was created by his father Michele in the same year became another important addition.
Giovanni joined his father and older brother Pietro in running the company after he graduated from Lebanon Valley College. In 1997, the siblings became co-CEOs, where he took the creative reins alongside Pietro's logistical acumen. When Pietro died of a heart attack in 2011, Giovanni became the sole CEO with his father's support as executive chairman until the elder man died in 2015. 
Known for being quite private, Giovanni has since put a brake on some long-standing traditions by hiring a CEO outside of the family and making several acquisitions of names like Baby Ruth, Butterfingers, and Thorntons.
Emmanuel Besnier and family (Lactalis)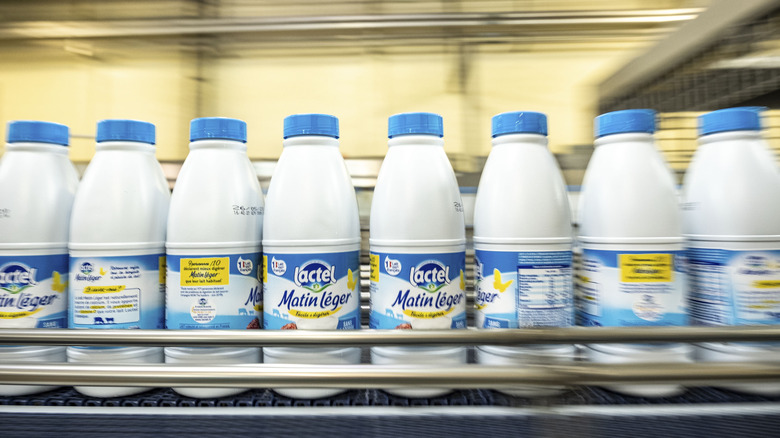 Bloomberg/Getty Images
Formerly named the Besnier Group, Lactalis has risen to be the largest dairy product company in the world with brands like Parmalat, President, and Siggi's Dairy in its portfolio, among others. With a personal net worth of about $9.4 billion and annual company revenue of about $24 billion, Emmanuel Besnier is the third generation of the Besnier family to hold the reins as CEO. Lactalis was originally founded by his grandfather Andre Besnier in Laval, France in 1933. After graduating from the ISG Business School, Emmanuel joined the family empire as head of development in 1995. He went on to become the CEO after his father died in 2000.
Since becoming CEO, Emmanuel has made several notable moves, including his 2006 acquisition of Parmalat. By 2011, he had taken over 83.3% of the company. That same year, he went on to block the company's dairy product supply to Leclerc, a French supermarket chain in France, due to a 2011 pricing dispute that was finally resolved the following year. Despite hiccups like recalling 12 million boxes of milk following a salmonella outbreak in one of the Lactalis factories, Emmanuel has maintained his rank among the wealthiest billionaires in the food and beverage industry.
Pang Kang (Foshan Haitian Flavouring & Food)
Founded in 1995, Foshan Haitian Flavouring & Food has grown into the largest condiment manufacturer in China. Although the company wasn't formally founded until 1980, its president and chairman, Pang Kang, joined in 1980 when it was still the Foshan Sauce Shop. Having just earned his degree in finance from Guangzhou University, he soon rose to the chairman role in 1982. When the company later became Foshan Limited, he invested 500,000 yuan, thus cementing his stake as the company's majority shareholder.
Today, the company boasts a wide range of condiments including soy sauce, chicken extracts, oyster sauce, and vinegar. With an estimated net worth of about $15.1 billion and an annual company revenue of about $3.6 billion in 2021, Foshan Limited has gone on to export its products to markets in Europe, Japan, Southeast Asia, and the U.S. After being publicly listed on the Shanghai Stock Exchange for the first time in 2014, Pang Kang rapidly expanded his net worth from $2.5 billion to $23.8 billion over just five years.
Charlene de Carvalho-Heineken & family (Heineken)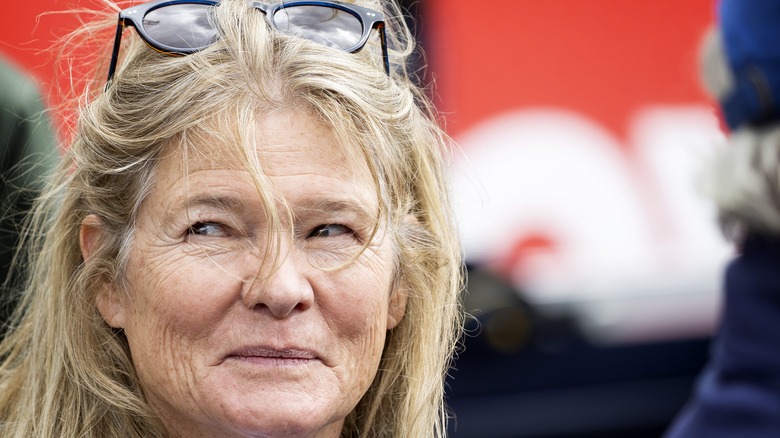 Anp/Getty Images
Listed amongst the wealthiest women in the world, Charlene de Carvalho may also be the richest woman in the food and beverage industry. De Carvalho was born in Amsterdam in 1954. Her father Freddy Heineken established Heineken Holding after purchasing the majority share of his family's brewery during the 1940s. With a firm focus on brand marketing and acquisitions, he cemented the company's position among the world's biggest beer producers with a range of brands that include Amstel, Strongbow, Tiger, and even a low-carb beer.
Before her father's 2002 death, Charlene studied law at Leiden University before earning her degree in French literature from the University of Geneva. She joined the company for a six-month apprenticeship in 1981 and then became a member of the board in 1988. She took over the company's majority stake after her father's death. She has since continued his keen focus on acquisition, including taking on FEMSA's beer division in 2011, which totaled $7.7 billion. Her net worth is currently estimated at $16.6 billion with reported 2022 revenue sitting at $30.2 billion.
Charoen Sirivadhanabhakdi (TCC Group)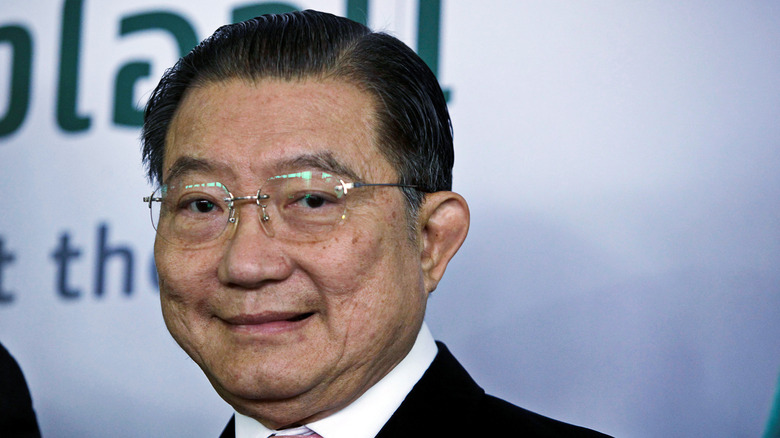 Bloomberg/Getty Images
Another beer product company that has landed its owner among the wealthiest billionaires in the food and beverage industry is the TCC Group. Considered to be one of the wealthiest businessmen in Thailand, TCC's founder and chairman Charoen Sirivadhanabhakdi has an estimated net worth between $14.8 billion and $16.5 billion. Within the group's subsidiary portfolio is Thai Beverage which has positioned itself as Thailand's largest beverage manufacturer. While Sirivadhanabhakdi attends to his duties as the chairman of Fraser & Neave Limited, his son Panote sits on its board executive committee, while his son Thapana serves as ThaiBev's CEO. His daughter Wallapa also serves as TCC Land's executive director.
In 2021 alone, Thai Beverage brought in $7.7 billion in revenue, while Fraser & Neave acquired the Big C chain in 2016. TCC Group also has an impressive property portfolio that includes the Pantip Plaza in Bangkok and the Hotel Plaza Athenee in Manhattan, as well as many other properties across Asia, Australia, and the U.S.
Dan Cathy and family (Chick-fil-A)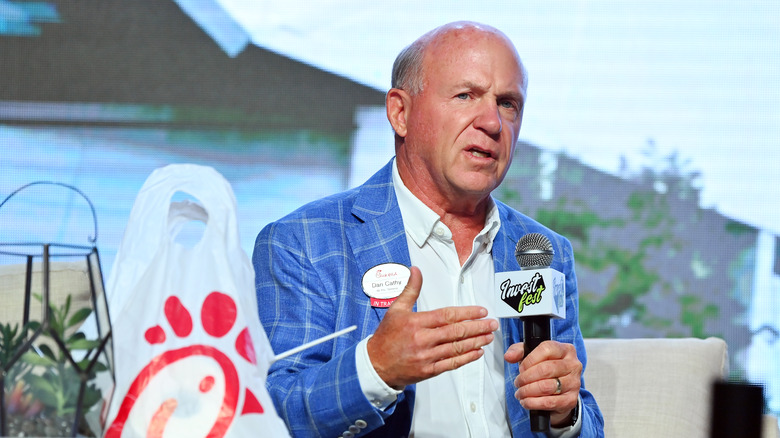 Paras Griffin/Getty Images
With a collective net worth now estimated at $14.2 billion, it's surprising that S. Truett Cathy established a family empire with no real restaurant or business experience. What's now known as Chick-fil-A started as Atlanta's Dwarf Grill in 1946, opened by S. Truett Cathy and his brother, Ben. Their clientele primarily consisted of factory and airport employees. Ben died three years later, leaving Truett to continue and open the first Chick-fil-A in 1967. When he died in 2014, the company passed on to his sons, Bubba and Dan.
Cathy reportedly started as a construction apprentice before rising through the ranks to become vice president in 1995. Today, while his brother Dan serves as chairman and CEO, Bubba remains executive vice president of Chick-fil-A and serves as the president of Dwarf House (formerly Dwarf Grill) and Truett Grill. By 2019, Chick-fil-A had grown into the third-largest fast food chain in the U.S., boasting a total annual revenue of $11.3 billion and over $4 million per location. Outside of their business escapades, Bubba reportedly hosts charity yacht and biking trips, while Dan plays the trumpets, gardens, and even flies small jets.
Marcel Herrmann Telles (Anheuser-Busch InBev)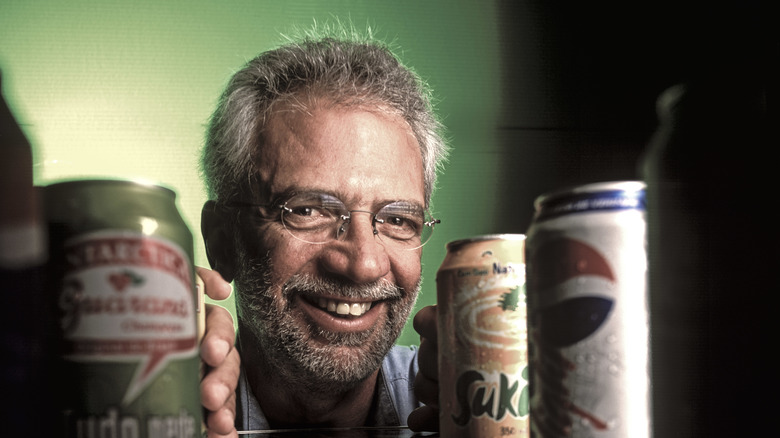 Paulo Fridman/Getty Images
With an estimated net worth between $10.7 billion 11.3 billion, Marcel Herrmann Telles is among the wealthiest billionaires in the food and beverage industry, thanks to his stakes in Anheuser-Busch InBev, the world's largest brewer. He was born in 1950 in Brazil and graduated from Universidade Federal do Rio de Janeiro. Before he became a partner at Garantia Merchant Bank (which was then owned by Jorge Paulo Lemann) in 1974, Marcel began as a clerk. He later served as a partner at GP Investimentos.
He must have made quite the impression because he went on to partner with his former boss, as well as businessman Carlos Alberto Sicupira. They co-founded investment company 3G Capital. In 2010, the trio of billionaires acquired the popular fast food chain Burger King and in 2013 collaborated with Berkshire Hathaway to acquire Heinz & Company. Some of the brands that have made their way across the globe under the AB InBev name include Budweiser, Castle, Corona, and Stella Artois beers.
Anthony von Mandl (Mark Anthony Group)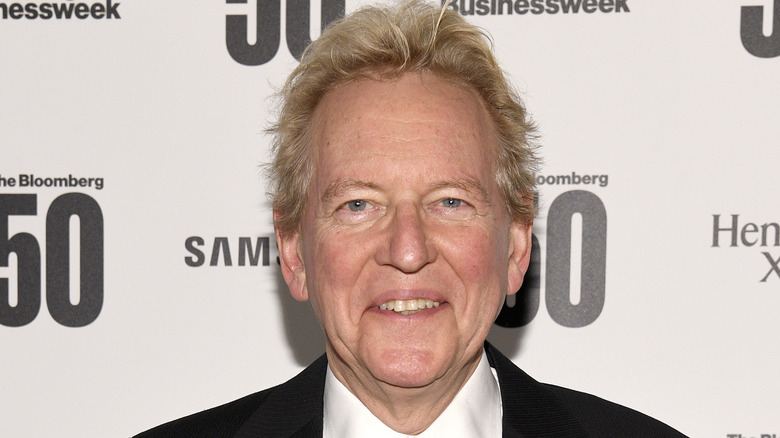 Clint Spaulding/Getty Images
Among a litany of billionaire brewers, Mark Anthony Group founder Anthony von Mandl stands out. Born in Vancouver, Von Mandl's family moved to Europe when he was nine, but he returned to Canada to study economics at the University of British Columbia. Following his graduation, he started selling wine and completed a wine-selling apprenticeship. This morphed into an import business that gathered him the funds necessary to purchase his first vineyard in 1981.
Von Mandl's first real success came after he launched Mike's Hard Lemonade in 1996. By 2019, $1.6 billion worth of hard lemonade had reportedly been sold across the United States. Even though Anthony sold the rights to sell products in Canada, he has held on to the U.S. rights. He later launched what may be an even bigger drink: White Claw. This ultra-popular alcoholic seltzer catapulted the Mark Anthony Group to its position as the fourth-largest beer company in the country. Currently, its founder has an estimated net worth between $3.4 billion and $7.1 billion.
Don Vultaggio (AriZona Beverage Company)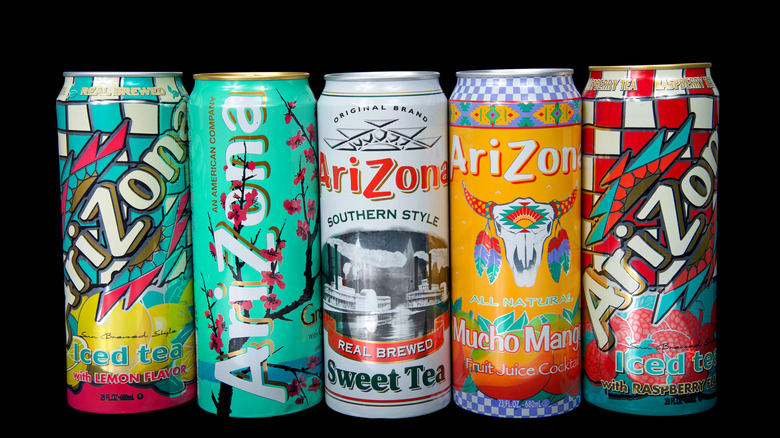 Sheila Fitzgerald/Shutterstock
Don Vultaggio now has an estimated net worth of $7 billion, but he began forging his business path in the 1970s by selling sodas and beer from his van. By 1992, he stepped into the world of iced tea when he launched AriZona. Inspired by the vibrant stucco and cactus garden in his home, Don opted for a tall can with a lively color palette, as well as a humble 99-cent price tag. Today, AriZona Beverage Company has expanded to include alcoholic beverages, juice, and water.
Even though Don was forced to buy out partner John Ferotilo in 2015 after a long and costly dispute, the company has continued to bring in about $4 billion in annual revenue. And while change is often the only constant in business, one thing that has still not shifted at AriZona is its 99-cent price. How has the company managed to maintain this after more than 25 years? It decreased production costs by using less aluminum while building more manufacturing hubs closer to key markets around the country.
Marian Ilitch (Little Caesars)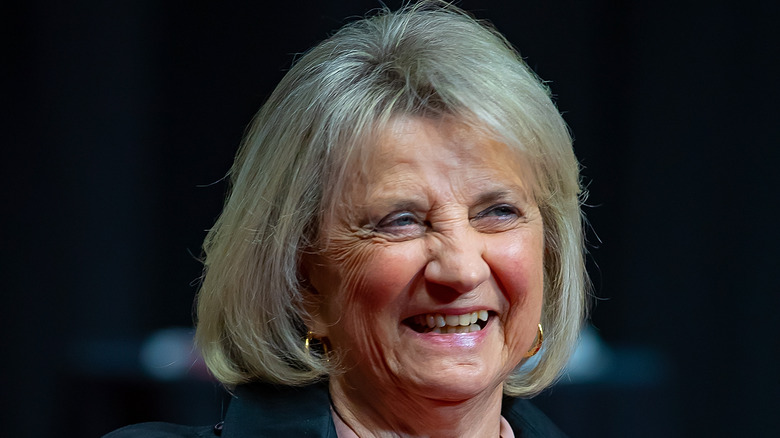 Pool/Getty Images
A former Delta Airlines ticket agent, Marian Ilitch made her claim to future billions when she co-founded Little Caesars with her husband in 1959. Today, her net worth is estimated at $4.3 billion. In 1999, in addition to becoming the sole owner of the Little Caesars Pizza after her husband passed away, Marian became the head of the corporation. Over the years, Ilitch Holdings may have stopped saying "Pizza! Pizza!," but it has certainly expanded. Ilitch owns the Detroit Red Wings hockey team, as well as the MotorCity Casino Hotel, in addition to other sports and entertainment ventures. A Detroit sports and entertainment center boosted by a $1.4 billion investment from her company is also in the works. 
Ilitch racked up several accolades on the way to the top. In 2001, she was recognized in the Michigan Women's Hall of Fame. By 2008, she was also in the Michigan Sports Hall of Fame.