5-Ingredient French Dressing Recipe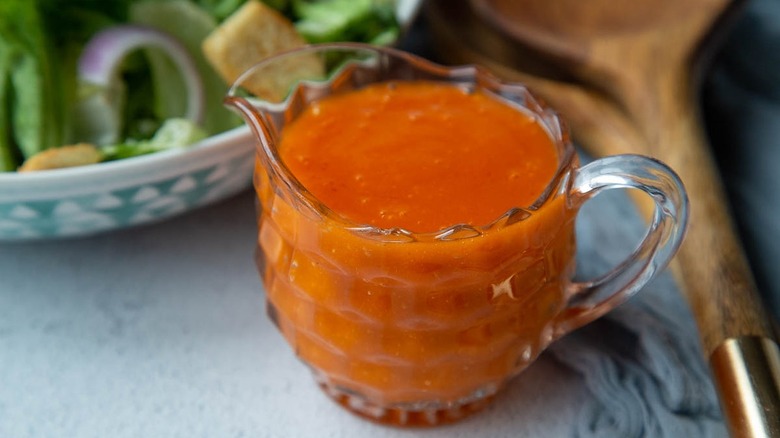 Kate Shungu/Mashed
It's easy to pick up a bottle of salad dressing at the supermarket, but many options come loaded with additives to keep them shelf stable. Not to mention, you might enjoy a variety instead of seasoning your salads the same way every time. While you could stock your fridge with every type of dressing available, making your own at home is really not so hard — especially when it only calls for a handful of ingredients and your blender does all the work.
Mashed recipe developer Kate Shungu brings us this five-ingredient French dressing recipe that is just as straightforward as it sounds. Five elements come together in 5 minutes flat to make this creamy bright dressing that Shungu describes as having "a sweet and tangy flavor that's perfect on leafy greens." She shares, "My husband loves French dressing, so I love that I can whip some up in a pinch if we're out of his favorite store-bought dressing." Whether you're making this for yourself or your loved ones, this tasty recipe is sure to be enjoyed by all.
Gather the ingredients for this 5-ingredient French dressing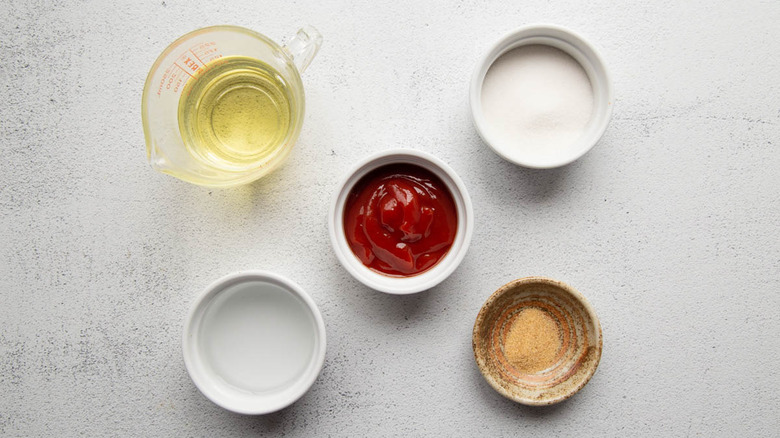 Kate Shungu/Mashed
This tasty French salad dressing only calls for five basic ingredients, which you may very well already have on hand. You'll need vegetable oil, ketchup, white vinegar, sugar, and seasoned salt. Shungu notes that "Canola oil, corn oil, or a neutral-tasting olive oil also work." 
Combine the ingredients in a blender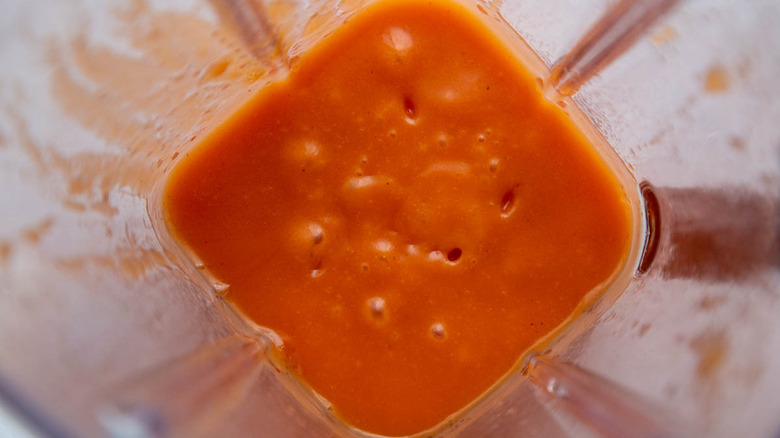 Kate Shungu/Mashed
Plug in your trusty blender and add in the vegetable oil, ketchup, vinegar, sugar, and seasoned salt. Blend the contents on medium speed until a homogeneous vibrant mixture is formed. As Shungu highlights, "The blender does all of the work for this recipe — just dump everything in and let it blend. It emulsifies the dressing so it's creamy."
Serve with your favorite salad ingredients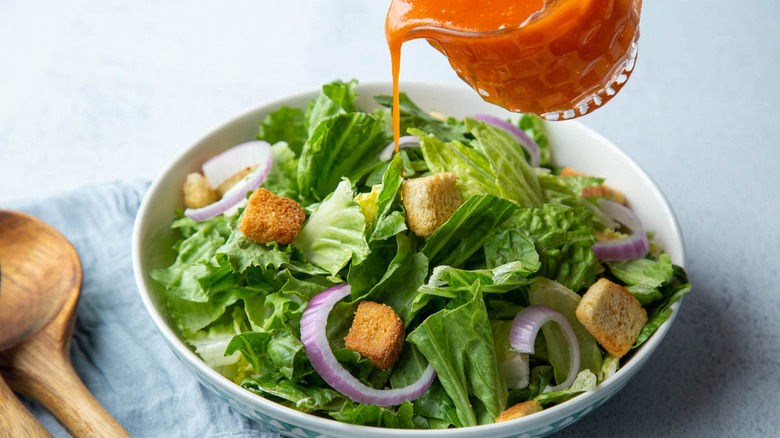 Kate Shungu/Mashed
Serve this tangy French dressing with your favorite salad ingredients. Leafy greens are a must, and you might want to add sliced red onion and croutons for extra crunch. Cucumber is an excellent option too thanks to its neutral flavor. Or, skip the salad and follow Shungu's tip: "Pizza is really good dipped in French dressing!" Our recipe developer notes that "The dressing should be stored in the refrigerator, where it will keep for about one week."
5-Ingredient French Dressing Recipe
This 5-ingredient French dressing recipe conveniently only takes 5 minutes to make, and it tastes much better than the store-bought stuff.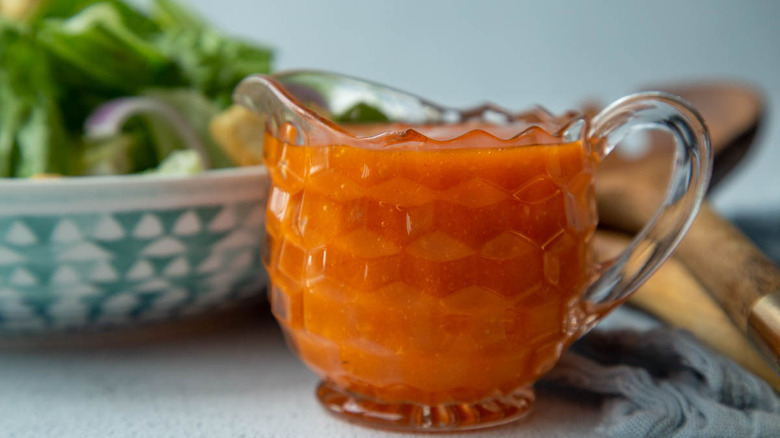 Ingredients
½ cup vegetable oil
½ cup ketchup
⅓ cup vinegar
⅓ cup sugar
¾ teaspoon seasoned salt
Directions
Place all the ingredients in a blender.
Blend on medium speed until combined.
‌Serve on a salad or use as a dip.
Nutrition
| | |
| --- | --- |
| Calories per Serving | 173 |
| Total Fat | 14.0 g |
| Saturated Fat | 0.9 g |
| Trans Fat | 0.1 g |
| Cholesterol | 0.0 mg |
| | |
| --- | --- |
| Total Carbohydrates | 12.4 g |
| Dietary Fiber | 0.0 g |
| Total Sugars | 11.5 g |
| Sodium | 136.3 mg |
| Protein | 0.2 g |