Cheese In Your Chocolate? Velveeta's New Product Says Yes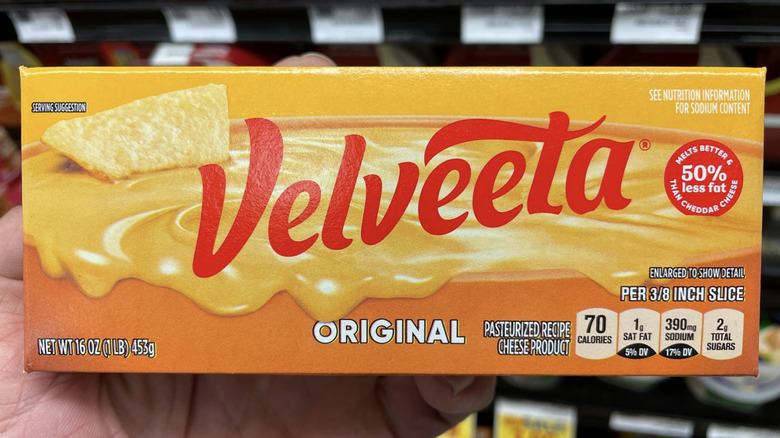 Billy F Blume Jr/Shutterstock
Have you ever thought to yourself, when digging into a creamy and cheesy bowl of queso, that it was missing some chocolate? Yeah, we didn't either, but that hasn't stopped Velveeta from releasing a new dessert that combines these two beloved (but rarely paired) ingredients. You read that right, Velveeta is partnering with chocolate company Compartés to release what claims to be the first and only cheese truffle. The chocolate will be called TruffVel, a playful mashup of "truffle" and "Velveeta." In a nod to the brand's iconic shells and cheese, the new truffle will have Velveeta's bright yellow color and will be shaped like shell pasta.
If you're wondering about the flavor, Compartés worked to create a luxurious blend of both white chocolate and cheese sauce. The chocolate company is known for producing high-quality, gourmet chocolates with unique flavors, though this will be the first time it uses processed cheese. The truffles will officially be released on May 9 on Compartes.com. Curious chocolate lovers can purchase a 5-pack for $24.95 while supplies last. If this product seems a bit unusual, creating unique products is par for the course for Velveeta. Some of these creations aren't even edible: In 2022, Velveeta launched its signature orange-yellow colored nail polish that smelled like the cheese product.
Velveeta and chocloate has been done before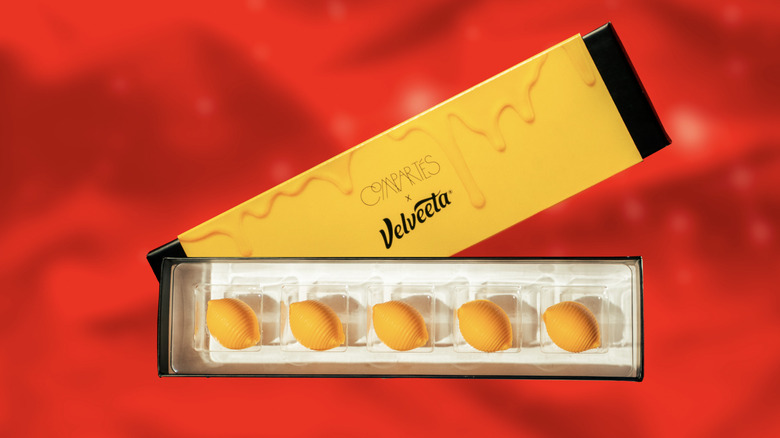 If you thought Velveeta should stay in the savory realm, think again. Not only is a fancy chocolatier turning it into truffles but Velveeta has also been preciously used to make fudge. Before you make a face, TikTok loved the 80s classic. Velveeta fudge is exactly what it sounds like, as it's a combination of Velveeta, cocoa powder, butter, and powdered sugar. Velveeta is known for its melting ability, so it would make sense that the cheese product would make a good base for creamy fudge.
If the idea of combining Velveeta and chocolate still doesn't suit your fancy, there are plenty of ways to enjoy Velveeta in savory applications that aren't just mac and cheese. Velveeta makes a great addition to soups, casseroles, and dips. If you're feeling adventurous enough to end your meal with the TruffVels, customers can purchase a 5-pack for $24.95 while supplies last. If you'd prefer to eat your shells and cheese separately, Compartes also sells more traditional truffles, with flavors like birthday cake, dark chocolate, and dulce de leche.