An Iconic Sandwich Topping Is Taking Over The Cocktail World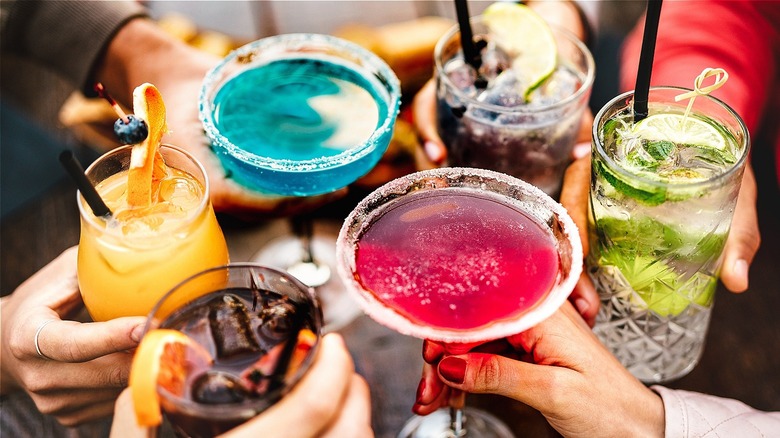 View Apart/Shutterstock
The peppery and fatty taste of olive oil and the sharp funk of vinegar are lifelong companions. Mixed together in a salad dressing? Delicious. As a dip for fresh bread at an Italian restaurant? Of course. Topping your Italian sub? Sure. Okay, now how about this one: mixed into your cocktail? You might not be convinced, but some of the country's finest bartenders are already incorporating this unlikely pair of ingredients into drinks with tempting names, like the Caprese Martini and the Negroni Verde.
Trevor Easton Langer, bartender at Jac's on Bond in New York, crafted the Caprese Martini as an homage to the classic Italian salad of fresh mozzarella, tomatoes, basil, oil, and vinegar, per Robb Report. Some may remember a not-too-appetizing Caprese Martini in Ezra Koenig's 2017 animated Netflix show, "Neo Yokio," which the artist first tried in real life at Dominick's, an LA bar. Like many recipes out there, it uses a tomato base. Easton Langer's version is different, though, with basil-infused vodka serving as the base.
Easton Langer argues that these oil-and-vin cocktails are part of a larger global culinary cocktail movement, which asks us to enjoy our drinks as we would a high-quality dish, and sends bartenders to the kitchen in search of inspiration. Take Brendan Ambrose's Aw, Snap! drink from the Kimpton Hotel Madera in D.C, which uses a homemade syrup of sugar snap peas and fresh herbs from the restaurant's rooftop garden, per Tales of the Cocktail Foundation.
Like oil and vinegar...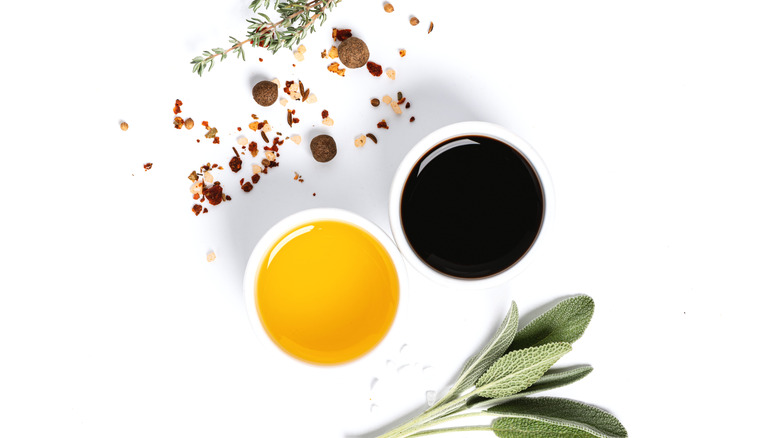 Svetlana Monyakova/Shutterstock
Oil and vinegar mix a lot better than oil and water, but they aren't exactly staying together once they're in your drink, right? The quantity of each should be low enough that they integrate into the drink's composition. Also, many of these trendy cocktails opt to use either oil or vinegar rather than both.
Principe's Negroni Verde starts with a base of gin, bitters, fennel liquor, and the currently hard-to-find Chartreuse, before it's finished off with a high-quality olive oil. Al Coro's Kind of Blue uses balsamic vinegar alongside blueberries in a highbrow take on the classic sherry cobbler, per Imbibe Magazine. Other new ideas to incorporate the substances range from vinegar-laced Manhattans to spritzers and old fashioneds.
Cocktails aside, the concept of drinking vinegar isn't exactly new. In the substance's lengthy history, it has been consumed mixed with water and alone, both as an ancient hydration drink and a modern home remedy. There's a handful of bottled "vinegar drinks" out there like apple cider vinegar tonics that promise an array of health benefits. As for olive oil, it's not just bartenders who are experimenting — Starbuck's "Oleato" line is introducing the combo of olive oil and coffee to the U.S., drawing on the long-standing tradition of taking a morning spoonful of olive oil, though it has met with mixed critical (and digestive) results.
Even if you're a skeptic of the sandwich-topping-as-beverage movement, it's worth trying before you make up your mind. After all, if it's good enough for your Subway footlong, why wouldn't it be good for your fancy cocktail?