Starbucks Is Finally Bringing Its Olive Oil Coffee To The US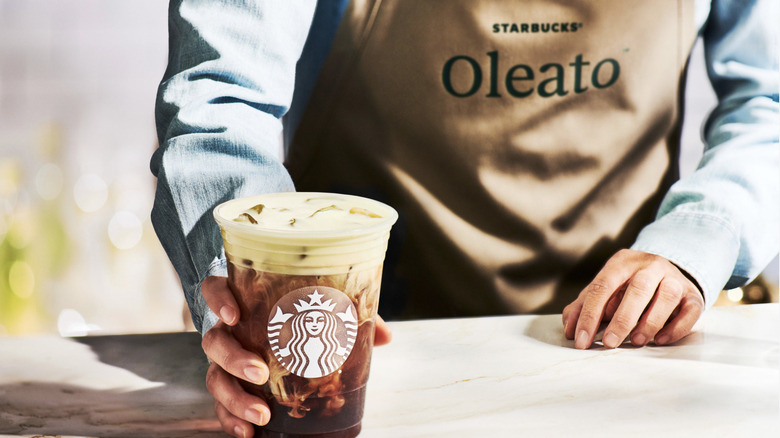 Starbucks
Leave it to Starbucks to come out with new variations on a standard cup of coffee. The company first introduced the world to the beloved frappuccino in 1995 and now there are limited-release flavors, as well as an entire frappuccino secret menu. Even though Starbucks is an American-born company, as of 2018, it has outposts in 76 countries around the globe. The company is no stranger to releasing drinks inspired by local coffee culture. Taking a page out of Australia's coffee culture, Starbucks introduced the U.S. and the world to the flat white. Starbucks' newest internationally inspired offering takes a page right from Italy.
Starbucks is bringing Oleato coffee to a limited U.S. market this Spring. Oleato coffee is coffee that is infused with olive oil. Starbucks already released its Oleato line of drinks in its Italian stores. While the pairing may not initially seem like a match made in heaven, drinking olive oil alongside a cup of coffee is commonplace in Sicily. When the ex-CEO Howard Schultz visited Italy, he took notice of the practice and decided to release Starbucks Oleato.
Starbucks Oleato won't debut nationwide yet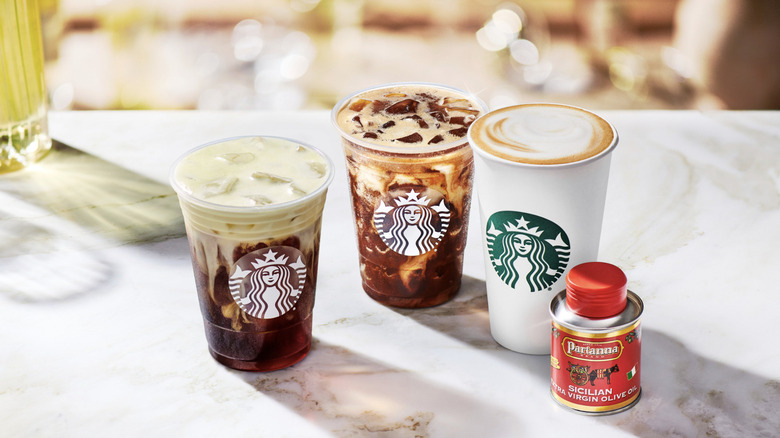 Starbucks
According to a Starbucks press release, the new line of Oleato beverages will hit select stores in the U.S. market on March 23. The first release of drinks will use high-quality Partanna extra virgin olive oil. The cold pressed oil is added to the espresso in the Cafe latte and can also be ordered cold in the Iced Cortado, and Oleato Golden Foam Cold Brew. The oil is added to the sweet cream foam on top, rather than in the actual coffee drink. For those wanting to meet at Starbucks for an after-work drink, the Oleato Golden Foam Espresso Martini will be available.
The initial release will be available at select locations in Chicago, New York, and Seattle, including the original Pike Place location. Starting on March 27, more locations throughout Seattle and Los Angeles will offer the Oleato drinks or a total of 550 stores. By the end of the year, Starbucks hopes to bring Oleato to global locations including the U.K., Japan, and the Middle East. The drinks debuted in Italy to mixed reviews, though U.S. customers won't have to wait long to share their thoughts.