Starbucks' New Merch Is Giving Us Total Summer Vibes
Starbucks' summer menu was recently leaked, and its latest merch is following close behind with an official drop this week. The new products includes coffee cups, tumblers, and a Starbucks cup keychain in vibrant hues that scream summertime. Nine new cups range in materials from steel to glass and colors from bright blues to "iridescent bling," and they can be purchased for up to $29.95. Since the warmer months are upon us, the focus seems to be on cold cups, many of which have straws and come in the venti 24-ounce size.
Returning this year is Starbucks' collection of color-changing cold cups. The confetti color-changing cup is the least expensive item available at $4.95, and a mystery five-pack of color-changing cups can be purchased for $22.95. Haven't tried these? These drink vessels deliver a surprise by changing colors when a cold beverage is added. The cups, along with the other merch options, will be stocked at both standalone Starbucks locations and those inside of grocery stores, airports, and other buildings.
This merch can be used for discounted Starbucks drinks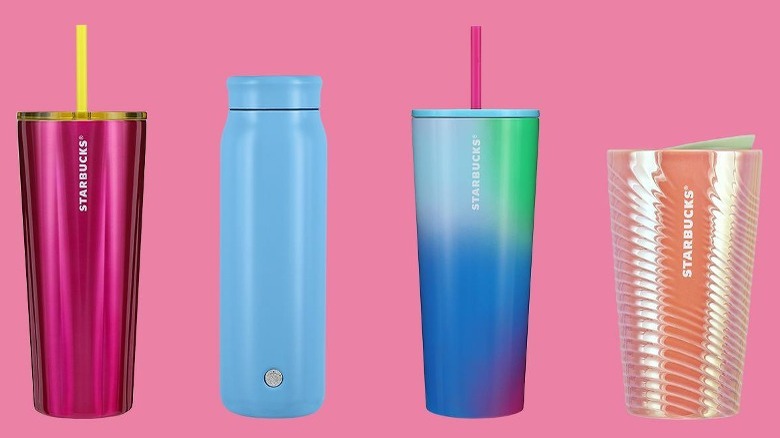 Starbucks
Starbucks says this new merch qualifies for its reusable cup policy, which offers customers 10 cents off their drinks when they bring their own cups. While customers have been able to bring their reusable cups into stores for a discount since the '80s, Starbucks is now encouraging customers to also bring their cups through the drive-thru, a recent promotion to tackle waste. 
Starbucks rewards members can also earn 25 points every time they make a purchase with their own cup, which puts them an eighth of the way toward a free 200-star drink. Finally, buying a new Starbucks cup at full price isn't necessarily required; if you're a rewards member who happens to be ordering for a group and racks up $100 in purchases, Starbucks will throw in a free cup at up to a $3 value.
The new summer merchandise has no official end date. Like the rest of Starbucks' seasonal items, once the cups are sold out, that's it. The cups garner quite a following, with diehard Starbucks collectors paying hundreds or thousands for limited edition cups — explaining why it may sometimes be hard to find the one you want.