The Best Roadside Restaurants In The United States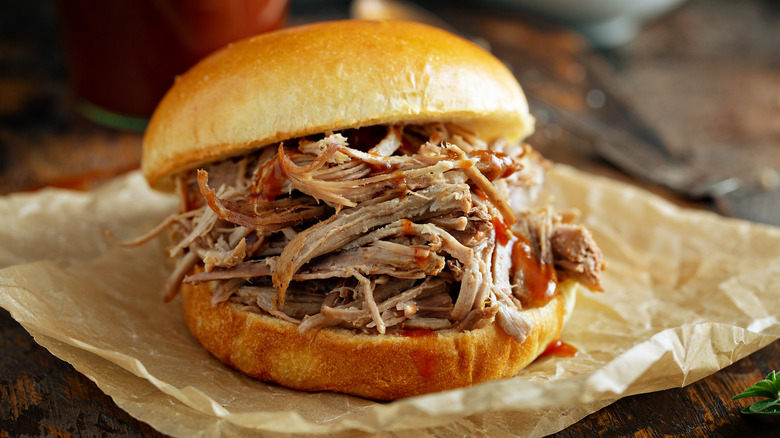 Elena Veselova/Shutterstock
There is no universal set of characteristics that would aptly describe all roadside restaurants. Consequently, there is no firm classification that would decide which restaurant can be labeled as a roadside eatery. We can generally say that the term encompasses places located at somewhat remote locations near major or country roads.
What always separates a roadside restaurant from the rest is the casual approach. The decor is simplistic and sometimes eccentric, while the atmosphere is almost always friendly and welcoming. The food also falls somewhere along these lines. It is unpretentious, often traditional for the area where the restaurant is located, and typically incorporates all-American classics, with burgers being the usual stars of the menu.
As the U.S. covers such a vast area, there is no shortage of roadside restaurants. This list includes only the shiniest jewels, but there are many local gems dispersed throughout the country. Some of these are local institutions, while others have yet to reach that status, but they collectively help to preserve that almost forgotten Americana feel.
Hawk's Crawfish Restaurant
As you can easily guess from its name, freshly boiled pots of crawfish are the house specialty at Hawk's. Located at a remote location along Hawk's Road in Rayne, Louisiana, this unpretentious joint does not boast any elaborate or sophisticated decor, but it has some of the best crawfish in the state.
Hawk's restaurant was founded in 1983 and is now considered one of the legendary restaurants in the area. The owners use a special purging method, resulting in clean, fresh-tasting crawfish complemented by the house cajun seasoning. If you are not a fan of the classic boil-up, the menu includes burgers and other seafood specials, along with the legendary bread pudding, which is the perfect way to end a crawfish feast.
Remember that Hawk's is a seasonal joint opened only when crawfish are in season, so check the operating hours if you set off on a Louisiana tour. Long lines are standard, so go prepared.
Eischen's Bar Oklahoma
Eischen's is a time-honored establishment that started off in 1896 as a local pub that served the loyal clientele all the way up to Prohibition. It was reopened after the liquor ban, and despite the tumultuous history that included a fire that completely demolished the place, Eischen's is still going strong, serving drinks and food at the place where it all started.
You'll want to visit Eischen's not only because of its venerable history, but also for the classic American fare that is simple but perfectly executed. Mainly, you want to go there for the chicken, which is considered the house special. The order will get you a whole fried chicken served with bread and typical sides. The rest of the menu is not crazy-varied but includes all-American favorites, such as beef sandwiches, chili, and fried okra — essentially, anything you would crave at a classic roadside joint while journeying through Oklahoma. Beer is the natural partner with these dishes, so do not miss the chance to sip a cold brew at the oldest bar in Oklahoma.
Chaps Pit Beef Maryland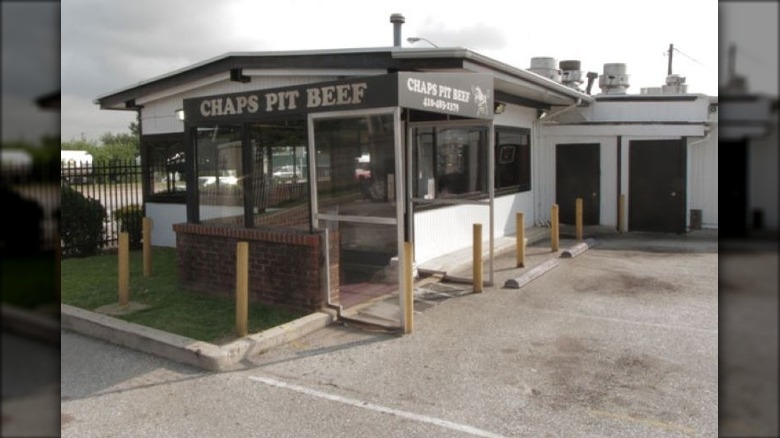 Chaps Pit Beef
It is easy to guess the specialty at this legendary Maryland location. Chaps Pit Beef is a go-to place for the classic pit beef sandwich that holds thin strips of charcoal-grilled top round tucked inside a soft bread roll and topped with sliced onion and zesty horseradish sauce. This meat-packed sandwich is a regional specialty primarily associated with Baltimore, and Chaps is where you can try what is possibly the best version of the dish.
Chaps Pit Beef has several outlets, but the original location is an unassuming roadside shack right off Pulaski Highway. It all started in 1987 with pit beef and a small shack but has since grown into a full-fledged restaurant that serves all things grilled. Apart from the house specialty, Chaps is a good place for sausages, ribs, and turkey, or you can simply choose one of its specialty sandwiches. Everything is grilled over charcoal to get that sweet, smoky kick.
Julia Belle's South Carolina
Julia Belle's is a classic Southern restaurant where you would go to get fresh home-style cooking, all tweaked with that traditional Southern flare. Before the current location on Highway 52, Julia Belle's operated at a farmer's market just outside Florence, South Carolina. The business is still family-run, which is evident in the cooking style and the warm, family atmosphere.
Julia Belle's is a casual restaurant with an unassuming interior where all the focus is on the food and the plates that come out of the kitchen stacked high with classic Southern fare. You can opt for some typical representatives such as shrimp and grits, fried green tomatoes, or pot roast, but the restaurant's house burger and wide variety of specialty sandwiches are also great options. The place also has daily specials worth checking out, and you should definitely not skip the desserts that are made fresh at the location.
Whistle Stop Café Georgia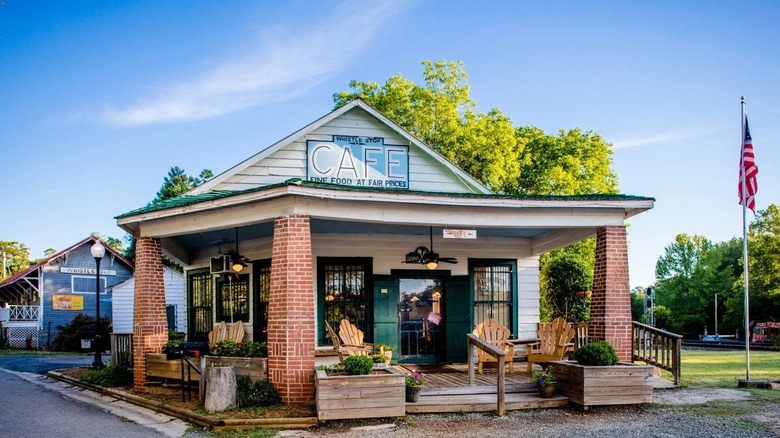 Whistle Stop Café
Whistle Stop Café Georgia has a cult status among other roadside restaurants in the U.S. The story of how it came to be is quite unique and does not follow the typical pattern. Located in the small town of Juliette, Georgia, the building where the restaurant is set up dates to 1927. The place housed various businesses, but it all changed when it was rented to act as a Whistle Stop Café in the legendary movie Fried Green Tomatoes. The proprietor continued with the story, opening a real restaurant and using its original movie name.
Whistle Stop Café is all about traditional Southern cuisine. Start your meal with tasty appetizers and move on to salads and specialty sandwiches. Dinner options are more elaborate, serving familiar classics such as fried chicken, catfish, pulled pork, and steaks. Of course, you can't skip the classic order; a plate of freshly fried green tomatoes.
Delgadillo's Snow Cap Arizona
Delgadillo's Snow Cap is nothing short of a local treasure. This colorful joint is located on the iconic Route 66, and if you happen to drive through, Delgadillo's is hard not to notice. The place is covered in posters and colorful signs inviting you to try the tested diner classics. Founded by the late Juan Delgadillo in 1953, the business is currently run by its son, who keeps his father's memory alive by following the same ethos that combines a fun atmosphere, quirky decor, and delicious food.
Many think Delgadillo's is merely a roadside attraction, but the food is not there only to keep you fed. As you would expect, the menu is simple and not overwhelming, and here you can only go for the classics. Burgers take up most of the menu, and you can choose standard options or go for the slightly more innovative versions like the chorizo burger. Hot dogs are an additional option, alongside ground beef tacos and the legendary Delgadillo's burrito. Of course, you should not skip the sweet diner essentials such as house-whipped shakes and malts. Delgadillo's is the ultimate American roadside joint. In line with its Americana character and atmosphere, the food is simple and casual but executed flawlessly and always made fresh.
Sid's Diner Oklahoma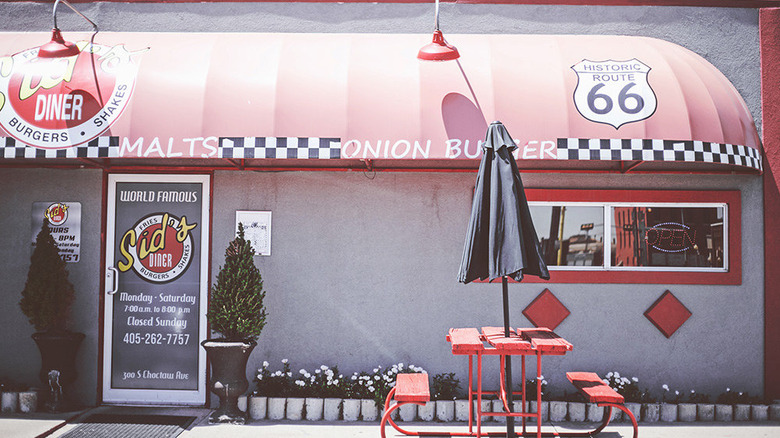 Sid's Diner
Sid's is the epitome of a classic American roadside diner. Located in El Reno, along Historic Route 66, this unpretentious establishment filled with memorabilia is perpetually packed with people from all walks of life. They're there to enjoy some honest food in a warm atmosphere that oozes that genuine small-town charm. Sid's Diner has been up and running since 1989, and it remains a family-operated business currently led by Adam Hall, who continues to keep his family's legacy strong.
Sid's specialty is the onion burger — also known as the Depression burger — consisting of a heap of thin onion slices stacked on the patty. The combination is grilled together, allowing the onion to caramelize and flavor the meat. Other memorable items include Coney dogs doused in an impressive amount of chili and then topped with an equally generous amount of Sid's signature spicy slaw. If you go for breakfast, you can choose from various omelets, house-made biscuits, French toast, and several breakfast specials. In a true diner fashion, Sid's offers an impressive selection of shakes, sundaes, and floats. 
Skylight Inn BBQ North Carolina
Skylight Inn is a historic and much-loved bastion that pays homage to the traditional North Carolina barbecue. Besides its official name, you will sometimes see it labeled as Pete Jones' BBQ as a reference to the man who started this successful business venture in 1947. Skylight Inn has since become a landmark in the small Ayden community. The place has been featured in all reputable media outlets, won a James Beard award, and was even visited and praised by former American presidents. In the barbecue world, it's challenging to reach Skylight Inn's cult status.
Of course, you go here for the barbecue specials. Pork is king at Skylight Inn, and you do not want to leave without trying the whole hog that is skillfully roasted over charcoal at Skylight's bulky grills. The meat is seasoned and chopped with the skin on and is then ready to be enjoyed. Coleslaw and cornbread are essential if you order a platter, but you can also have those delicious pork pieces inside a bread roll.
Mrs. Mac's Kitchen Florida
Mrs. Mac's Kitchen is a legendary roadside joint snuggled in the Florida Keys, just off the Overseas Highway. The business was started by Jeff MacFarland, who built the original kitchen in 1976, naming it after his mother to pay homage to her culinary skills and signature recipes. The restaurant changed hands in the 1980s and is currently run by Paula and Angie, two sisters who started their culinary journey at Mrs. Mac's Kitchen.
This roadside restaurant is a true local gem that serves crowd-pleasing dishes inspired by Southern tradition but with a touch of modern flair. The menu combines meat dishes and traditional seafood specials, but you will also find subs, burgers, and alligator meat as the typical local treat. The key lime pie from Mrs. Mac's Kitchen has a nearly mythical status, so make sure to try it to see whether it is the best you ever had. The place currently operates in two locations, both located along the Overseas Highway.
Yak's on the 5 California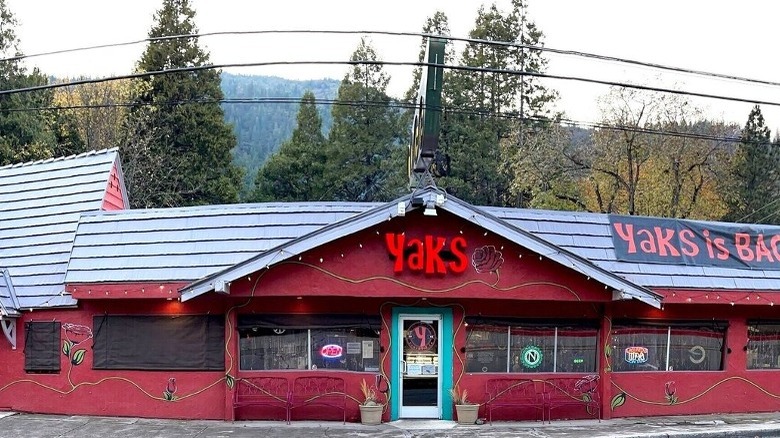 Yak's on the 5
Yak's on the 5 is a must-visit if traveling through Northern California. Settled along Interstate 5, which starts at the Mexican border and goes all the way to Vancouver, Yak's is not only one of the best roadside eateries in the U.S. but one of the best-rated restaurants in the country. The location retains a relatively simple and unassuming look, but the menu is far from what you would expect at a standard roadside eatery.
Yak's offer includes classic American items tweaked with gourmet ingredients and quirky flavor combinations. Burgers dominate the menu. They are huge and packed with specialty items, such as beer-battered or pickled jalapeños, bacon crumbles, and gorgonzola cheese, all complemented by house-made sauces. Ideally, you would have those juicy burgers with Yak's house fries and partner it with one of the local crafts from the impressive beer selection. And do not even think about leaving without trying their legendary sticky buns that come smothered in heaps of sweet, caramelized sauce. Yak's is not cheap, but with generous portions and exceptional quality, you will surely get your money's worth.
Red's Eats Maine
Red's Eats is a legendary Maine eatery specializing in a regional favorite, the fabulous Maine lobster roll. You will find this roadside stall in Wiscasset just off the historical Route 1 that flows through the eastern part of the state leading up to the Canadian border. Red's is a required stop if you are passing through the region. The place has been in business for over 80 years, and though it has changed owners, it never lost sight of its business ethos that dictates the use of the freshest possible ingredients and never skimps on the amount. Judging by the positive reactions and high ratings, the philosophy works.
Of course, at Red's, you first want to try the lobster roll that is stripped of any unnecessary garnishes and smothering sauces. Your order will include a tender, buttery roll stacked high with sweet and juicy lobster meat. Butter and mayo are offered on the side. Apart from the lobster roll, the menu also features classic burgers and other seafood specials worth trying. The lines are often long, so go prepared. And go hungry, as the portions are very generous.
Snow's BBQ Texas
Snow's does not need much introduction. This BBQ joint has been featured in all the relevant publications, and you have probably seen it in some of those famous foodie shows that are in constant search of the best barbecue in the country. Though it would be too daring to call it the best in the U.S., Snow's is at least one of the top BBQ places in Texas. Located in the small town of Lexington, Snow's is situated along Highway 77, which starts in Sioux City, Iowa, and goes all the way to the Mexican border in the south. Snow's is not one of the ancient locations. The whole story started in 2003 with the owner Kerry Bexley and the now-legendary Tootsie Tomanetz, who acts as a designated pit master.
You can't go wrong with anything your order at Snow's. The menu is straightforward and includes reliable Texan favorites, such as brisket, pork steaks, ribs, and sausages. This place is stripped of all unnecessary garnishes and focuses on skillful preparation and masterful BBQ techniques that result in possibly the best grilled meat you'll ever taste.
B.T.'s Smokehouse Massachusetts
B.T.'s Smokehouse is one of the legendary BBQ joints in Massachusetts. Located in Sturbridge, this roadside eatery is nestled right on Route 20, the longest motorway in the U.S., which starts in Boston and goes all the way to the Pacific Coast in Oregon. If you ever decide to go on a lengthy road trip along this historic route, B.T.'s Smokehouse is a must-visit spot for a hefty meat-packed lunch.
Founded in 2007, this roadside restaurant is set up in an unpretentious lodge with indoor and outdoor seating that serves perhaps the best barbecue in New England. The sign outside the B.T.'s Smokehouse describes it as a Southern-style barbecue, and the philosophy is reflected on the menu. The owner Brian Treitman uses dry rub and house-smokes the meat to attain that perfect Southern flare. The offer includes the legendary brisket, pork or beef ribs, pulled pork, and even smoked and fried chicken. You can have your order right off the grill or packed into hearty sandwiches. The sides include classics such as collard greens, hush puppies, beans, slaws, and grits.
Abe's Grill Mississippi
Abe's Grill is a legendary Mississippi eatery. Set up inside a simple roadside shack, this no-frills establishment puts all focus on the food that comes from the kitchen. Located in Corinth, along Route 72, which ends in Memphis, Abe's has been continuously running for almost 100 years, and throughout all this time, it has survived as a family-run business.
Although the seating is limited and the furnishings have not changed much, this is not the place you go to enjoy the pleasant decor. Abe's is an unpretentious diner where you get possibly the best breakfast in the state, featuring the legendary house-made biscuits partnered with familiar breakfast items such as bacon, ham, sausages, and eggs. Apart from its beloved breakfast, Abe's offers classic burgers and sandwiches as preferred lunch options. Just like the interior, the food also relies on tradition, and you can expect to eat good, hearty meals with a homey flair that will remind you of the days gone by.
Mac & Ernie's Roadside Eatery Texas
You've most likely heard about Mac & Ernie's Roadside Eatery, as the place appeared in several outlets, from the Austin Chronicle to Southern Living, and it was covered by Guy Fieri in the premier episode of his "Diners, Drive-Ins, and Dives." Located in Tarpley, Texas, this classic diner joint is slightly off the beaten path, nestled on the junction of FM 470 and FM 462, just northwest of San Antonio. It started as a simple shack but grew into a full-fledged diner that attracts numerous patrons despite its remote location.
The food at Mac & Ernie's is honest and utterly American but tweaked with a contemporary and international touch. This legendary establishment keeps things interesting by changing the menu every week, depending on availability, but you can always stumble on signature burgers that make up a large part of the lunch offer. Apart from the classics, there are some house specials such as cabrito burger that uses meat from local goats or red deer burger where the meat is sourced from New Zealand. The dinner menu is creative and includes the famous lamb chops that were Fieri's favorite, along with steaks, quail, and seafood specials.
The Loveless Cafe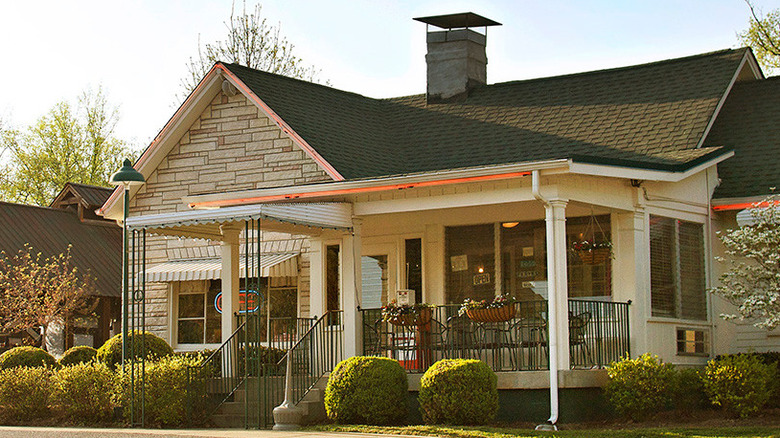 The Loveless Cafe
The Loveless Cafe is considered a local landmark in Nashville. Founded in 1951, this charming restaurant was set up as a family business by Lon and Annie Loveless, whose vision was to open a small roadside cafe that would cater to anyone passing on Highway 100. From these humble early beginnings, the place quickly grew into a full-fledged restaurant, and the family even expanded the business to provide accommodation.
As you would expect, Loveless Cafe is entirely dedicated to traditional Southern cuisine. Breakfast options include usual staples such as country ham, omelets, waffles, French toast, and house-made biscuits that you can tweak to your taste. The dinner menu is equally traditional, featuring classics such as fried chicken, catfish, and pulled pork. Along with Southern-style dishes, at Loveless, you will witness that much-loved Southern hospitality that will make you feel appreciated and welcomed, easily inspiring you to go back for more.