Fried Green Tomatoes Recipe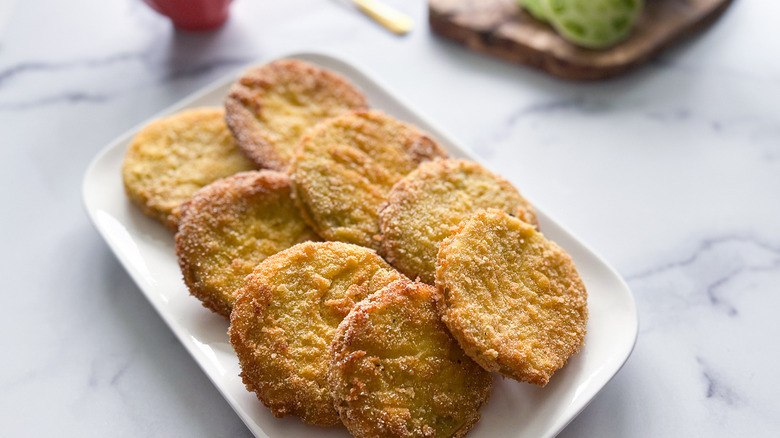 Erin Johnson/Mashed
Fried green tomatoes are seen as a southern institution despite the fact that the original recipe may have originated in Chicago. Nevertheless, once the dish became the name of a popular '90s tearjerker movie set in Alabama, it was soon established as what recipe developer Erin Johnson calls "a southern summer staple." The problem with green tomatoes is that they aren't always available from the supermarket, so you may need to grow your own or try begging a few from a generous tomato-growing neighbor.
Johnson says that one thing she always does when she makes fried green tomatoes is to "double coat ... the tomatoes so that they are extra crispy." She says it takes just a few more minutes, but feels that the end result is worth it. One thing she notes about the cooked tomatoes is that they need to be eaten ASAP, warning "they will never be as good as they are fresh out of the oil." She admits that this means they can't really be prepared in advance if you want them for a party or a picnic, but does say that you can bread them, then freeze them and fry the frozen ones when you want to eat them. One advantage to doing so, she says, is that it's "a great way to eat them after tomato season." It will also let you fry up just a few tomato slices if you don't want a heaping helping.
Gather the ingredients for fried green tomatoes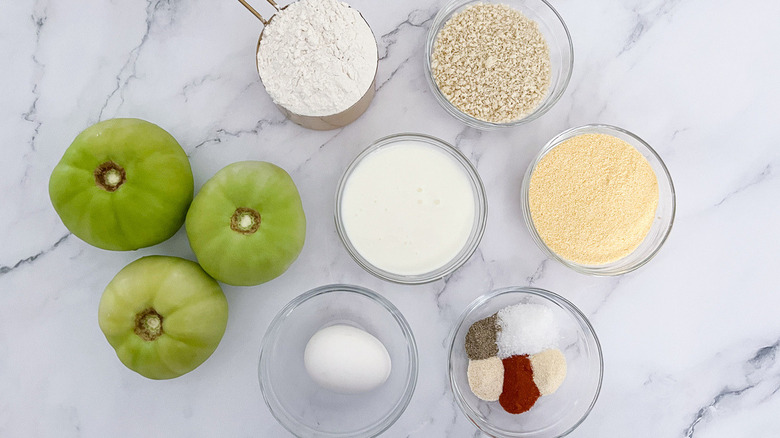 Erin Johnson/Mashed
The trickiest part of acquiring the necessary ingredients may be sourcing the green tomatoes, although this might not be too troublesome if you a) live in an area where this dish is popular or b) have your own tomato plants and it's not too late in the season. Once you've obtained the tomatoes, you'll also need some buttermilk. If you don't want to buy a carton of buttermilk just for this recipe, there's no need to do so. Just add 1 ½ teaspoons lemon juice or distilled white vinegar to ½ cup milk and you'll have all the DIY buttermilk you need with none going to waste.
The other necessary ingredients are stuff you probably have on hand or can easily obtain: an egg, cornmeal, panko breadcrumbs, flour, salt, pepper, onion powder, garlic powder, and smoked paprika. The last thing you'll need is some vegetable oil in which to fry the tomatoes.
Slice and salt the tomatoes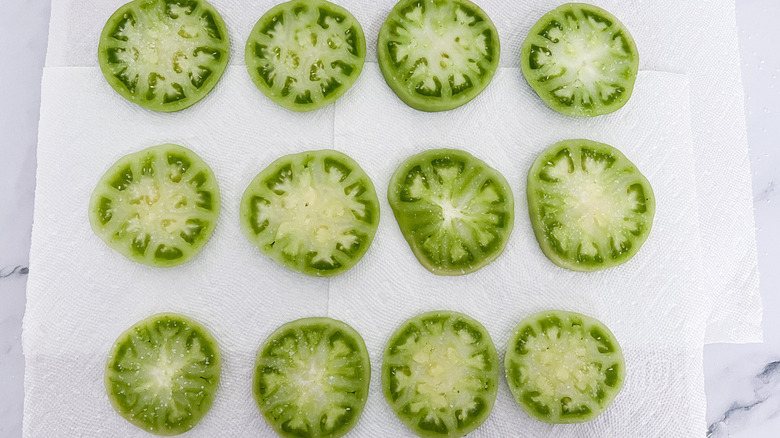 Erin Johnson/Mashed
Slice the green tomatoes approximately ¼ inch thick. Spread the tomato slices out on a work surface and sprinkle them with salt. Let the salted tomatoes sit for at least 5 minutes.
Bread the tomatoes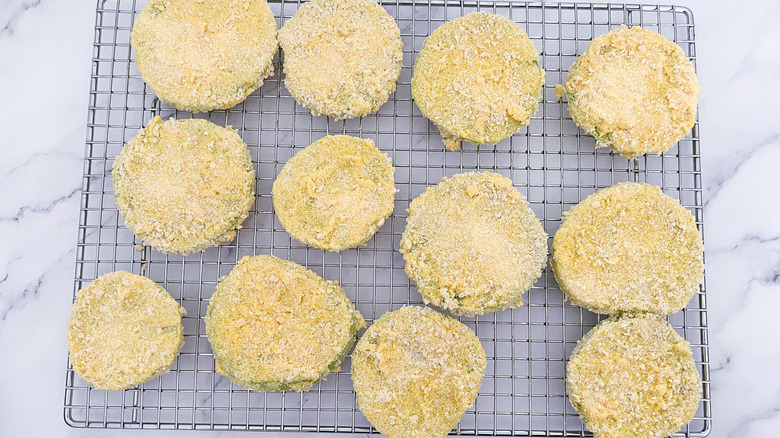 Erin Johnson/Mashed
Beat the egg with the buttermilk — Johnson says if you want some added flavor, you can mix in a little hot sauce, too. Mix the cornmeal and panko in a separate bowl, and in yet another bowl, combine the flour with all the seasonings. 
Working with one tomato slice at a time, dip it first in the flour, then in the egg, then in the breadcrumbs. Now dip it back in the flour, once more in the egg, and a final time in the breadcrumbs. That's the special double breading method Johnson swears by. 
Repeat the process until all of the tomato slices are coated, then let them sit on a wire rack until you're ready to fry.
Fry the tomatoes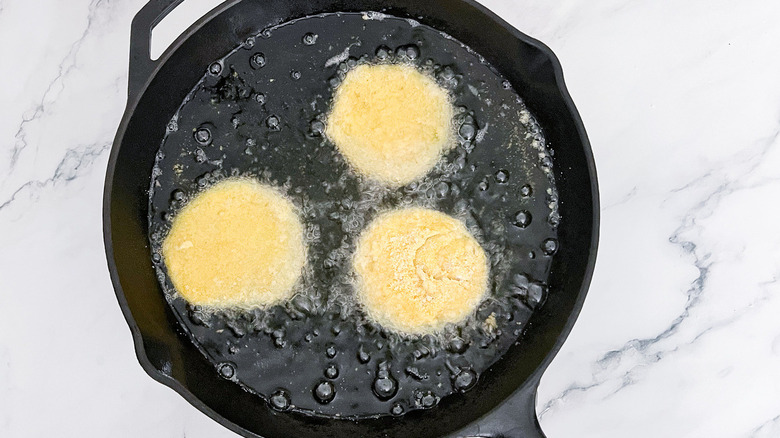 Erin Johnson/Mashed
Pour about ⅛ inch vegetable oil into a heavy pan (Johnson used roughly ⅓ cup). Heat it until it shimmers. Add some tomato slices to the pan, but don't overcrowd the pan — the slices need their space, so you'll probably need to fry them in batches. Cook the slices for 3 minutes, then turn them over and cook them for another 3 minutes. When done, the tomatoes should be the typical golden brown we associate with breaded and fried things.
Johnson tells us "I love to serve these with a remoulade or as a part of a BLT." She also says that fried green tomatoes make a great side dish and can even be used as a burger topping. 
Fried Green Tomatoes Recipe
While sourcing the green tomatoes for this classic, Southern fried green tomatoes recipe may be a little tricky, it's definitely worth it to whip up a batch.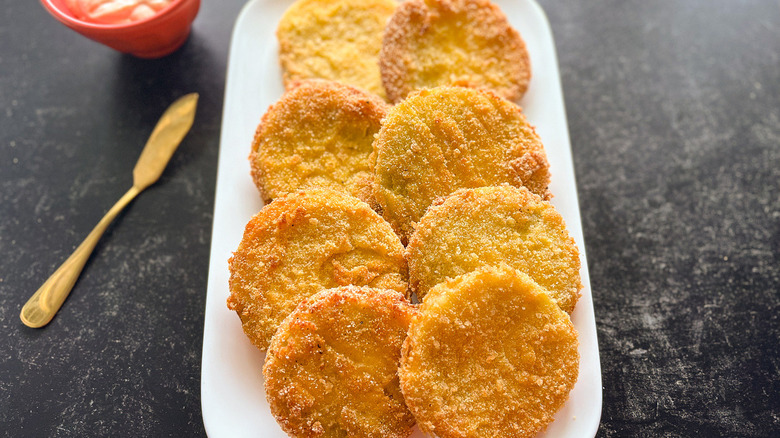 Ingredients
3 green tomatoes
½ cup buttermilk
1 egg
½ cup cornmeal
½ cup panko breadcrumbs
1 cup flour
2 teaspoons salt
½ teaspoon pepper
½ teaspoon onion powder
½ teaspoon garlic powder
¼ teaspoon smoked paprika
vegetable oil, for frying
Directions
Cut the green tomatoes into slices ¼-inch thick.
Sprinkle the sliced tomatoes with salt and allow them to sit for at least 5 minutes.
Mix the egg with the buttermilk.
Combine the cornmeal and panko.
Mix the flour with the seasonings.
Blot the tomatoes with a paper towel to remove any moisture.
Coat each tomato slice in seasoned flour, then dip in the egg mixture, then coat with the cornmeal mixture.
Repeat the whole process with the same tomato slice a second time before moving on to the next slice.
Place each breaded tomato on a wire rack.
Heat ⅛-inch of oil in a heavy skillet.
When the oil begins to shimmer, add the tomatoes to the pan, working in batches, if necessary, to ensure that they do not touch.
Fry the tomatoes for 3 minutes, then flip them and fry for an additional 3 minutes, or until golden brown. Serve immediately.
Nutrition
| | |
| --- | --- |
| Calories per Serving | 356 |
| Total Fat | 21.8 g |
| Saturated Fat | 1.7 g |
| Trans Fat | 0.2 g |
| Cholesterol | 27.5 mg |
| | |
| --- | --- |
| Total Carbohydrates | 34.7 g |
| Dietary Fiber | 2.1 g |
| Total Sugars | 4.1 g |
| Sodium | 354.5 mg |
| Protein | 6.0 g |