Lillet Spritz Very Well Could Be The Best Aperol Alternative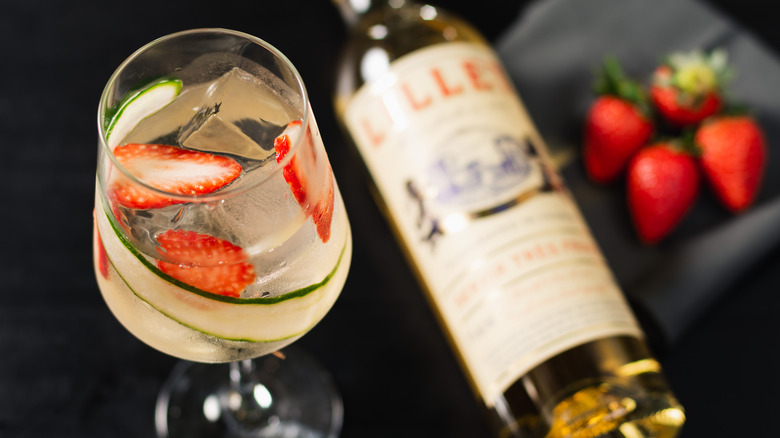 Fernanda Flugel/Shutterstock
As summer approaches, few cocktails are as refreshing as a spritz. While the Aperol spritz is a sure classic, why not mix up your spritz game with another aromatic liqueur? The refreshing drink taking the world by storm this summer is the Lillet spritz. 
TikToker @dianavaldemar510 describes Lillet as tasting, "delicious, crisp, refreshing, floral, everything I want in a summer drink." The method of making a Lillet Spritz is similar to a classic Aperol spritz recipe. Simply combine either tonic or an equal mixture of prosecco and club soda, and add a generous splash of Lillet. Most people serve a spritz in a large-stemmed wine glass to maintain the chill, since it is a wine cocktail.
Top it off with sliced strawberries or other fruit garnishes. The TikTok community chimed in with additional tips. One suggested, "10/10 using frozen orange segments instead of ice cubes" and another said, "I love a Lillet Blanc spritz with a little bit of grapefruit."
Whether you prefer ice cubes or frozen fruit, a Lillet spritz provides a pleasing contrast of sweet and slightly bitter flavors along with a touch of fizz. The color and flavor are mellower and more subdued than a spritz made with Aperol, an Italian bitter aperitif made using oranges and a proprietary blend of fruit and herbs. Whether you prefer Aperol or Lillet, it's easy to make your own signature spritz by varying the garnish, infusion, or fizzy mixer. Like any spritz, you can make it your own by varying the ingredients.
The Lillet spritz is incredibly versatile
Lillet, a French aperitif – a drink usually consumed before dinner to stimulate the appetite – blends wine with citrus liqueurs and other secret ingredients. It comes in three varieties: Blanc made from white wine, Rosé made from rosé wine, and Rouge made from red wine. Each has its own flavor: Lillet Blanc has a light floral taste compared to the stronger fruit-forward flavor of the rouge.
@thespritzeffect

Replying to @dianavaldemar510 spritzes to try this summer Part 2: Lillet spritzes! spritzgirlsummer thespritzeffect lillet spritztok spritzseason
Lillet is noted for its versatility in mixed drinks and wine cocktails from a light spritz to a Vesper martini. Using Lillet Blanc, you can even craft your own infusions experimenting with various spices, apple slices, coconut, or citrus peel.
Since the 19th century, people have mixed flat or sparkling water and wine for a lighter drink. Over the years, that evolved to include sparkling wine like Prosecco instead of water. Today, the spritz is as popular as ever, with infinite combinations inspiring constant sparkling innovation.