Checkers Secret Menu Items And Hacks You Need To Try
If you love Checkers, you're already likely very well aware of this chain's decadent fast-food options. Whether you're craving something fried, covered in melty cheese, or topped with bacon, you can find it at Checkers... and, well, actually at Rally's, too. The two restaurants are extremely similar, thanks to Checkers' acquisition of Rally's in the late 1990s, but the decision to keep the Rally's name. Aside from the two different names, Checkers and Rally's share the same menus, same ingredients, same food distributors, same customer support center, et cetera. All that said, you can expect them to share the same secret menu items and hacks, too.
While some restaurants boast big secret menus that aren't-that-secret (looking at you, Shake Shack Animal-Style Fries), the Checkers (and Rally's) secret menu is a little more covert. It doesn't get as much attention — maybe because there aren't any secret menu items with risqué names? Whatever the case may be, these secret menu items and hacks get a lot of love from the people who actually try them, and even from the Checkers and Rally's teams. Here's what you need to know (and try).
Sweet heat fries
In 2022, the Checkers and Rally's TikTok account showed off a french fry hack for "fryday," with its sweat heat fries, which the brand called "mouth-watering." To concoct these fries on your own, you're going to need, of course, some Checkers french fries, a side of buffalo sauce, a side of ketchup, and a side of powdered sugar (which is usually reserved for the brand's fan-favorite funnel cake fries). Putting it all together is pretty self-explanatory. You sprinkle your large side of fries with the buffalo sauce and the ketchup and then top it all with the powdered sugar.
No Checkers or Rally's nearby, but still want to give this menu hack a try? If your favorite grocery store sells Checkers or Rally's french fries in the freezer section, you can replicate the hack at home. Just be sure you use Frank's Red Hot Buffalo sauce (as that's what Checkers carries).
Cheesecake funnel fries
Many great menu hacks and secret menu items require you to do a little extra work. For example, you order a McDonald's Land, Air & Sea and the restaurant will serve you a Big Mac, McChicken, and a Filet-O-Fish and, from there, you have to make the "secret menu" sandwich yourself — by sliding the fish patty onto the Big Mac's first burger bun and removing the top bun from the Big Mac, swapping it out for the McChicken's chicken patty, lettuce, mayo, and bun.
The concept is the same with Checkers' cheesecake funnel fries. You'll have to order the chain's funnel fries, plus a cheesecake sundae of your choice. Then, you have to gently scoop the layer of cheesecake off the top of the sundae, along with the other sundae toppings (the options are strawberry, fudge, or caramel), and place that on top of the funnel fries. The result is two ultra-tempting desserts combined into one culinary experience that channels all the childhood-favorite flavors of fair food.
Caramel bacon sundae
If you prefer your sweets with a salty kick, you wouldn't be alone. What is the reason salty and sweet go together so well? It's all because our sweet and salty cravings tap into biological needs — sugar provides energy, and salt is necessary for sustaining life. When both are together, you fulfill two biological needs with one treat and your body is oh-so-happy you did.
To get your salty-sweet fix at Checkers, order the caramel cheesecake sundae, but then also ask for a side of bacon. Add the side of bacon to your sundae and you're done. You've got a caramel bacon sundae. As one TikTok user pointed out when Checkers showed this menu hack off on its account, this Checkers hacked menu item is actually pretty similar to one of the discontinued Burger King menu items that we wish would make a comeback. In the early 2010s, Burger King offered a bacon sundae topped with caramel, hot fudge sauce, and huge pieces of bacon. So, if you're missing this Burger King relic, just make a caramel bacon sundae the next time you're at Checkers; the experience is very much nearly the same.
Funnel cake fries with famous seasoned fries
Another Checkers menu hack that combines sweet and salty flavors and that's also oh-so-simple? The funnel cake fries combined with the famous seasoned fries. This food hack was introduced on the Checkers Facebook page, showing an employee dumping one order of seasoned fries into a Checkers paper bag, followed by one order of funnel cake fries, before rolling the bag closed and shake it to combine.
This is arguably one of the easier Checkers menu hacks to put together on your own, especially if you're going through the drive-thru and don't really want to start dumping out ice cream or mixing sauces in a moving vehicle. It's no mess and no fuss but gets the job done when you want a sweet-salty snack that's one-part seasoned potato and one-part fried dough covered in powdered sugar. Just make sure you don't order the loaded funnel cake fries by mistake; the upgraded funnel cake fries come topped with strawberries and whipped cream — not exactly suitable for tossing into a paper bag.
The mega split
Another menu hack or secret menu item that requires you to simply throw a bunch of ingredients together into one container, the "mega split" takes all of Checkers' classic dessert items and smushes them together. Order the funnel cake fries, the chocolate chip brookie (which, yes, is a mix between a cookie and a brownie), and the cheesecake sundae of your choice and create a take on a banana split using a Checkers to-go box. Think of the funnel cake fries as your bananas (they're elongated, so it works) and use the brookie as a base and then pile all that ice cream on top.
This Checkers secret menu item is a relatively new one, as Checkers and Rally's just introduced the brookie in 2022. The menu item received rave reviews upon introduction, thanks to the brownie's soft caramel and the cookie base's chocolate chips, which, when combined together, somehow taste like their own unique dessert and not merely a brownie on top of a cookie.
The bacon mozz dog
To recreate the Checkers-introduced bacon mozz dog (another product of the Checkers and Rally's TikTok feed), you'll need to order a chili dog with no onions and an order of mozzarella sticks (or, as Checkers calls them, "Monsterella" sticks), plus a side of bacon. Then, remove the hot dog from its bun and, in its place, add two mozzarella sticks, plus the bacon.
This particular menu hack can be a bit divisive, as the responses to this particular hack video showed. As one commenter pointed out, why get rid of the hot dog? Admittedly, it does make sense to keep the hot dog on the bun and then just add on the extra mozzarella sticks and bacon, for a new take on a chili-cheese-bacon dog, especially when you consider that losing the hot dog doesn't come with any benefits, like, for example, making the dish vegetarian. This might be a Checkers menu hack that needs a little individual tweaking, for the best results possible.
Parmesan garlic wing sauce on Monsterella sticks or famous seasoned fries
Sauce lovers, rejoice. Checkers offers a whole bevy of sauces for your dipping pleasure, including sweet and smoky barbecue, angry buffalo, medium buffalo, parmesan garlic, ranch dressing, regular barbecue, Frank's buffalo hot sauce, blue cheese, ranch, and honey mustard. It's the parmesan garlic wing sauce, though, that you'll want to start using in places other than on your wings — like on the famous seasoned fries or the Monsterella sticks.
The dipping sauce definitely makes sense with the Monsterella sticks. Mozerella, parm, garlic — it's like an Italian match made in heaven. But for the famous seasoned fries? If you look at the fry seasoning, the combo, again, makes a lot of sense. According to an employee who worked at a production plant in Idaho that churned out the seasoned fries, frozen, the fries are seasoned with a mix of salt, onion powder, garlic powder, and paprika. After all, what's better than a little garlic? Even more garlic.
The Deep Sea Double with angry buffalo sauce
Checkers' burgers are known to be on the big side and the same can be said for the chain's fish sandwiches. These are definitely not your wimpy fast-food fish filets. The Deep Sea Double sandwich comes with not one, but two fish filets, combined with — what else? — the classic accompaniments of shredded lettuce, melty American cheese, and tartar sauce.
While the Deep Sea Double is pretty good on its own, fans say you can upgrade this sandwich with a little menu hack — by adding the angry buffalo sauce that's intended for the chicken wings to the sandwich's top fish filet. The sauce is just spicy enough to lend an otherwise pretty tame sandwich a little bit of a punch. While you're at it, consider using that angry buffalo sauce elsewhere, too, like on the fully loaded fries or the chili cheese fries, the latter of which comes topped with, of course, chili and cheese, and the former of which comes topped with cheese, ranch, and bacon crumbles.
Chicken bites with cheese sauce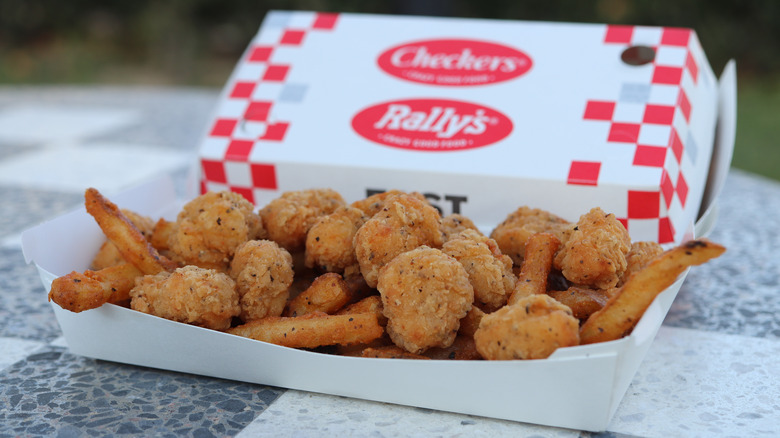 Deutschlandreform/Shutterstock
It seems that those who hack the Checkers menu on the regular know that, when it comes to taking full advantage of all of the ingredients on the menu, the sauces are where it's at. With so many sauces to choose from, why not put them on everything you can? While many may go with barbecue sauce, honey mustard, or ranch for their Checkers chicken bites and fries, some say that the cheese sauce is the superior option.
The Checkers chicken bites and fries box comes in two sizes, with the largest holding ½ a pound of chicken bites. If you go the larger route, you're definitely going to need more than one little serving of cheese sauce. Don't stop there, though. If the bites are too bitty for your tastes, order the fry-seasoned tenders instead, available in a three-piece, five-piece, or eight-piece box and covered with the same garlic-y seasoning that you'll find on Checkers' and Rally's famous fries.
Chicken tenders with every single Checkers sauce
You've got chicken bites with cheese sauce. You've got chicken tenders with cheese sauce. Now what about the chicken tenders with every single Checkers sauce? That's the combination that the Rally's and Checkers TikTok account presented.
To be clear, the video doesn't feature quite all 10 sauces that are available across the Checkers menu. However, it does feature all of the sauces that are intended to be served with the chicken tenders. As the TikTok video showed, a hand covers a box of tenders with original barbecue sauce, buffalo sauce, ranch, and honey mustard, and then closes the box and gives it a good shake, mixing it all up. If that doesn't seem like sensory overload to you, go ahead and request all 10 sauces and add them in for a truly unique concoction. The only caveat? If you're watching your sodium, maybe bypass adding the angry buffalo or Frank's Buffalo hot sauces, as both come in with more than 700 milligrams of sodium per serving — nearly half the American Heart Association's ideal daily limit for adults.
Monsterella mac and cheese
The Checkers menu hacks don't begin and end at the drive-thru, though. Checkers and Rally's introduced a recommended menu hack on TikTok that encouraged viewers to take their orders home, where they can, with a little more work in the kitchen, create even more Checkers-inspired dishes, like the "Monsterella mac and cheese."
For this dish, you need to buy an order of Monsterella mozzarella sticks at Checkers and then head home. There, heat some water until boiling, then add in your elbow macaroni. Once it's finished, drain it, set it aside, and start melting some cheese in another saucepan. Meanwhile, cut your Monsterella mozzarella sticks into bite-sized pieces, before adding them to the melted cheese. Pour the mixture over the macaroni, in a glass casserole dish, and pop it into the oven to bake at 425 degrees Fahrenheit, until bubbly. Top with a little parsley and you're done. Is it a lot of work? Yes. Is it worth it? There's only one way to find out.
Cowboy parm
This is not your average chicken parmesan. On TikTok, Checkers introduced this menu hack that incorporates a few different sauces, as well as a base of a three-piece order of chicken tenders. In order to make the cowboy parm, add a side of cheese sauce onto the three-piece chicken tenders, then, throw on a side of marinara sauce, followed by a side of garlic parmesan sauce, and then you're done.
Some of the commenters on TikTok did throw in a few valid ways that this particular menu hack could be even upgraded further. One recommended swapping out the marinara with ranch. Another wondered why the saucy chicken strips weren't added to a bun — which is a good point. For Checkers' take on a chicken parm sub, you could easily keep the cowboy parm formula, but then slide it all on the abandoned hot dog bun from the bacon mozz dog hack above.