Better Call Saul-Inspired Los Pollos Hermanos Chicken Recipe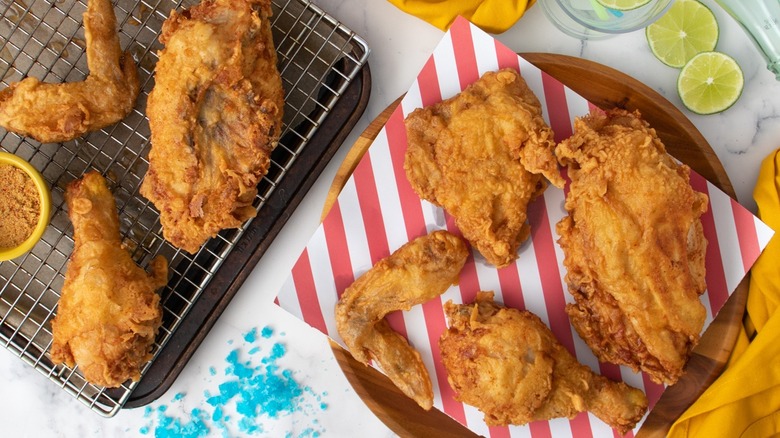 Patterson Watkins/Mashed
Drugs, crime, and ambulance-chasing lawyers — standard fare for any network TV news show. Add in some scripted drama and a few comedic bits, though, and what you've got is the basic premise of the "Breaking Bad" franchise, including the prequel/sequel "Better Call Saul." Any fan of these shows will be familiar with the fried chicken chain Los Pollos Hermanos. While the recipe is a closely guarded secret (they'd have to kill us if they told us), developer Patterson Watkins has come up with her own fried chicken that, as she tells us, "gives great nods to New Mexican and ABQ cuisine" with a Southwestern-seasoned wet brine. She also boosts the flavor with another "legal enhancer," that being chicken bouillon. (What were you expecting?)
Watkins notes that yet another ingredient, tequila, is meant as a nod to Pollos Hermanos founder Gus Fring. Don't worry, you won't need Zafiro Añejo, nor should you poison it. Instead, Watkins says the tequila "serves a sensational purpose," evaporating quickly to provide the chicken with an "extra crispy leg up" (or breast, or wing, if you prefer). If tequila's not your mood-altering substance of choice, you can simply use water instead. In this case, though, take the chicken out of its briny bath about 3 hours before frying. Dry it, put it on a wire rack, then let it sit in the fridge for 2 ½ hours and at room temperature for another 30 minutes. This extra drying time, Watkins says, will also make for extra crisp chicken.
Collect the ingredients for the Los Pollos Hermanos-inspired chicken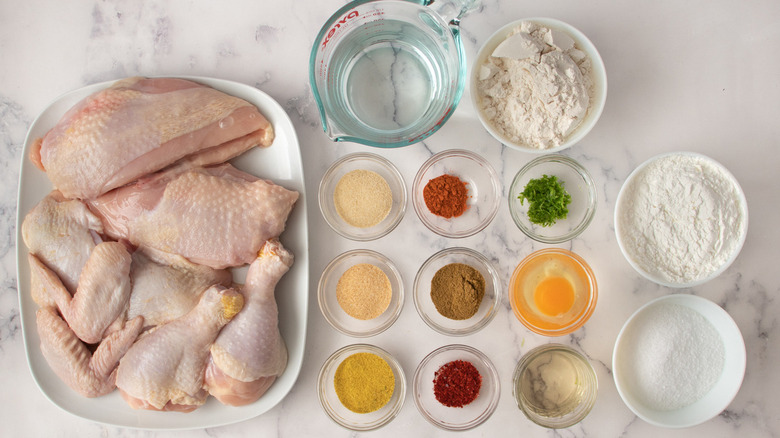 Patterson Watkins/Mashed
As you may have surmised, this Southwestern-inspired chicken gets a generous blend of spices and seasonings: cumin, chicken bouillon, garlic powder, onion powder, lime zest, chili powder or crushed red chile, and achiote or annatto powder. For the batter, you'll be using flour, cornstarch, tequila, water, and an egg. You're also going to need 3 to 3 ½ pounds of chicken parts of your choice (as long as they're bone-in, skin-on) as well as salt for brining and a neutral-flavored oil with a high smoke point for frying.
Brine the chicken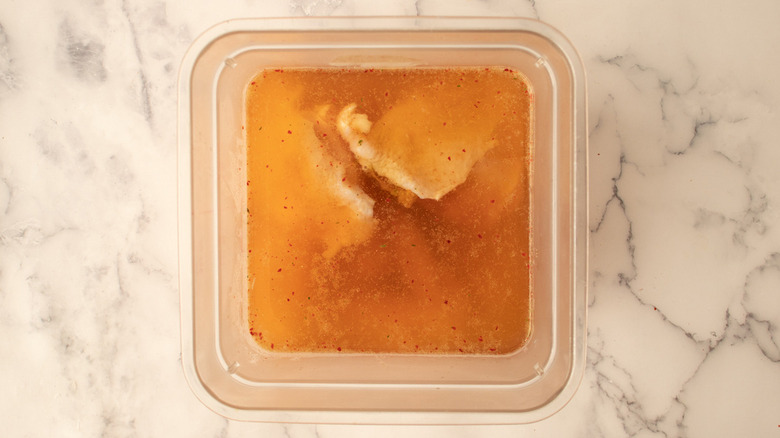 Patterson Watkins/Mashed
Mix all of the ingredients for the seasoning blend, then scoop out a single tablespoon and set it aside. Divvy up the rest of the seasoning into two roughly equal portions, then mix one of these portions with the salt and hot water to make the brine. Let the brine sit for 5 minutes so everything dissolves, then use it to cover the raw chicken pieces, making sure they're submerged in the stuff. Cover the chicken and refrigerate it for at least 4 hours. While you can go over that amount of time, Watkins warns: "Do not exceed 10 hours, or the chicken might become overly salty and mushy." 
If you're tempted to skip this step, know that there's a good reason behind it: "The salty, ABQ seasoned liquid infuses the chicken pieces with exceptional flavor and moisture, reducing the risk of either having bland or dried-out fried chicken," Watkins says.
Heat the oil and make the batter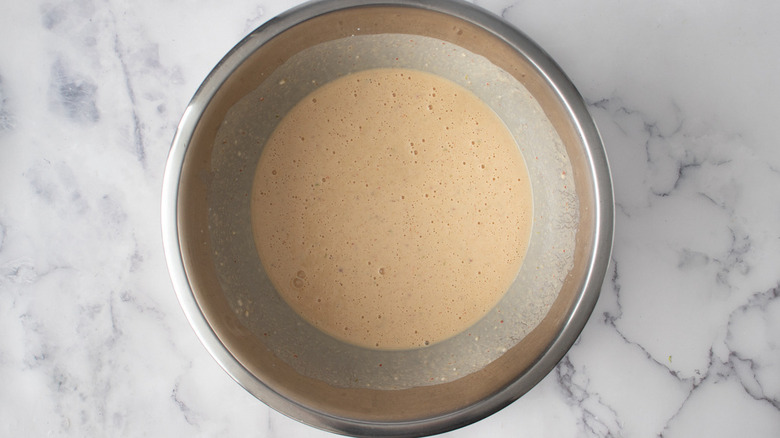 Patterson Watkins/Mashed
When you're ready to cook, take the chicken out of the brine and pat it very dry. Fill up a pot of oil slightly less than halfway (or if you have a deep fryer, to whatever line is indicated). Using a thermometer, heat it up to 375 F, but do not let it go over this temperature.
Meanwhile, mix the batter ingredients with the remaining spice blend (apart from the 1 tablespoon you set aside before — don't use this yet). Stir the batter until no lumps remain.
Batter and fry the chicken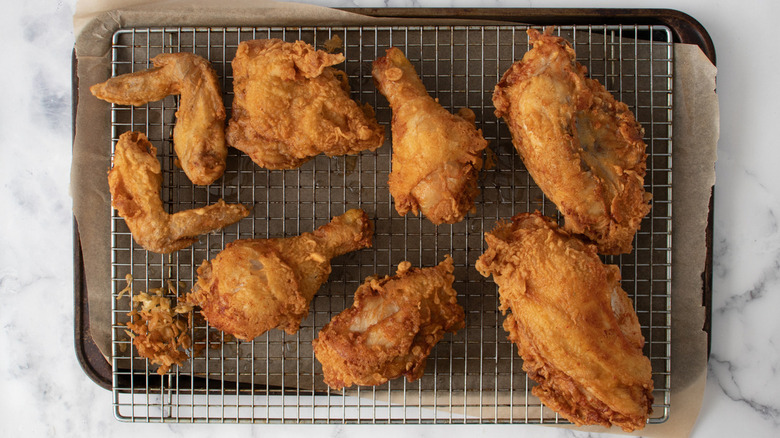 Patterson Watkins/Mashed
Once the oil is hot enough, dip a few pieces of chicken into the batter. Let the excess drip off before you add the first batch of chicken to the oil — 2 to 3 pieces, depending on how big your pot is. Be sure to add it slowly and carefully, which Watkins advises will help to prevent the hot oil from splattering.
Fry the chicken until a meat thermometer inserted into the thickest part of each piece reaches 160 F. Dark meat (thighs and legs) should take 12 to 14 minutes, while breasts will be done in 10 to 12 minutes and wings may only need 6 to 8 minutes. The oil temperature will drop once the meat is added, but try to make sure it does not go below 325 F or get above 350 F as the chicken cooks. As each piece finishes, put it on a wire rack so some of the oil can drain off and the skin stays crispy.
Serve the chicken right away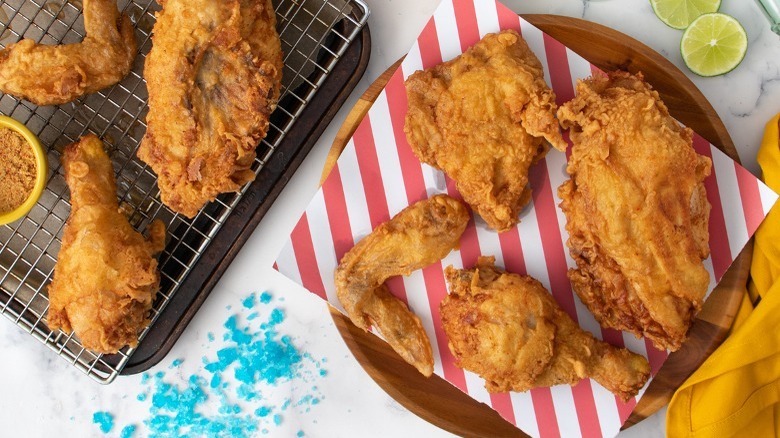 Patterson Watkins/Mashed
Once you've fried and drained your last batch, season all of the chicken pieces with that set-aside tablespoon of spice. Going all-in on a "Breaking Bad" theme? Watkins suggests you might even sprinkle some crushed blue Jolly Ranchers around the serving platter (if you know, you know). If candied chicken does not appeal, you could instead just serve the dish as Los Pollos Hermanos intended — without any free samples of a certain azure-hued product.
The USDA recommends that you eat leftover cooked chicken within 3 or 4 days (or else freeze it, if this isn't feasible). Chilled chicken, Watkins says, can be reheated in a 350 F oven for about 15 minutes, more or less, depending on how large a piece it is. It can also be eaten straight from the fridge since fried chicken is also delicious when it's cold.
Better Call Saul-Inspired Los Pollos Hermanos Chicken Recipe
Nodding to Southwestern cuisine and the "Breaking Bad" franchise, this Los Pollos Hermanos-inspired fried chicken packs a punch with a spiced brine and batter.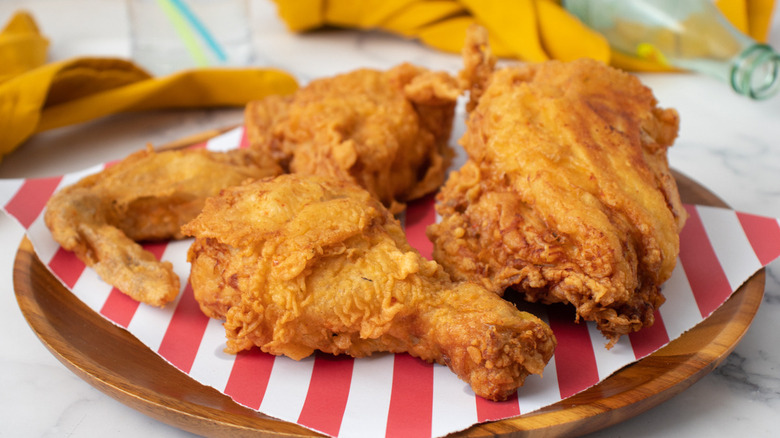 Total time: 4 hours, 45 minutes
Ingredients
For the ABQ spice blend
1 tablespoon ground cumin
2 tablespoons powdered chicken bouillon
1 tablespoon garlic powder
1 tablespoon onion powder
1 tablespoon lime zest
½ tablespoon dried red chile powder or flakes
1 teaspoon achiote or annatto powder
For the brine
½ cup salt
2 quarts hot water
1 whole chicken, cut into parts, or about 3 ½ pounds of bone-in, skin-on chicken parts of your choice
For the batter
1 cup all-purpose flour
1 cup cornstarch
¼ cup gold tequila
1 ½ cups water
1 egg
For frying
2 quarts vegetable, canola, or peanut oil
Directions
Combine all the ABQ spice blend ingredients. Set aside 1 tablespoon of the spice blend, then divide the remaining amount in half.
Combine the salt, hot water, and one portion of the divided spice blend, then let this mixture sit for 5 minutes.
Submerge the chicken completely in the brine, then cover and refrigerate for 4 to 10 hours.
Remove the chicken from the brine and use paper towels to pat it dry. Keep it out at room temperature during the next steps.
Fill a large, heavy pot nearly halfway with oil and bring to 375 F over high heat.
Whisk the batter ingredients with the remaining portion of the spice blend until the batter is no longer lumpy.
Dip the chicken into the batter, letting the excess drip off.
Fry the chicken in the hot oil in batches of 2 to 3 pieces at a time. Cook the chicken to an internal temperature of 160 F (thighs and drumsticks will take 12 to 14 minutes, breasts 10 to 12 minutes, and wings 6 to 8 minutes), maintaining an oil temperature between 325 F and 350 F.
Once cooked and crispy, drain the chicken pieces on a wire rack.
Sprinkle the chicken with the reserved spice blend before serving.