Popeyes' Blackened Chicken Sandwich Is Finally Making The Permanent Menu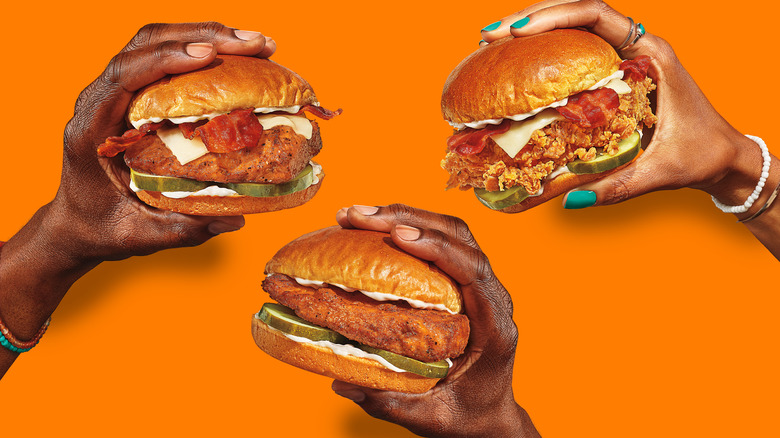 Popeyes
The Popeyes fried chicken sandwich was basically the inciting incident of the fast food chicken wars, which won't be over anytime soon. It kicked off a chicken sandwich craze, leading almost all of the major fast food chains, from McDonald's and Burger King to KFC and Wingstop, to add chicken sandwiches to their menu. Then, Popeyes revealed the Blackened Chicken Sandwich, an unbreaded version covered in spices, and fans may be excited to hear that it has officially been added to the chain's permanent menu.
Popeyes started testing the new Blackened Chicken Sandwich in 2021, and it first made its way to stores in 2022. Now, according to a press release, it's on the menu to stay. Each sandwich retails for $4.99, and features a marinated chicken breast seasoned with Cajun spices, which is served on a brioche bun with either spicy or regular mayo and pickles. Popeyes is also adding a new customization option to the menu: starting at $1.50 extra, customers can add bacon and Havarti cheese to any chicken sandwich served at Popeyes.
People love the sandwich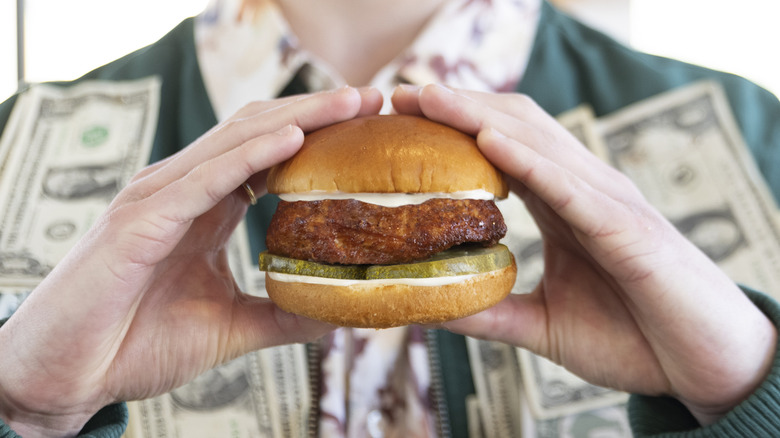 Popeyes
What sets Popeyes' new sandwich apart from its crispy chicken sandwich is that it's coated in the chain's blackened seasoning recipe (made with black pepper, cumin, red pepper, garlic, onion, paprika, and white pepper), rather than being breaded. Though "blackened" meat and seafood might seem like an ancient Louisiana tradition, it was actually invented by New Orleans chef Paul Prudhomme in the early 1980s, and it immediately became a sensation (even causing overfishing of his preferred seafood for blackening, Redfish).
So how is Popeyes' rendition of blackened chicken in the new sandwich? Pretty good, according to reviewers. At The Impulsive Buy, one reviewer said that, though "Unbreaded 'grilled' chicken sandwiches at fast food restaurants are usually awful," their worries "were immediately put to rest" when they saw how juicy the Blackened Chicken Sandwich was. Another reviewer said that though "the bun dominates the sandwich," the chicken itself was juicy and tender (via PennLive). Redditors seemed happy with the sandwich, too — after it was first introduced, one person said "this blew my mind, not embarass[sic] to say I've been back for this sandwich 3 times already this week." To celebrate the new addition to the menu, Popeyes is offering customers a free extra regular side with the purchase of a Chicken Sandwich Combo on the Popeyes website or app, from June 6-June 25.