Jack's Candy Is Essentially The Costco Of Sweets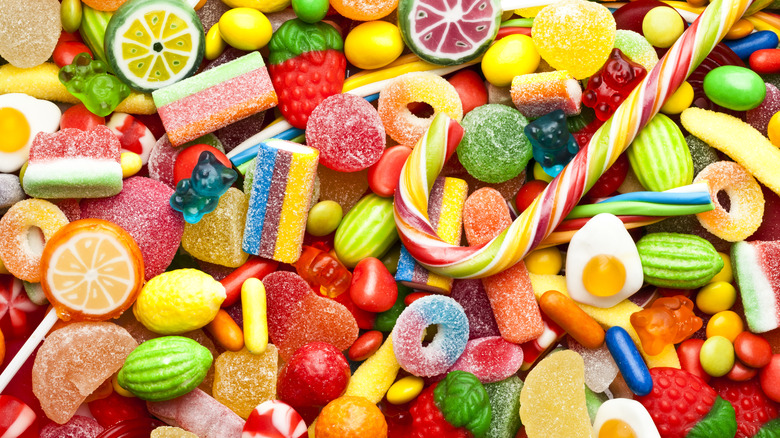 Fcafotodigital/Getty Images
Imagine shopping in a cavernous warehouse store where the customers' massive grocery carts are overflowing — but not with giant croissants, bank-breaking slabs of meat, and bakery sacks of flour. Instead, these carts hold a sweet and colorful trove: Two-pound bags of Reese's Pieces, a bucket of rock candy wands, Blow Pops by the case, and enough Big League Chew to last the entire baseball season. For candy lovers, it may sound too good to be true, but this store really does exist. It's the sugary nirvana called Jack's Candy, a bulk chocolate and sweets store in Los Angeles. 
The namesake of Jack's Candy was Jack Levy, who opened a small, L.A. candy shop in the 1940s. The Ahmed family purchased the business in the '80s, quickly finding success as a wholesale supplier. In 2014, the Ahmeds debuted their new, 42,000 square-foot, air-conditioned warehouse filled to the rafters with candy and chocolate. There, they fill wholesale and online orders, but customers can also walk through and load up on bulk packages of new and favorite sweet treats. The store feels just like a Costco or a Sam's Club, except it's all candy, and better yet, anyone can shop there because no membership is required.
This store is way better than Willy Wonka's factory
Jack's Candy boasts all of the big names that are easy to find in stores, like Hershey's, Jelly Belly, Snickers, and M&M's. They even carry fine chocolate from Guittard and Merckens. But the best reason to spend a day in the aisles of Jack's is to discover all the different candies gathered from around the world. They have lots of Haribo gummies from Germany. Japanese candies include assorted Hi-Chews and Pocky. And there are hundreds of Mexican treats, like Pulparindos tamarind candies, Duvalín candy creams, and spicy watermelon-flavored Lucas Salsagheti. 
This candyland is also a great place to look for nostalgic sweets: Pop Rocks, Necco wafers, Baby Bottle Pops, Pez, and Bubble Tape. It's a no-brainer to head to Jack's Candy to stock up for the holidays when the store features massive displays of bulk Christmas, Easter, and Halloween-themed treats. They even have a whole aisle of piñatas to hold all of that candy until someone bashes them open. Shoppers can find a other few things at Jack's, such as Tajín, Chamoy sauce, sodas, and party favors. 
Be prepared for the mother of all sugar crashes after visiting this massive candy warehouse!