Customers Aren't Exactly Rushing To Aldi For Maple Bacon-Flavored Chicken Wings
Not every Aldi frozen food product can be a slam dunk, and the latest proof of this is the Kirkwood Maple Bacon Flavored Chicken Wings. The packaging describes the wings as being "fully cooked," and coming with a dry rub seasoning packet. They can be heated in the oven, air fryer, or microwave, and are supposed to be tossed with the maple bacon seasoning afterward.
Despite their enticing name and easy preparation, the internet verdict on the wings is pretty negative, with common complaints about the product centering on the flavoring mix, which some called overly-sweet and chemical tasting. In a recent Reddit thread on the wings in r/Aldi, several unhappy customers aired their grievances. The original poster compared using the dry rub that comes packaged with the wings to "coating them in pure sugar and liquid smoke." "Soo gross," another commenter agreed. Someone else compared the scent of the wings to Buc-ee's.
Other reviews focused on the small size of the wings. This might bring to mind the ironic "...and such small portions!" line from "Annie Hall", as the paltry amount of chicken meat customers did get was deemed "really fatty." However, not everyone hated the wings. One Redditor wrote: "I am kicking myself for only buying one bag." Meanwhile, one TikTok reviewer cooked them in the air fryer and shared them with her partner, ultimately deciding they were "pretty good" but "a little salty."
Sugar and spice aren't always nice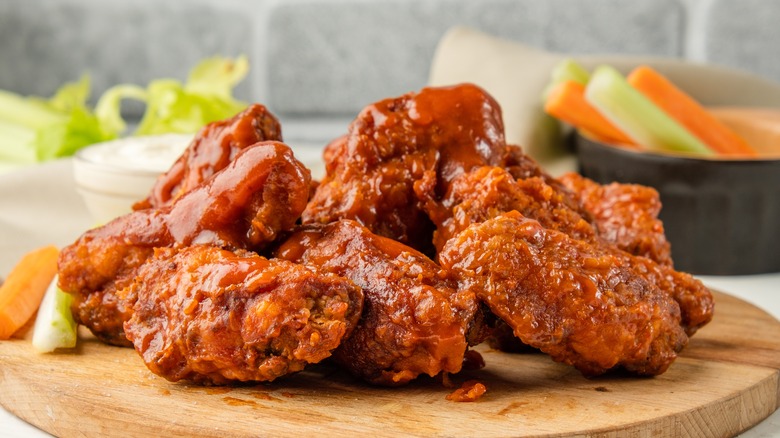 Axel Mel/Shutterstock
Perhaps, the seasoning directions for Aldi's maple bacon frozen wings need to be taken with a grain of salt. In response to the TikTok review video, a few commenters shared tweaks that worked for them, which included using a reduced amount instead of dumping the whole bag of dry rub on the wings, or omitting the seasoning entirely. 
Interestingly enough, some have compared the taste of these wings to one of Aldi's strange meatball flavors. The grocery store chain's frozen maple bacon pork meatballs received similarly not-so-glowing reviews in r/Aldi and haven't been spotted in stores recently. While the Aldi meatballs were otherwise successful, the small size and mediocre quality of Aldi's frozen wings seem to be a complaint across the board. 
This extends to other varieties like the classic buffalo style, which one commenter described as "ruining" their Super Bowl spread. Other Kirkwood frozen chicken wing flavors include Honey BBQ and Nashville Style Hot Dry Rub. Those eager to try the wings for themselves should check at their local Aldi, as they don't appear to be offered everywhere.