Everything You Need To Know About The World's Largest Buc-Ee's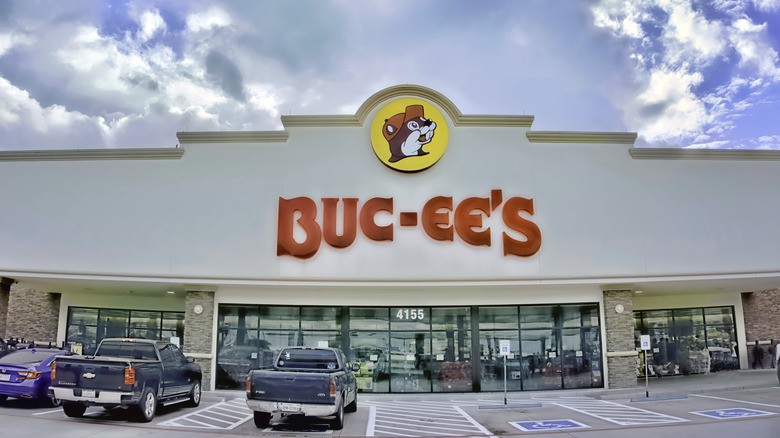 Mj0007/Getty Images
There's a reason people are getting excited about the world's largest Buc-ee's location. When you set out on a road trip, sometimes traveling for hundreds of miles across state lines, it's always nice to know that the place where you're stopping to get food, use the bathroom, and put gas in your car is a nice spot — hence why so many Americans have a loyalty to a favorite gas station convenience chain like Buc-ee's. After all, as some have pointed out in complimentary and critical ways, Buc-ee's is less of a convenience store and more of a tourist attraction.
Plus, most locations are big — very big. Think tens of thousands of square feet big. In fact, as the Buc-ee's brand has expanded and opened more locations across the South, each new one to open seems to claim the title of biggest convenience store in the world. As of June 2023, Buc-ee's is putting the finishing touches on its latest location in Sevierville, Tennessee, which currently holds the distinction of being the largest. If you've never been to Buc-ee's, you might be surprised by all the many ways this chain of expansive, reliably high-quality travel centers sets itself apart from other gas stations and convenience stores along any highway in America. Here's everything you need to know about the world's largest Buc-ee's.
Buc-ee's Sevierville is actually the largest travel center globally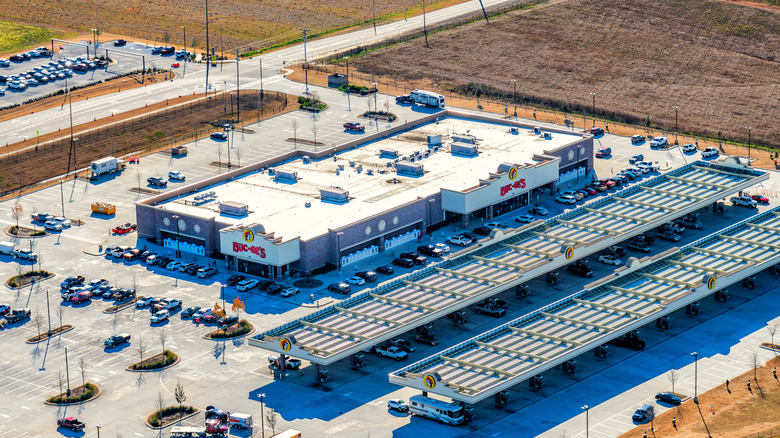 Art Wager/Getty Images
When you hear people describe the Sevierville, Tennessee, location of Buc-ee's as the largest travel center, there's more to unpack there than a fully loaded SUV on a cross-coast road trip. That's because Buc-ee's is a chain of convenience stores that are famous for being very big — in fact, that's why most of the larger locations are referred to as "travel centers" rather than "convenience stores" (but more on that later). The point is, Buc-ee's are known for being big. If a location is going to be the biggest Buc-ee's out there, that's saying something.
Specifically, the Sevierville location is about 74,000 square feet, nearly 8,000 square feet larger than the location to previously hold the distinction in New Braunfels, Texas. Note that this means it's the largest convenience store in the world.
With its record-setting size, Buc-ee's of Sevierville has a lot to offer to drivers who are making their way along I-40 and willing to make a quick stop (or a long stop, as they might wish) at exit 407 to visit the travel center. Buc-ee's Sevierville has 120 gas fueling stations and a car wash, plus a convenience store selling all kinds of drinks, snacks, and meals, and clean bathrooms that the Buc-ee's brand is known for.
Before Sevierville, the largest Buc-ee's was in New Braunfels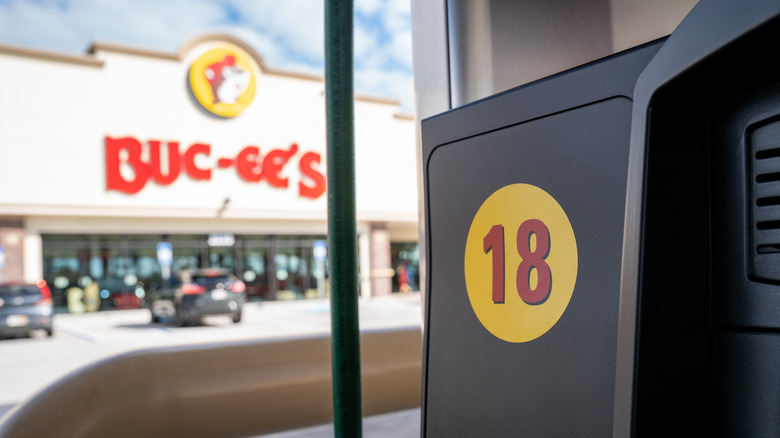 Melissa Kopka/Getty Images
Before Sevierville unseated New Braunfels as the largest Buc-ee's in the world, the record for size was 66,335 square feet. (It's worth pointing out, however, that the record for the world's longest car wash actually goes to the Katy, Texas, location of Buc-ee's.) And even though Sevierville is slated to dethrone New Braunfels when it opens in June 2023, it might not hold the title of world's largest for very long, as a new location will soon be built in Johnstown, Colorado.
The Buc-ee's chain has expanded significantly in years that could be described as relatively recent. Although Buc-ee's has existed since 1982, expanding its number of locations outside of its home state of Texas didn't really start until 2010. As of 2023, Buc-ee's has opened locations across Texas and the south, including Alabama, Florida, Georgia, Kentucky, South Carolina, and Tennessee. This huge Sevierville Buc-ee's is location number 46, and the second to open in Tennessee after a location in Crossville, which opened up in 2022.
The location was made possible by the Eastern Band of Cherokee Indians
You might be interested to learn that Buc-ee's Sevierville was made possible by the Eastern Band of Cherokee Indians (EBCI). Specifically, Buc-ee's Sevierville is part of what's known as The 407: Gateway to Adventure, a roadside attraction of over 200 acres encompassing shops, restaurants, and cabins for vacation lodging that opened in 2021 and attracted about 6.7 million visitors in its first year. 
For a long time, the Buc-ee's brand could not find a property large enough to suit what it envisioned until the EBCI bought the land on top of a mountain and made it available for the chain. The opportunity is just as exciting for the Cherokee Nation as it is for Buc-ee's, as Cherokee One Feather explains, noting that Buc-ee's will be a big part of expanding the influence of The 407: Gateway to Adventure project.
There's a difference between a Buc-ee's convenience store and a Buc-ee's travel center
Buc-ee's locations come in different sizes — and technically, you could sort them into two categories: Forbes explains that most Buc-ee's are about the size of a typical convenience store at around 3,000 square feet. But these smaller locations are actually in the minority when it comes to Buc-ee's. More common are the big locations — such as the new Sevierville one — which would be better described as a "travel center." T
hey're larger, often with tens of thousands of square feet, plus hundreds of gas pumps and even more employees. When you stop at a travel center instead of a simple convenience store, you have the option of going through a car wash or making a selection from a much more varied stock of food and drink. These travel centers are more like a rest stop than they are like a typical gas station convenience store.
This travel center will have Buc-ee's trademark clean bathrooms
Maybe the aspect of Buc-ee's that people get the most excited about is the bathrooms, which Buc-ee's deems the cleanest option you're going to find on the road. These bathrooms have actual walls between the toilet stalls instead of the thin dividers that most public bathrooms have, and because there are designated employees who work full time to keep the bathrooms clean (even going so far as to monitor the bathrooms around the clock), you never have to worry about the grossness notoriously associated with gas station bathrooms.
In fact, the New Braunfels location (remember, the largest Buc-ee's before Sevierville claimed the title) received recognition as the best restroom in the nation. Buc-ee's of New Braunfels, with its 83 toilets, was followed by Arizona's Liberty Market in second and the Hollywood Bowl in third — but it beat these other venues by such a huge margin of thousands of votes that the contest's adjudicators had to do a recount by hand just to make sure.
Not everyone is a fan of how big Buc-ee's is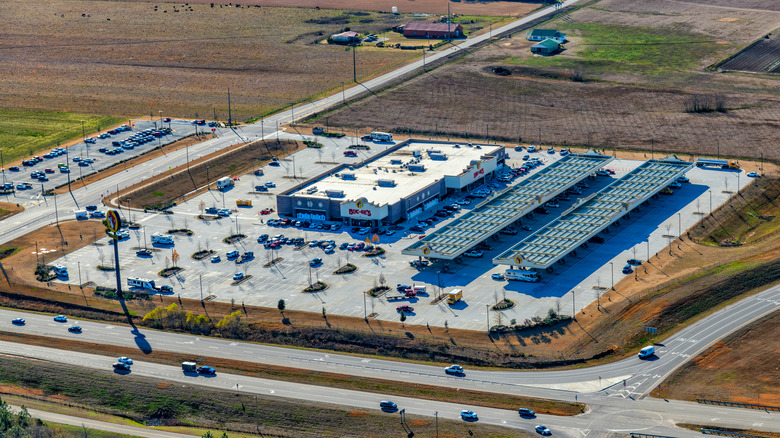 Art Wager/Getty Images
While many Buc-ee's devotees love the chain for how big it is and how much it has to offer, there do exist critics, such as Garrett Martin of Paste Magazine, who points out that Buc-ee's is more of a department store that sells junk food and souvenirs rather than a convenience store slash gas station. 
Martin acknowledges the appeal of everything Buc-ee's has to offer, but being that the typical size of one could encompass multiple convenience stores, it's more than a person needs. Convenience stores appeal to people because it's easy to get in and out of there very quickly, but in the case of Buc-ee's, customers are committing to a shopping experience. It takes a while to navigate the parking lots, there are aisles and aisles to shop through, and long lines to the checkout counter. Shoppers who visit Buc-ee's are visiting a place that's more of a tourist attraction rather than a convenience store.
Buc-ee's has lots and lots of road refreshments to choose from
However, for those who do want the highly hyped-up tourist experience, there's so much they will want to check out, like the authentic Texas-style barbecue sandwiches with meat cut to order, as well as the German kolaches and freshly made cookies and muffins in the store's bakery department.
Then there's the jerky bar, a selection of fudge, a coffee station, and a candy wall that spans half the length of the store. So if you want to get a sandwich made especially for you? Go and place an order. If you want to take some fresh sweets to enjoy as dessert? The bakery has you covered. And if you're worried about showing up to your destination without a gift in hand? The fudge counter even has pre-boxed sampler options.
And who could visit a tourist attraction without picking out some kind of souvenir to take home with them? You've got T-shirts, hats, stickers, plush animals, and other novelties featuring the store's beaver mascot to choose from. You can even get a blanket with the Buc-ee's beaver on it, which could be a trip-saver for anyone riding in a car with companions who like to blast the air conditioning.
Be sure to try the Beaver Nuggets
Many snacks and beverages at these stores are Buc-ee's branded variations on popular products, such as Buc-ee's soda, chips, or nuts. It's not all snack food, of course, and Buc-ee's rivals a grocery store in its selection of fresh food, including cut fruit and other portioned, packaged options for someone who is looking to get a more nutritionally solid bit to eat while they're on the road.
One product you won't want to miss is something called Beaver Nuggets, a kind of trademark snack available in an assortment of flavors. This popular item is made from puffed corn and comes in savory tastes like white cheddar or sweet varieties like cinnamon sugar. Like many of the other snacks, Beaver Snacks cost less than $5 but deliver a big taste. Other great options include fresh-fried potato chips straight from the fryer, which will go great with your freshly made sandwich, as well as roasted nuts, so fresh they're still hot (and so fragrant that they're difficult to resist).
Buc-ee's is considered a favorite gas station among Americans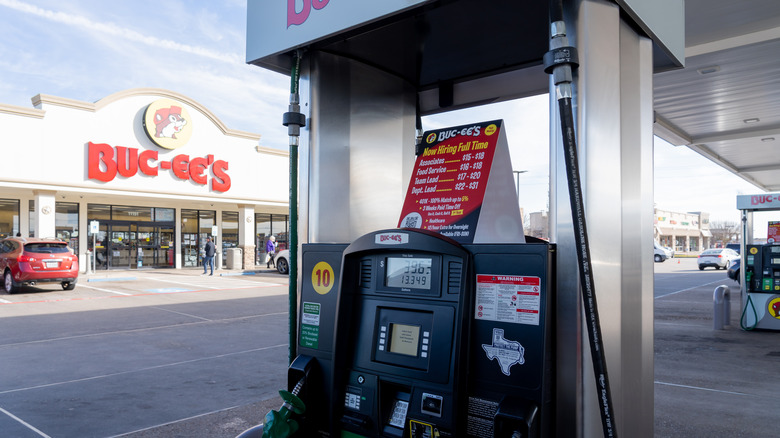 Jhvephoto/Getty Images
Would you say that you have a favorite gas station? Many Americans do — and a lot of them prefer Buc-ee's, according to a survey by KHOU-11, which found that Buc-ee's was second only to Costco when it comes to a favorite gas station among Americans. Following Costco and Buc-ee's on the list were Sam's Club, Wawa, and Sheetz, all selected based on qualities like cleanliness, price, and even the quality of the food they sell.
While Buc-ee's was second overall, it did rank first among all contenders for the niceness of its business, and while many of the gas stations that ranked were named in at least one category, Buc-ee's and Costco were the only gas stations that placed in the top five spots across all categories. It sounds like it's safe to say that Buc-ee's remains in a prominent place in the mind of its customers for a variety of reasons.
This also might explain why people are more apt to go out of their way and visit a Buc-ee's, something that a driver might not do for an average gas station. On average, people said they were willing to drive out of their way by about 21 minutes to get to a Buc-ee's, the farthest that people would go out of their planned route for any gas station among those listed.
Despite their size, Buc-ee's can't accommodate 18-wheelers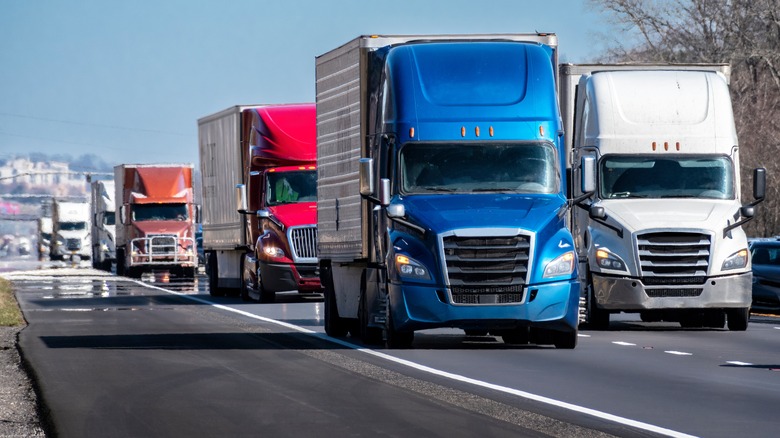 Carolyn Franks/Shutterstock
While it sounds as if Buc-ee's is a great gas-up for ordinary motorists, it's not a place where everybody can go for fuel. Specifically, 18-wheelers won't be able to count on Buc-ee's as a place they can go to get gas. That's because despite the impressive size of these travel centers — remember, the Sevierville location is about 75,000 square feet — they are still too small to accommodate a huge 18-wheeler pulling into up to their fueling stations. The parking lots, as well as the driveways that lead up to them, are built for passenger vehicles but not anything larger. 
This is why you might see a sign out in front of a Buc-ee's parking lot emphasizing that 18-wheelers are not allowed into the parking lot. This has been the cause of much consternation and dismay on the part of some truck drivers, who don't see the limitation as reasonable. (But maybe they just want an excuse to pull over and get some Beaver Nuggets, because who doesn't?)
But Buc-ee's is a great option for people who drive electric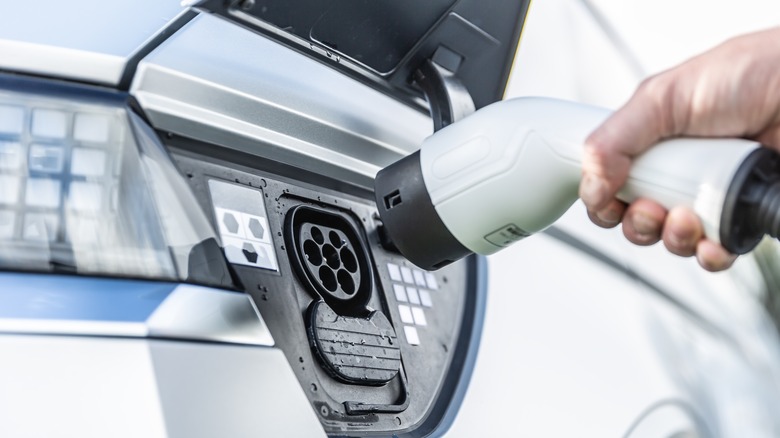 Marian Weyo/Shutterstock
While Buc-ee's can't be an option for truck drivers, there is another group of motorists that can reliably pull into the parking lot and charge up — yes, charge up, not gas up. That's because many Buc-ee's locations do have charging stations for electric vehicles. Be sure to check ahead of time to make sure, but one location has as many as 48 chargers available for any electrical cars that need to give their battery some juice before the next stretch of their trip. Most prominently represented among the EV charging stations are Tesla Superchargers. This is because Buc-ee's started working with Tesla back in 2021 to expand the number of charging stations available at its locations.
Charging an electric vehicle at a Buc-ee's might not be entirely practical, as a full charge can take around 40 minutes, much more time than a person typically takes at the typical gas station. Most drivers want something to do while they wait for their car to charge — like, say, go out to dinner. Maybe this explains why Buc-ee's has made part of its appeal the touristy experience of shopping in its large travel center stores.
The smallest Buc-ee's may be in Eagle Lake, Texas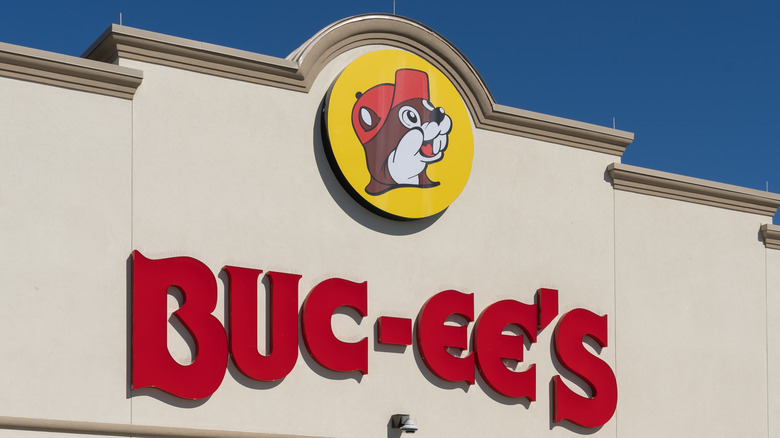 Jhvephoto/Getty Images
Sevierville marks the biggest Buc-ee's location as of June 2023, with larger Buc-ee's locations likely to be opening soon thereafter. But what about the smallest Buc-ee's location? Does this convenience store chain with its reputation for expansive travel centers have any spots that are pared down to just the basics?
As it turns out: yes. Not all Buc-ee's are huge shopping centers, and the location in Eagle Lake, Texas, might be the smallest of all Buc-ee's locations. This Buc-ee's has a single bathroom with only one stall (a huge contrast to the 50 stalls plus 33 urinals at the New Braunfels location). It also has only three aisles of snack options, though it does still have a mini deli for anyone who wants to place an order for a sandwich. If you're somebody who loves the novelty of a huge Buc-ee's with so much to see, do, and buy, then this small Buc-ee's might feel underwhelming. But for those who want the reliability of the Buc-ee's brand on a much smaller scale, such a pared-down version could be a refreshing change of pace.