TikTok-Inspired Cucumber Bell Pepper Salad Recipe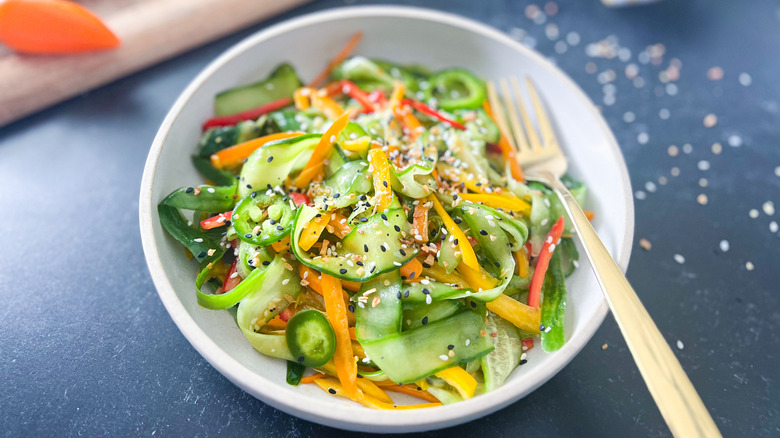 Erin Johnson/Mashed
If it wasn't abundantly clear, TikTok has changed the way an entire generation consumes media. Beyond the entertaining clips, the platform is a significant source of recipes for numerous people. While some dishes fade into internet oblivion, others rise to superstar fame and occasionally go viral. There's no defining formula for what makes a TikTok recipe reach millions instead of mere hundreds of followers, but Rachael Kirkconnell landed spot on the nose with her cucumber pepper salad earlier in 2023. The video has around 3.7 million views, which is saying a lot about a five-ingredient creation. Nevertheless, the easy and quick prep and tantalizing combination of flavors made the salad a deserving candidate. 
Although Kirkconnell's recipe is straightforward and clearly delicious enough to rise to TikTok celebrity, Mashed recipe developer Erin Johnson gave it her own little spin, and we're loving it. Johnson chose to slice up the vegetables in a unique way to make this salad "[feel] like a more substantial side dish." If you first discovered the salad when it came out on TikTok, this new variation is just in time for summer. "This salad is fresh, light, and takes almost no time to make. It's perfect for hot summer days," Johnson remarks. Make an extra large portion to serve at a barbecue or simply dish it out for a solo patio dinner. 
Gather the ingredients for this TikTok-inspired cucumber bell pepper salad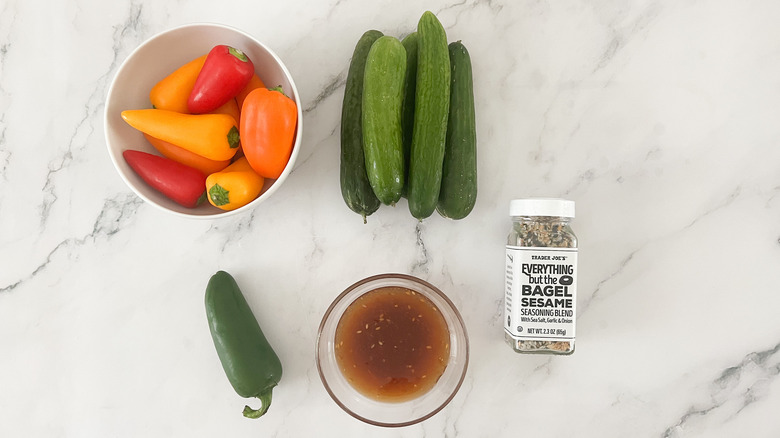 Erin Johnson/Mashed
For this salad, you'll need a handful of mini cucumbers, several mini sweet peppers (use assorted colors to brighten up the salad), and jalapeño for heat. Then, get a bottle of ginger dressing and a trusty jar of everything bagel seasoning, such as Trader Joe's Everything But the Bagel seasoning blend, which will provide a nice garlicky, oniony crunch. 
About the jalapeños, Johnson notes that "you can omit them or only use a portion of the pepper," if you want to keep the heat mild. She also points out that the seasoning blend may or may not contain salt based on the brand, so "you may want to add salt and pepper to taste."
Start by prepping the vegetables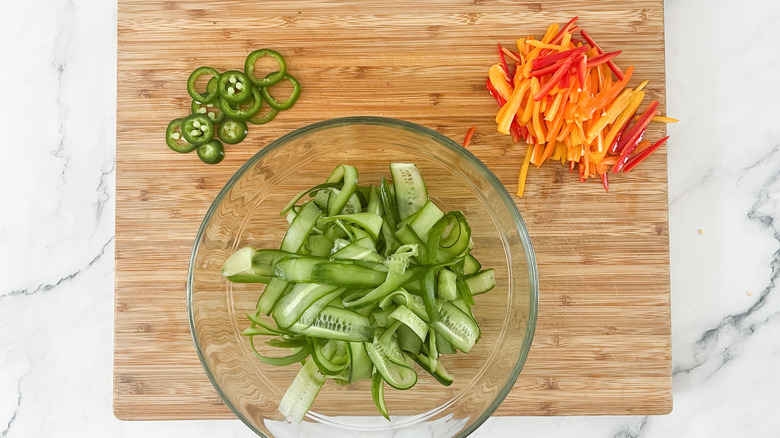 Erin Johnson/Mashed
With a vegetable peeler, slice the cucumbers into long ribbons. Then, julienne the mini peppers to make thin strips and thinly slice the jalapeños as well. "The original recipe on TikTok has sliced vegetables, but the ribbons and strips [make] the dish feel slightly more elevated," Johnson comments.
Toss the vegetables with dressing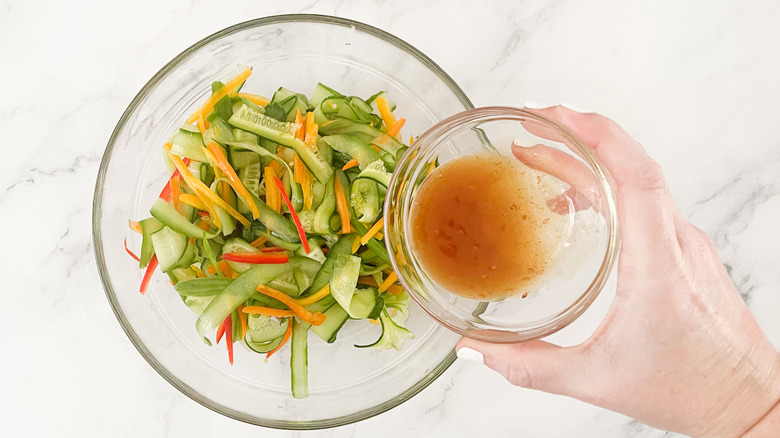 Erin Johnson/Mashed
Transfer the sliced vegetables into a small bowl, then pour the ginger dressing over top. Toss the vegetables to fully coat them with the dressing. If you have time and want to maximize the flavor, Johnson notes, "I like to let this sit in the fridge for about 30 minutes before serving, but that is optional."
Garnish and serve the salad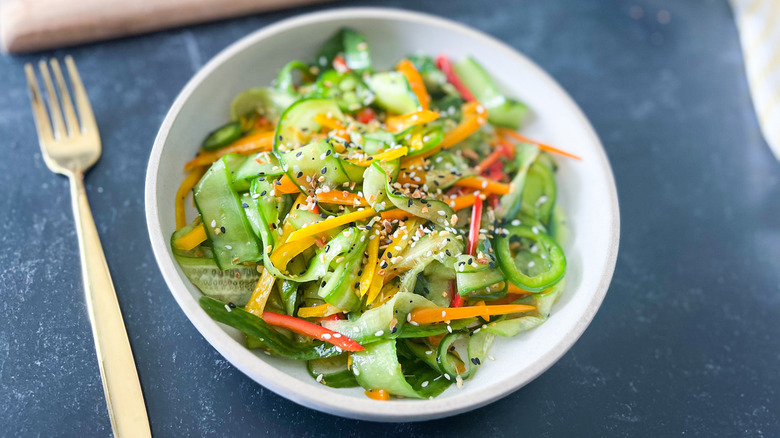 Erin Johnson/Mashed
Finally, sprinkle the bagel seasoning blend over the salad to garnish. Serve this as part of lunch or as a snack. Johnson also says, "this would work as a side dish to practically anything, but especially grilled meat."
If you have leftovers or want to batch-prep some salad, you can store it for up to two days in a sealed container in the refrigerator.
TikTok-Inspired Cucumber Bell Pepper Salad Recipe
The viral TikTok salad gets a summer twist in this fresh and vibrant recipe.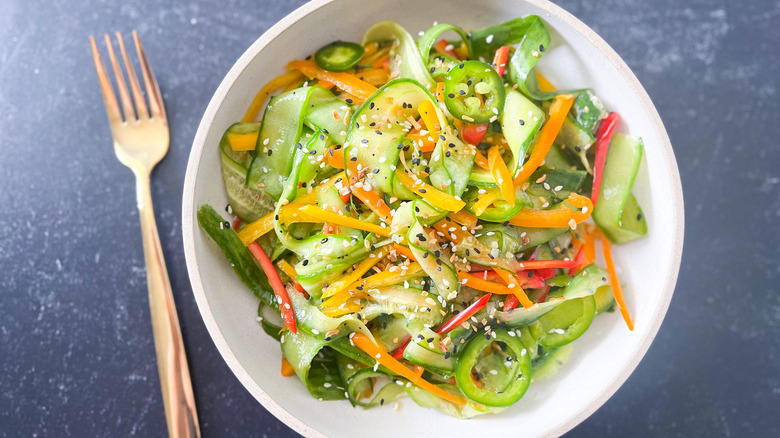 Ingredients
6 mini cucumbers
8 mini sweet peppers
1 jalapeño
¼ cup ginger dressing
generous sprinkle everything bagel seasoning blend
Directions
Using a vegetable peeler, slice the cucumbers into ribbons.
Julienne the peppers into thin strips.
Thinly slice the jalapeño.
Mix the prepped cucumbers, peppers, and jalapeño together in a bowl.
Toss the vegetables with the ginger dressing.
Sprinkle the seasoning blend on top and serve.