Pizza Chains With The Best Thin Crust, Ranked Worst To Best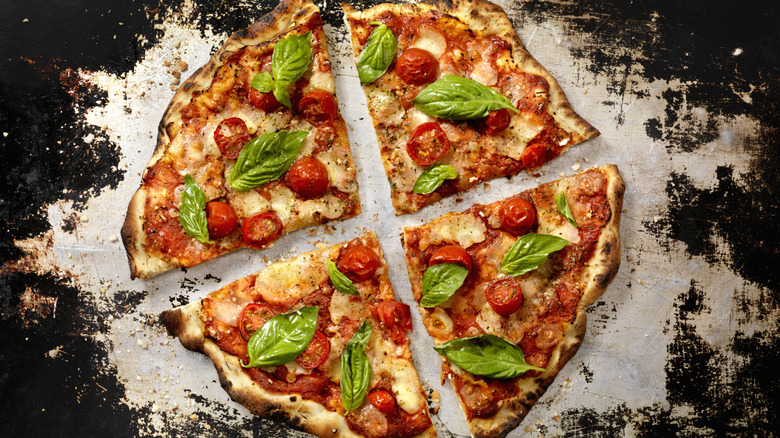 Lauripatterson/Getty Images
It's hard to imagine a food more universally loved than pizza. The food is so popular that the global pizza market reached $141.1 billion in 2022, and is projected to rise to over $192 billion by 2028. It is a versatile and yet consistent dish composed of buttery crust, herb infused sauce, salty cheese, diced meats, and fresh vegetables baked to gooey, garlicky perfection. Seriously, what's not to love? Well, perhaps the carbohydrates. The average slice of deep dish cheese pizza has around 39 grams of carbs and 428 calories ... and who has just one slice?
Thankfully there is hope for pizza lovers who want to watch their weight, heart, or overall metabolic health. Opting for thin crust can reduce those staggering dietary numbers considerably, with one skinny cheese slice coming in at around half the calories and carbs of its regular-crust or deep dish counterpart. That being said, all thin-crust options are not created equally when it comes to the pizza chains you sit down to order from on a Friday night. Check out our list of some of the most common pizza chains offering thin crust selections from worst to best to make your next thin crust-dining experience an enjoyable one.
Pizza Hut
Ahh, Pizza Hut. The place that can't help but bring with it nostalgic memories of school field trips and team feasting after sporting events. The once buffet-style restaurant we remember from the good old days has come a long way with its business model and menu, now offering both individual pizza delivery and — you guessed it— thin crust options.
Unfortunately, despite these additions, Pizza Hut comes in dead last on our list for a variety of reasons. One slice of piping hot cheese thin-crust out of the box is 242 calories and a whopping 27 grams of carbohydrates. If this weren't enough, Pizza Hut is often called out for having issues with consistency in the taste and makeup of the pizzas themselves. One Reddit user started a discussion specifically targeting the brand's thin-crust creations, mentioning that while sometimes its crust has a layer of perfect thickness, other times it is so paper-thin as to be comparable to a potato chip.
Finally, Pizza Hut gets a few more points knocked off for price. Still operating a sit-in restaurant with a full wait staff in many locations in addition to its delivery service is costly, meaning that the prices are pretty high — higher than many people feel a rather basic thin crust pizza is worth.
Domino's
As the leading pizza chain in the United States in sales, you might expect Domino's to be at the top of the thin-crust ranking. Surprisingly, it comes in pretty low on our list. There are multiple reasons for this, but let's begin with a positive. Domino's is the largest and arguably most-recognized pizza brand out there, meaning that no matter where you are, you can probably bet there is a location nearby that can bring you the thin pizza pie you are craving. It has a large and loyal fan base, and generally harbors relatively positive feedback on its hand-tossed, deep pan and classic crust options.
However, where the thin crust pizzas are concerned, there is a lot of negative buzz out there. Platforms like Quora, Tripadvisor, and Reddit are alight with raving reviews about burned, cardboard-like crust with a charred flavor. On a good day the crust is extremely thin and crunchy, much like biting into a perfectly baked cracker, which may appeal to some more than others depending on preference. The nutritional benefits are also lacking, with a single slice of some of the thinnest crust pizza you will ever eat still managing to dump over 200 calories and 20 grams of carbs down your throat. We'll give Domino's an A for availability, but we can assure you that when seeking your perfect thin bite, there are probably some better options out there.
Cicis
Cicis is a multifaceted pizza chain, to be sure. Offering buffet, carry out and delivery, it covers all the bases — including having a thin crust option available. What makes Cicis different is that its skinny version is actually marketed as a flatbread. The dough is unleavened, which means that unlike a traditional pizza recipe, the yeast is left out. This gives its flatbreads an extra, well ... flat texture. They are very thin, very crispy, but also very strong, successfully keeping toppings afloat when you lift a rectangular-cut slice to your mouth. As another pro, Cicis flatbreads score well on the nutritional meter, with a single piece coming in at a measly 88 calories and only 6 carbohydrates.
This is kind of where the excitement ends, though. Despite a lower price point than Pizza Hut, another chain which still offers buffet-style dining, the main con when it comes to Cicis is the great debate on whether or not it's actually good. Real life eaters seem torn, with one reviewer going so far as to compare the Cicis pizza in his city of Wichita to crunchy cardboard. Other online reviews have revolved around how Cicis was the worst dining experience of users' lives(!). Of course one thing is not everyone's cup of tea, but with enough naysaying statements out there, Cicis remains farther down on our list.
Papa John's
Papa John's comes with more choices than most, advertising two different slender crust options on its menu; an extra-large foldable New York Style pizza, and an authentic thin crust. The first will get you an oversized and soft bendable slice, while the latter will bring you closer to that more traditional thin crunch ... but not all the way. Its authentic thin recipe maintains quite a bit of softness in the center. In fact, Papa John's website describes it as being "just a little bit crispy."
If less crunchy is your preference, this may not automatically be a bad thing. However, Papa John's is listed as being one of the most expensive fast food pizza chains out there. You're also looking at a higher calorie content — 257 calories and 23 grams of carbohydrates in a single slice, perhaps partially contributed by the sweet, sugar-laden sauce recipe. While Papa John's does promise "better ingredients," claiming things like freshly grated cheese and vegetables chopped anew every day, we're still not sure that its thin crust pizza ends up being all that special.
Chuck E. Cheese
A place known for its arcades, giant mouse costumes, ball pits, and birthday parties perhaps more than for the greatness of its pizza is Chuck E. Cheese. However, don't be so quick to knock the greasy, doughy bakes you may have not been able to stand in your childhood; the chain has made significant strides in both quality and menu expansion over the years.
In 2011 the company introduced a brand new pizza recipe, making a switch to fresh dough from frozen, and beginning to shred cheese on site instead of using pre-shredded. It also added some additional, interest-piquing menu items — including a Thin & Crispy pizza. This thin crust creation scored surprisingly well among consumers, beating out Pizza Hut in a blind taste test in 2015.
Being a generally lower-cost option as well as very reduced on the calorie scale (just 70 for a single slice of Thin & Crisp, with only 14 grams of carbs), Chuck E. Cheese gains some points in our book. However, seeing as it's not a pizza you can just "get" without entering a Chuck E. Cheese facility, it may not be the easiest go-to when you're having a craving. That said, at least you know a decent thin crust pizza can be found at the next children's birthday party you find yourself attending.
Little Caesars
In 2018 Little Caesars began its trek into the world of skinnier crust, offering its very first thin-crust pepperoni pizza at just $6. Overall the reception was positive, and what began as a limited-time menu item became a permanent addition. The crust itself is described as being very thin — almost cracker-like in crispness — so it remains true to its name. This firm base works to its advantage, though, making each slice strong enough to hold the ample amounts of sauce, cheese, and little curling-at-the-edges pepperonis Little Caesars typically piles on top of its culinary creations.
Calorically speaking, you fare pretty well with a Little Caesars thin crust. One slice is listed at 148 calories with a measly 11 grams of carbs ... however, bear in mind those numbers apply to the thin-crust cheese and do not include the calories from the delicious pepperonis mentioned above, should you elect for them. While the chain carries with it a bit of a reputation for lower-quality ingredients due to its inexpensiveness, all things considered, we think you'll be pretty pleased with the overall crackle in this bite.
MOD Pizza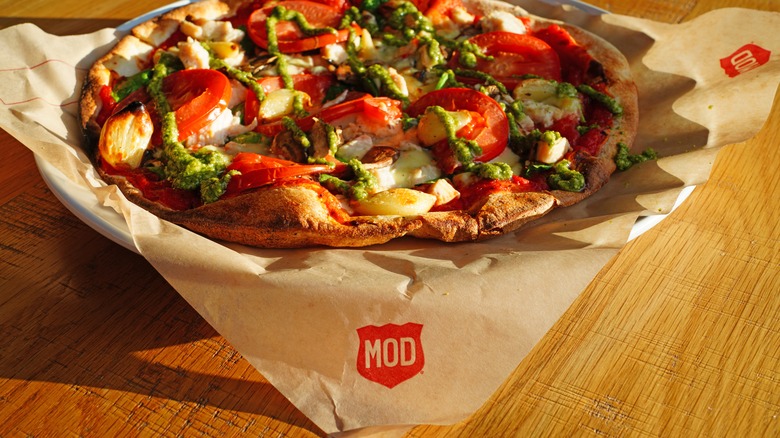 EQRoy/Shutterstock
Although it's only been around since 2008, MOD Pizza is really making a name for itself in the industry. With over 500 locations in the United States, it has a similar business model to Subway or Chipotle — build your own pie, requesting toppings as you slide down the line. The best news for thin crust lovers is that MOD's standard pizza crust recipe is already thin, described by consumers as having a crunch with just a little bit of chew. And extra toppings aside, you have a low calorie count per slice, as well, at 110 calories and 11 grams of carbohydrates.
However, MOD is another chain with controversial reviews when it comes to taste, quality, and price. Some Reddit reviewers consider it a bit overpriced for what you get, which is a personal-sized pizza that many consider better than most chains, but not anything particularly special. You could run into a problem finding locations, as well, depending on the state in which you live. Although the brand has established quite a few stores on the East and West Coasts of the United States and one spot in Canada, there are still many states — particularly those located smack dab in the middle of the country — without a single MOD pizza at all. Still, we feel the guaranteed thin crust and your ability to personalize and make the pizza what you want or need it to be elevates MOD's ranking.
Mellow Mushroom
Praised for its gourmet toppings like feta, mushrooms, and carmelized onions and it's signature, unique dough recipe, Mellow Mushroom came in second place for "most craveable Pizza" in a 2020 poll by Technomic. This is high praise, and though it is known for its doughy, spongy crust, thin fans will be pleased to know they haven't been left in the dust by this chain. Alongside its baked crust option is a thin crust option — both of which are vegan, another plus if this dietary rule applies to you.
However, because doughy is it's thing, Mellow Mushroom's thin recipe might not be your favorite if a super crispy, crackly bite is your jam. While tasty and well-rounded, the thin selection remains pretty chewy. It is also pricey, and while a slice of cheese remains decently light calorically (about 170 per serving), it remains heavy on the carbs at 31 grams.
Another issue is that Mellow Mushroom is one of the smaller pizza chains on our list, and with just 164 locations in the United States,you may have an issue actually finding one, depending on your location. Overall, though, as long as you have the pleasure of being close enough to one of its stores, Mellow Mushroom will most likely provide a delicious (albeit softer) thin crust meal for your next pizza night.
Hungry Howie's
Although sometimes referred to as the more expensive Little Caesars, Hungry Howie's manages to stand out for one major reason; its flavored crusts. That's right. You can get your pizza crust — including your thin options — spiked with flavors like butter, butter cheese, asiago cheese, or ranch. Select locations also offer flatbreads, providing a pretty hefty amount of variety for its thin crust fan base. Both the flat breads and the standard thin crusts are pretty crispy takes, so be prepared for some crunch when you bite into a slice. Hungry Howie's scores high on the nutritional meter, as well, with a single piece of cheese coming in at just 124 calories and around 11 grams of carbohydrates.
The downside? Outside of that epic flavored crust, the rest of the pizza is just sort of ... there. So if you put in an order for, say, a veggie thin crust or the skinny version of the very popular Howie Maui pizza, we recommend electing to have it spiked with a crust flavor to get the most out of those slender slices. This can be done at no extra charge to you. All things considered, Hungry Howie's is a pretty great, reasonably-priced bet for your next thin pizza pick.
Round Table
In 2004, Round Table rolled out the red carpet on it's skinny crust and never looked back. The same recipe as the original dough, these thin crust pizzas were simply stretched out leaner to create a skinnier base with more crisp, making Round Table the first major pizza chain to offer a lower-carb option that did not change the dough recipe itself, or reduce the amount of toppings. The numbers speak for themselves; at just 170 calories and 14 grams of carbs per skinny cheese serving, the chain manages to construct a thin option using fresh ingredients that is genuinely lighter and healthier than a slice of its original crust.
Round Table is generally well-liked, and it's skinny crust pizzas are no different. One user on Tripadvisor boldly called it "the best thin crust pizza" they'd ever had, and additional internet searches will bring up forums harboring mostly positive feedback ... quite a feat as far as we're concerned. However, the phrase "you get what you pay for" definitely applies here. "Consistently overpriced and delicious" was a description provided by another Reddit reviewer, so while your wallet may not love your Round Table skinny crust order, your taste buds certainly will.
Papa Murphy's
Papa Murphy's Take-N-Bake is a modern day rarity when it comes to its business model. Pizza that is assembled in the store, then sent home with the customer to be baked at home? It sounds crazy in a take-out-dominated world where people want their food hot and ready with minimal effort required. Papa Murphy's, however, has not only made it work — it has managed to stay a relevant, successful favorite in the pizza chain industry. How? Because it's good.
Better quality ingredients and cheaper than the main chains, was the view expressed by one Reddit user, summing up the majority customer feeling regarding the popular brand. Papa Murphy's has racked up an impressive number of consumer's choice awards for criteria such as food quality, customer service, and menu variety.
Swooping in to add to this variety in 2014 came the Gourmet Delite, its line of skinny pizzas made on artisan thin crust. Constructed from delicious rolled dough and freshly grated cheese, one slice has a good nutritional score at 190 calories and 18 grams of carbs according to Papa Murphy's website. This combined with its very reasonable prices, high brand recognition, availability across the U.S., and at-home baking model — which gives you the power to determine your bake time and decide how soft or crunchy the crust will be — are all driving points in what makes Papa Murphy's the best choice for your next crackly (or bendy!) craving in our book.