One Bakery Makes The Best-Baked Products For Both Aldi And Costco
Aldi and Costco embody a bulk shopper's paradise, which makes them ideal for family shopping. And what speaks to family more than gathering around the dinner table and enjoying a delicious dessert together? Even the most dedicated bakers and recipe developers are not immune to the allure of store-bought baked goods, provided they offer great taste and value. To prevent overwhelming sugar intake, a small portion of baked treats often suffices, whether complementing a meal or satiating a craving. This is precisely where Sugar Bowl Bakery and its bite-sized treats, available at Aldi and Costco, come into play.
Indulging in these delightful little treats has captured the attention of many, sparking curiosity about the masterminds behind them — Sugar Bowl Bakery. As one of America's prominent minority-owned bakeries, Sugar Bowl Bakery's journey began humbly as a small coffee shop in San Francisco. However, its delectable creations have propelled it to expand its reach across America, with its goods now gracing the shelves of Costco and Aldi stores nationwide.
Renowned for its commitment to using only natural ingredients, Sugar Bowl Bakery caters to various tastes with its signature baked goods, including madeleines, brownie bites, fritters, palmiers, and duet bites. For quite a while now, Costco has been offering these delightful treats from the renowned bakery, and more recently, Aldi has added these delectable treats to their selection.
Sugar Bowl Bakery's incredible journey from obscurity to prominence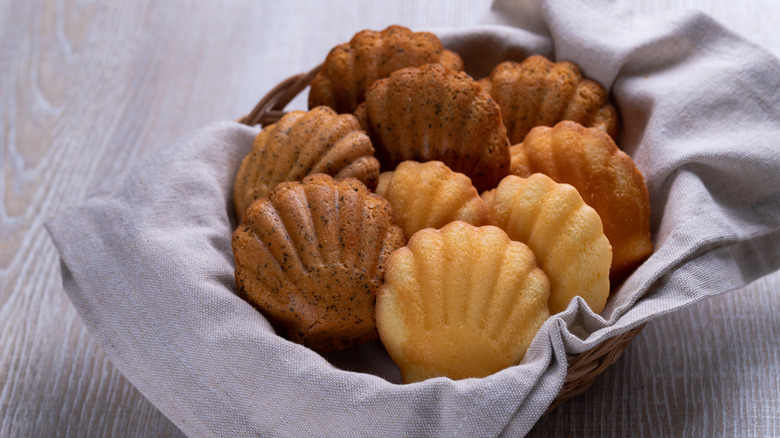 Yumehana/Getty Images
The inspiring story of Sugar Bowl Bakery is a true embodiment of the American dream. After fleeing Vietnam in 1979 with little to their name, the Ly brothers faced numerous hardships while trying to make a living in America. However, their passion and determination led them to transform a modest storefront bakery they took over in 1984 into a renowned national brand.
Baking was a natural choice for the five brothers, given their family's baking traditions and the French influence in Vietnam during the colonial era. Their mother's recipes, particularly the fish-shaped sponge cakes symbolizing abundance, inspired their first creation: the classic madeleine baked in a shell-shaped mold. Initially offering coffee, pastries, and other delights, Sugar Bowl Bakery expanded its horizons in the early 1990s due to the city's rapid growth. With increased hotels seeking premium pastries for their guests, the brothers shifted their focus to B2B sales, satisfying the demand for a variety of baked goods.
However, the turning point came when buyers from Costco Wholesale visited their bakery. After falling in love with Sugar Bowl Bakery's Palmier, Costco requested a higher-quality version, ultimately leading to a partnership in 2000. Building a relationship with Costco was not easy, but it was a testament to their persistence and commitment to fostering long-lasting connections. With its unwavering commitment, Sugar Bowl Bakery continues to craft exceptional and delectable baked goods that fascinate customers.