Slow Cooker Hawaiian Chicken Recipe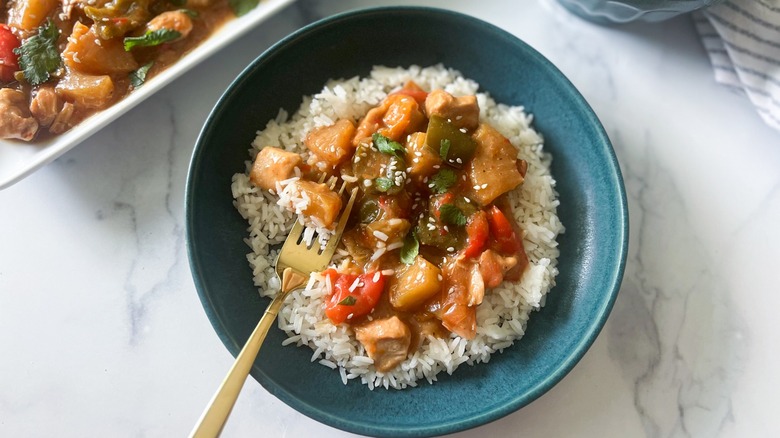 Erin Johnson/Mashed
When the weather gets particularly warm, it can be hard to think about cooking anything at all. However, that doesn't mean you're exclusively stuck foraging for snacks from the fridge in the summer months. Take it from recipe developer Erin Johnson, who says about her slow cooker Hawaiian chicken: "This is a delicious dinner that can save you from having to turn the oven on in the heat of summer." 
Making this dish, which combines tender chicken with sweet pineapple and bell peppers in a flavorful Asian-inspired sauce, doesn't require much more than stirring together a sauce, chopping some veggies, and throwing them in the pot along with some chicken. Plus, the slow cooker component means you can get this ready at any time of day — though it does take several hours to cook, so make sure you start it early enough to be able to eat dinner at a reasonable hour.
The slow cooker isn't the only convenient thing about this Hawaiian chicken recipe: It's also rather flexible. For example, "I like to use multicolored peppers for the color, but you can use whatever you have on hand," Johnson says. Even the protein is open to interpretation. "I used chicken breast, but you can substitute thighs or even a pork roast," she adds. Hungry yet? Here's how to make this tangy, flavor-packed dish.
Assemble your Hawaiian chicken ingredients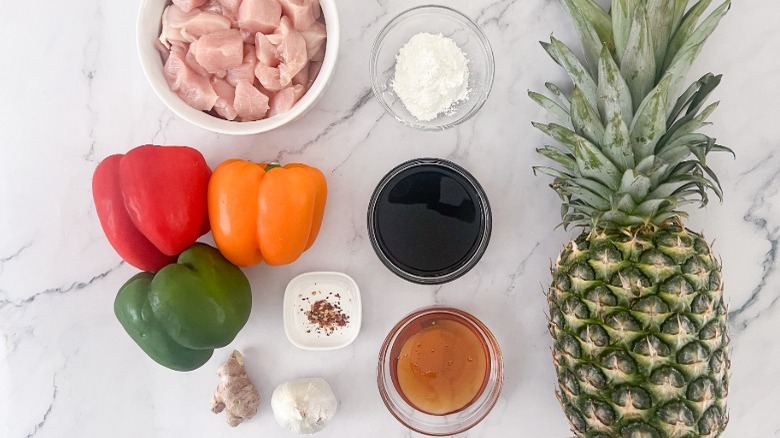 Erin Johnson/Mashed
Similar to a certain controversial pizza, this Hawaiian chicken recipe involves fresh pineapple, which Johnson notes can be replaced with canned chunks. You'll also need chicken breast (or your preferred protein), bell peppers, ginger, garlic, red pepper flakes, soy sauce, honey, and cornstarch.
Make the sauce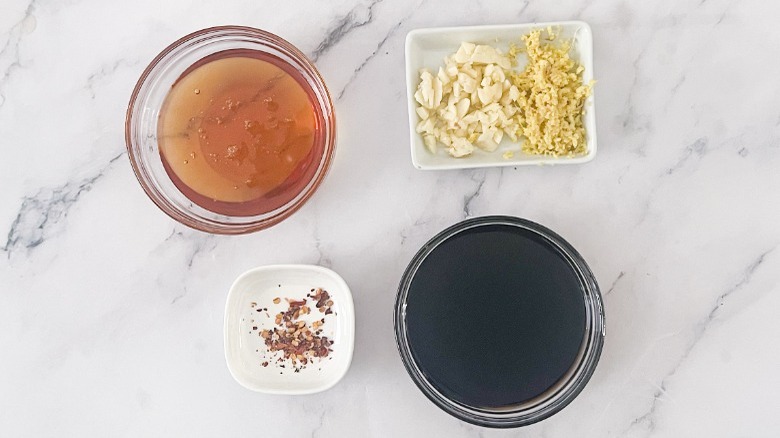 Erin Johnson/Mashed
Start by stirring together your sauce. It doesn't skimp on taste, but it's easy to make: Just combine the soy sauce, grated ginger, minced garlic, honey, and chili flakes in a bowl. "As always, if you need more heat, add more red pepper, and if you want none, omit," Johnson advises.
Prepare the ingredients in your slow cooker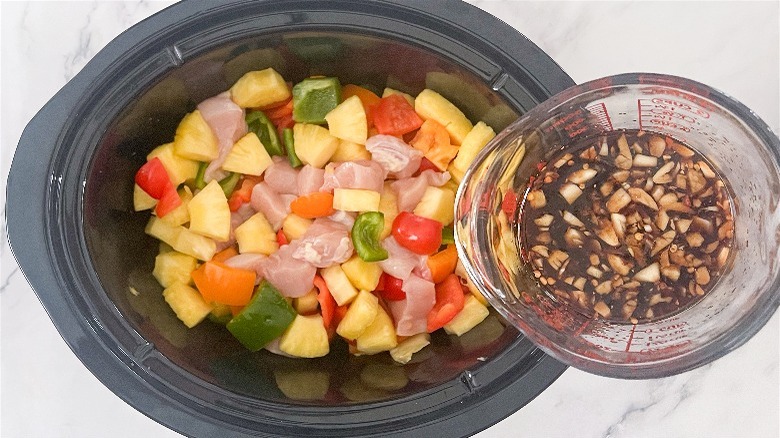 Erin Johnson/Mashed
It's now time for the slow cooker to have its time in the spotlight. Take it out and fill the pot with the diced peppers, pineapple chunks, and chicken pieces, then pour the sauce over everything. Cook it on high for about 4 hours (or on low for about 6).
When the timer goes off, you're not quite done yet. Take some of that saucy liquid from the pot and add your cornstarch to it in a small bowl, then pour the mixture back into the slow cooker and let it cook for about 15 minutes longer. This will help thicken the sauce and give everything a nicer texture.
Enjoy some sweet and savory Hawaiian chicken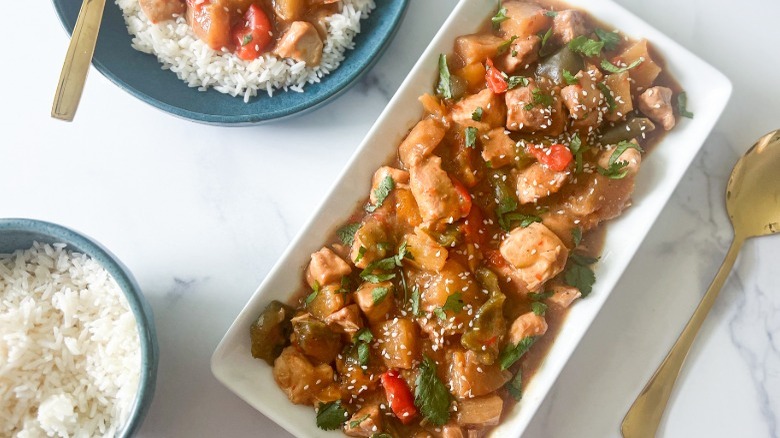 Erin Johnson/Mashed
Once you've patiently waited for your slow cooker to, well, slow cook everything to perfection, you can dig into the steaming, flavorful fruits of your labor (and some literal fruit in the form of pineapple, of course). "I serve this over white rice or egg noodles, but it also works great as a taco filling or is delicious on its own," Johnson says. And if you end up with leftovers, she notes that this Hawaiian chicken "keeps in the fridge for up to 4 days." Whether you make this in the heat of summer or the dead of winter, it's a convenient, reliable way to enjoy a delicious chicken dinner that's packed with both fruits and veggies.
Slow Cooker Hawaiian Chicken Recipe
Turn a few chicken breasts into a sweet, savory, and tangy delight with a Hawaiian blend of pineapple and bell pepper.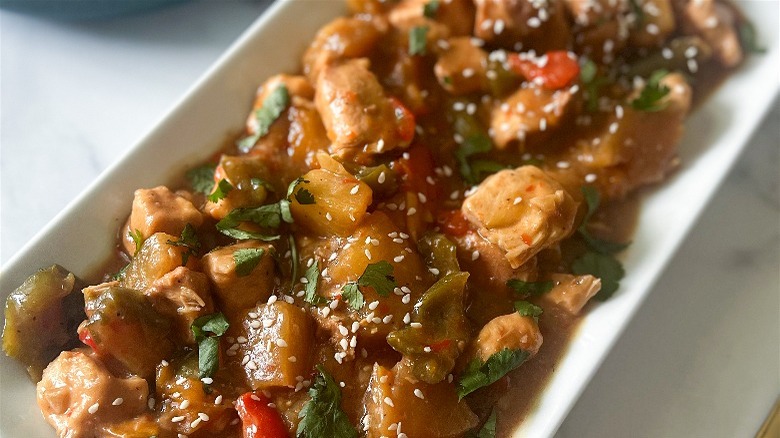 Total time: 4 hours, 25 minutes
Ingredients
⅓ cup honey
½ cup soy sauce
3 cloves garlic, minced
1 teaspoon grated ginger
⅛ teaspoon red pepper flakes (or more to taste)
1 ¼ pounds chicken breast
3 bell peppers, diced
1 pineapple, chopped
1 ½ tablespoons cornstarch
Directions
Combine the honey, soy sauce, garlic, ginger, and red pepper in a small bowl. Set aside.
Add the chicken, peppers, and pineapple to the slow cooker.
Pour the sauce into the slow cooker and stir to combine.
Cook on high for 4 hours (or 6 hours on low) or until the chicken is cooked through.
In a separate bowl, mix the cornstarch with ½ cup of liquid from the slow cooker, then pour the mixture back into the slow cooker. Allow to cook on high for 15 minutes, stirring occasionally, until the Hawaiian chicken has thickened.
Serve warm.
Nutrition
| | |
| --- | --- |
| Calories per Serving | 424 |
| Total Fat | 4.5 g |
| Saturated Fat | 0.9 g |
| Trans Fat | 0.0 g |
| Cholesterol | 103.5 mg |
| | |
| --- | --- |
| Total Carbohydrates | 63.5 g |
| Dietary Fiber | 5.4 g |
| Total Sugars | 49.4 g |
| Sodium | 1,821.4 mg |
| Protein | 36.8 g |