The Best Slow Cookers Of 2022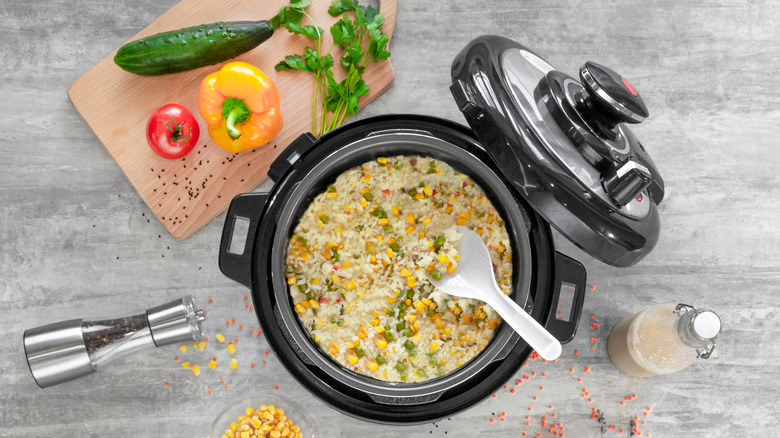 Irine and Andrew/Shutterstock
We may receive a commission on purchases made from links.
Preparing a meal with a slow cooker can be as easy as tossing in a handful of ingredients and setting the device to the right temperature and cook time. It's no wonder that busy home cooks love these convenient appliances. Not only are there minimal dishes to clean, but coming home to a ready-made meal with very little effort is a treat in itself. We're not talking about bland food either; slow cookers are all about blending flavors for a multilayered result that tastes as though you've been cooking all day long.
It can quickly become overwhelming to make a choice when you start investigating the countless options available. To figure out which slow cooker is ideal for your purposes, we've looked at factors such as size, material, programmability, portability, and multi-functionality. Aside from the variety of functions each style offers, the price can fluctuate a great deal. If you're only planning on using your appliance occasionally, it might not be the best idea to splurge on the most luxurious product. Conversely, if it's going to become your daily cooking implement, you had better pick something nice. We've categorized all our favorite picks to make the process easier for you.
How we selected products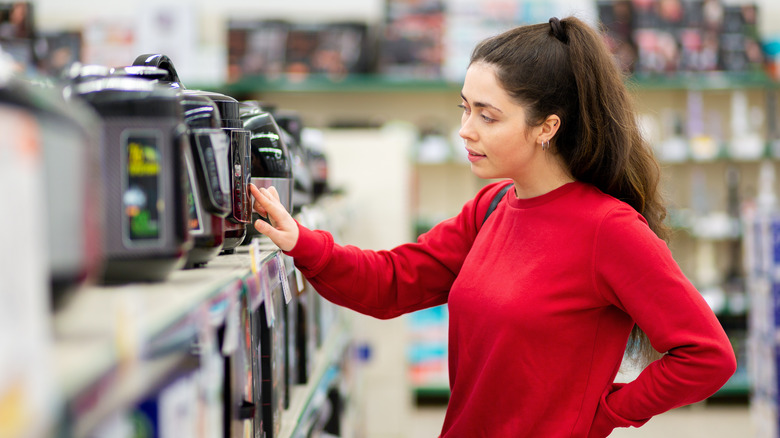 STEKLO/Shutterstock
When consumers like a product, they make it known — and conversely, you can bet that their negative comments are loud and clear. We've taken the time to sift through the numerous factors that make one slow cooker better suited for a specific task versus another. From affordable budget appliances to high-end products designed with aesthetics in mind, the range of cookers is vast and can seem difficult to navigate.
We looked at a number of sources to determine our top choices for each category. User reviews were helpful but since subjective experiences can skew the perception of a product's efficacy, we didn't focus solely on personal opinions. Additionally, we pored over a number of press reviews and descriptions to understand the key characteristics of the various slow cookers. Temperature controls, programming capacities, and speed of cooking are all important factors that consumers consider when choosing the right device.
Models with multifunctional capacities were popular among people looking for one appliance to take care of most of their cooking needs. If you can pressure cook something in there too, it stands to reason that it's twice as useful. In addition, we looked at criteria such as roasting, searing, and whether or not the cookers could be used on the stovetop.
Best overall slow cooker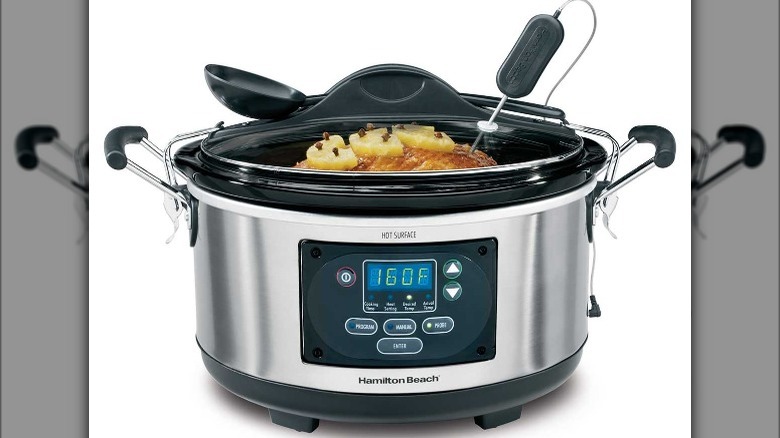 Hamilton Beach
The ideal all-in-one product should contain a balanced combination of characteristics including size, ease of programming, and functionality. Versatility was an important component in our selection here, which is why we chose the Hamilton Beach Programmable Set 'n Forget 6-Quart Slow Cooker. For starters, the size is convenient, as per The Spruce, most slow cooker recipes are created for 6-quart vessels.
Slow Cooker Society points out that the appliance can be manually set or else programmed ahead of time. Once the cooking time is over, it continues to heat the food so that it is warm and ready to eat when you need it. There aren't too many fancy add-ons, but the temperature probe is especially useful if you plan to use your slow cooker to prepare large cuts of meat. Not only can you check the measurement yourself, but you can also program your Hamilton Beach cooker to stop once a specific temperature has been reached; no more over- or under-cooking meat.
According to one review on Don't Waste Your Money, the device "strikes a balance between affordability and features that creates an impressive bang for your buck." The New York Times has continuously rated this Hamilton Beach product as the best slow cooker year after year since 2013. 
You can buy the Hamilton Beach Programmable Set 'n Forget 6-Quart Slow Cooker for $66 on Amazon.
Best solo slow cooker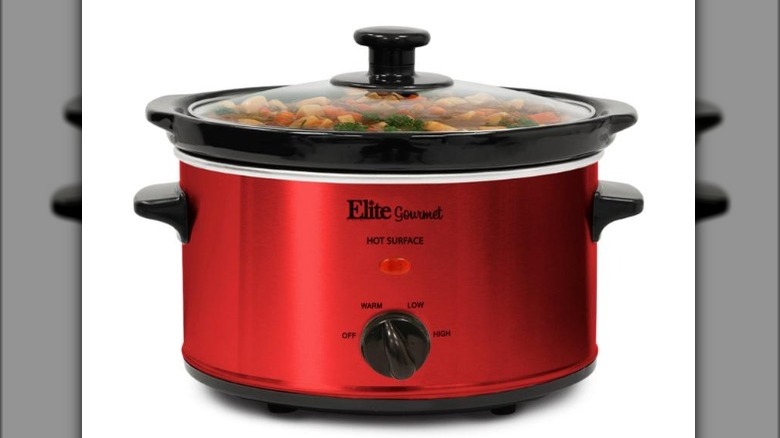 Maxi Matic
Thankfully, using a slow cooker doesn't mean you have to cook a giant portion by default. If your household consists of one to two people, a large appliance with all the bells and whistles can feel a bit excessive. That's why the Elite Gourmet 2-Quart Electric Slow Cooker is perfect for making meals, snacks, and reheating leftovers.
The insert is ceramic and easy to clean in the dishwasher or by hand, while the exterior is sleek stainless steel (it even comes in a few colors). According to the manufacturer, the device has a low, high, and defrost setting to satisfy your basic needs. It may be compact but the oval shape makes it possible to cook a small roast. Although the features are limited compared to larger models, you can still manually set the Elite Gourmet to keep your food warm once it is ready.
If you're just looking for a small standard slow cooker that easily feeds a couple of people, this model is a good bet. The reviews are consistently positive, and you might even want to consider getting it as an extra cooker for hot dips if you regularly entertain, as one consumer noted, calling it "a life saver." All in all, with the Elite Gourmet 2-Quart Slow Cooker, you'll be able to get the benefits of a larger device without crowding your counter space.
You can buy the Elite Gourmet 2-Quart Electric Slow Cooker for $20 on Amazon.
Best slow cooker to feed a crowd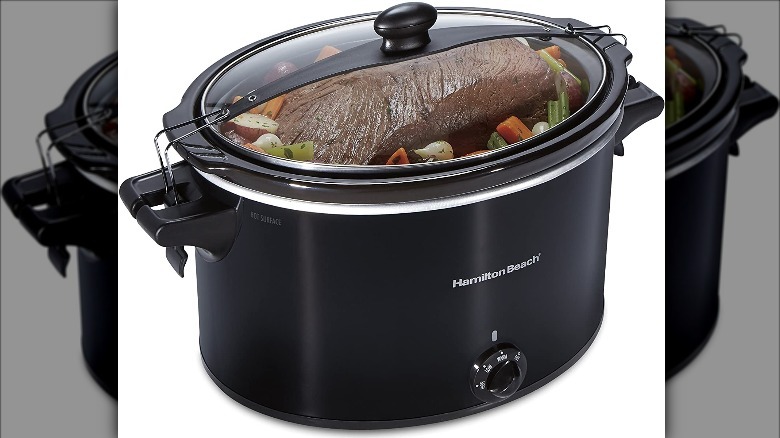 Hamilton Beach
If entertaining is one of your top pastimes or you have a large family, a well-sized slow cooker is necessary to take care of your needs. The Hamilton Beach Extra-Large 10-Quart Stay or Go Slow Cooker is a perfect choice.
A 10-quart capacity means you'll be able to cook roasts up to 12 pounds in size or a 10-pound turkey if you're so inclined. The settings are straightforward with low, high, and warm temperatures for your cooking needs. At such a large size, being able to maneuver the appliance easily is important, so you'll appreciate the Hamilton Beach cooker's sturdy foldable handles. Even better, the lid has a locking function so if you're planning to bring it along to a potluck, there's zero risk of a spill. Cleanup is easy as the stoneware insert and glass lid are dishwasher safe (though it might be tricky to fit such a large dish).
With over 11,000 Amazon reviews, the Hamilton Beach 10-quart slow cooker rates exceptionally high at 4.8/5 stars. Meanwhile, Mary from Mary's Nest loves this oversized model, noting "The bigger the better." Aside from the spacious vessel, she loves the manual setting which is easy to program. If you regularly cook large portions, you're going to want to purchase this 10-quart slow cooker.
The Hamilton Beach Extra-Large 10-Quart Stay or Go Slow Cooker is available from Amazon for $75.
Best high-end slow cooker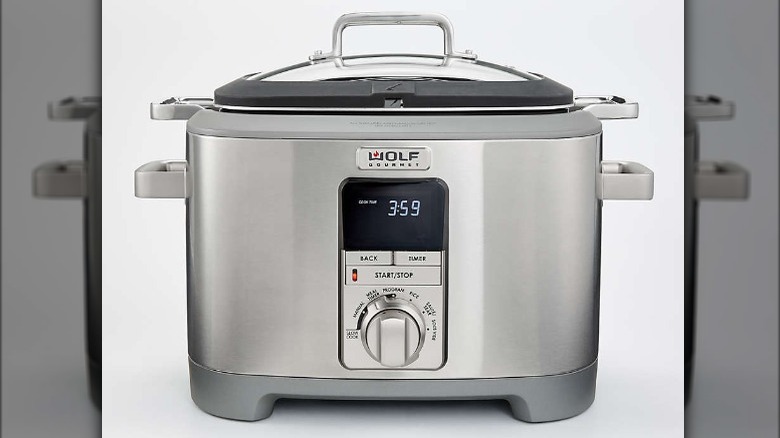 Wolf Gourmet
When you're stocking your kitchen with quality appliances, a slow cooker is a definite must. In choosing the top high-end slow cooker, we looked for a product that consistently delivered above and beyond. If you see yourself as a gourmet home chef, then you'll want to display the Wolf Gourmet Multi-Function Cooker on your kitchen counter.
There's nothing dainty about this sleek "heavy-duty cooker" in the words of Chef Austin from Everything Kitchens. What's certain is that the Wolf Gourmet will satisfy all of your cooking needs, all while fitting into your modern or classic kitchen decor with its stainless steel exterior. The display consists of a straightforward LED interface to keep your experience smooth and simple. Meanwhile, the 7-quart capacity means you can cook for a moderately-sized group. Chef Austin highlights that this cooker has multiple functions and programming capacities, including a rice cooker, sous vide, and meal timer. The Smart Slow Cooker applauds the fact that you can sear and saute food directly in the cooker, significantly reducing cook time and cleanup.
If you are ready to invest in a durable slow cooker that has various additional features, the Wolf Gourmet is truly at the top of the line. Satisfied customers say the price is fair for this quality product, and a reviewer on the Williams Sonoma online store asserts: "Without a doubt, worth every penny!"
The Wolf Gourmet Multi-Function Cooker is $700 on Amazon.
Best budget slow cooker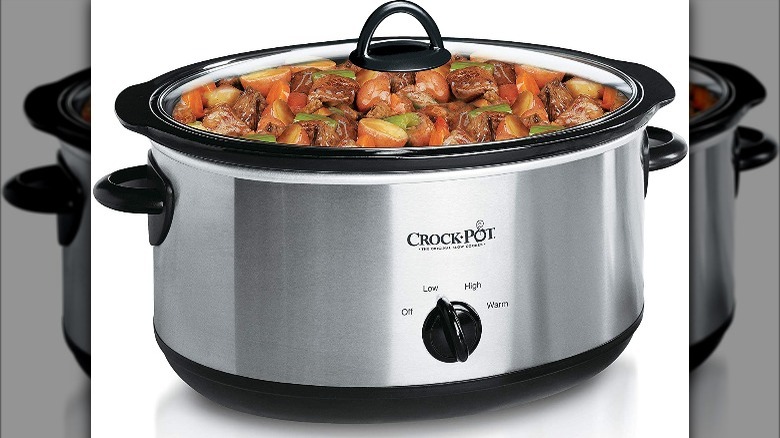 Crock-Pot
Sometimes, a solid appliance that's reliable and does what it's meant to — slow cook your food — is enough. Ultimately, the low and slow process is going to create complex layered flavors even in a cheap slow cooker — if you choose the right one. You can feel confident when you choose the Crock-Pot 7-Quart Oval Manual Slow Cooker.  this large cooker will take care of all your needs, even big hunks of meat, thanks to its oval shape.
First of all, consumers love how straightforward this appliance is, with basic high, low, and warm settings. The insert is made of stoneware, the lid is glass, and the shiny stainless steel exterior keeps it looking spiffy if you plan to leave it on your countertop. Not to mention, the lid and insert are both dishwasher safe which makes cleanup extra easy.
Customers value the product's reliability, and one happy reviewer notes that even after using theirs for years, it continues to work well. While it doesn't any fancy add-ons, Best Views Reviews rated the Crock-Pot a 9.1/10, highlighting its value, efficiency, ease of use, capacity, and design. Dave from Tell Me All About notes that the size is perfect for larger families or entertaining, yet it won't overwhelm your counter space. The only point to note is the outside can quickly heat up, so be cautious when handling it.
The Crock-Pot 7-Quart Oval Manual Slow Cooker is available for only $40 on Amazon.
Best portable slow cooker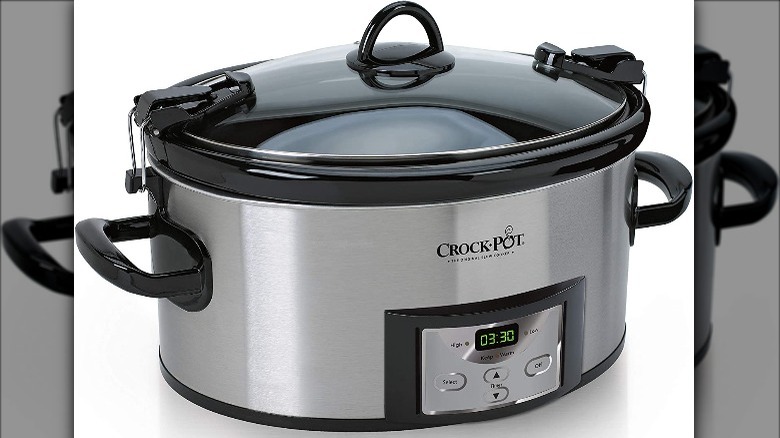 Crock-Pot
Taking food to an event can be as easy as bringing along your portable slow cooker and serving up the meal. You're going to want something lightweight yet resistant — after all, it will be making the rounds. The primary element to consider is a lid locking mechanism to avoid any inconvenient spills. Crock-Pot's 6-Quart Cook & Carry Programmable Slow Cooker certainly fits the bill with its tight rubber-lined seal. 
Thanks to the slow cooker's stylish look, there's no need to transfer the contents to a serving dish; it's as easy as removing an insert. According to the manufacturer, the appliance is programmable for a cook time of up to 20 hours. Conveniently, it changes to its warming mode once the cooking time is up.
Customers on Amazon were pleased with the size of this slow cooker. It can fit a hearty portion but isn't too bulky to lug around. Cleanup was also rated as an easy task thanks to the removable dishwasher-safe parts. All that for around $70 sounds too good to be true.
You can buy Crock-Pot 6-Quart Cook & Carry Programmable Slow Cooker from Amazon for $71.
Best programmable slow cooker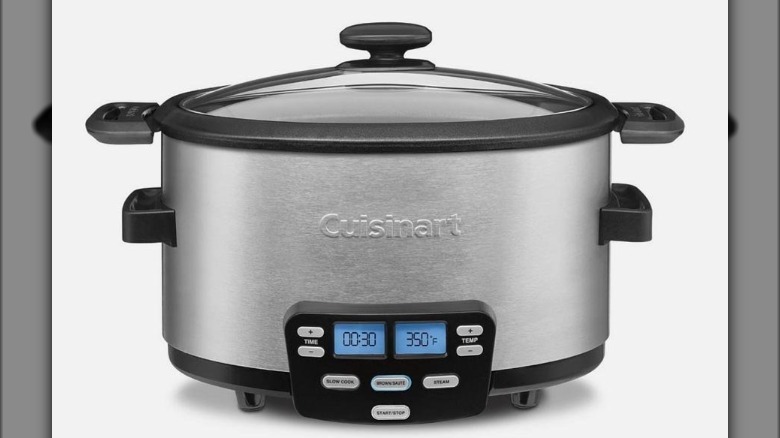 Cuisinart
The Cuisinart 3-In-1 Cook Central 4-Quart Multi-Cooker is a machine brimming with possibilities. Unless you're really motivated to dive right into the deep world of slow cookers, Slow Cooker Success recommends this product for people who are already experienced with similar equipment. Given its assorted programming capacities, this is the type of cooker you use if you're ready to experiment with a wider range of techniques and recipes.
In case 4 quarts is too little, the cooker comes in a 6- and 7-quart capacity as well. You can brown, saute, or steam your food for up to 24 hours, choosing from a range of temperatures. You won't have to fumble with knobs or struggle to decipher the setting thanks to the large LED display.
The level of specificity pretty much guarantees a delicious home-cooked meal whenever you're ready to eat. One happy customer remarks that "its multi functions add flexibility to our menus" (via Crate & Barrel). Amazon reviewers are fond of this highly programmable slow cooker, raving that it "Works like a dream," while another notes that you can do everything in the same piece of equipment. There's no need to stunt your culinary creativity thanks to this highly programmable and efficient slow cooker.
The Cuisinart 3-in-1 Cook Central 4-Quart Multi-Cooker is available from Amazon for $130.
Best multi-function slow cooker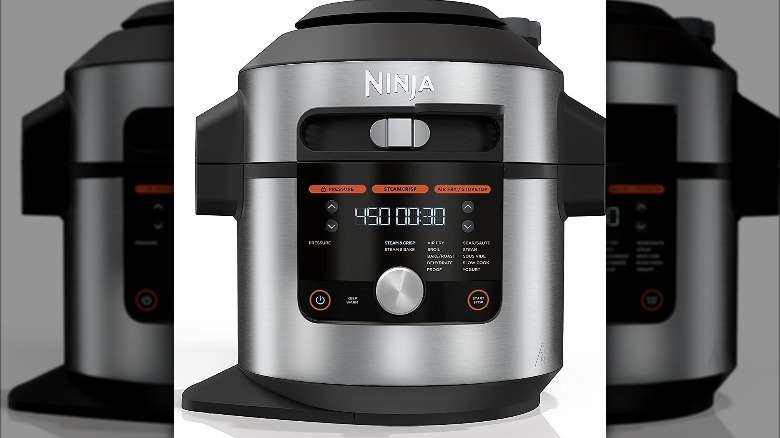 Ninja Kitchen
If you're looking for a device that will satisfy all (or almost all) of your kitchen needs, the Ninja Foodi 14-in-1 8-Qt SMART XL Pressure Cooker Steam Fryer with SmartLid will do it. Per its name, you can perform 14 different functions in one appliance, so the 8-quart vessel size is practical to maximize your use. Among its numerous functions (one being slow cooking, of course), the Ninja Foodi can bake, roast, steam, sous vide, air fry, dehydrate, broil, and make yogurt.
Apart from performing functions independently, the slow cooker's features work in tandem to ensure the perfect combination of textures; for example, juicy chicken with crispy skin. It also consists of three layers so you can prep your entire meal with this impressive appliance. With the built-in thermometer, you can program your desired temperature without worrying about the results. Plus, you can set the pressure release to be automatic which is a huge benefit if you're not hanging around the kitchen all day. Amazon customer reviews rave that this appliance is "life-changing" and "just does it all." 
This level of multifunctionality doesn't come cheap; however, the cost is reasonable given the extent of its features. If you're planning to experiment freely, make plenty of space on your countertop for the Ninja Foodi.
The Ninja Foodi 14-in-1 8-Qt SMART XL Pressure Cooker Steam Fryer with SmartLid is available from Amazon for $250.
Best gourmet slow cooker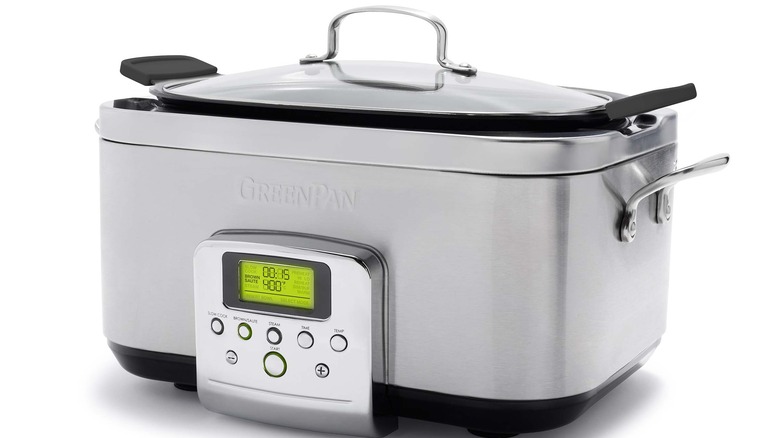 GreenPan
Cooking is practically second nature to Bobby Flay, and when it comes to kitchen equipment, he seeks out the best. While he can keep hundreds of appliances around on set, they don't all make the cut in his home kitchen. Making Flays' chicken cacciatore is a total breeze with the GreenPan's Ceramic Nonstick 6-Quart Slow Cooker. The appliance is a notch above other models, and it performs all the functions Flay — and all home cooks — need it to.
The device sautees, steams, roasts, and slow cooks your food, and the easy-to-program LED interface makes it extra straightforward. Plus, the browning element is a guaranteed way to enhance the flavor in all of your dishes. The various settings can be preset at the touch of a button so you can return home to a warm flavorful meal.
The ceramic interior is made with special nonstick material to make cooking and cleaning that much easier. Just be sure to avoid using metal utensils to keep the coating in pristine shape. Customers love the combined features which minimize the need for multiple pots and pans while preparing your meals. The GreenPan slow cooker is on the pricier end around $250, but customers praise the device's sturdy and resistant characteristics, with one calling it a "total upgrade."
You can pick up the GreenPan Ceramic Nonstick 6-Quart Slow Cooker from Williams Sonoma for $250.
Best stove-safe slow cooker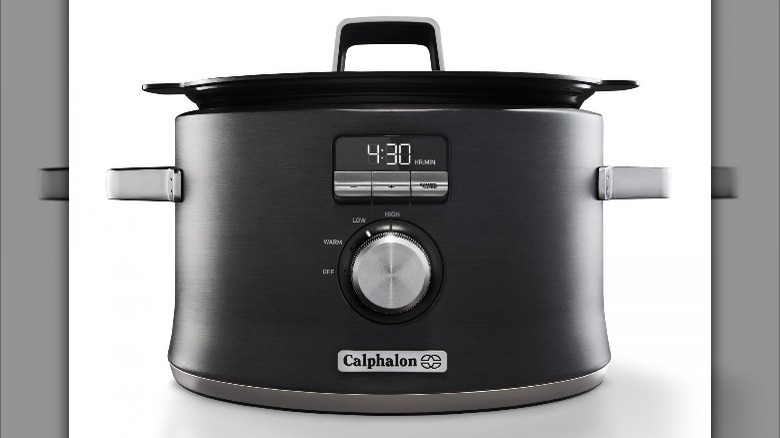 Calphalon
For home cooks who like to have some control over their meal prep, sauteeing or searing ingredients are great ways to add flavor. And while many appliances allow you to do just that, being able to adjust the heat to your exact specifications on the stovetop is sometimes ideal.
For this purpose, we found that the Calphalon Digital Sauté Slow Cooker was a top choice. For starters, the vessel capacity is 5.3 quarts which makes it suitable for most home cooking. It's good size to fit on your burner as well. The insert is removable and can be placed in the oven or directly on induction, electric, or gas burners, allowing you to regulate the temperature for your needs. Unfortunately, the insert is not dishwasher safe, but thanks to the coating you can clean it in a cinch.
The Calphalon slow cooker has plenty of fans, and average ratings range from 4.6 to 4.8 out of 5 across three major retailers: Best Buy, Amazon, and Wayfair. Apart from its versatility and ease of use, this slow cooker comes in a stylish black finish that you'll want to showcase front and center on your counter. It costs between $130 and $150, but as Your Exclusive Cart notes in a review, "this is a great long-lasting slow cooker investment."
You can buy the Calphalon Digital Sauté Slow Cooker for $130 on Amazon.
Best temperature control slow cooker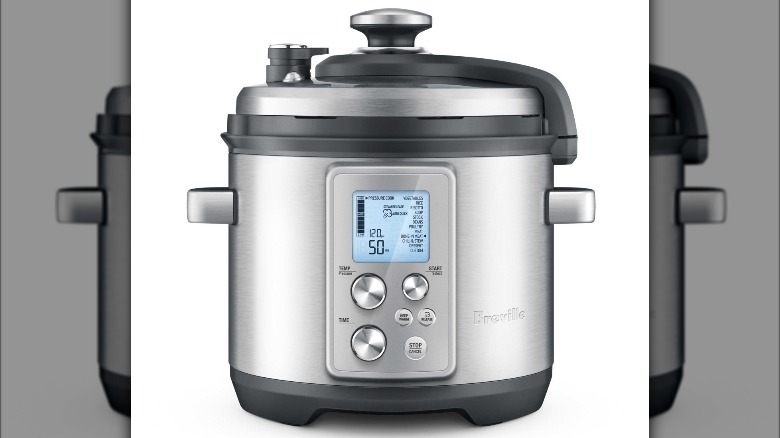 Breville
With a name like The Fast Slow Pro, you know Breville's 6-quart appliance must have some nifty tricks that make it extra efficient. The machine has an array of functions, including doubling as a pressure cooker. You can select from 11 settings depending on the type of food, duration, pressure, and temperature your recipe requires. More interestingly, the device has a dual sensor that permits it to modify time, temperature, and pressure as the cooking progresses.
The large LED screen keeps you informed so you know how much time is left and how the heat and pressure are fluctuating. As one reviewer on the manufacturer's website notes, you don't have to worry about ensuring the cooking process is smooth. Yet, as Your Exclusive Cart points out in a YouTube review, you still have plenty of control over the settings based on your needs.
The appliance is definitely on the pricier end, but consumers note that it's worth it for the quality. Plus, it comes with a stainless steel steamer basket and rack so you can take advantage of its cooking features immediately. In fact, product reviewer Rick Merryman notes that it objectively produces "superior results." If you're planning on using your cooker regularly and have the cash to spare, The Fast Slow Pro's sleek design and heightened sensors make it a valuable piece of equipment.
The Breville Fast Slow Pro is available at Crate & Barrel for $280.
Best high-tech slow cooker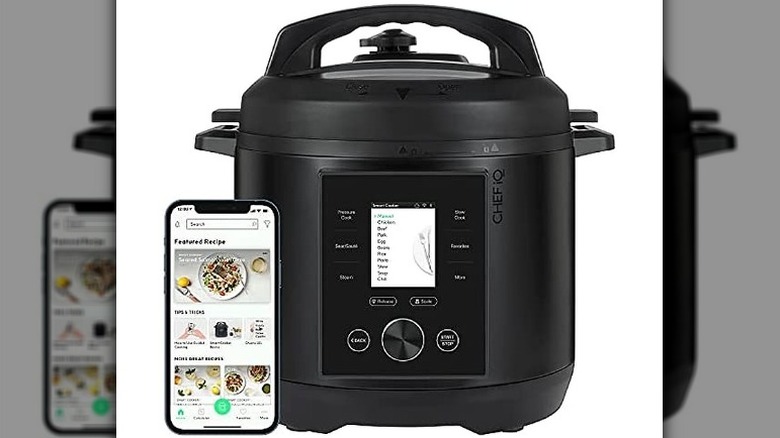 Chef iQ
For a slow cooker to be called the Chef iQ Smart Cooker, you know it has to be high-tech. Indeed, the appliance is so advanced that it can be controlled from a phone app via WiFi. If you realize you'll be home earlier or later than anticipated, you can adjust the temperature and pressure from a distance. Additionally, the device has built-in sensors to accurately weigh your food, cook it accordingly, and release pressure automatically. For busy people who want to come home to a perfectly cooked meal brimming with flavor, the Chef iQ Smart Cooker is ideal.
A reviewer on the Chef iQ website reassures other consumers that the appliance functions well whether or not you choose to use the app. However, the added flexibility to switch up the cooking midday while you're out of the house is certainly a huge bonus. Plus, the app includes a large selection of recipes to inspire your meals and it can recommend dishes based on your ingredients.
Countless Amazon reviewers praise the product for its extensive capacities. Not to mention, as a smart device, it is regularly updated and adds new features from its spot on your kitchen counter. Basically, the Chef iQ Smart Cooker is constantly optimizing itself for maximum results.
You can purchase the Chef iQ Smart Cooker from Amazon for $169.