Sautéed Dandelion Greens With Garlic Recipe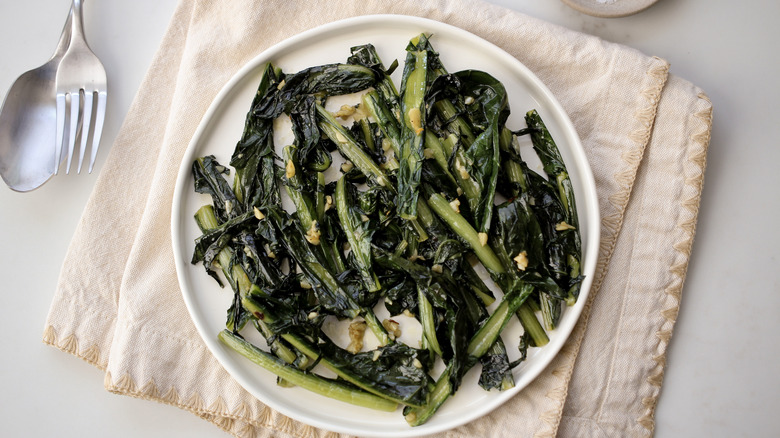 Feta Topalu/Mashed
Dandelion greens aren't necessarily the most popular or well-known side dish around, but they bring a flavor to the table (literally) that's fresh and new, and can liven up your menu when things start to feel a little stagnant. That said, if you've never tried dandelion greens before, you may be a little hesitant to give them a whirl. But don't fret; if you like other bitter greens, you're likely to appreciate these, too. "They have a little bit of a bitter bite. They remind me so much of arugula except without the peppery tones," says recipe developer Feta Topalu of Fetty's Food Blog. 
Plus, if you love garlic, you're likely going to love this recipe, especially if you're getting bored with a more traditional sautéed spinach side dish. "The garlic in this recipe really flavors these dandelion greens. The flavor profile is simple but paired well," Topalu says. So grab a bunch of greens the next time you're at the store and add new life to your weekly rotation of entrées.
Gather the ingredients for sautéed dandelion greens with garlic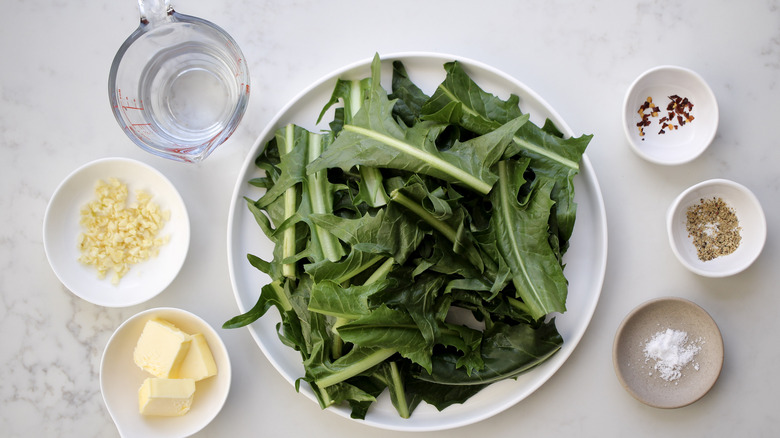 Feta Topalu/Mashed
You don't need much to make these garlicky dandelion greens. In fact, you may have just about everything save for the greens themselves in your kitchen already. Simply gather butter, your dandelion greens (go ahead and trim off the ends and cut them into smaller pieces), water, garlic cloves, salt (Topalu uses kosher salt), freshly cracked pepper, and red pepper flakes for a kick of added heat. 
Steam the greens until they're almost wilted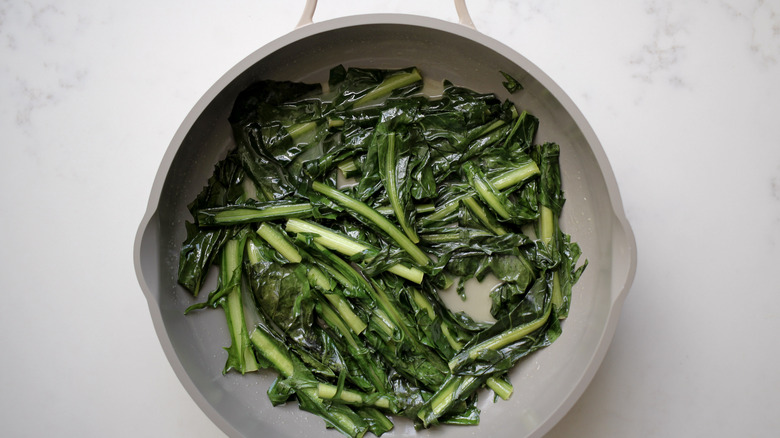 Feta Topalu/Mashed
Because dandelion green stems can be a bit tough, it's a good idea to steam them first. 
To do this, add the butter to a large pan and melt it over medium heat. When the butter's melted, add the dandelion greens and water to the pan. Cover the skillet and allow the greens to steam until they're almost wilted. This should take about 5 minutes. 
Sautée the greens and add seasonings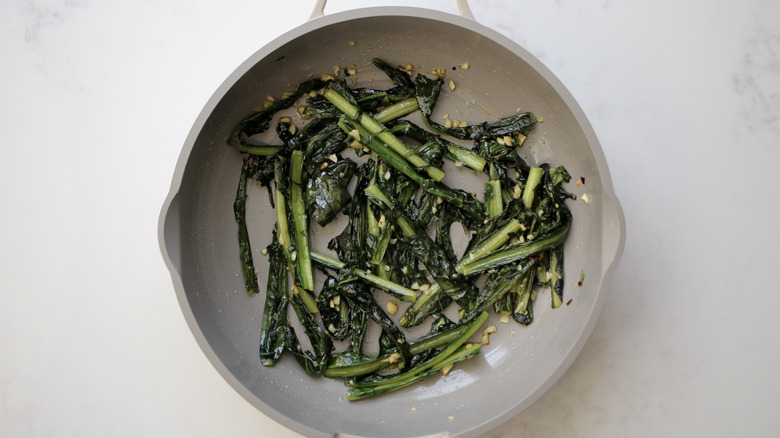 Feta Topalu/Mashed
Ultimately, you want the water you added to the pan to evaporate, so remove the lid and begin sautéing the greens for another 2-3 minutes, until the water has almost completely steamed away. At this point, add the garlic, salt, pepper, and red pepper flakes. 
Sautée until the water evaporates, then serve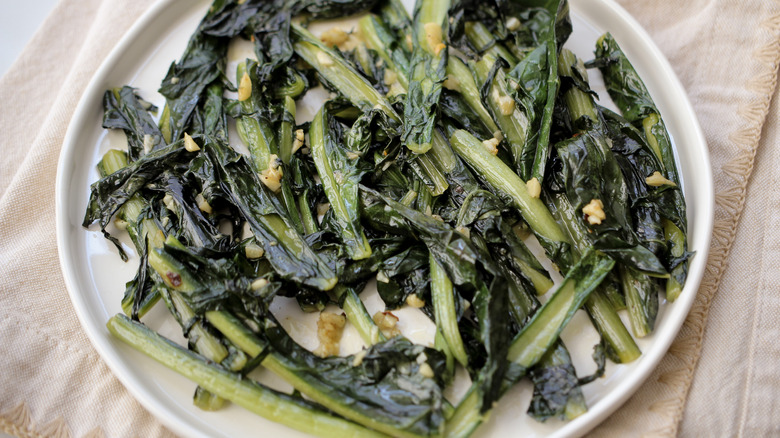 Feta Topalu/Mashed
Continue sautéing a little bit longer, allowing the water to fully evaporate and the garlic to soften. This should take another 5 minutes or so. When the greens are ready, remove them from the heat and serve them immediately. 
While this dish works as a side for just about any main course, Topalu points specifically to grilled tri-tip, whole roasted chicken, and fish as particularly good options. And if you don't finish the greens in one night, you can save the leftovers for up to three days. "To reheat, place leftovers in a pan and heat over the stove or in the microwave in a microwave-safe dish," Topalu says. 
Sautéed Dandelion Greens With Garlic Recipe
If you're a fan of bitter greens, sautéed dandelion greens with garlic may be right up your alley with flavors that pair well with beef, chicken, and fish.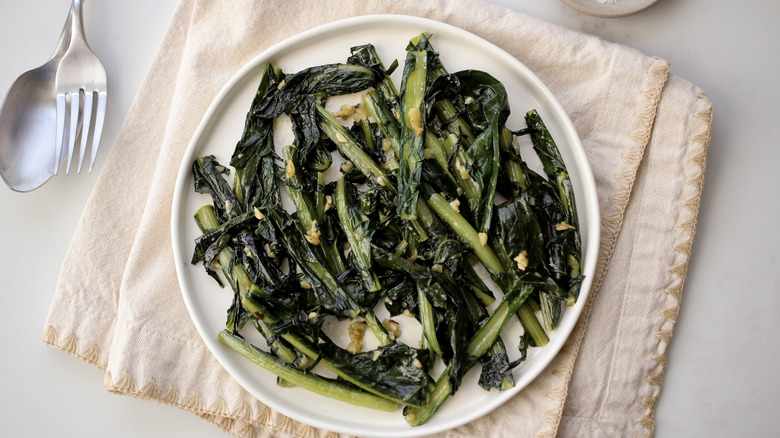 Ingredients
3 tablespoons butter, unsalted
1 pound dandelion greens, ends trimmed and cut into 3-inch pieces
⅓ cup water
4 cloves garlic, minced
½ teaspoon kosher salt
¼ teaspoon freshly cracked black pepper
⅛ teaspoon red pepper flakes
Directions
Melt the butter in a pan over medium heat.
Add the dandelion greens to the pan.
Pour water over the greens and cover with a lid. Steam for 5-6 minutes until the greens are nearly wilted.
Remove the lid. Continue to sauté until water is nearly fully evaporated, about 2-3 minutes.
Add the garlic, salt, pepper, and red pepper flakes. Sauté until water is fully evaporated and garlic has softened, about 5 minutes. Serve immediately.
Nutrition
| | |
| --- | --- |
| Calories per Serving | 132 |
| Total Fat | 9.5 g |
| Saturated Fat | 5.6 g |
| Trans Fat | 0.0 g |
| Cholesterol | 22.9 mg |
| | |
| --- | --- |
| Total Carbohydrates | 11.6 g |
| Dietary Fiber | 4.1 g |
| Total Sugars | 0.9 g |
| Sodium | 324.1 mg |
| Protein | 3.4 g |