13 Signs Burger King Is Struggling To Stay In Business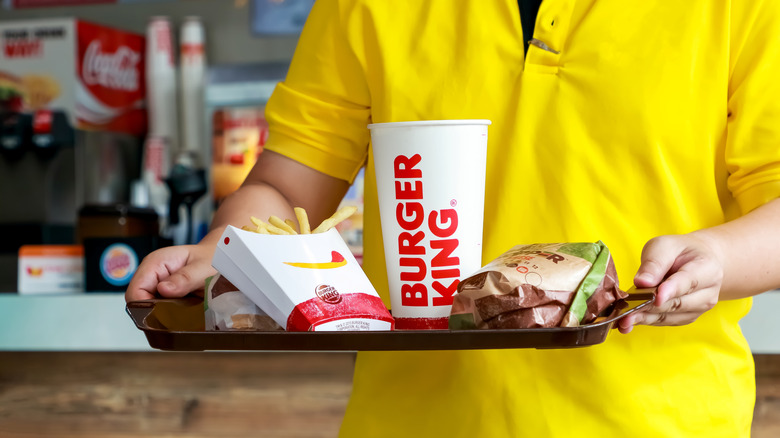 agencies/Shutterstock
Since its founding in Jacksonville, Florida in 1953, Burger King has been a mainstay of the nation's fast-food landscape. With its iconic flame-grilled Whopper, creepy mascot, and edgy marketing, it's been consistently on the minds and in the stomachs of millions of Americans for more than half a century. But from a financial perspective, the royal burger chain is not wearing the crown. McDonald's has been the literal king of fast food since at least the 1960s, around the time Burger King finally managed to snag the second spot after 20 years of steady growth.
While it's managed to carve out a comfortable niche for itself over the years and has convincingly positioned itself as McDonalds' biggest rival, evidence uncovered during the past few years suggests that Burger King will never surpass the golden arches. Whether you only occasionally indulge in fast-food burgers or consider yourself an industry aficionado, the signs are clear: Burger King is struggling.
1. Wendy's is the new number two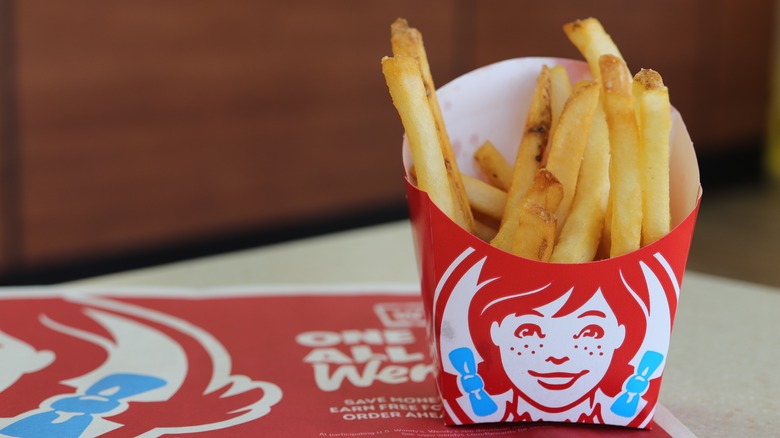 Deutschlandreform/Shutterstock
Burger King has spent decades launching playful attacks at McDonald's, but in reality, its direct competition looks more like a girl with red braids than a pair of golden arches. In 2021, Wendy's took Burger King's place as the number two burger chain in the country. Considering Wendy's had only 6,000 restaurants in the U.S. at the time compared to Burger King's 7,300, this achievement was something of an underdog victory. For Burger King, however, it was a frustratingly familiar defeat.
Wendy's had previously snatched the number two position from the Whopper purveyor in 2013 and held onto it for two years; Burger King had to fight a scrappy battle to regain its second-place spot on the earnings board by incorporating more menu items and introducing enticing deals. However, its recent demotion proves that these efforts were not a long-term solution. While the pandemic crippled fast-food chains around the country in 2020, many have been able to rebound since then. Sales at Wendy's jumped 18% between 2020 and 2022, for example, while McDonald's sales grew 25%. In contrast, Burger King's were up by a meager 8% (via Second Measure).
2. Burger King still hasn't pivoted to premium items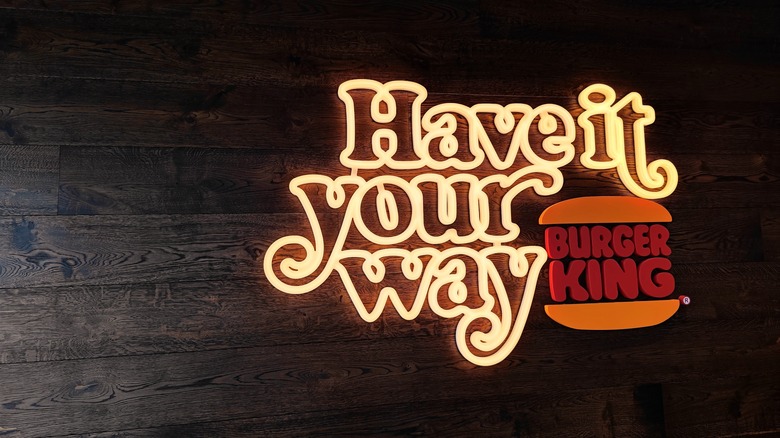 JGLmarket/Shutterstock
Most of us turn to fast food for value, not luxury, but some chains started leaning into higher price points to lure customers. On one end of the premium spectrum, you can get a Double Smoked Bacon Brisket Burger from Smashburger for upwards of $14. On the other, more attainable end, you'll find Wendy's Made to Crave menu, where you can sink around $8 into mouth-watering burgers like the Pretzel Bacon Pub Triple or the Bourbon Bacon Cheeseburger.
Higher prices might not seem like a winning strategy in a time of economic uncertainty and stubborn inflation, but the opposite has proved true. Wendy's enjoyed a 10% bump in sales of items on the Made to Crave menu in 2021 (via Forbes), while higher-priced fast-casual chains like Shake Shack and Chipotle have continued to defy analysts' expectations with strong numbers.
Burger King, on the other hand, has resolutely stuck to cheaper menu items. In the midst of the pandemic in December 2020, it launched the $1 Your Way menu, where you could get familiar favorites like the Bacon Cheeseburger and Chicken Jr. for a single dollar each. A year later, it launched a $5 Your Way meal deal, which included a surprisingly generous combination of chicken nuggets, french fries, a small drink, and a Double Whopper Jr. Unlike Wendy's Made to Crave menu, these new options did not result in a meaningful uptick in revenue.
3. It hired an executive who revitalized another struggling chain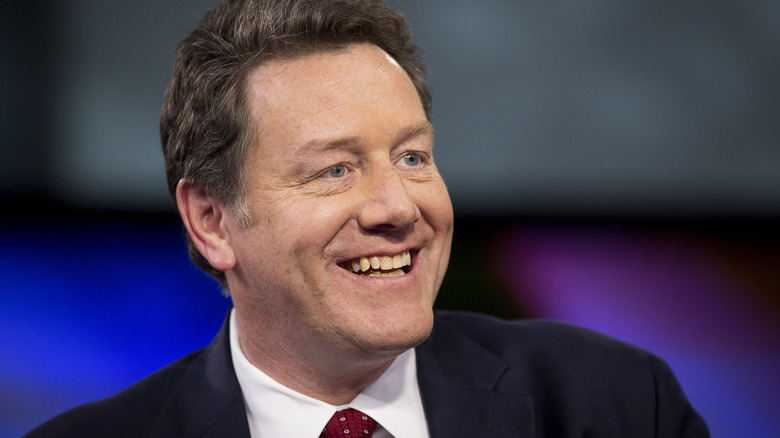 Bloomberg/Getty Images
In 2022, Burger King's parent company, Restaurant Brands International, made a strategic hire that revealed exactly how nervous it was about its economic prospects. Patrick Doyle was the CEO of Domino's between 2010 and 2018 and is credited with the chain's dramatic turnaround. When he took over, the pizza giant had become an afterthought to Pizza Hut and had started to tweak its recipe due to negative customer feedback. Doyle was instrumental in transforming the company into the biggest pizza chain in the world and making its share price rocket from $12 to $270 within eight years (via CNBC).
One of his biggest changes at Domino's was embracing and streamlining online transactions. By 2021, more than half of the chain's sales came from digital orders. In contrast, online transactions at the chains operated by Restaurant Brands International, including Burger King, Popeyes, and Firehouse Subs, generated only about one-third of sales, according to CNBC. The fact that the company tapped Doyle to lead Burger King signaled that the parent company was looking for a leader to radically modernize and turn the company around rather than maintain the status quo.
4. It admitted that it needs to Reclaim the Flame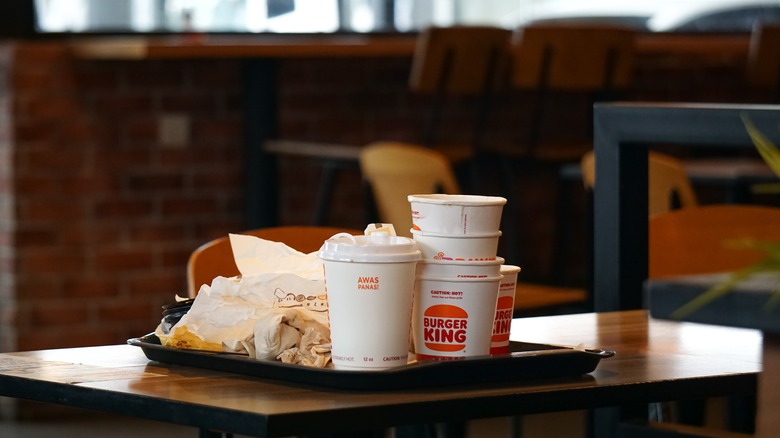 Jed RT/Shutterstock
You don't have to speculate; Burger King has said it out loud — It needs to "reclaim the flame." The chain has been flame-grilling its burgers since 1954, but its business has been anything but sizzling over the past few years. In 2022, the company announced its plans to put the heat back into the brand with a $400 million initiative called "Reclaim the Flame." It promised to put $150 million into advertising and digital investments and $250 million into a "Royal Reset" involving new restaurant technology, equipment, and infrastructure. The CEO of Burger King's parent company highlighted the "opportunity that clearly exists" for the brand to reclaim the flame, while the president of Burger King North America said that the brand was looking for a "refreshed image."
In other words, Burger King executives recognized that the chain was in desperate need of restructuring on every front, from its menu options to its physical restaurants. The press release for the Reclaim the Flame initiative detailed the company's commitment to bringing in a younger, more diverse customer base, expanding its menu to include more flavor options and a competitive chicken sandwich lineup, and facilitating meetings with franchisees and restaurant managers to gin up enthusiasm for the brand and ensure their commitment to "repeatable precision" in their operations. 
5. Some of its largest operators are filing for bankruptcy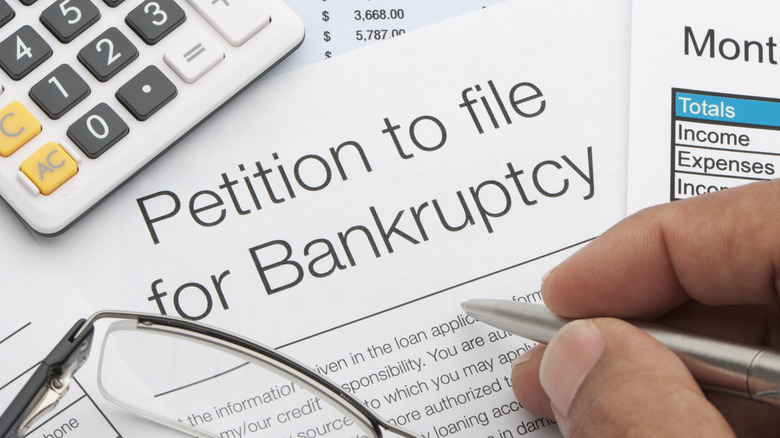 Courtneyk/Getty Images
In January 2023, just months after the Reclaim the Flame overhaul was announced, one of Burger King's largest franchise operators, TOMS King Holdings, declared bankruptcy. The company owned 90 locations in four states and cited the coronavirus pandemic, an unfavorable labor market, and inflation for the failure of its business. In March, an operator that oversaw even more outlets filed for bankruptcy. Meridian Restaurants Unlimited ran 118 locations in nine states and blamed similar culprits for its uncontrolled debt.
Recognizing its part in these bankruptcies, Burger King updated its franchise policy to limit the number of locations an operator could run to 50 and stated that a franchisee should be able to drive to every location they owned. The company also hammered home the fact that there were plenty of high-performing franchisees who could swoop in and replace failing ones, suggesting that the new policy doesn't simply apply to future operators, but to current ones as well. This approach hints at just how small the margin of error is for the struggling chain.
6. It's closing up to 400 stores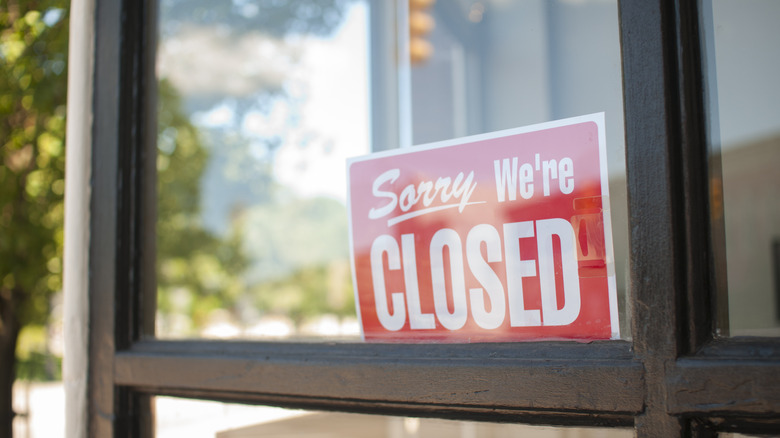 Huephotography/Getty Images
There was further evidence of Burger King's shaky financial footing when it announced in May that it would close up to 400 locations in 2023, bringing the number below 7,000 in the U.S. The company was careful to frame the closures as a positive step toward quality control rather than evidence of financial struggle. The goal, executives explained, was to focus on high-performing, dedicated franchisees and weed out those who weren't committed to the brand. "There will always be a minority who aren't dedicated, enthusiastic operators," Burger King executive chair Patrick Doyle said. "We'll work with them to leave the system."
While the company is eager to suggest that these closures come from a place of corporate strength and business acumen, it's difficult to see them as anything other than evidence of financial strain. After having approximately 7,300 locations and a strong second place standing in 2019, it's expected to dip well below 7,000 in 2023. Meanwhile, the current number two chain, Wendy's, plans to have between 7,600 and 7,800 by 2025 (via Motley Fool).
7. It launched Royal Perks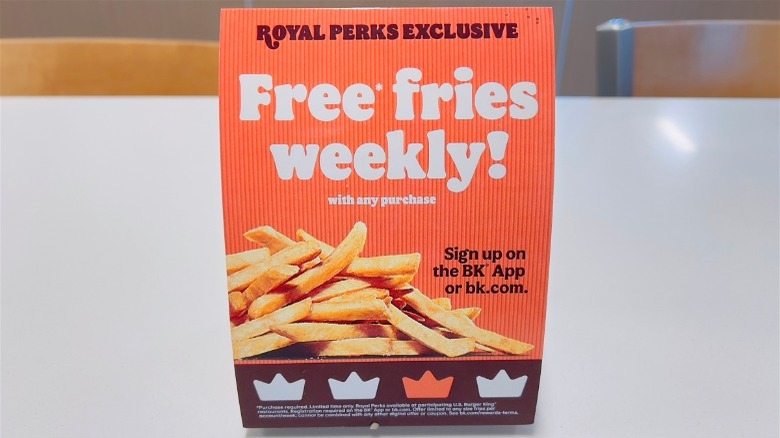 ZikG/Shutterstock
Burger chains often capitalize on nostalgia, but none of them can get by on folksy origin stories alone. At some point, old-fashioned charm has to make way for innovations in technology, and by 2020, that meant investing in a loyalty program. These platforms boost sales by coaxing customers into making more frequent purchases with deals and members-only offers. Burger King launched its app in 2009, but 11 years later, its features were lagging behind its competitors. Fast-food chains like McDonald's, Chipotle, and Starbucks were relying on gamified loyalty programs to boost sales through the worst days of the pandemic, and Burger King was starting to lag conspicuously behind the trend.
In September 2021, it launched Royal Perks nationwide. The program allows customers to accumulate crowns for every dollar they spend, with $10 amounting to one crown. It also features regular challenges and promotions that lead to points, such as the Frequent Fry'er deal that offered members free fries every week for a year. Royal Perks is one of the features that Burger King singled out in its Reclaim the Flame initiative in 2022. The company committed to setting aside $30 million for revamping the Burger King app as a whole and enhancing the loyalty program, suggesting that it's hoping this new addition will play a key role in rejuvenating the business long term.
8. It discontinued the Ch'King despite a strong following
When Burger King threw its hat into the ring of the chicken sandwich wars in 2021, it wasn't messing around. The Ch'King may not have had the fanfare of Popeyes' chicken sandwich or Chick-fil-A's "original" chicken sandwich, but it rapidly gained cult status among crispy chicken aficionados. It consisted of a potato bun, a crispy filet of hand-breaded chicken, pickles, and a signature mayo sauce. There was also a spicy glazed version and a deluxe option with lettuce and tomato. Burger King was so confident in its new creation that it offered a free Whopper with every Ch'King order so customers could decide which was better. The chicken sandwich connoisseurs didn't hesitate. The Ch'King was hailed as not only superior to the Whopper, but even to Popeyes' exalted chicken sandwich.
Then Burger King pulled the plug. In 2022, it announced that it would be retiring the Ch'King barely a year after it was born and refocusing on — you guessed it — the Whopper. In fact, the CEO of Burger King's parent company said the Ch'King was partly to blame for the chain's struggles, telling CNN that it "complicated things" and "created a ton of bottlenecks operationally." Employees had complained about how time-consuming it was to make, and it did not have the high profit margin of the tried-and-true Whopper. When the company found itself in a financial hole, the Ch'King was the first to go.
9. It's reminding customers about the Whopper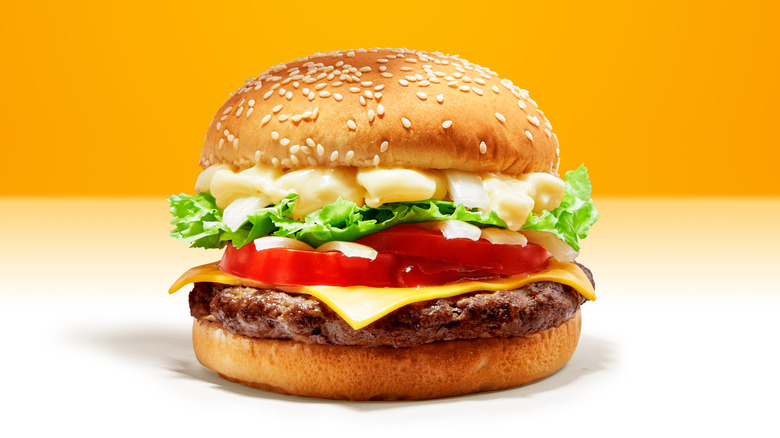 Fierman Much/Shutterstock
Following the premature retirement of the Ch'King, Burger King went full steam ahead on its plan to embrace menu simplicity. At the end of 2022, it released a jingle known simply as the "Whopper Whopper" song which became about as much of a viral sensation as any fast-food advertisement has ever been. The success of the earworm was a welcome victory for the downtrodden chain, but it also pointed to the company's new focus for luring customers. The simplicity of the "Whopper, Whopper, Whopper, Whopper" lyric was not simply an attempt to win over the ad-saturated memories of consumers, it was the crux of Burger King's strategy to recenter itself around the iconic Whopper.
According to executive chairman Patrick Doyle (via Restaurant Business), "The Whopper may actually be a better brand than Burger King." Leaning into the singular menu item was the company's attempt to distance itself from the negative connotations it had garnered and remind customers that it still made a decent burger. "That's how we ultimately win," Doyle asserted after conceding that McDonald's was excelling on virtually every front.
10. You're probably still skipping the breakfast menu
If you cast your mind back to 2004, you might remember a Burger King commercial in which a guy wakes up to find the world's creepiest fast-food mascot sitting next to him in bed offering him a Double Croissan'wich. While many people find The King's blank plastic face and raspy voiceover weird and unsettling, it's all part of the royal chain's strategy to raise awareness about its breakfast menu. Sure, McDonald's might have good coffee and the McMuffin, but Burger King wanted to convince customers that an even better option was to "wake up with the King."
Nearly two decades later, it's still trying. Even as arch-nemesis Wendy's scored a pandemic-era home run with its revamped breakfast menu, Burger King's morning sales stalled. Even though the Croissan'wich has been around since the early '80s and the french toast sticks are a decent standby, Burger King has struggled to find its footing in the increasingly crowded fast-food breakfast market. And while it has tried to give the people what they want, some of its swings have led to big misses, including the Egg-Normous Burrito, which 36% of respondents in a Mashed poll agreed was the worst Burger King breakfast item. While McDonald's boasts $2.2 billion in revenue from its breakfast, or approximately 25% of total sales (via Motley Fool), Burger King's breakfast only accounts for 13% (according to QSR).
11. Its prices have skyrocketed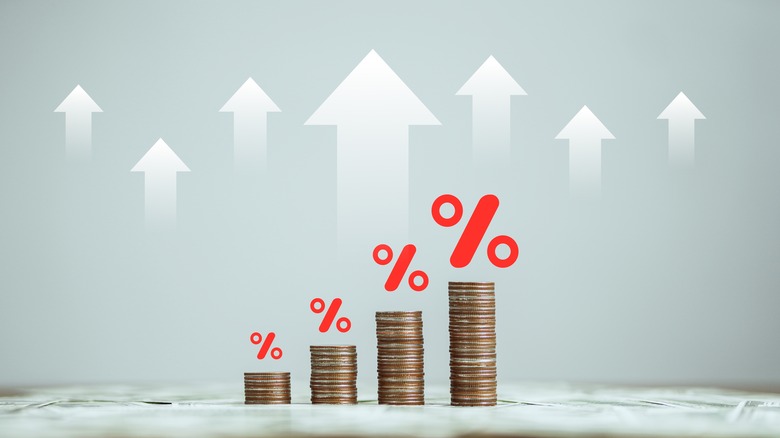 Naiyana Somchitkaeo/Shutterstock
Most restaurants have been forced to raise prices in response to rising inflation, but Burger King has taken things further. In a survey conducted by MoneyGeek of 145 chains in 50 cities, the price for a burger, fries, and a soft drink rose 9% on average from 2021 to 2022. Five Guys, Wendy's, and Jack in the Box were the most expensive, but Burger King had the sharpest price rise. From 2021 to 2022, the price for a meal at the chain rose 21%, from $6.76 to $8.18. The difference of a couple of bucks isn't a dealbreaker for many consumers, but it makes a big impact for Burger King.
In addition to its price hikes, the chain also put an end to discounted Whoppers and turned to shrinkflation, a tactic by which companies keep prices steady but reduce the amount of product that customers receive. In Burger King's case, it was chicken nuggets, which were reduced from portions of 10 to eight. By raising prices 12% higher than other chains on average, Burger King revealed that it was struggling beyond the industry-wide woes caused by inflation and labor shortages.
12. You might notice some in-store remodeling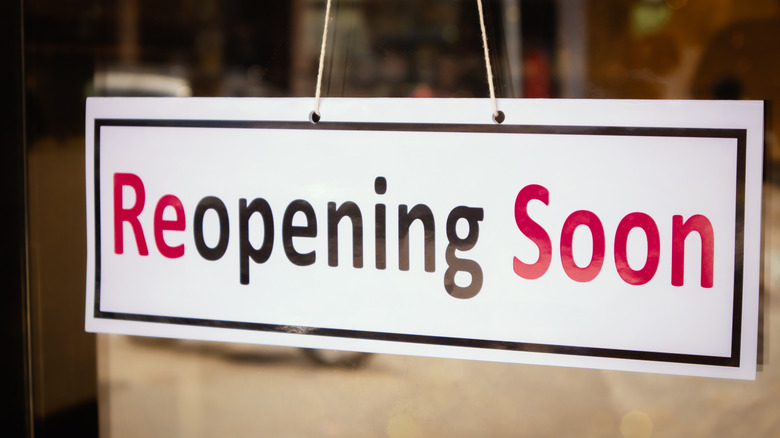 WESTOCK PRODUCTIONS/Shutterstock
Burger King's Reclaim the Flame initiative featured a multi-pronged path to regaining its competitive edge, but one of the main goals was revamping its brick-and-mortar locations. Of the $400 million it's pouring into a brand-wide facelift, $200 million is earmarked for remodeling 800 locations, with another $50 million set aside for restaurant technology.
According to CNBC, the company claims that remodeled restaurants lead to an average sales increase of 12% in the first year and an ongoing increase over older restaurants thereafter. Many of the remodeling projects are closer to rebuilds, according to the CEO of Burger King's parent company (via Nation's Restaurant News), but while the executives recognize that such projects are "the most intensive capital project type," they also insist that they yield the highest sales increase. This tradeoff was clearly deemed necessary given the chain's slipping numbers. The remodels, combined with the hundreds of permanent location closures, suggest that the company is trying to regain control of its quality and image in the hope that it might regain some of its luster.
13. It's still relying on gimmicks to get consumers' attention
Burger King may not have the Big Mac or lay claim to "fresh never frozen" patties, but its use of provocative marketing has consistently outstripped both McDonalds' and Wendy's. This has given the internet plenty to talk about over the years, including the Whopper Sacrifice debacle and the Google Home hack that backfired. But lately, Burger King has been trying so hard to make attention-grabbing gimmicks that it's forgotten to make its food look appetizing.
Back in 2015, there was the Halloween Whopper, which featured a black bun that successfully spooked customers by allegedly turning their poop green (per CBS News). Then there was the Nightmare King from 2018. The chain claimed that its limited-time burger with a lurid green bun was scientifically proven to induce nightmares if you ate it every night. Unaffiliated scientists suggested to Inverse that the nightmares might be caused by customers' fears of a heart attack due to the burger's nutrition profile or the unappetizing shade of green in such close proximity to meat.
More recently, in July 2023, Burger King restaurants in Thailand started selling an item that they're dubbing the "real cheeseburger." What they're referring to is a sandwich with no meat and approximately 20 slices of American cheese (per CNN). Sure, it snags headlines, but at this point, Burger King is sacrificing palatability for publicity — a decision that looks more than a little desperate.