The Barbecue Sauce That Bobby Flay Keeps Stocked Up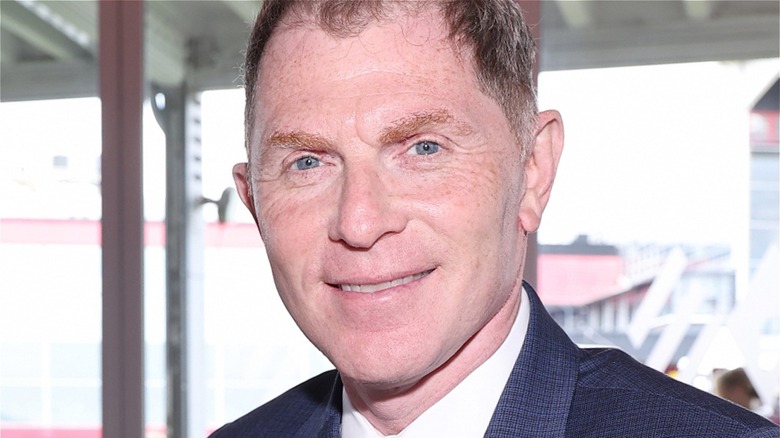 Paul Morigi/Getty
Even celebrity chefs use bottled sauce from time to time, and Iron Chef Bobby Flay is no exception. The Food Network star, who is a coach on BBQ Brawl and a respected grill master, posted an Instagram video revealing the barbecue sauce he keeps on hand in his home pantry. With so many types of barbecue sauce to choose between — from an Alabama white-style sauce (like Duke's) to a vinegary Eastern North Carolina sauce — the options certainly don't stop at the classic Sweet Baby Ray's. So, what style and brand of the classic all-American sauce does Bobby settle on when it comes time to stock up?
In a video walkthrough of his pantry posted on the Misfits Market Instagram, Flay showed off his pastas, sauces, and canned good selection. Flay's pantry included stuff on the fancier side like dried squid ink pasta, canned Calabrian chilis, saffron, Gochujang, and an impressive store of vinegars, to more mundane fare like snack food. Flay was also partial to Cholula and Frank's Red Hot, the main bottled hot sauces he appears to keep in store.
At one point, the chef paused to recognize the brand of barbecue sauce that he keeps on hand. "I always have barbecue sauce ready to go just in case. Last second I can always enhance it," Flay said, grabbing a jar of sauce from the shelf. "I like the Bone Suckin' Sauce," he added.
Bone Suckin' Sauce is the celebrity chef's favorite
We already know Flay is no stranger to enhancing store-bought BBQ sauce, which saves himself time while still maximizing flavor. Now, we know which bottled barbecue sauce he prefers to use as a base in his cooking. In a video on Food Network's Twitter, Flay dressed up a classic tomato based barbecue sauce (similar to Bone Suckin' Sauce) with a few dashes of Worcestershire sauce to add umami tang, chipotle purée for some smoky heat, and fresh lime juice to brighten up the sauce. But what's the story of the Bone Suckin' Sauce before Flay adds his own clever twist?
Bone Suckin' Sauce was first developed in 1987 by North Carolina-native Phil Ford. Based on the formula for Western North Carolina barbecue sauces, it's a tomato-based sauce that's sweetened with honey and molasses. It also includes apple cider vinegar, mustard, horseradish, lemon, onions, garlic, hickory smoke, and loads of spices. Since winning the North Carolina Battle of the Sauces in 1994, Bone Suckin' Sauce has become beloved amongst barbecue lovers for its balance of sweetness, tang, smokiness, and spice, though it's not often voted the best barbecue sauce by the masses. The brand exports to 80 countries around the world, and its hallmark sauce (which also comes in "Hot," "Sweet," and "Thicker" flavors) can be found at grocery stores nationwide alongside the brand's dry seasoning rubs and wing sauces.