Easy Greek Tirokafteri (Spicy Feta Cheese Dip) Recipe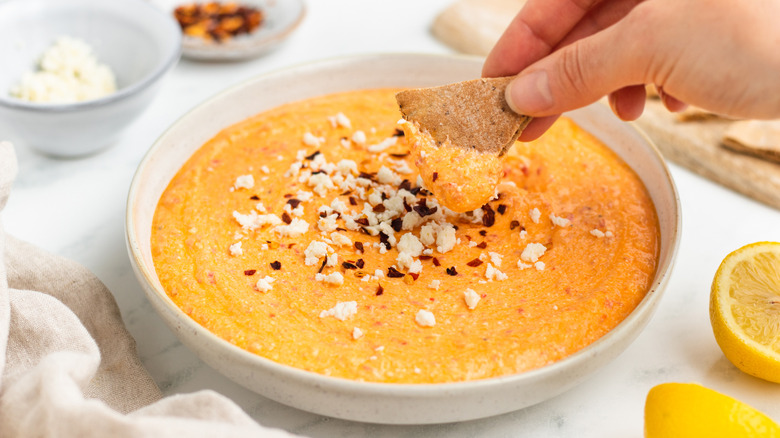 Catherine Brookes/Mashed
Craving a Greek dinner? Though you might initially think to whip up some homemade tzatziki sauce as the dip element of your spread, there's another recipe you may have overlooked: tirokafteri, or spicy feta dip. With only a handful of ingredients and minimal preparation, this dip from recipe developer Catherine Brookes is a great option for a gathering of any kind. Plus, since it's homemade, it means you'll avoid any unfamiliar additives found in many store-bought spreads.
"I love the combination of creamy, savory feta with the sweetness of peppers and spice of the chili," Brookes says about her tirokafteri. "It's super easy to make, too!"
Feta cheese not only tastes great, but it's also something of a nutritional powerhouse. According to Healthline, feta contains high levels of calcium and phosphorus, both of which can support good bone health. Fermented foods like feta also contain probiotics, and these strains of good bacteria help promote a healthy gut. So, grab some pita crackers and get to dipping!
Gather your ingredients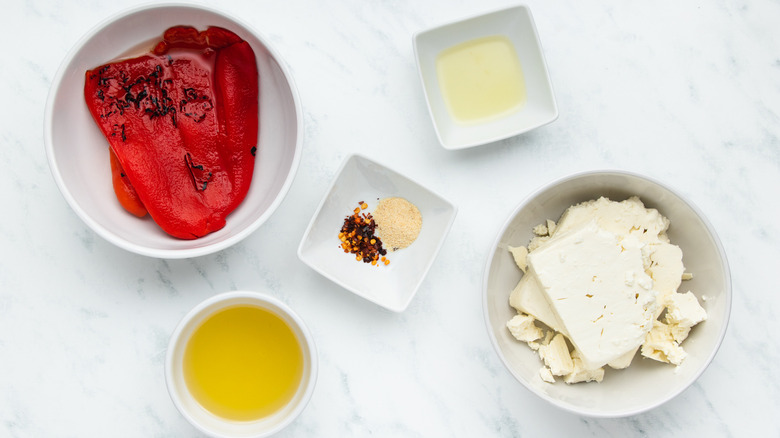 Catherine Brookes/Mashed
To make tirokafteri, you'll need feta cheese, jarred roasted red peppers, olive oil, red pepper flakes, lemon juice, garlic powder, and black pepper.
Feta is the star of this recipe, but don't stress out about which particular type of feta to use. "Both crumbled feta or a block should work well here," Brookes says. "It should blend down well into a creamy mixture." Brookes says that she uses a feta made from a combination of goat's milk and sheep's milk, but you can use your feta of choice.
Blend everything together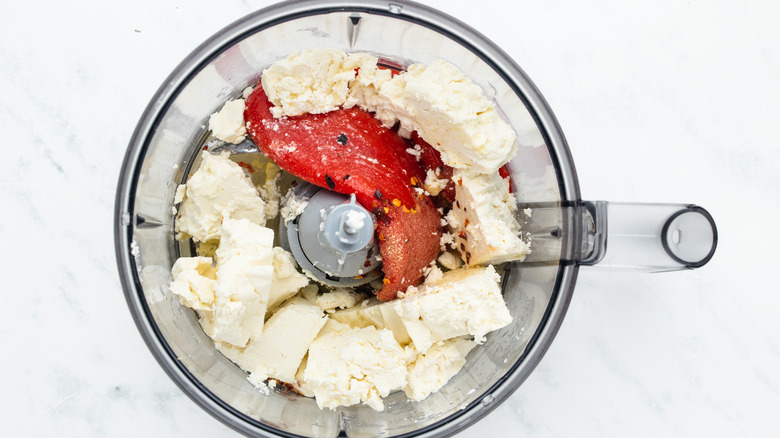 Catherine Brookes/Mashed
This easy tirokafteri recipe lives up to its easy name. The only thing that you need to do is transfer all the ingredients to a blender or food processor and blend them together until they form a smooth mixture. Be sure to taste it for seasoning; if you'd like to amp up the spice level, for example, feel free to add some extra red pepper flakes.
Store any excess spicy feta dip before serving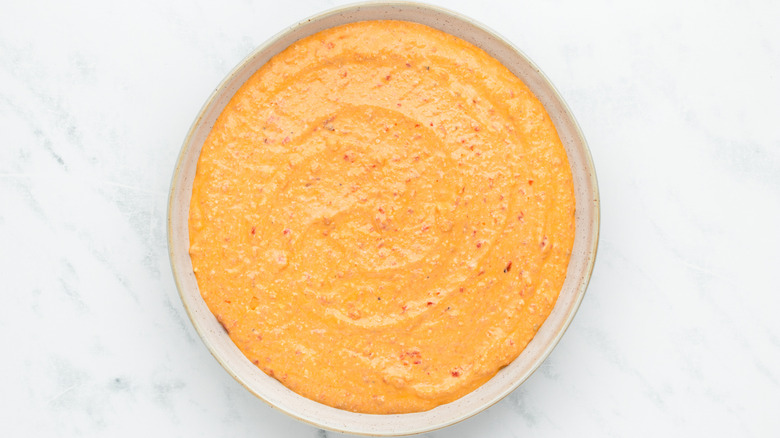 Catherine Brookes/Mashed
Once you've gotten your spicy feta dip blended to a smooth consistency, transfer however much you're going to eat into a serving bowl. If you have any leftovers, you can store the dip in the refrigerator for up to 3 days. For textural reasons, Brookes does not recommend freezing this spicy feta dip.
Serve the tirokafteri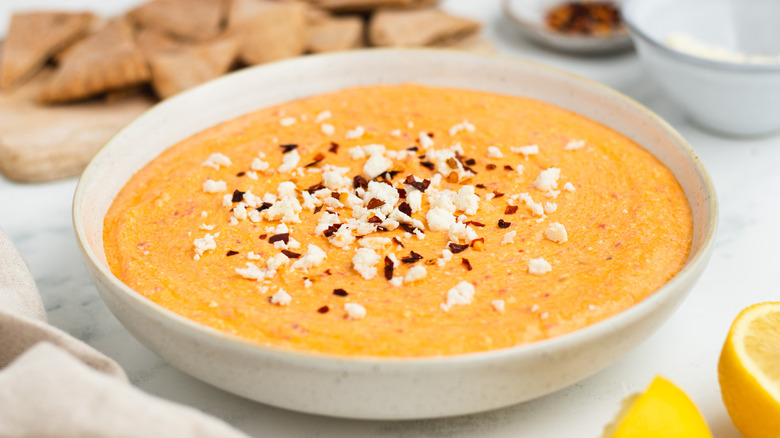 Catherine Brookes/Mashed
If you like, you can garnish the dip with some extra red pepper flakes and crumbled feta. As for what to enjoy along with it? "I love to serve this dip with some toasted pita or tortilla chips and veggies such as celery, carrot and cucumber sticks," Brookes says.
Easy Greek Tirokafteri (Spicy Feta Cheese Dip) Recipe
Though tirokafteri may not be as well known as tzatziki, this spicy Greek feta dip deserves just as much attention.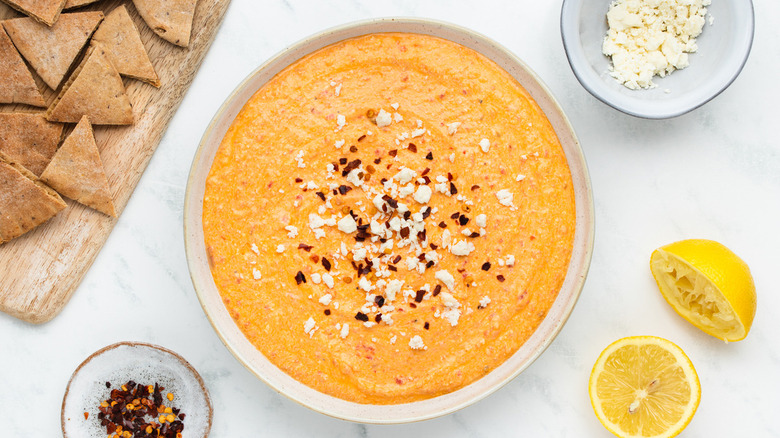 Ingredients
10 ounces feta cheese
5 ounces store-bought roasted red peppers
3 tablespoons olive oil
¼ teaspoon red pepper flakes (or more, depending on spice preference)
1 tablespoon lemon juice
½ teaspoon garlic powder
Black pepper, to taste
Directions
Add all ingredients to a food processor or high-power blender and blitz until a smooth mixture is formed.
Taste for seasoning, adjusting as needed.
Transfer the tirokafteri to your serving bowl of choice. Scatter extra crumbled feta and red pepper flakes over the feta dip, if desired, and serve immediately.
Nutrition
| | |
| --- | --- |
| Calories per Serving | 145 |
| Total Fat | 12.7 g |
| Saturated Fat | 5.4 g |
| Trans Fat | 0.0 g |
| Cholesterol | 31.5 mg |
| | |
| --- | --- |
| Total Carbohydrates | 3.0 g |
| Dietary Fiber | 0.3 g |
| Total Sugars | 0.8 g |
| Sodium | 404.6 mg |
| Protein | 5.3 g |