Baked Jamaican Beef Patties Recipe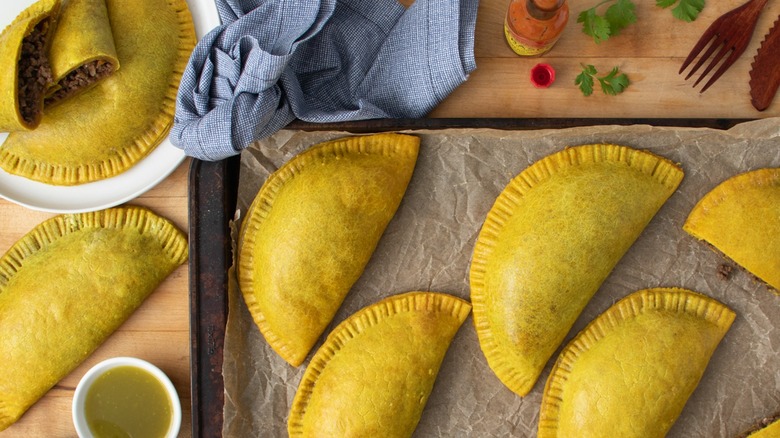 Patterson Watkins/Mashed
If you're a Trader Joe's shopper, you may have experienced the delights of the grocery chain's frozen Jamaican beef patties, which are already an internet fan favorite. While they are undoubtedly convenient and delicious, they can be somewhat problematic, as an RD tells us they're too high in sodium for daily consumption. Well, one way to fix such a problem is to make your own beef patties, since you can always tweak the ingredients to suit your preferences. Use less salt if you wish, or add more peppers for a hotter patty. Just as they are, though, recipe developer Patterson Watkins calls her patties "a flavor bomb" and feels that the different tastes at play here — including savory, sweet, and spicy — make for a dish that "really pops and sizzles."
This recipe makes for 8 sizable patties, but if you're living alone and/or are into meal prep, rest assured that they can be frozen. If you want to stock any patties away for later, though, Watkins says not to bake them beforehand and to simply wrap the unbaked patties in plastic and foil to prevent freezer burn. When you're ready for another patty (or two), thaw it out in the refrigerator, brush it with beaten egg, then follow the directions for baking.
Assemble the ingredients for baked Jamaican beef patties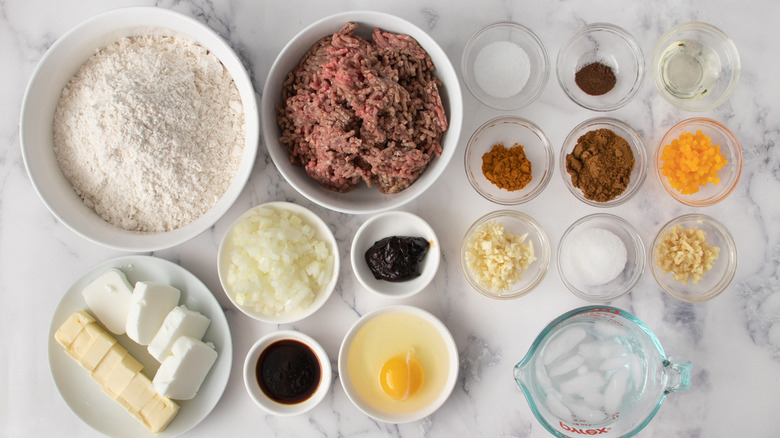 Patterson Watkins/Mashed
While many recipes may call for shortcuts like pre-made pie crust, Watkins encourages making your own dough, as the added turmeric and curry powder give it "a splash of vibrant color and flavor throughout." Besides these spices, the dough also includes flour, salt, sugar, butter, ice water, and shortening. Why both butter and shortening? Watkins explains that the combo results in the best rich flavor and tender, flaky texture.
Additional ingredients required for the filling include olive oil, an onion, garlic, ginger, a Scotch bonnet pepper, allspice, ground beef, soy sauce, and beef bouillon paste, while you will also need an egg to glaze the patties before they bake.
Make the dough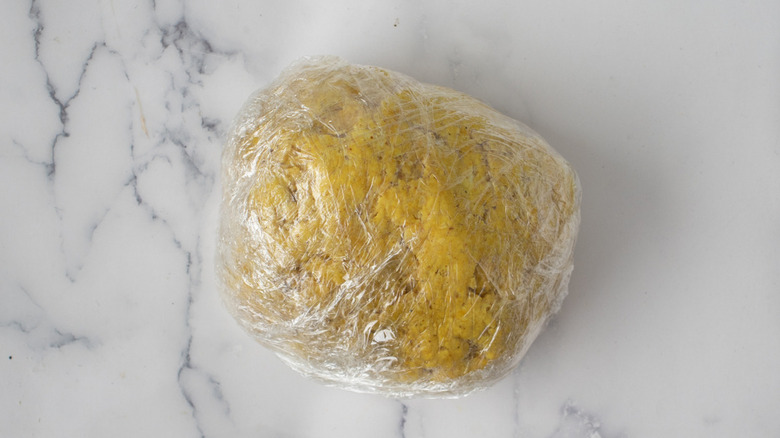 Patterson Watkins/Mashed
To make the golden patty dough, mix up the dry ingredients (flour, salt, sugar, curry powder, and turmeric), then cut in the butter and shortening with a fork, knife, or pastry cutter until you have pea-sized chunks. Make a well in the middle of this mixture and pour in half of the ice water. Mix it in, then stir in the rest of the ice water a bit at a time until your dough holds together and can be pressed into a loose ball. Wrap the dough ball in plastic and stick it in the refrigerator for ½ hour.
Cook the filling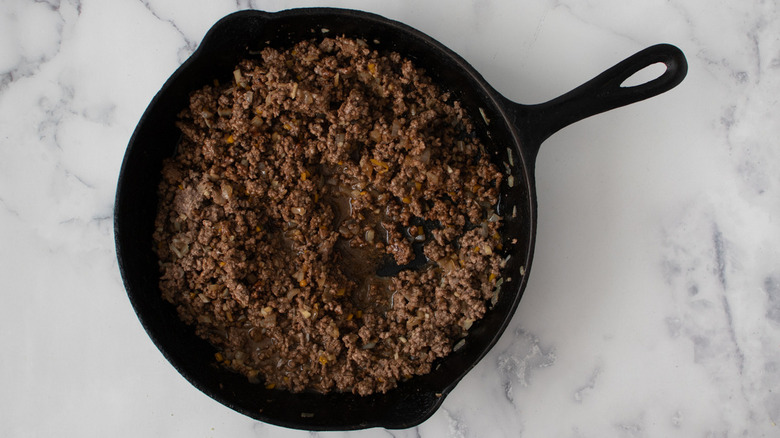 Patterson Watkins/Mashed
Meanwhile, heat the oil up over medium-high, then use it to cook the onion, garlic, ginger, and Scotch bonnet peppers for 2 minutes — Watkins says the desired result is "tender-crisp." At this point, add the allspice and curry powder, and stir-fry the spices for a minute. Add the ground beef and cook that for 5-6 minutes, stirring to break it up. Once it's no longer pink inside, stir in the bouillon paste and soy sauce. Cook these for 3-4 minutes or until the meat and vegetables absorb most of the liquid. Set the filling aside to cool a bit.
Fill the beef patties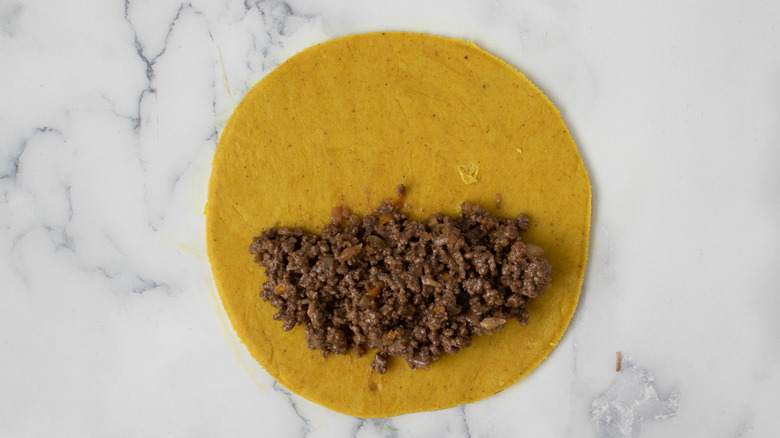 Patterson Watkins/Mashed
It's now time to shape the patties. Preheat the oven to 400 F, line 1 or 2 baking sheets with parchment paper, and then beat the egg with 1 teaspoon of water in a small bowl. Set the egg wash aside. 
Divide the dough into 8 portions and thinly roll each one out on a floured surface, then use a sharp knife to cut these into roughly 8-inch circles (if you have an 8-inch plate, this can be your guide).
Plop ⅓ cup of the filling onto the lower middle part of a dough circle, then brush some egg wash around the edges of the dough. Fold the dough into a semi-circle to cover the filling, then use a fork to crimp the edges closed. Repeat with the rest of the dough and filling, then arrange the pastries onto the prepared baking sheets and brush the tops with the remaining egg wash.
Bake the beef patties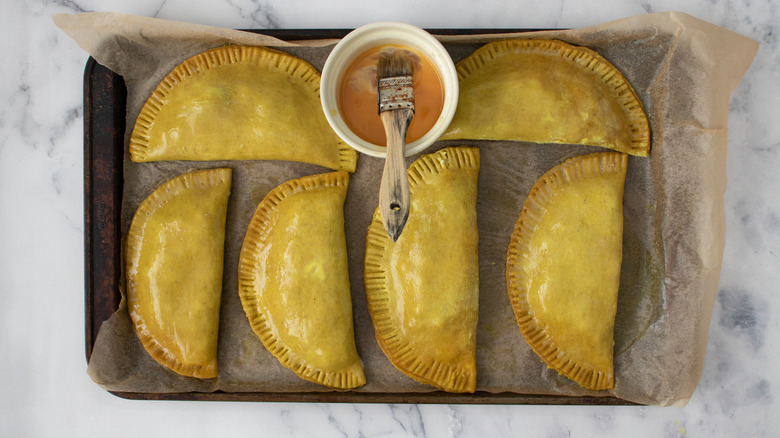 Patterson Watkins/Mashed
Bake the patties for 25-30 minutes — they'll appear golden when cooked, and the crust should be nice and crispy. Don't try to eat the pies right away, though, as you're likely to burn your mouth. Instead, be patient and give them 10 minutes to cool down before digging in.
Baked Jamaican Beef Patties Recipe
Flavored with curry powder, ginger, allspice, Scotch bonnet peppers, and more, these savory, flaky Jamaican beef patties get better with each bite.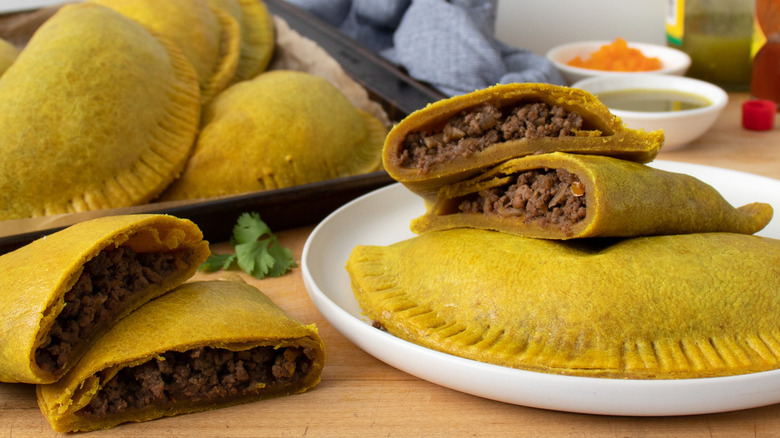 Total time: 1 hour, 25 minutes
Ingredients
3 ½ cups all-purpose flour
2 teaspoons salt
1 tablespoon granulated sugar
1 tablespoon + 2 teaspoons Jamaican or Madras curry powder, divided
2 teaspoon ground turmeric powder
½ cup butter, chilled and sliced
½ cup shortening, chilled and sliced
1 cup ice water
‌1 tablespoon olive oil
½ cup minced yellow onion
3 garlic cloves, peeled and minced
2 teaspoons minced fresh ginger
1 Scotch bonnet pepper, minced
¼ teaspoon ground allspice
1 pound ground beef
1 tablespoon low-sodium soy sauce
1 tablespoon beef bouillon paste
1 egg, beaten with 1 teaspoon water
Directions
In a large bowl, combine the flour, salt, sugar, 1 tablespoon of the curry powder, and turmeric.
Cut the butter and shortening into the dry ingredients with a fork, knife, or pastry cutter until only pea-sized chunks remain.
Make a well in the center of the flour mixture and pour in half of the ice water, stirring it in.
Add the remaining water in batches, stirring in between additions, until the dough holds together when pressed.
Form the dough into a loose ball, then cover with plastic wrap and refrigerate for 30 minutes.
Meanwhile, warm the oil in a skillet over medium-high heat.
Fry the onion, garlic, ginger, and Scotch bonnet pepper for 2 minutes until tender-crisp.
Add the remaining curry powder and allspice to the onion mixture and cook for 1 minute, stirring frequently.
Stir in the ground beef and cook for 5-6 minutes until no longer pink.
Stir in the soy sauce and bouillon paste and cook for 3-4 minutes until most of the liquid has been absorbed. Set filling aside to cool slightly.
Preheat the oven to 400 F and line 1-2 sheet pans with parchment paper.
Divide the dough into 8 portions.
Thinly roll each piece of dough out on a lightly floured surface. Cut each piece of dough into an 8-inch circle using a paring knife and a round plate as a guide.
Spoon ⅓ cup of beef filling onto the bottom center of a dough circle and brush the edges of the dough with the egg and water (egg wash) mixture. Fold the dough in half, concealing the filling, and crimp the edges closed with a fork.
Repeat the process until all of the beef patties are filled.
Brush the tops of the patties with any remaining egg wash and arrange onto the prepared sheet trays.
Bake the patties for 25-30 minutes until crispy and golden in color.
Cool for 10 minutes before serving.
Nutrition
| | |
| --- | --- |
| Calories per Serving | 593 |
| Total Fat | 38.1 g |
| Saturated Fat | 15.0 g |
| Trans Fat | 2.4 g |
| Cholesterol | 70.8 mg |
| | |
| --- | --- |
| Total Carbohydrates | 46.1 g |
| Dietary Fiber | 2.6 g |
| Total Sugars | 2.3 g |
| Sodium | 441.7 mg |
| Protein | 16.2 g |