Roy Choi Is Saucing Up Costco's Aisles With Sweet Garlic Teriyaki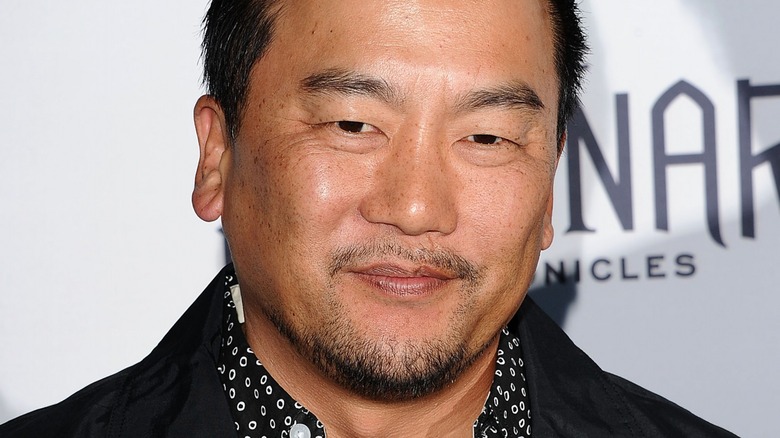 Jason Laveris/Getty
Chef Roy Choi of Netflix's "The Chef Show" is known for the unique blend of Korean and Mexican cuisine he serves up at his iconic food truck-turned-brand, Kogi. We know Choi's knockout hits, like Short Rib Tacos, are defined by his flavor-packed sauces. Now, these flavors are a little bit easier to replicate in your own kitchen, with Choi's Sweet Garlic Teriyaki Sauce arriving on Costco's shelves this week, per a recent Instagram post.
In the post, Choi shared his excitement at the condiment's Costco rollout, writing: "The new drop at @costco Our @kogibbq Sweet Garlic Teriyaki Sauce aka The Secret Weapon aka Korean Beef Jerky aka Serrano Chili Paste aka Liquid Changjorrim Juice aka Dip Me From Head To Toe. Go run it up." To say the very least, Choi is stoked about the sauce and its arrival at Costco.
Going for $6.89 for a bottle, the Sweet Garlic Teriyaki Sauce should be a must-buy condiment at Costco. It's described on the Kogi's website as a versatile sauce and marinade that offers a bit of savory as well as salty and sweet. The sauce's base of soy sauce, sugar, and vinegar is given a flavorful, fiery twist with a whole lot of garlic and fire-roasted Serrano chili paste. The flavors also reference the garlicky Korean braised beef side-dish jangjjorim, which also features green peppers. Choi recommends using the teriyaki sauce with jumbo scallops, adding it to a hamburger, or mixing it into a shrimp stir fry.
Choi's fans are ready to get lost in the sauce
This isn't the first bottled Kogi sauce to hit Costco shelves. According to a different Instagram post, the original Kogi Korean BBQ marinade and sauce arrived at Costcos in Southern California last year, and fans of Roy Choi's bold flavors rushed to stock up. This time around is no different, with many of Choi's followers sharing their excitement for the arrival of the Sweet Garlic Teriyaki at Costco. One commenter wrote: "That's sick, from the food truck to Costco. Legend."
The Costco rollout of Kogi's Teriyaki is specific to Los Angeles and Hawaii, per the Kogi website, though some Instagram users reported they had already found it at Costcos in other parts of SoCal as well. A lot of East Coast, Canadian and Australian Kogi fans hoped the sauce would eventually make it to their Costcos too. Fortunately, those feeling left out can still buy the sauce starting in packs of 2 for $14.99 on the online Kogi store, as well as the other Kogi marinades and sauces: Korean BBQ, Sweet & Spicy Korean BBQ, and Boom Boom Dipping Sauce and Spread. The sauce is also available at select Targets, Walmarts, and Smart and Final in Korean BBQ and Sweet Garlic Teriyaki flavors.