The Oppenheimer Martini Features A Signature Honey Rim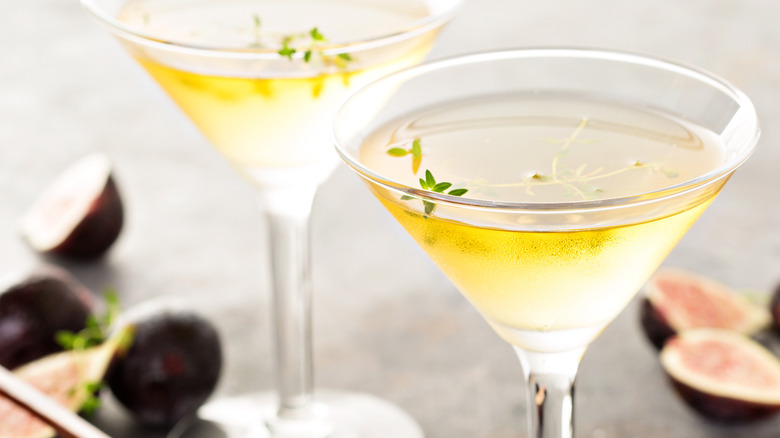 Elena Veselova/Shutterstock
J. Robert Oppenheimer, the father of the atomic bomb and subject of a biopic, apparently subsisted largely on a diet of cigarettes and booze. Despite the fact that he was working on the Manhattan Project, the drink of the same name was not his tipple of choice. Instead, he favored a martini, but not the simple, classic concoction of gin and vermouth with a twist of lemon peel.
Oppenheimer's special martini recipe, one he served up at his famous parties, tended to skimp a bit on the vermouth as it seems as if this ingredient may have been difficult to come by in wartime Los Alamos. Gin was apparently available in abundance, however, making for martinis so strong that some party guests who were new to New Mexico's high altitude found themselves getting way more tipsy than they expected.
To make the Oppenheimer martini, you'll simply stir (not shake) 4 ounces of gin together over ice with just a dash of vermouth. Once the martini is chilled, strain it into a glass with — here's the kicker — a rim that's been dipped into a delicious mixture of honey and lime juice. These ingredients, like gin, seemed to have been available in the Land of Enchantment back in the mid-1940s. 
Honey is a great addition to martinis and other drinks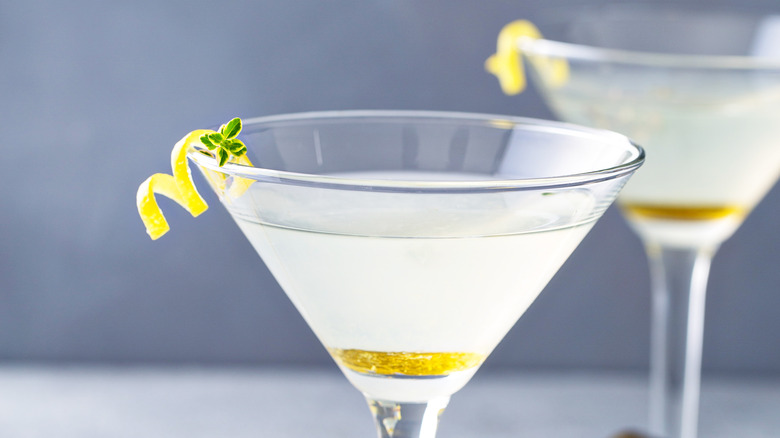 Veselovaelena/Getty Images
Oppenheimer wasn't the first person to latch on to the fact that honey makes a great cocktail ingredient. One martini-adjacent drink made with gin, honey, and lemon juice is called the Bee's Knees and dates back to before Prohibition put a (temporary) crimp in everyone's partying. Other honey martinis are more contemporary, such as the honey lemon drop martini, which appears to be a variant of a drink first created in the '70s. One drink that was briefly popular earlier this decade was the quarantini, a gin or vodka, honey, and lemon libation with powdered vitamin C rim meant for Zoom happy hours and other socially-distanced occasions.
So what makes honey so good in martinis and other drinks? For one thing, the flavor is slightly more complex than that of sugar alone. For another, it's already in a liquid form so it can be swapped out for simple syrup and thus eliminate the need to create the latter by boiling up sugar and water. If you love the flavor of honey because you have a super-sweet tooth, the Oppenheimer martini may not be for you since despite the sweet and tangy rim, the bitterness from the gin and vermouth make for a drink that is still pretty dry. Instead, you may prefer our recipe for a coconut martini made with coconut rum, vodka, cream of coconut, and lime juice served in a glass rimmed with honey and desiccated coconut.