Coconut Martini Cocktail Recipe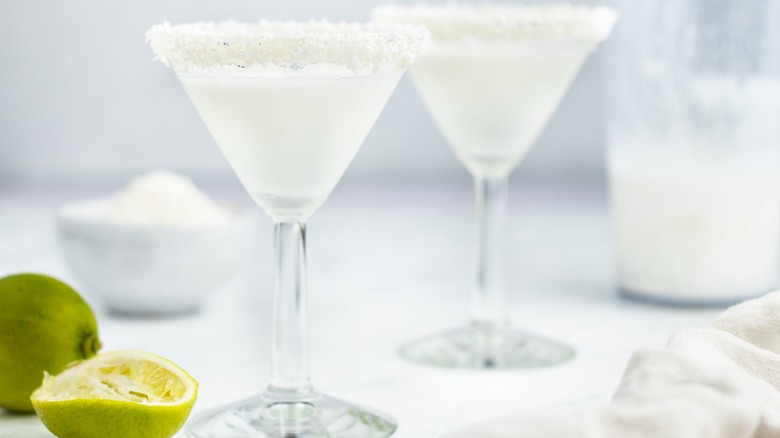 Catherine Brookes/Mashed
"You put the lime in the coconut, you drink 'em both together ..." If this rings a bell, you've probably heard the '70s novelty hit "Coconut" by Harry Nilsson in one of the many movies or TV shows it's been used in. If the flavor combo appeals to you but you think it would be even better with booze, well, this is the drink recipe for you. As recipe developer Catherine Brookes tells us, "Coconut and rum are such a classic combination, and the vodka and lime add even more delicious flavor." Brookes reminds us, though, that this drink is heavy on the booze and, as she says, it "certainly has a kick!"
Not only is this coconut martini very tasty, but it's also extremely eye-catching in its pristine, snowy white perfection. Brookes notes that "the desiccated coconut around the rim of the glass makes this cocktail feel extra special and is a great touch if you're serving it to guests."
Gather the ingredients for the coconut martinis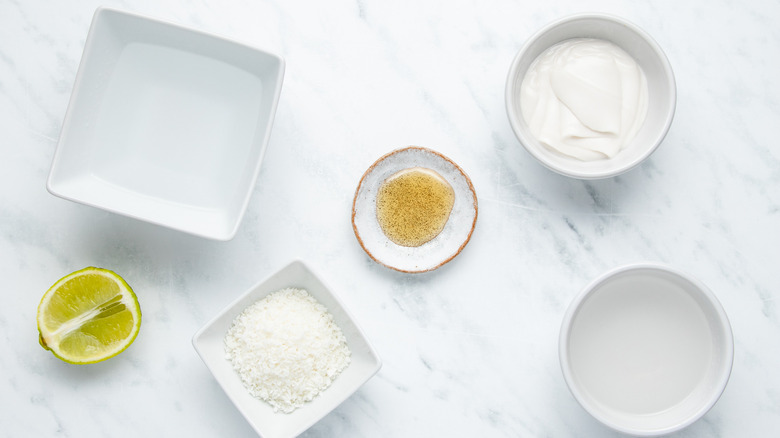 Catherine Brookes/Mashed
To make those pretty glass rims, you'll need dessicated coconut –- not the shredded kind, since shreds are too moist and heavy to stick. Brookes also uses a little bit of honey to get the coconut to adhere to the glass.
For the cocktail itself, you'll be using coconut-flavored rum, vodka, coconut cream, and lime juice, plus you'll need some ice cubes to chill the drink.
Rim the glasses with coconut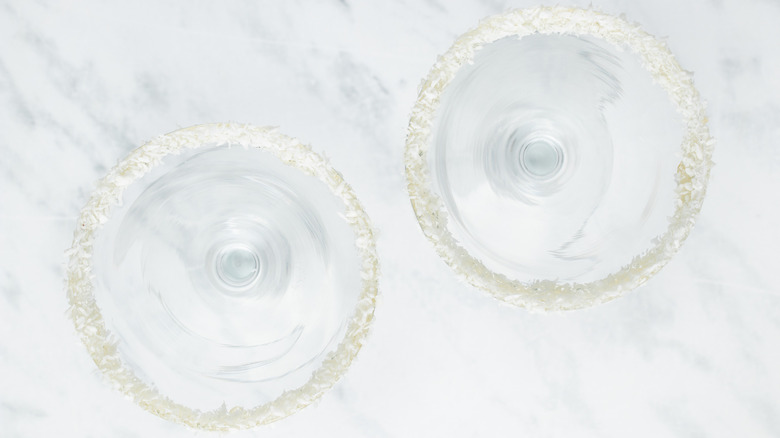 Catherine Brookes/Mashed
Take a little bit of honey (use as much or as little as is needed; the amount given here is just a guideline) and rub it around the rims of 2 martini glasses. Spread the coconut out over a work surface or in a shallow dish. Dip the glasses into the coconut and roll the rims until the stuff adheres.
Mix the martinis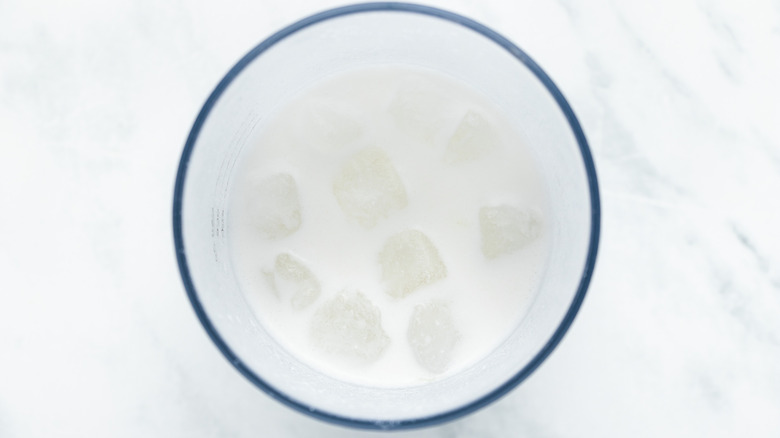 Catherine Brookes/Mashed
Combine the boozes, coconut cream, and lime juice in a cocktail shaker or something that can stand in for one (a lidded jar will work in a pinch) along with some ice cubes. Shake the drink until it feels chilled, maybe 10 to 15 seconds. After shaking the drink, strain it into the coconut-rimmed glasses.
Dress up the drinks if desired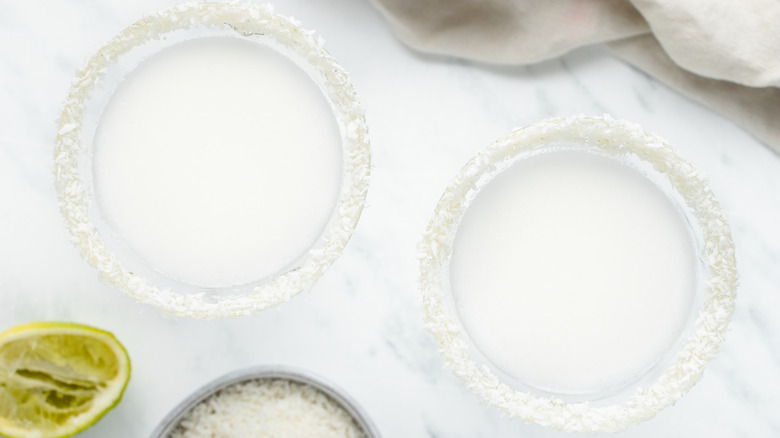 Catherine Brookes/Mashed
While the coconut-rimmed glass alone makes this drink as pretty as can be, sometimes it's fun to add extra garnishes. You could go with a paper umbrella, or, if you'd like to stick with edible accessories, Brookes suggests "You could possibly add a lime round to the edge of the glass, or even a pineapple chunk." Both of these fruits would add a little pop of color to an otherwise monochromatic (though stunning) cocktail.
Another idea Brookes has is turning this coconut martini into a fun frozen drink. Okay, so classic gin martinis are seldom slushified, but as this drink contains non-booze ingredients like coconut cream and lime juice, it lends itself well to such treatment. As Brookes says, just "blitz everything in a blender with crushed ice" to make frozen coconut martinis.
Coconut Martini Cocktail Recipe
"You put the lime in the coconut" aren't just lyrics to a song. They're also directions to making this elegant and tropical cocktail.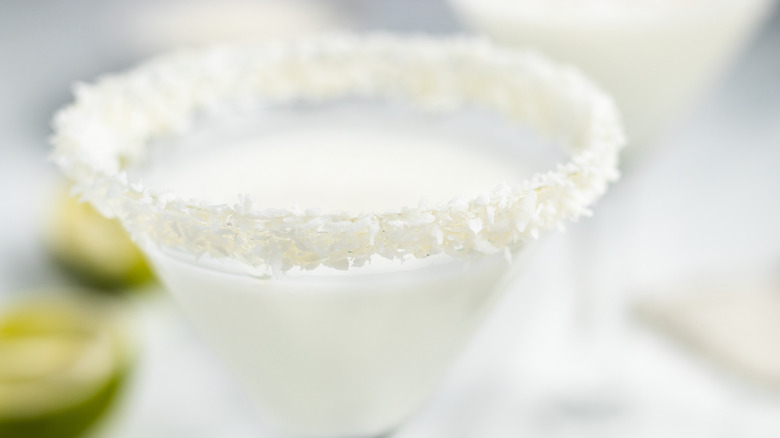 Ingredients
½ teaspoon honey
1 tablespoon desiccated coconut
2 ounces coconut rum
3 ounces vodka
2 ounces coconut cream
juice from ½ lime
Directions
Rub a little honey around the rim of two martini glasses.
Spread the desiccated coconut out on a work surface and roll the rim of the glasses in it so it sticks to the honey.
Combine the rum, vodka, coconut cream, and lime juice in a cocktail shaker. Add ice, secure the lid, and shake until the drink is well chilled.
Strain the drink into the prepared glasses.
Nutrition
| | |
| --- | --- |
| Calories per Serving | 277 |
| Total Fat | 10.7 g |
| Saturated Fat | 9.5 g |
| Trans Fat | 0.0 |
| Cholesterol | 0.0 mg |
| | |
| --- | --- |
| Total Carbohydrates | 5.5 g |
| Dietary Fiber | 1.3 g |
| Total Sugars | 1.9 g |
| Sodium | 2.7 mg |
| Protein | 1.2 g |