The Japanese Brand Behind Costco's Matcha-Packed Green Tea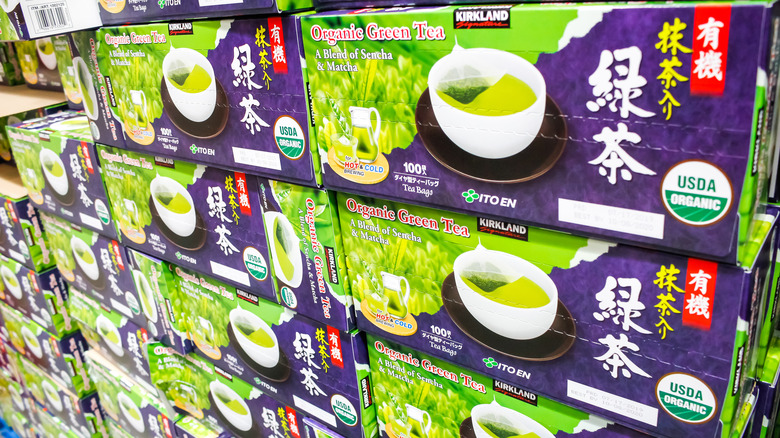 The Image Party/Shutterstock
We may receive a commission on purchases made from links.
If you're a fan of Sencha- and Matcha-packed green teas, you may know about Costco's great deal on boxes of Kirkland Signature Green Tea Bags, which contain 100 1.5-gram tea bags. While 1.5 grams might be on the lower end of the weight of usual tea bags, these green tea bags from the Costco Kirkland brand are filled with flavor and the light punch of caffeine you've come to love from green teas. This Costco tea is jam-packed with Sencha green tea, which, after it is harvested, is steamed, rolled, and then dried. It also has plenty of Matcha powder which ups the ante when it comes to flavor. The tea can be enjoyed both hot and iced, and each box costs about $15 (prices vary by warehouse location), which, if you do the math, comes out to about 15 cents per tea bag. The tea has a good following — even actor Kristen Bell says she loves it. 
But, before it's packaged into boxes and hits the shelves at Costco, just where exactly do these Kirkland Signature Green Tea Bags come from? The tea is actually made by a Japanese tea company Ito En, which prides itself on focusing on Sencha teas and other green tea blends. This Japanese tea delight is so delicious that it ranked number one on our list of the best green tea brands.
Ito En tea is all about sustainability and great taste
Costco's Kirkland Signature Green Tea is sourced from Ito En, a tea business hailing straight from Japan. Ito En started operating in 1964 and prides itself on honoring Japan's long-standing tea-growing traditions and respect for the process and the environment, which in turn helps create job security for tea farmers. Its website states this commitment lends toward its teas' superb taste and health benefits.
Besides producing green tea for Costco, Ito En also makes other signature teas, all centering around the green tea flavor. Some include bottled teas such as Mugicha Barley Tea and Jasmine Green, as well as loose leaf teas and matcha powder. You can shop on Ito En's website and the company will ship your teas directly to the United States. In addition to being sold at Costco, some Ito En products are sold at other retailers in the U.S. and are also available on Amazon, where reviews are very positive. One of Ito En's bestsellers, Oi Ocha Green Tea, has a 4.6-star rating based on nearly 6,500 ratings. Sounds like Ito En may be raking in the green!