Who's Really Behind Aldi's Popular Millville Cereal Brand?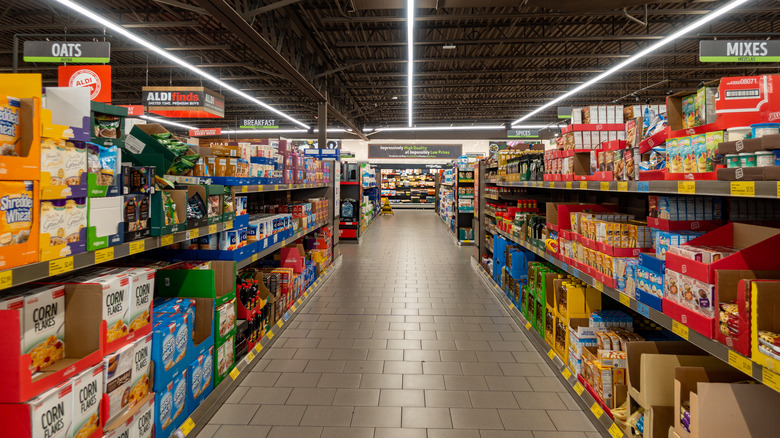 Joni Hanebutt/Shutterstock
Store-brand cereals may not hold a candle to big-name favorites, but here's a savvy cereal shopping secret: Aldi's Millville cereals. Making up some of Aldi's most popular cereals, these hidden breakfast delights can go head-to-head with popular name brands and emerge victorious! Aldi's Millville line-up offers good taste, quality, and value — but is way friendlier to your wallet.
Curious Aldi shoppers have been wondering about the mastermind behind their beloved Millville cereal brand. While many assume General Mills is behind it due to the "Mills" reference, that's not the case. Contrary to popular belief, the rumor mill suggests that Malt-O-Meal, a part of Post Consumer Brands, is the true genius behind Aldi's Millville cereals. The Aldi brand features generic versions of fan favorites like Frosted Flakes, Shredded Wheat, and Raisin Bran. The umbrella company, Post, is responsible for beloved breakfast cereals such as Honey Bunches of Oats, Grape-Nuts, and Honeycomb. Formerly associated with MOM brands (a ready-to-eat cereal leader), it's believed that Aldi's Millville cereals found a new partnership after Post acquired MOM brands in 2015.
Does Aldi's Millville Cereal brand really measure up to brand names?
Regardless of the maker, one thing's for sure: You don't need to splurge on name brands. It's understandable to have doubts about the quality of store-brand cereals compared to popular brands, but don't let the price tag fool you. Aldi's Millville Cereal brand proves that affordable doesn't mean mediocre. Since parent company Post Consumer Brands owns the actual Raisin Bran and Shredded Wheat brands, Aldi's Millville versions by the same names might not be far off. And while General Mills Cinnamon Toast Crunch costs a whopping $0.29 per ounce, you can enjoy Aldi's Millville Cinnamon Crunch Squares at just $0.11 per ounce.
So, how does Aldi keep prices so low? While Aldi does carry some major brand names that are completely overpriced, many of its store-brand items are actually produced by top-notch companies and offered at a fraction of the price under a private label. Think of it this way: Selling a renowned brand like General Mills means pricing it slightly higher to cover the premium for the brand's name and associated expenses. But with store-brand or private-label gems that are manufactured exclusively for its store, Aldi cuts overhead costs, passing the savings to customers. So, why pay more for the same product when you can get the same, if not better, quality at a steal?