TikTok's Sad Grimace Trend Low-Key Makes Us Want To Cry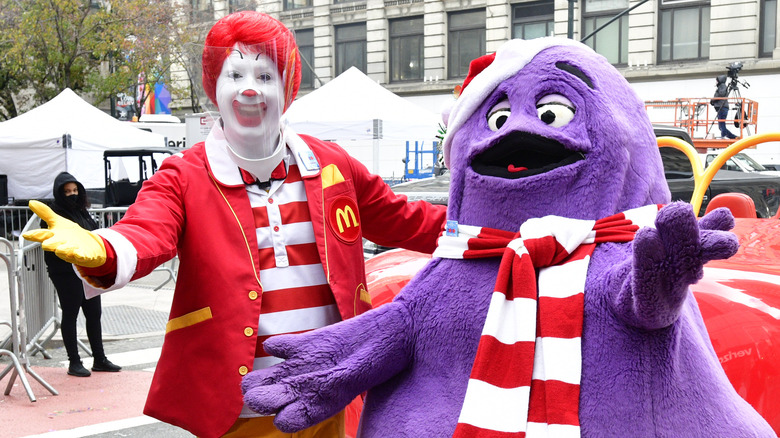 Eugene Gologursky/Getty Images
If you turned on the TV or scrolled through social media at least once in June of 2023, you saw the return of Grimace and his resulting takeover of McDonald's online presence. The large purple taste bud made his reappearance to the brand to celebrate his birthday, complete with a limited-edition meal and a Grimace-themed shake. After commemorating his special day for an entire month, Grimace has disappeared once again into McDonald's abyss, which is sad enough as it is. Now, following mixed reviews of the Grimace shake, TikTok users have plunged deeper into depression imagining the beloved character's disappointment when nobody was excited about his shake — or perhaps his birthday at all.
One video, posted by @veryberry.gt, featured Grimace crying as he held his shake firmly in his... er, hands? Then, he questioned why the community reacted negatively to the milkshake, saying "Dey don't like my berfday shake? I... I wish I never had a berfday." Personifying the cartoon character seemed to accomplish what the video set out to do, as many commenters apologized for dissing the treat. In another video, Grimace receives a birthday card calling him a "killer" as he glances at a long table waiting for party guests that never arrive. To further understand this trend, you have to first understand a couple of others. Only then will you comprehend why Grimace might feel the way he does.
Why might Grimace feel this way?
In case you aren't aware, Grimace used to look scary different. He once represented an evil, milkshake-stealing creature with an off-putting look sure to haunt nightmares. Even with his rebranding, though, some McDonald's fans are frightened by Ronald McDonald's long-time friend, which subsequently led to disturbing comments and a TikTok trend depicting Grimace's shake as poison.
Only 13 days into the birthday celebrations, user @thefrazmaz posted a video in which he sips the new drink and passes out in a purple pool of liquid. The post has nearly 500,000 likes, and tons of TikTokers jumped on the trend to add their own spin. Furthermore, a birthday post on McDonald's Instagram was flooded with users expressing their fears. "Didn't [you] fu—-g kill people?" one comment read.
This provides an obvious explanation for the sad Grimace TikTok trend, and why he might regret releasing the purple shake. If this brings tears to your eyes, however, you might gain some peace by watching another video by @pupoodledoodle. In the clip, Grimace is seen sitting alone when he hears the doorbell. Suddenly, a swarm of fans comes pouring in with presents for their purple friend. We'd like to believe this is the reality for our pal, Grimace.