Why Curtis Stone Has His Heart Set On Opening Up A Bakery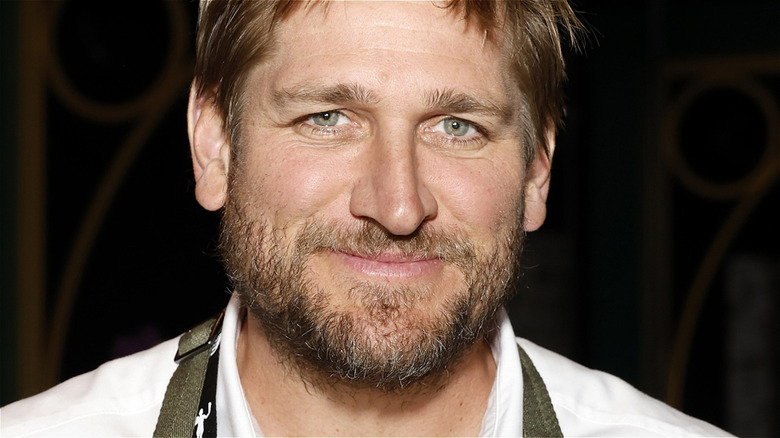 Frazer Harrison/Getty
It's not often that you find chefs who are just as enthusiastic about making pastries as they are about savory cooking. But it's clear that celebrity chef and author Curtis Stone has a strong affinity for desserts and baking, as he prepares to open his first stand-alone bakery in California soon. During an exclusive interview with Stone at an event he hosted in collaboration with Waterloo Sparking Water in New York City earlier this year, Stone told us about his love of desserts and how the idea for The Pie Room began. "I have this massive sweet tooth and always have," Stone said. "I'm super involved in it because I like it ... I find it really relaxing, and it almost feels like it's not my job. So I like going [to the pastry kitchen] for a little respite."
When faced with the heartbreaking decision to close his first independent restaurant, Maude, in early 2020, Stone instead decided to turn his focus to the comfort and fulfillment of making baked goods to keep the kitchen operational, staff employed, and loyal guests satisfied. "We opened The Pie Room in Beverly Hills over the pandemic," Stone noted. "I said to [chef] Amy [Taylor], 'You should do it, you should do The Pie Room ... out of Maude.' And then I just kept going there, and she's like, 'You're going to stay here the whole time, aren't you?' And I did; for six months, I literally made pie with her. It was so fun."
Making The Pie Room official
Chef Curtis Stone and his team opened The Pie Room by Gwen at Maude in January 2021, selling handmade pies, pastries, and sandwiches to ride out the pandemic, and were met with an overwhelmingly positive response to the hearty and indulgent baked goods. The menu included plenty of sweet options but savory options as well, like Oxtail & Beef Cheek Suet Pie and Pastrami, Feta, and Mint sandwiches. The last of the luscious pies and baked goods walked out the door of Maude just in time for Thanksgiving in November 2021, but the flame for a bakery had already been lit. "The customers just kept calling and being like, 'When are you bringing The Pie Room back? What's going to happen with the pies?" Stone said.
More than a year and a half after the popular pop-up closed, The Pie Room has taken on a life of its own. The post-pandemic name has changed slightly to "The Pie Room by Curtis Stone," and the sweet and savory bakery is slated to make a stand-alone debut at Topanga Social, the trendy new upscale food court-meets-dining hall connected to the Westfield Shopping Center in Canoga Park in northwest Los Angeles. In the meantime, The Pie Room bakers are already creating gorgeous and delectable pastries, available for purchase five days a week through the butcher shop counter at Stone's Beverly Hills restaurant, Gwen. The menu currently includes sweet and savory pies, cookies, sausage rolls, pastries, preserves, and breads.