Turn Canned Crescent Rolls Into A Breakfast Delight With Your Waffle Maker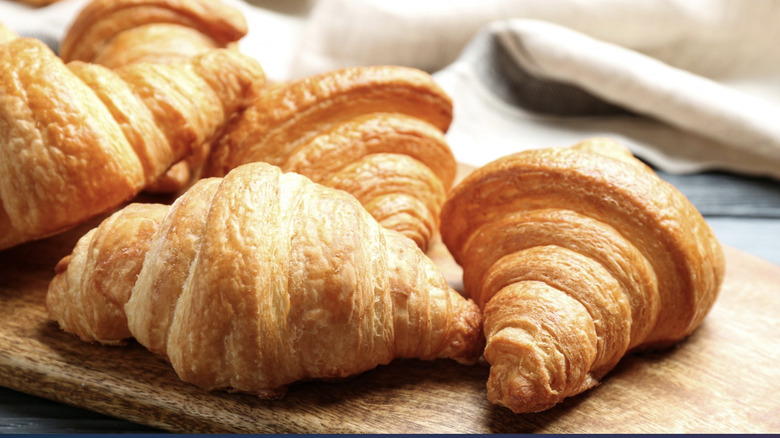 New Africa/Shutterstock
Canned crescent rolls can have sort of a bad rap. They may have a reputation as an appetizer afterthought, but fortunately, home cooks are here to create inventive ways to repurpose them. People have found ways to turn crescent rolls into savory meals, like pigs in a blanket, as well as sweet treats like cinnamon rolls. Thanks to TikTok, people have a huge public platform to share their unique recipes, which is how many people were introduced to the "strawberry croffle." As you may have guessed from the name, a croffle is a cross between a croissant and a waffle.
The croffle is simple to make, as it involves taking a defrosted frozen crescent roll and cooking it in a waffle iron. The key to taking the croffle over the top is to add toppings — in this video, it's adorned with whipped cream and strawberries. Prior to eating, the croffles are also topped with powdered sugar and garnished with a thyme sprig for the ultimate sweet treat indulgence. When the crescent roll dough cooks in the waffle maker, it becomes flatter and more waffle-like in shape and texture. Once the final product is flat and crispy, it becomes the perfect vessel for adding sweet and savory toppings.
It's all about the toppings
People flooded the comments of @bakes_by_brea's video to chime in on the croissant waffle crescent roll hybrid. Several people shared that they had seen the creation before, except it was called waffants. No matter what you call them, everyone agreed that it looked delicious. If you're looking to make these at home, the possibilities are almost endless. If adding toppings to your waffle isn't enough for you, try stuffing your croffles with sweet fillings like peanut butter and banana or savory fillings, like meat and cheese.
If you're going to attempt a stuffed version, all you need to do is unroll the crescent rolls before cooking, place your filling inside, and re-roll. If you're wanting a simple riff on a classic waffle, you can cook the croffle then dust it with cinnamon and sugar before eating. As far as toppings go, some of the standards are spreads like jellies and jams, nut butter, and yogurt or whipped cream. If you are hosting a brunch or feeling fancy, you could set up a toppings bar complete with bacon, eggs, fruit, and frosting, and let everyone create their custom croffle creation.