Forget Barbie – Bibble Cakes Are Where It's At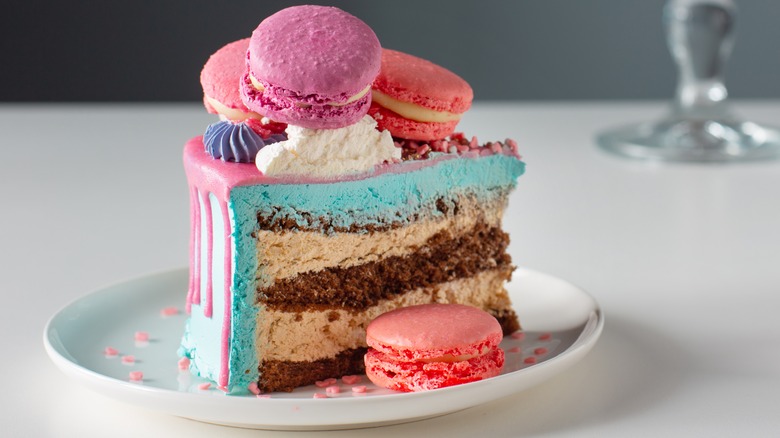 Maya Kruchankova/Shutterstock
Move over, Barbie! It's Bibble's time to shine. At least, some TikTokers seem to think so. With the "Barbie" movie starring Margot Robbie having made the brand more popular than ever before, a few TikTokers are using the social media platform to shine a light on one of the "Barbie" franchise's more obscure characters in cake form.
Bibble is a puffy creature covered in blue and purple fur that appeared in the 2005 film "Barbie: Fairytopia." While Barbiecore cakes of various styles and flavorings have been a trend for a while, fans have also started sharing their appreciation for Bibble, as well. In the summer of 2023, one TikToker attempted to inspire others to make Bibble cakes by showcasing their own creation. This user covered the cake with blue and purple icing and topped it with a recreation of the character itself. The attempt at inspiration worked — tons of commenters tagged their friends suggesting they create the cake as a team. While not as popular as Ken or Barbie, it's obvious the character has many fans of its own.
TikTokers add a creative flair to their Bibble cakes
While the TikToker's efforts are valiant, this is hardly the first attempt at jumpstarting a Bibble cake trend. In the past, several other TikTokers put their own spins on bringing the "Barbie" character to life, with one of the oldest dating back to 2021, proving Bibble was on people's minds before the "Barbie" movie took the world by storm. In one video, a TikToker created a traditional circular cake with blue and purple dollops and a two-dimensional drawing of Bibble that was center-stage alongside an acronym for "Happy Birthday." Another TikToker shaped their entire cake in Bibble's likeness instead. Of course, some users kept it simple with a classic sheet cake, as well. It's been a long, multifaceted journey to the Bibble cake TikToks of Summer 2023.
Because none of these TikTokers shared their exact recipe, it's going to take some imagination if you want to fashion a Bibble cake of your own. Luckily, it's easy to research the basics of making a cake if you're not sure. When in doubt, you could go with a basic vanilla cake for your base. For that, you'll need eggs, flour, butter, baking powder, salt, sugar, milk, and vanilla extract. Of course, when it comes to actually designing your cake, you'll want purple and blue icing — and an eye for detail.