Lawsuit Asks Taco Bell To Beef Up Its Mexican Pizza And Crunchwrap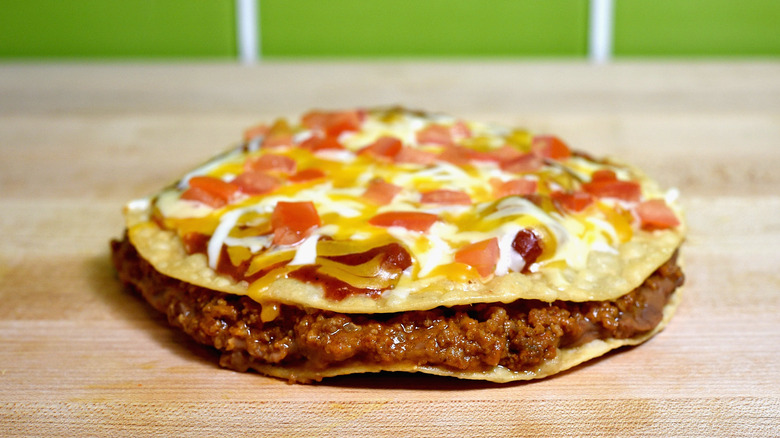 Joshua Blanchard/Getty Images
Although many thought the battle was over when Taco Bell announced it was bringing back its Mexican Pizza last spring, they couldn't have been more wrong. One New York citizen has thrust the Mexican Pizza — as well as the Crunchwrap and all its variations – back into the spotlight with a class action lawsuit.
According to the lawsuit, plaintiff Frank Siragusa is accusing Taco Bell of "falsely advertising" its products as containing more beef, beans, lettuce, and other toppings than they actually do when served. The suit includes five sets of "expectation vs. reality" pictures, with the expectation being the advertisement, and the reality being scraggly items allegedly received at a Taco Bell.
Siragusa argues that Taco Bell is not only misleading customers but is also charging them more than the products are worth. He further claims that a Taco Bell Mexican Pizza he personally received contained only about half the filling he anticipated, based on marketing pictures. Interestingly, this isn't the first time Taco Bell has been sued in relation to its beef, though the 2011 suit had more to do with the contents of the beef than the quantity.
This class action lawsuit wants Taco Bell to make some changes
Now that countless people have called out Taco Bell's skimpy Crunchwraps and Mexican Pizzas, it's not unreasonable to expect changes to be made. Per Frank Siragusa's class action suit, he requests that Taco Bell "provide corrected advertising" and $5 million in compensation for all customers who have purchased "overstated menu items." Being that the lawsuit was only filed on July 31, Taco Bell has yet to release any sort of statement.
Hundreds of other lawsuits have also addressed allegedly deceptive marketing in recent years, be it the size of Burger King burgers, the fruits used in strawberry Pop-Tarts, or products supposedly containing vanilla beans. Burger King was sued in 2022 in regards to accusations of falsely advertising that its burgers are larger than in reality, and yet, more than a year later, there still hasn't been any sort of dismissal or settlement made public.
Of course, all this just goes to say that it's unclear how long we'll have to wait before the Taco Bell class action suit is dropped or the chain is forced to pay out a settlement and beef up its menu items.