Sysco: 13 Facts About The Nation's Largest Food Distributor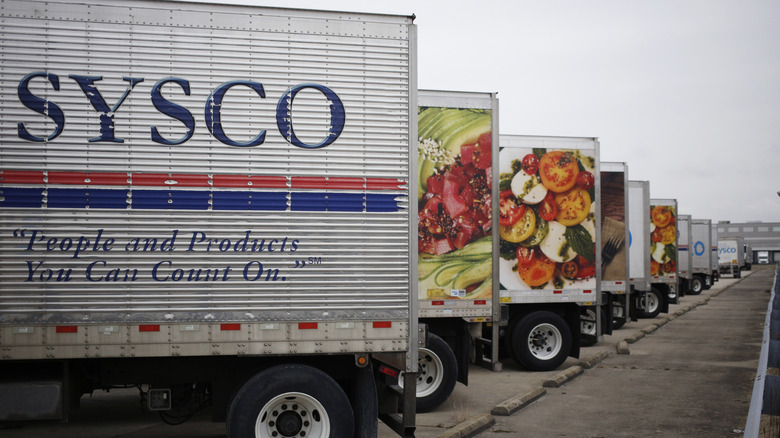 Bloomberg/Getty Images
If you're unfamiliar with the company, Sysco (Systems and Services Company) is an international food distributor and the largest in the world. Still based in Houston, Texas, it was founded by John Baugh in 1969. Baugh had previous experience in the industry, having founded Zero Foods Company in 1946, with a focus on distributing frozen products. He later merged with other distributors, and Sysco soon went public in 1970. Baugh ran the company until the mid-'80s and stayed on the board until the late '90s. Kevin Hourican has been CEO since February 2020.
Today, Sysco sells and distributes to many types of businesses, including restaurants, hospitals, clinics, schools, universities, and hotels. Business is booming, and the company is worth $38.25 billion as of 2023 (via Macrotrends). While it is no surprise the largest food distribution company has over 58,000 employees, several facts about Sysco may be a bit more unexpected to the average consumer. Discover the ins and outs of this mega business.
1. Sysco is global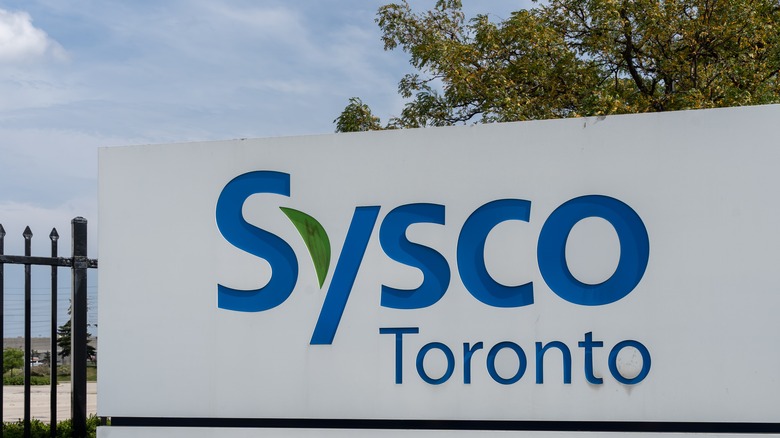 JHVE Photo/Shutterstock
Sysco has customers in 90 countries outside of the United States and Canada, with physical locations in the Bahamas, Ireland, Costa Rica, Mexico, the United Kingdom, France, Sweden, Luxembourg, Panama, and Belgium. Additionally, its International Food Group works with U.S.-based chains with locations abroad, totaling Sysco's reach to nearly 100 countries.
There are pros and cons to having this type of global supply chain. Some benefits include lower costs, larger access, and potentially higher-quality products. Unfortunately, these pros can come with a lack of transparency and regulation, as well as a negative impact on the environment. For example, Sysco doesn't release specific information about its plastic usage, meaning consumers are in the dark about the exact environmental footprint of the world's largest food supplier. On the other hand, during the pandemic, Sysco's wide reach allowed it to set up pop-up grocery stores to alleviate some food shortages in the U.S. 
2. Sysco has a lot of products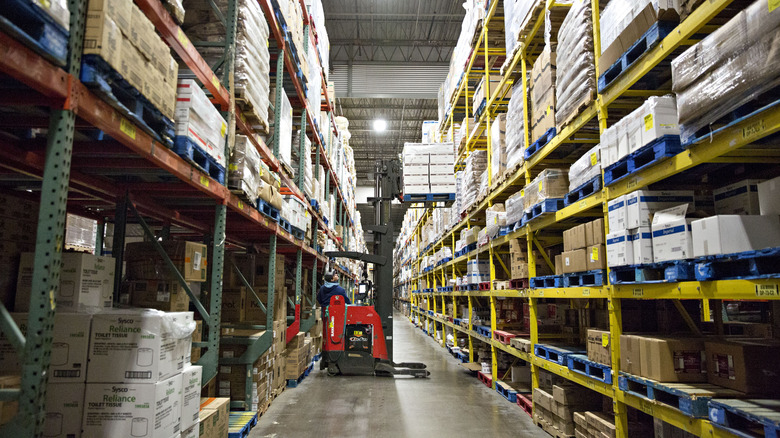 Bloomberg/Getty Images
Sysco sells all the food groups — and more, considering it also provides restaurant supplies. From spices to condiments (including favorites like Grey Poupon) and pasta to drink mixes, there is not much a restaurant or food service company cannot buy from Sysco. Customers can order the products online for delivery through the catalog. The products available vary by zip code and come from different suppliers who work with Sysco.
The items are broken down into sub-distributors, such as Arrezzio Imperial, Wholesome Farms, and Jade Mountain. Sysco products have an overarching theme of integrity — at least in the copy describing them. In the case of Wholesome Farms, for example, Sysco describes its goods as being "sourced from a trusted community of farmers." Further, Wholesome Farms products must have milk, cream, or eggs listed as the first ingredient. Sysco is also careful not to claim authenticity where it cannot; the Jade Mountain products are labeled "Asian-inspired," for example. 
3. Its onions have been recalled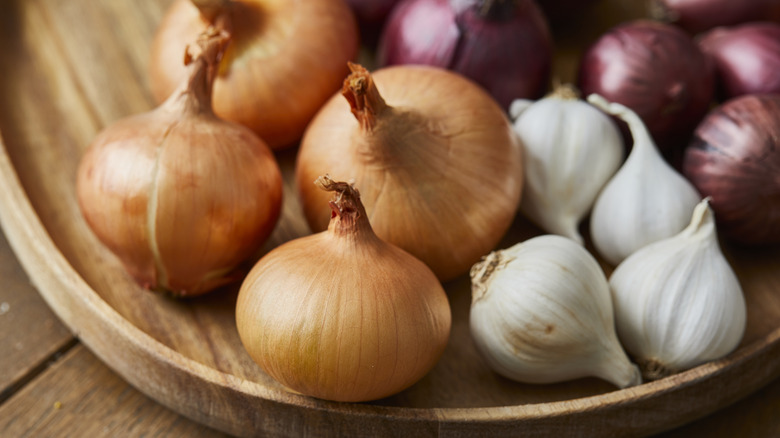 Marko Jan/Getty Images
Because Sysco sources from other producers, this can and has led to producer-specific issues. At one point, Sysco even tried to sue the world's largest meat processors over price gouging. However, more sickeningly, in 2021, fresh onions imported from Mexico to ProSource Inc. and Keeler Family Farms and consequently sold to Sysco (and other companies) for wholesale distribution caused a salmonella outbreak. This led to multiple recalls in North America and affected around 900 hundred people. The previous year, Sysco Canada recalled jumbo red onions under its Imperial Fresh brand. 
Another big brand affected by these recalls was Green Giant. Individual store chains also sold the onions, leading to recalls at Costco, Walmart, and HelloFresh locations. These recalls lasted from October to November of that year. According to the CDC, salmonella is a group of bacteria, most of which cause salmonellosis. Symptoms include fever and gastrointestinal issues and can begin anywhere from a few hours to nearly a week after infection, lasting a few days to a week. Most people affected by these bacteria do not need medical treatment, but those with compromised immune systems, 65 and older, and infants, usually receive antibiotics.
4. It has some big customers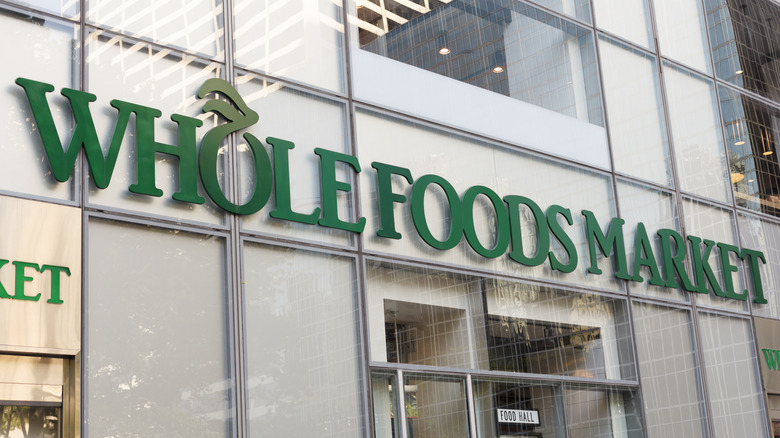 Wdstock/Getty Images
While Sysco works with customers of all sizes, it did not become the largest food distributor without landing some big clients. On the grocery side, these include Whole Foods, Kroger, and Target. Elsewhere, Sysco also supplies Chipotle, Darden Restaurants, Yum Brands, and Seaworld, among others. Restaurants account for just over 60% of Sysco's clients, while healthcare, education, government, travel, leisure, retail, and other customers hold nearly equal weight to one another. Interestingly, not one customer is responsible for more than 10% of Sysco's total sales. 
Moreover, in the first quarter of 2023, Sysco saw revenue growth more than double what its customers achieved. Although Sysco has long supplied supermarkets, it saw an increase in business with grocers during the pandemic, as supply-chain issues allowed it to further break into that market.
If you're wondering where Sysco gets all that food, the company counts more than 11,000 growers participating in its Sustainable Agriculture program. Meanwhile, the land area involved in the program comprises 1.3 million acres and 125 processing plants across the globe.
5. It has gotten pretty dirty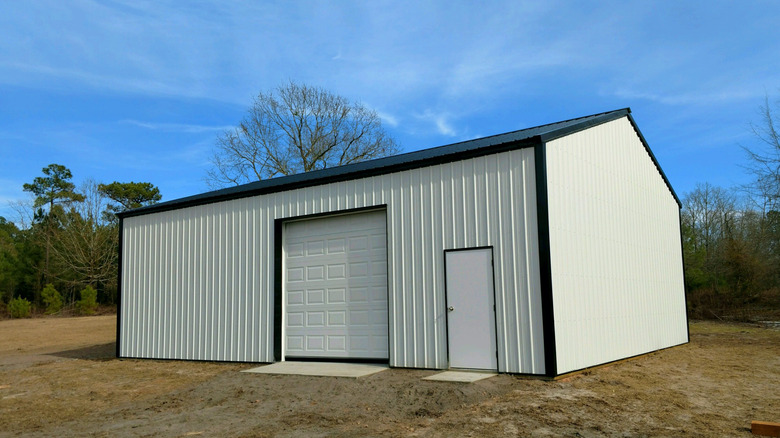 3queens_aJack/Shutterstock
A decade ago, NBC Bay Area found out that Sysco had been using outdoor public storage units to store perishable food items such as raw meat, milk, and produce. A team of investigators from the news channel checked out these refrigerated units around the San Francisco Bay Area. Inside, they found items of food that were unrefrigerated for hours in areas that had no-food policies in place to deter rodents. In addition, the investigators discovered food, rat droppings, and bugs on the floor. As a follow-up, they interviewed California health inspectors. 
In response to this investigation, Sysco told NBC Bay Area, "Sysco's first priority is our commitment to provide safe, quality-assured products to our customers. Sysco San Francisco's drop-site practices in the Bay Area were not compliant with company policy." The statement went on to say that Sysco was working with the San Francisco health department to remedy the situation. The state later fined Sysco $19.4 million in penalties for the illegally stored food. 
6. It may reduce its plastic packaging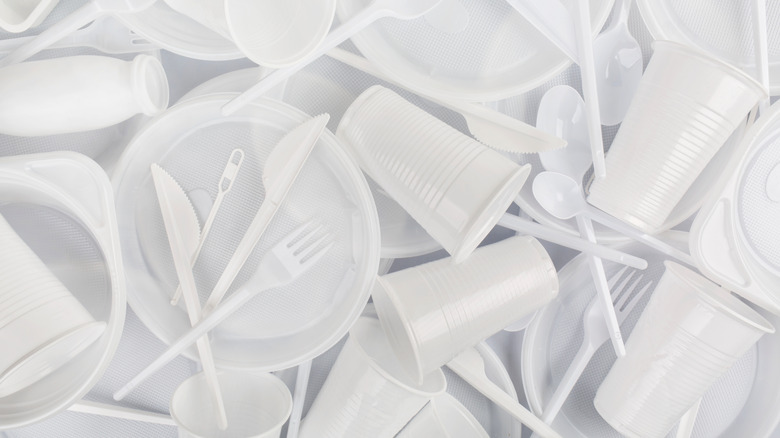 Luna Kate/Shutterstock
In November 2022, 92% of Sysco's shareholders voted in favor of a proposal to reduce the company's use of single-use plastics (via Green Century Funds). Although Sysco is not on The Plastic Waste Makers Index of the 100 companies that produce 90% of the world's single-use plastic, as the world's largest food distributor, it likely produces a significant amount of plastic. Furthermore, the company does not currently supply data about its plastic usage, so part of adopting the proposal would require Sysco to release this information.
Per their name, single-use plastics are used only once, sometimes for as little as a few minutes, and then thrown away. These plastics then become garbage in landfills and pollute the environment. According to Science magazine, a garbage truck's worth of rubbish makes its way into our oceans at a rate of every 45 seconds. When all of these macro and microplastics end up in the ocean, they not only get eaten by sea creatures who should not be ingesting them, but they also find their way into our food.
7. It tried to merge with US-Foods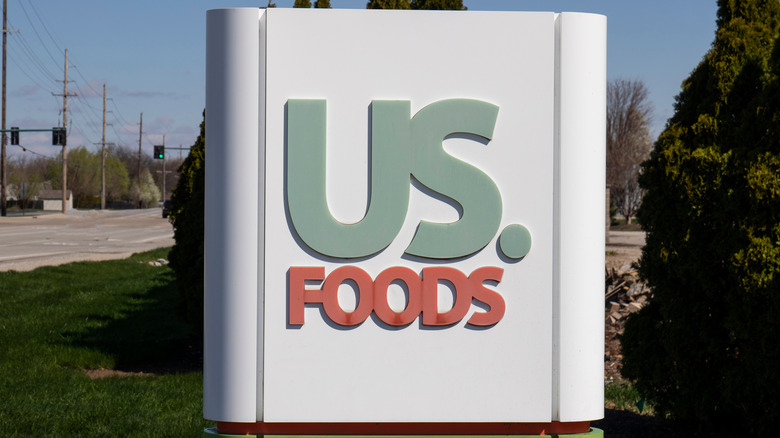 Jonathan Weiss/Shutterstock
In 2015, Sysco tried to merge with supplier US-Foods, the country's second-largest food supplier. The merger would have entailed Sysco buying the other company for $3.5 billion. However, the Federal Trade Commission placed an injunction on the deal over concerns about how it would affect the market. If the two companies had become one, they would have created a monopoly and had the leverage to raise prices in the market. 
Sysco decided not to move forward based on that injunction decision. As a result, it was required to pay $300 million in "breakup fees" to US-Foods. It's prevalent for breakup fees to be part of a merger deal, though they are typically paid by the company that was going to be taken over as a way to keep it from backing out of the agreement; in this case, Sysco was required to pay for ending the acquisition.
8. Sysco is a Fortune 500 company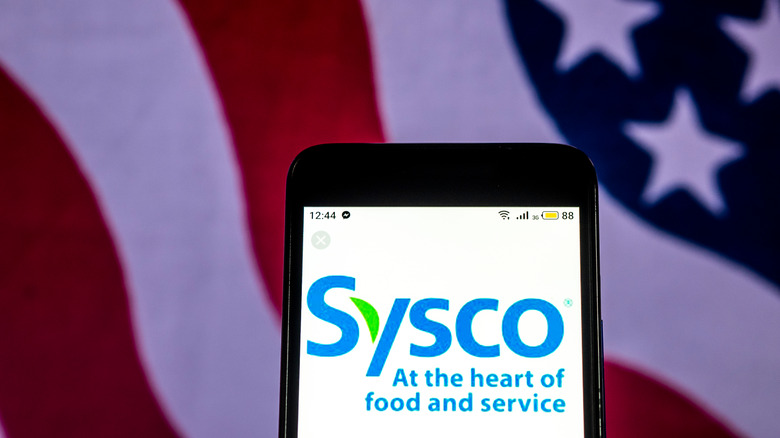 Igor Golovniov/Shutterstock
Since 1955, Fortune Magazine has published The Fortune 500 list, which ranks the highest-earning U.S. companies by revenue over a fiscal year. In 2022, Sysco came in at number 56, and at number nine in Texas, its home state, with a revenue of $68.636 billion. For comparison, the number one company on The Fortune 500 list, Walmart, earned over $500 billion more that year. Though it is nowhere near Walmart levels, Sysco is still growing; as of March 2022 to March 2023, the company had earned $75.554 billion — a 14.8% increase from the previous year (via Macrotrends).
Sysco also ranks on the Global 500 in the 297th spot. The Global 500 is much like The Fortune 500, except that it ranks companies globally rather than nationally. Interestingly, even though Sysco's revenue is up, its ranking on these lists continues to fall, meaning that other companies are either growing more or faster.
9. It faced a cyber attack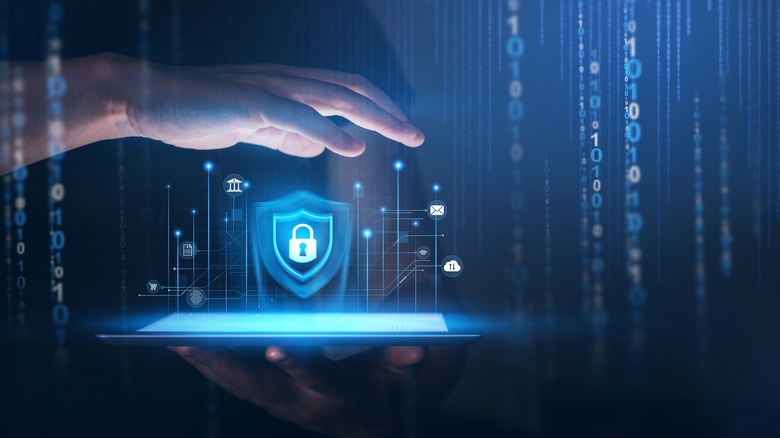 Miha Creative/Shutterstock
A cybersecurity event at Sysco began on January 14, 2023, and the company did not become aware of it until March 5 of the same year. A data-breach filing with the Office of the Maine Attorney General showed that more than 100,000 people in the United States and Canada had been affected by the hacking. Social Security Numbers and other identifying information were compromised. Sysco again confirmed the cyber attack in a quarterly report to the U.S. Securities and Exchange Commission. 
The report states that Sysco began an investigation as soon as it realized there had been a breach. With the help of cybersecurity and forensic specialists, the company found that the "threat actor" collected company data, which included information about business operations and customer and employee data. The company highlighted that the attack didn't affect its ability to operate but it had notified the authorities. As of May 2023, the investigation into the attack was ongoing. Sysco provided free credit monitoring to current and former employees who had their data stolen in the breach.
10. Sysco switched gears post-pandemic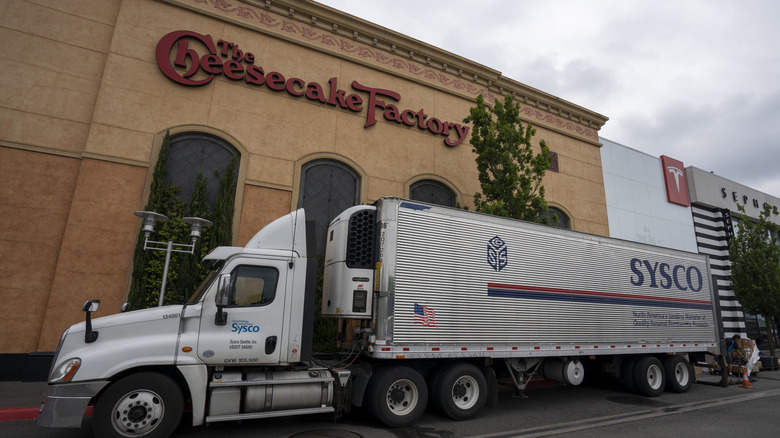 Hapabapa/Getty Images
Post-pandemic, the company started working less with restaurants and more with IT, AI, and grocery stores. The food industry was one of the sectors most affected during the pandemic, as the company's executive vice president Tom Peck explained. He told Foundry that "The pandemic forced [Sysco] to review [its] company and the entire industry." What that ultimately meant was that Sysco began to switch many of its practices to cloud-based systems to streamline business-to-business e-commerce. The company also implemented more AI into its systems.
On top of that, Sysco started a pop-up grocery store in some areas of the country to alleviate food supply chain issues during the pandemic. During this time, Sysco also boosted its presence in grocery stores, even going so far as hiring temp workers to smooth out distribution chains. The company also helped its restaurant customers implement streamlined ordering systems to make delivery and takeout easier.
11. Employees went on strike in spring 2023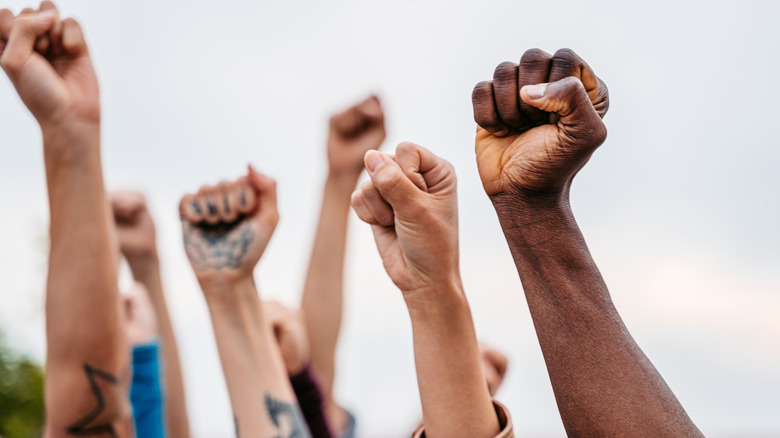 Urbazon/Getty Images
Hundreds of union members in Indianapolis and Syracuse went on strike throughout 2022 and 2023 over unfair labor practices. The striking workers wanted better pay and more benefits. Drivers, who often work shifts longer than 14 hours due to overloaded trucks, demanded shorter shifts. One employee noted that the company always wanted them to work more hours and operate equipment in potentially unsafe conditions. In the end, the workers were able to negotiate to secure new contracts. The positive resolution of the strikes is good for everyone, as a lack of employees could have caused food supply issues to worsen.
We have seen a rise in strikes post-pandemic, especially over the last year. Some companies that previously didn't have unions are now witnessing their workers unionize. According to NPR, these include Starbucks and Amazon, which have traditionally been anti-union. This comes on the heels of a labor force decreasingly represented by unions. However, even though this year has inspired the nickname "Hot Labor Summer," and most U.S. Americans favor unions, the tide is not changing.
12. Sysco is using electric trucks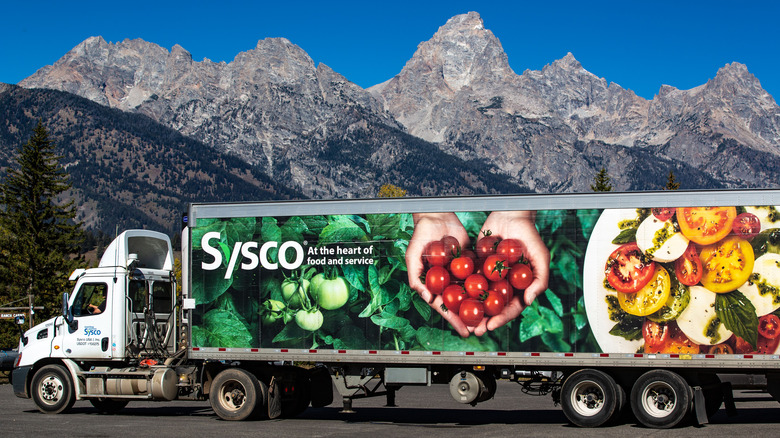 George Rose/Getty Images
In May 2022, Sysco signed a deal with Daimler Truck North America to use battery electric trucks nationwide. The truck-manufacturing company is based in Portland, Oregon, and has been around for over 80 years. The use of electric trucks is part of Sysco's overall goal of reducing its climate emissions. 
The company states that it "commits to electrify 35% of its U.S. tractor fleet, source 100% renewable energy globally, and partner with suppliers to set science-based targets." These goals would bring it in line with the Paris Agreement and also make it an industry leader in reducing emissions. As it stands, several food and beverage companies are already responsible for a large portion of emissions. In fact, in 2017, only 100 companies created 71% of certain greenhouse gases. While the original study is outdated, it provides context for the scope of emissions created by large companies.
13. Sysco grows through acquisitions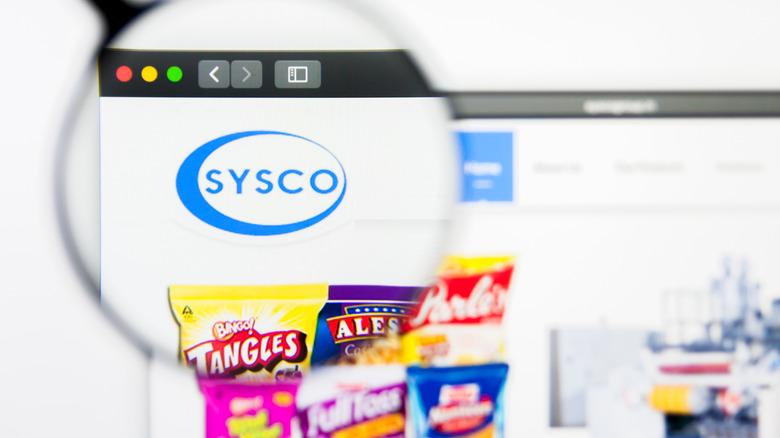 Pavel Kapysh/Shutterstock
Sysco's tactic of aggressively acquiring other companies is part of how it became the nation's largest food distribution company — historically, at least. In 1969, founder Baugh created the company by merging with eight other small distributors (Louisville Grocery Company of Louisville, Kentucky; Plantation Foods of Miami; Texas Wholesale Grocery Corporation and Wicker, Inc. of Dallas; Frost-Pack Distributing Company of Grand Rapids; Global Frozen Foods and Albany Frosted Foods of New York; Food Service Company of Houston; and Thomas Foods of Cincinnati). 
In 1970, Sysco acquired Arrow Food Distributor, which was its first. The '80s saw Sysco acquiring parts of PYA Monarch and CFS Continental, the country's third-largest food distributor at that time. The latter was the company's biggest acquisition to date, as its proposed merger with US-Foods did not go through. Sysco has also made smaller acquisitions throughout the years but has focused less heavily on buying other companies since the late 1990s.