Buttermilk Fried Turkey Tenderloins Recipe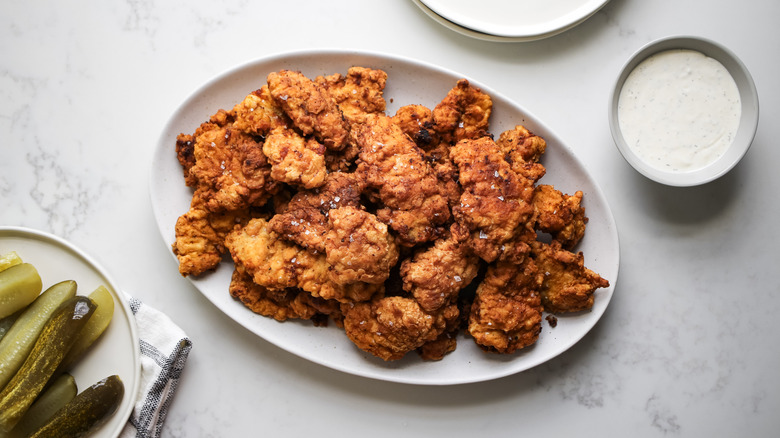 Feta Topalu/Mashed
If you're a fan of crispy, succulent turkey with a tangy twist, this dish is sure to become a new favorite. Recipe developer Feta Topalu brings us this recipe for buttermilk fried turkey tenderloins. Topalu's unique take on traditional fried chicken tenderloins involves marinating them in rich buttermilk, infusing each bite with delightful tenderness and a subtle hint of tanginess.
Prepared with a crispy, seasoned coating, these turkey tenderloins are a delightful contrast of textures and flavors, making them an instant hit at any dining table. Topalu says, "I really love to make these when I'm cooking for a crowd of people. When I start frying, I'm always going to fry more servings as opposed to one or two servings." Whether you're hosting a special gathering or simply craving a flavorful feast, this recipe guarantees to impress your taste buds and leave you wanting more.
Not sure what to serve on the side of this dish? Topalu suggests, "These turkey tenderloins pair exceptionally well with mac and cheese, mashed potatoes, cabbage slaw, baked beans, or even a corn salad." So, roll up your sleeves, grab your apron, and get ready to savor the tantalizing aroma of buttermilk fried turkey tenderloins wafting through your kitchen.
Gather your buttermilk fried turkey tenderloins ingredients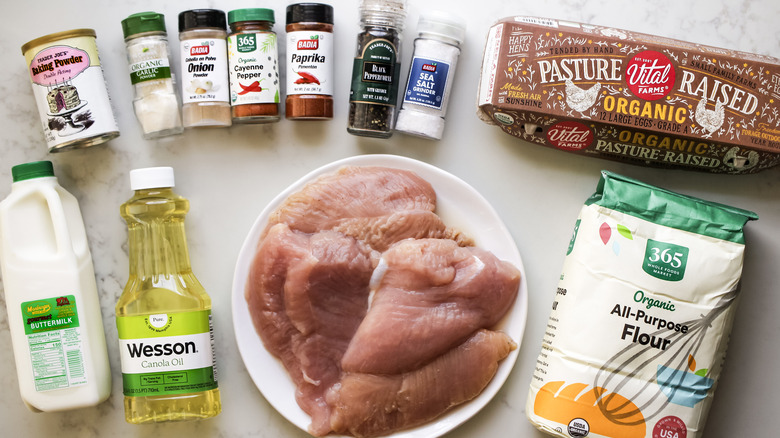 Feta Topalu/Mashed
To make this dish, you can start by gathering your ingredients. For this recipe, you will need turkey tenderloins, buttermilk, salt, black pepper, cayenne pepper, eggs, flour, baking powder, paprika, garlic powder, onion powder, and canola oil.
Topalu notes, "Turkey tenderloins can be a little tricky to find in comparison to chicken tenderloins. Not all grocery stores carry them. I checked with a few grocery stores before locating them at my local Publix Marketplace." If you have trouble finding them, substituing chicken tenderloins works well here.
Marinate the turkey tenderloins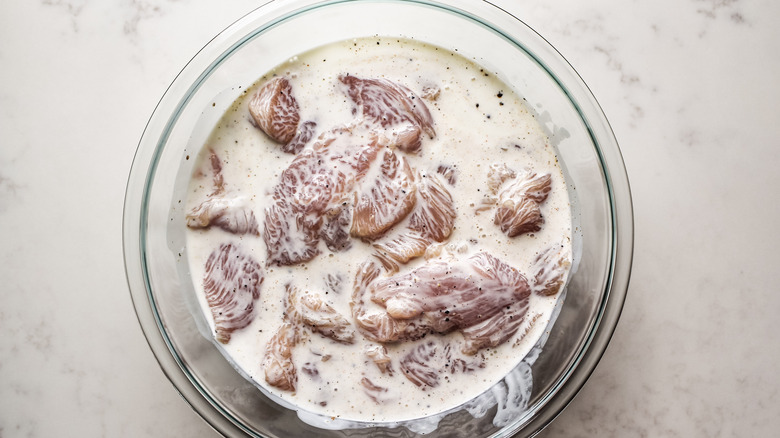 Feta Topalu/Mashed
Start by marinating the turkey. In a large bowl, add the turkey tenderloins. Then, pour the buttermilk on top. Sprinkle in 1 ½ teaspoons salt, 1 teaspoon pepper, and the cayenne pepper. Stir the mixture well before covering and refrigerating for at least 2 hours.
Buttermilk marinades are a fantastic way to tenderize and add flavor to various types of meat, particularly poultry and pork. The acidity and creaminess of buttermilk work wonders in breaking down tough muscle fibers, resulting in a moist and tender texture. This is especially beneficial for lean cuts of meat that may otherwise turn out dry and tough after cooking.
Prepare the dredging station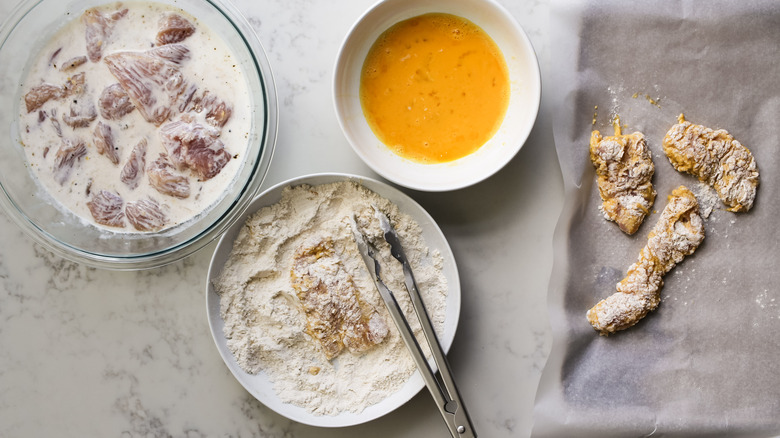 Feta Topalu/Mashed
After the meat has marinated, prepare your dredging station. In one shallow bowl, add the eggs and beat. Then, in a separate shallow bowl, add the flour, baking powder, 1 teaspoon salt, ½ teaspoon pepper, paprika, garlic powder, and onion powder. Use a whisk to combine the dry mix. Next, take a turkey tenderloin out of the buttermilk marinade, shake off excess liquid, and dip it in the flour. Be sure to coat it completely with flour. Then, dip the turkey tenderloin in the egg mixture. Lastly, dip it back in the flour, coating it thoroughly. Repeat the same process with all of the remaining tenderloins.
Dredging adds a crispy and crunchy outer layer to the food item, creating a pleasant contrast to the tender interior. The dry coating forms a barrier that helps to seal in moisture during cooking, resulting in a juicy and flavorful dish.
Fry them up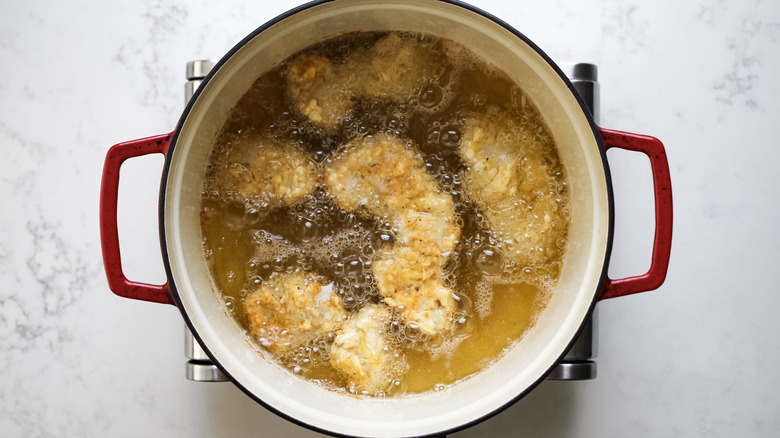 Feta Topalu/Mashed
Lastly, it's time to fry them. Add the oil to a large Dutch oven and using a thermometer, bring the heat of the oil up to 350 F. Fry the turkey strips in the oil for 5-7 minutes, working in batches if needed. Remove the golden brown tenderloins from the oil and place them on a paper towel-lined plate to remove excess oil. Once they have cooled for a few minutes, they are ready to enjoy.
If deep frying is a bit out of your comfort zone, Topalu notes that you can alternatively use an air fryer. She says, "An air-frying method would be spectacular for these tenderloins! Especially, if someone is trying to avoid fried foods. Simply cook the turkey at 390 F for 25 minutes in an air fryer, until it reaches an internal temperature of 165 F."
Buttermilk Fried Turkey Tenderloins Recipe
This unique take on traditional fried chicken tenderloins involves marinating them in buttermilk, infusing each bite with tenderness and a subtle hint of tang.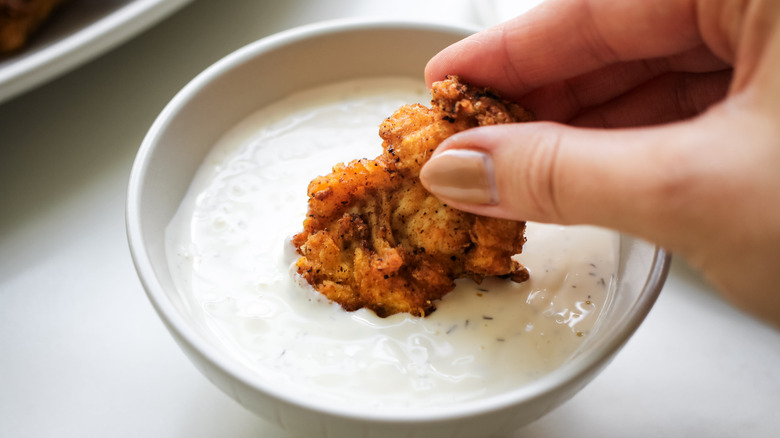 Ingredients
4 turkey tenderloins, cut into 1-inch strips (about 3 pounds)
1½ cups buttermilk
2½ teaspoons kosher salt, divided
1½ teaspoons freshly cracked black pepper, divided
¼ teaspoon cayenne pepper
3 eggs, beaten
2 cups all-purpose flour
1½ teaspoons baking powder
1 teaspoon paprika
½ teaspoon garlic powder
½ teaspoon onion powder
3-4 cups canola or vegetable oil, for frying
Directions
Place the strips of turkey tenderloins into a large bowl. Pour the buttermilk over the turkey. Add 1½ teaspoons salt, 1 teaspoon pepper, and cayenne to the bowl and mix well. Cover and refrigerate for 2-4 hours or overnight.
Add the beaten eggs to a bowl. Stir together the flour, baking powder, paprika, garlic powder, onion powder 1 teaspoon salt, ½ teaspoon pepper in another shallow bowl.
Remove a turkey strip from the buttermilk bowl. Shake excess buttermilk off and dip into the bowl with the flour mixture. Dip it into the eggs then back into the flour mixture. Shake excess flour off and transfer to a parchment lined baking sheet. Repeat with remaining turkey.
Heat the oil in a deep fryer or large Dutch oven to 350 F.
Fry the turkey strips in batches until they are cooked through and golden brown, 5-7 minutes.
Place the turkey strips on a wire rack or paper towels to drain excess oil.
Transfer the turkey strips to a serving platter.
Season with flaky salt, to taste. Serve with ranch and dill pickles.