TikTok's 3-Ingredient Dessert Is Made For Whipped Cream Lovers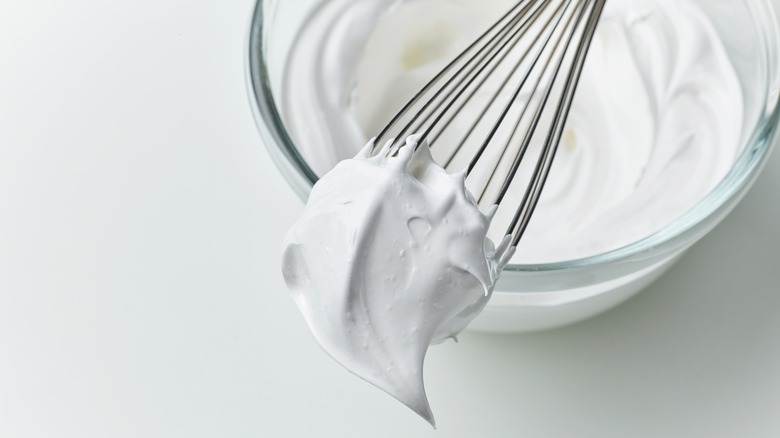 MaraZe/Shutterstock
Leave it to TikTok to share with the world the newest food crazes. If you have a sweet tooth, there are endless options to satisfy it, from no-churn chocolate ice cream to creme brulee donuts. If you've had a long day, or simply don't want to turn on your oven, a simple 3-ingredient dessert can come in clutch. For a no-bake, incredibly simple dessert, you'll only need canned whipped cream, chocolate chips, and butterscotch chips. The only real cooking required is microwaving the chips until melted.
While the chips are melting, a dollop of whipped cream is squirted into mounds and placed onto a cookie sheet. When the chocolate is melted until silky, it is drizzled over the whipped cream, then placed in the freezer to chill. After about an hour, the whipped cream treats are ready to enjoy. One of the perks of making this dessert is you can use store-bought whipped cream. Unlike a bowl of ice cream, this dessert is finger food; no bowl or spoon is required. If you don't have canned whipped cream, you can whip up your own whipped cream for the same result.
It's an easy and a healthy-ish dessert option
The TikTok video from Andy's Life garnered thousands of comments, with people sharing their thoughts on the simple dessert. Most of the comments were surprised at how little of the chocolate drizzle actually made it to the top of the whipped cream. Others shared that the dessert was surprisingly good, and one person even compared it to ice cream. Like any good recipe, tweaks can be made to make the dessert more suitable for everyone's individual taste. If you prefer a different flavor, you could easily make your own chocolate whipped cream, and add sprinkles instead of melted chocolate.
One of the perks of this dessert is that while it is sweet, it's actually considered low-calorie and a low-carb dessert. One serving has about 70 calories and only 1.5 net carbs. For those following the keto diet, they'll be happy to know that this dessert is keto approved when the whipped cream is homemade. If you choose to make homemade whipped cream, you'll only need heavy cream, powdered sugar, and vanilla extract for added flavor. Once it's whipped to stiff peaks, it's ready to be frozen. If you want to whip up a large batch, these will last in the freezer in an airtight container.