When Life Gives You Leftover Mashed Potatoes, Make Tacos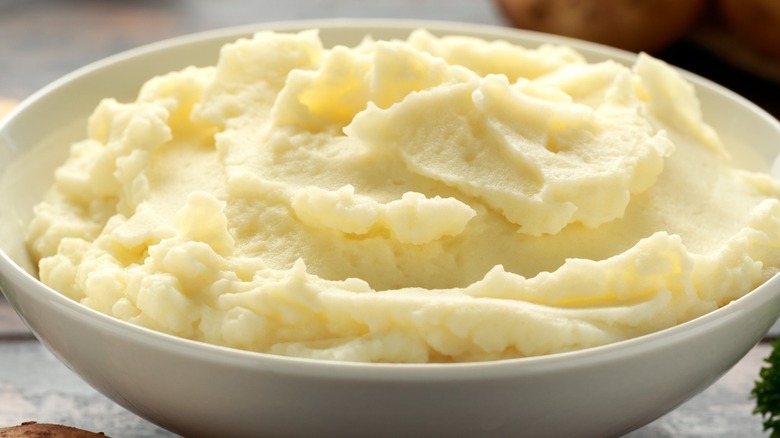 DronG/Shutterstock
It's easy to make more than enough mashed potatoes on accident. Fortunately, there's a clever way to reuse these leftovers in a dish you may not have considered: tacos. The potato taco, or taco de papa, originated in Mexico and is commonly eaten as a vegetarian option during Lent. Whether you're a vegetarian or trying to cut back on eating meat, using potatoes in tacos is a fantastic alternative for taco night — and still packs loads of flavor.
Potato tacos are one amazing way to use leftover mashed potatoes, not only because they are easy to make — you've already done half the work — but also because this recipe doesn't require too many additional ingredients. You probably already have them in your pantry.
First, your mashed potatoes need more flavor, so it's time to add spices. The classic spice choice is cumin, but others like pepper, garlic powder, onion powder, and paprika are welcome to join the mix. Next, mix in a grated cheese like cheddar or a Mexican blend. Finally, add the mixture inside corn tortillas, fold them shut, shallow-fry until crispy, and top with sour cream, cilantro, and salsa. This method is practically foolproof!
What else to add to mashed potato tacos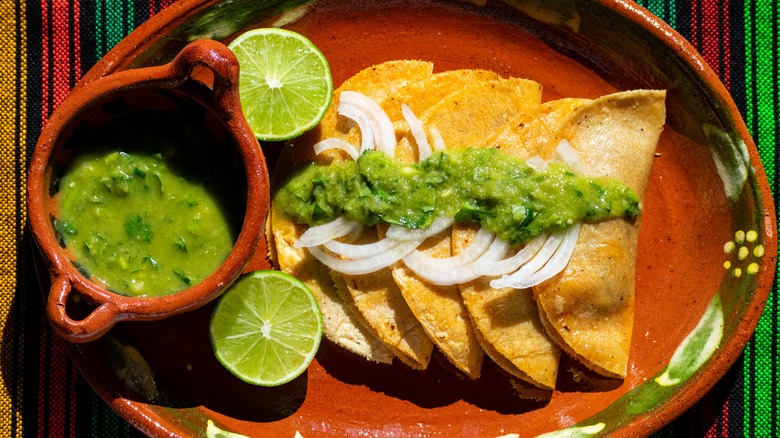 AlfredoQ/Shutterstock
Seasoned potatoes are delicious on their own, but if you feel like taking this recipe above and beyond, an array of accompaniments make great additions. Plus, it's easy to stick with vegetarian options while still adding tons of nutrients. If potato and cheese aren't filling enough, consider adding soy chorizo or beans for more protein. This way, your tacos will be heartier and feel more like a substantial meal.
If you'd like to supplement the flavor of your potato tacos, it's just as easy to add flavor to the outside as it is to build it inside. Spooning some pico de gallo, salsa, or chopped cilantro directly inside the taco also helps add a kick of flavor — and will probably be less messy than if these ingredients were placed on top. 
Still, is a taco even a taco if its contents don't fall back onto the plate? To make up for this tidiness, add some freshly chopped cabbage, guacamole, sour cream, more salsa, and a sprinkling of Cotija cheese after frying your tacos. And, of course, more cilantro as a garnish for herbaceous freshness.