What Life Is Like For Mario Batali Today
Astrid Stawiarz/Getty Images
In 2017, Mario Batali, the jovial host of the TV show "The Chew," penner of almost two dozen cookbooks, and elbow chums to celebrity chefs like Anthony Bourdain, Rachel Ray, and Anne Burrell found himself in the middle of a scandal that burned his decades-long career to rubble. Twenty years of alleged sexual harassment and discrimination against employees in his New York City restaurants (and elsewhere) crashed into the changing cultural tides brought on by the #MeToo movement, culminating in a Great-Lake-sized ousting of Batali from his business holdings at Batali & Bastianich Hospitality Group in 2018. The aftermath of this scandal proved that even someone who most in the industry thought was too big to fall could, indeed, fall and fall hard. 
After the allegations broke and the dust from lawsuits settled, Mario Batali retreated to his home in a small Michigan town where he owns a home centered in what was once a lakeside fish camp. Since leaving his former life, celebrity chef, Mario Batali, has worked on rebuilding a new life in the food world. Given that some friends told him to forget such plans and to drop out of the culinary industry for good, it's no small thing that it looks like he's making a comeback, not in New York, but in the small town where farmer's markets are plentiful and at least some seem willing to look beyond his past and look instead at the contributions he wants to make to the restaurant industry today.
He is re-entering the restaurant market with a bakery investment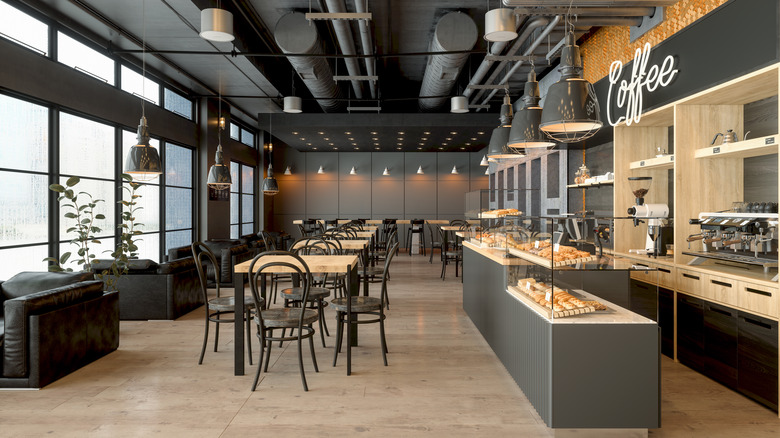 Onurdongel/Getty Images
Ask Mario Batali what his top 10 foodie cities are, and you'll find Traverse City, Michigan in the mix. It's probably no accident to learn that Mario Batali will make his food industry comeback in that city. Recently, the celeb chef's name appeared on a liquor license application for a bakery called the Common Good Bakery, owned by Jason and Linda Gollan. The license covers the liquor requirements of the Gollans' 1115 East Eighth Street bakery. That location sparks a slight name change, Common Good @ Night, because while it retains its bakery menu, it will also include foodie fare for brunch and evening shifts, like pasta, pizza, and wine.  
Batali has faced allegations of sexual misconduct in his prior business, Batali & Bastianich Hospitality Group, which manages properties like the Spotted Pig in New York City, which closed in 2020. Since the scandal broke in 2017, Batali has spent much of his time out of the limelight and away from New York City, where he was once a fixture as prominent as the shining lights of the theaters on the Great White Way.
Batali's new venture with the Gollans makes him a minority investor and part owner. He and other celebrity chefs will work with the Gollans on a series of events that will shed light on and assist those who experience food insecurity in Michigan.
The celebrity chef consulted with peers for advice on his next move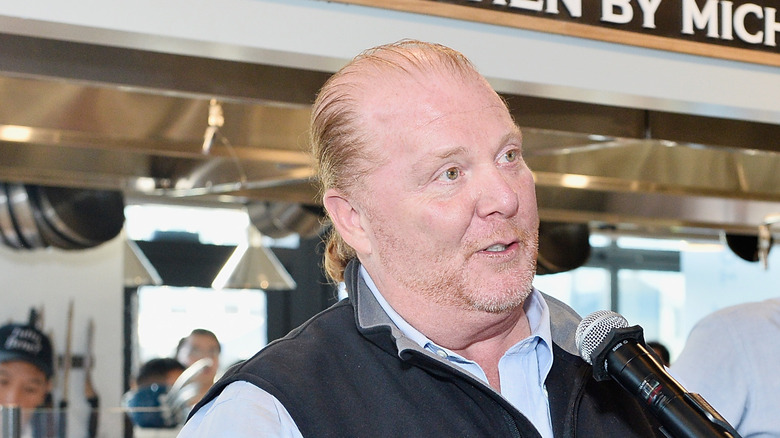 Stefanie Keenan/Getty Images
When you're worth $25 million, walking away from everything and everyone that got you there is no small thing. It takes a lot to untangle yourself from that sort of thing. It's a reality that Mario Batali faced as he tried to disengage from the restaurant and grocery empire he built at B&B Hospitality Group with Joe Bastianich. Such a feat requires the life experience of not just one person but many people, as Batali discovered in the days following the first public accusations.
For Mario Batali, his untangling meant plenty of reflection, as well as some wise words from friends. Batali's former co-host on "The Chew," Carla Hall, said she had spoken occasionally with the fallen host after he was fired from "The Chew." The former celebrity chef was reportedly doing some personal self-work, including taking a deep introspective dive within. While Hall said that she considered Batali, a "good guy" and conceded that "no one is perfect," she also said in the days following his release from the show that the powers that be on "The Chew" took the allegations seriously (as presumably evidenced by Batali's ousting), per Delish.
Celebrity chef pals had mixed views of his next steps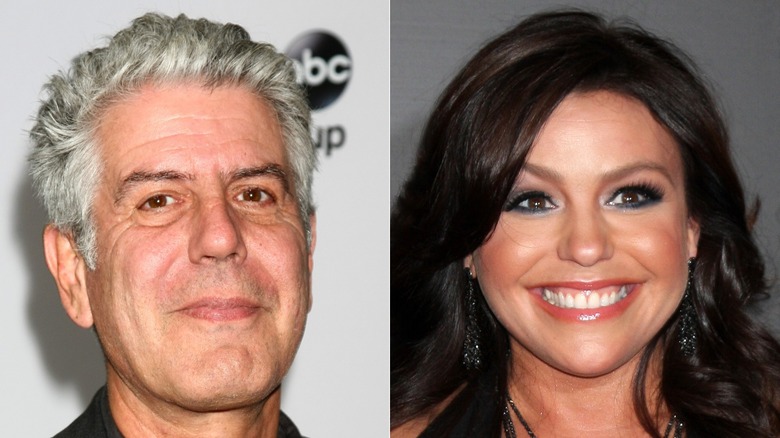 Kathy Hutchins & Kathy Hutchins/Shutterstock & undefined
Although the food industry is quite large, it's also relatively small, and the realm of celebrity chefs is even smaller still. Like most famous chefs, Batali has his share of famous friends, some of whom supported him, and some weren't as enthusiastic about him continuing on the foodie path.
Rachel Ray suggested that as long as Batali was the person behind the burner, so to speak, there'd be people who'd want to eat the food he cooked. However, Ray, who competed with Batali on the "Iron Chef," also pointed out that she didn't have first-hand knowledge of the incidents involving Batali and stated that she didn't believe it was her place to tell people how to manage their lives. She also admitted in a 2019 NPR interview that she hadn't "asked him about the allegations," though at the time of that interview, she said she still spoke to Batali. 
Celebrity chef Anthony Bourdain was more forthright than Ray about his feelings concerning Batali's plight. Bourdain told his celeb chef pal to "retire and count yourself lucky," per the New York Times. Bourdain also admitted that, despite having thought the world of Batali, he couldn't let the issue go.
Batali has spent his time away from the food industry doing charity work and at home in Michigan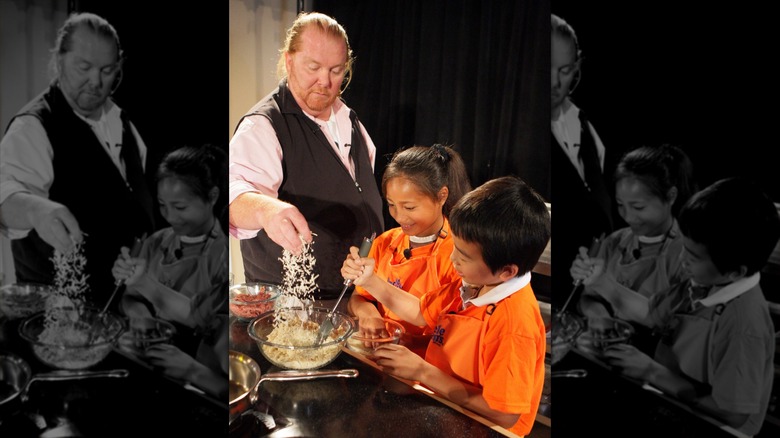 Christopher Polk/Getty Images
During the years before the scandal rocked Batali's career, he spent a lot of time in his Greenwich Village apartment, located a stone's throw away from OTTO Enoteca E Pizzeria, one of his former restaurant properties. In the time since, the celebrity chef has spent much time in retreat in the summer home he owns near Traverse City in the small town of Northport. The home gives him close access to area farmers' markets and boasts a home pizza oven. With almost 500 people, it offers him a quiet place to reflect. Living out of the country entirely, in a place like the Amalfi Coast, was also an option that Batali kicked around. 
His other plans included working with refugees and immigrants in Iraq, Rwanda, and Greece. His charity work — while it probably helped the optics of his situation — is something that Mario Batali has done for a long time — long before he dealt with the issues that drove him out of his prior business dealings. Case in point? The chef spoke about his interest in charity work in a 2007 interview with the Gothamist, where he explained that his charity focuses on helping children and hunger relief. "Everyone should be able to have dinner daily," he said. He established the Mario Batali Foundation in 2008, a year after that interview. However, as of 2020, his foundation has been inactive.
His legal challenges caused a drop in his restaurants' profits and foot traffic
Anyone who has ever played dominoes knows it takes just one slight nudge on the first domino to make all the other dominoes after it topples over, no matter how far away the white-speckled black bricks are from domino numero uno. So, too, was it with the properties owned or managed by Mario Batali's former company, Batali & Bastianich Hospitality Group. It took about 20 years for Batali and Bastianich to build the business. It only took about a year for the company's profits to start dwindling — by as much as 30%, according to GrubStreet. Other dominoes included an ejection of five of the group's restaurants from Sands Casino. Two of them were in Singapore. Three of them were in Vegas. All in all, six of the group's restaurants were forced to close their doors. 
The employee count for the company went from 2,000 down to 1,500. The company also experienced a fairly significant restructuring of the staff and structure to ensure that employees complied with harassment policies in the future.
New training was put into place in light of Batali's accusations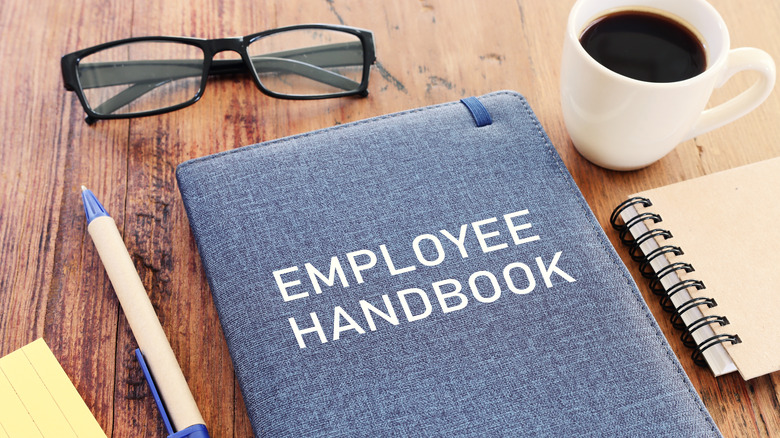 tomertu/Shutterstock
Like many businesses in recent years, Mario Batali's former company provided its employees with training and policies to combat sexual harassment. Batali's situation exposed the spaces where there were gaps between what the training taught and the reality on the ground at B&B Hospitality Group. The powers that be addressed the disconnect as an issue in the company's culture that needed correction. New company policies were implemented, and new training materials were created to ensure no future claims would need to be filed. The new training materials were mandated in a 2021 settlement between Batali & Bastianich Hospitality Group and the New York Attorney General's Office. Batali signed the agreement. However, he was banned from entering his own restaurants in 2018 and was completely out of his company by 2019, so it seems unlikely that Batali himself took part in any new training.
The issue goes beyond the front doors of Batali's former establishments. It's an industry-wide problem, one that the Batali situation highlights. But it didn't originate there. A full one-third of the harassment claims that the Equal Employment Opportunity Commission receives come from the restaurant industry. As for the situation at Batali's former company, chefs Lidia Bastianich and Nancy Silverton were placed in leadership roles in the post-Batali days. Their roles were to ensure the safety and well-being of the people who worked for B&B Hospitality Group.
The celebrity chef had a reputation for excess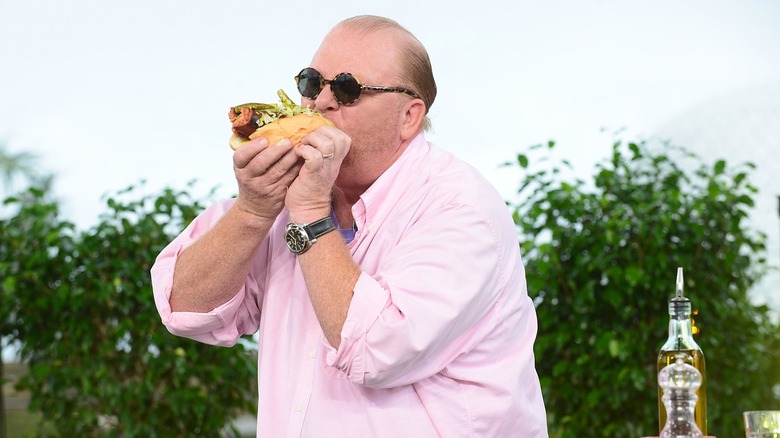 Gerardo Mora/Getty Images
Bill Buford, author of "Heat," suggested in his book that Mario Batali would have been comfortable in a play about the "deadly sins (all seven)." That about sums up Batali's pre-scandal outlook on life. Case in point? Batali said his restaurants were built so people could have "fun and indulge," per Eater. And sometimes, indulging meant staying up past 2:00 a.m. at Babbo in New York City, smoking cigarettes, and indulging in espresso-sized cups of Averna. It's easy to indulge in the City That Doesn't Sleep.
In post-scandal days, if Mario Batali still indulges in the same kind of excesses, reports of that have stayed out of the media. Instead, the most recent reports of him talk of the new life and business he's building in Traverse City. His current business partner Jason Gollan says that Batali "has been nothing but helpful and humble" in their dealings, per Nation's Restaurant News. The quiet pace of the town of 1,000 people is probably an ideal retreat for Batali, who said in an interview with Bon Appétit, "Traverse City is the antidote for New York City." It's a place with "no tension" and no one waiting to "jump ahead" of you in line. Batali's current focus seems to be on his future business success in Traverse City, including tackling issues of food insecurities. The after-hours excesses that plagued him during his New York City days appear to be solidly in the past.
He's off TV and social media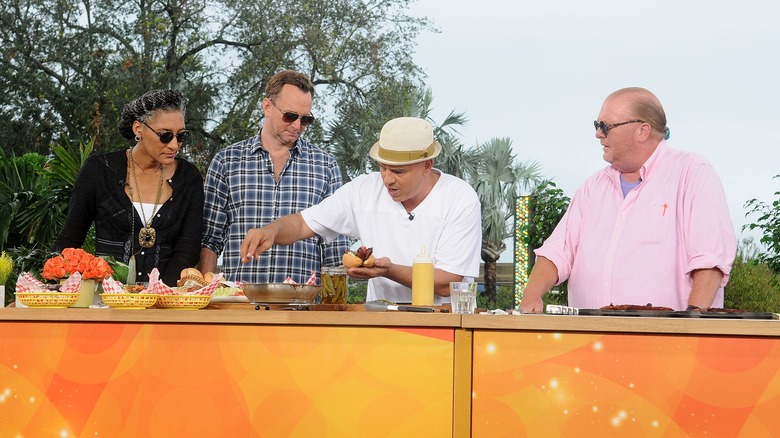 Gerardo Mora/Getty Images
It's odd to turn on the TV or go onto social media sites like Twitter, Instagram, and YouTube and not see Mario Batali. In these post-scandal days, the once ubiquitous star's appearances in the media have dried up, and he has become the media equivalent of a ghost town. In April 2022, Batali had a two-show run on "The Toque 12 – Master Chefs," where he offered advice to young chefs on the show. He appeared in episode four and episode five of the series. 
It's a one-year blip in the middle of a long media dry spell. In the years leading up to the 2022 appearance, and in particular, in 2017, he appeared not only on TV properties like "The Chew," which he hosted, but also "Iron Chef Eats," "The Barefoot Contessa," and "Sean in the Wild." Batali appeared in the media constantly before the allegation of sexual misconduct came out.
In the year following the appearance on "The Toque 12," Batali has remained out of the TV limelight. But there is more to his media dry spell than just his absence from TV. Batali once posted regularly on his social media accounts, but as of 2023, they're silent. The last post on his YouTube channel was five years ago. The same goes for Instagram and Twitter. By all appearances, he has withdrawn completely from his media involvement.
Batali took a leave of absence from the food industry
Known as the "Red Menace" at The Spotted Pig, word of Batali's visits to the restaurant often preceded him. The nickname was a warning to those who worked at the establishment to be prepared to lay low while Batali visited. But The Spotted Pig wasn't the only restaurant under Batali's leadership. If anything, the incidents at The Spotted Pig highlighted an issue that spanned the celebrity chef's 20-year food career — one that employed over 2,000 people and included 30 restaurants. Eventually, what was once a whisper among employees in the know became street-level conversation and then broad accusations when, in 2017, an employee took an official complaint against Batali to Batali & Bastianich Hospitality Group.
Not long after, Batali acknowledged in a statement that he would take a leave of absence from the company that bore his name. It was open-ended. By 2018, the celebrity chef's former partner, Joe Bastianich, banned Batali from all the company's properties. Eventually, Bastianich and Batali's former partners bought out the celeb chef's shares in the business. While he wasn't the only person in his industry to be accused of sexual misconduct, Mario Batali was the first person of his stature to walk away from all his business dealings due to the accusations against him. His was a food empire that spanned the globe, with business dealings in Italy, the US, Hong Kong, and Singapore. It was a lot to walk away from.
His restaurants were once the hangouts of Hollywood A-Listers
At The Spotted Pig, fun was always in the air. Owned by Ken Friedman and April Bloomfield, The Spotted Pig was where celebrities like Beyonce and Jay-Z, Bill Clinton, Maggie and Jake Gyllenhaal, Kim Cattrall, and Bono hung out. Indeed, Friedman said that his job is to "throw parties every night," according to a 60 Minutes story. Friedman admitted that one of the reasons that he opened The Spotted Pig was because he wanted to open a restaurant that attracted celebrities. As an investor in the business, Batali freely enjoyed the parties that his friend Ken Friedman threw at The Spotted Pig.
But The Spotted Pig wasn't the only restaurant of Batali's that attracted A-Listers. Del Posto, a fine-dining Michelin-star restaurant, and Babbo, another celeb hot spot, where the likes of George Clooney and Mariah Carey could be seen noshing. In the post-scandal days, Batali's former partners sold Del Posto to the restaurant's former executive chef Melissa Rodriguez. And while many of the issues that Batali faced happened at The Spotted Pig, they happened at Babbo and other places, too.
Batali was entangled in multiple lawsuits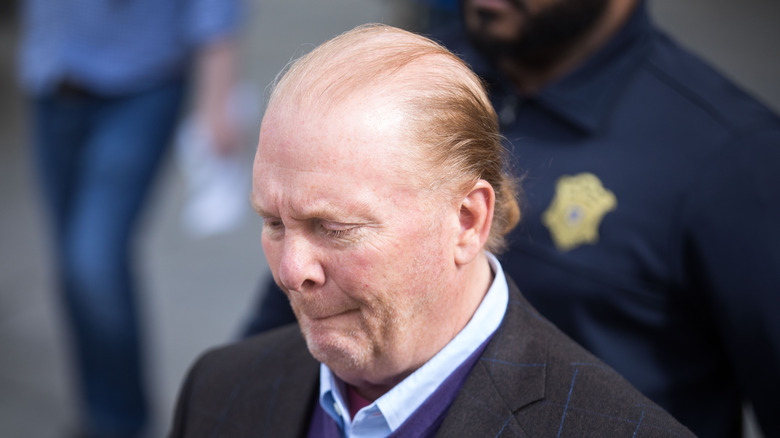 Scott Eisen/Getty Images
According to the Auguste Escoffier School of the Culinary Arts, the average bar makes about $300,000 a year. IBIS World points out that the average bar employs 8.4 people. Other types of eateries and foodie establishments make more or less and have greater or fewer numbers of employees. The $300,000-a-year profit example works for our purposes here because it's a good round number that provides a tangible look at some of the costs Batali faced because of his actions.
While a court found Mario Batali not guilty in two sexual misconduct cases in Boston, he didn't leave his legal experiences unscathed, financially or otherwise. In New York in 2021, Mario Batali and his former partner, Joe Bastianich, agreed to pay 20 former employees $600,000, per ABC News — an amount that's equivalent to two years' worth of profits in the average bar with an average number of employees — to settle the legal issues brought on by Batali's sexual discrimination and harassment of and retaliatory actions against employees. 
This came on the heels of a four-year investigation led by the New York Attorney General's Office. Both men and women experienced sexual discrimination and harassment in the case. The legal agreement covered issues at multiple B&B Hospitality Group establishments, including Del Posto, Babbo, and Lupa. The payout represented only a small portion of the issue, which caused multiple restaurants in Batali's hospitality group to close and hundreds of people to lose their jobs.
A documentary detailed his legal troubles
It's a story with all the earmarks of an '80s Monday night made-for-TV movie on one of the Big Three Networks. It involves money, power, fame, and a healthy dose of gourmet food and plenty of alcohol to wash it all down. But it's not a fictional movie of the week. The Discovery+ documentary "Batali: The Fall of a Superstar Chef" tells the meteoric rise and extinction-level fall of celebrity chef Mario Batali. For those who haven't weeded through the multitudes of news stories about Batali's alleged indiscretions, the 2022 documentary provides a recap of the events that led to the undoing of a man whose talent for gourmet food and jovial personality made him a superstar and food-industry darling — until he wasn't. Given his power and influence in the industry, few could have imagined the fall Mario Batali would eventually take.
The documentary also pointed out that even the most powerful, iconic person can have feet of clay, the likes of which can be destroyed by a big enough stone and the changing tides of cultural and social mores in the workplace. The film additionally sheds light on what it means to be blacklisted in an industry where 70% of female employees report being sexually harassed and where warnings like "don't stand too long next to Mario" are all expected of employees as part of a day's work.