What Makes Japanese Sweet Potatoes Different From The American Variety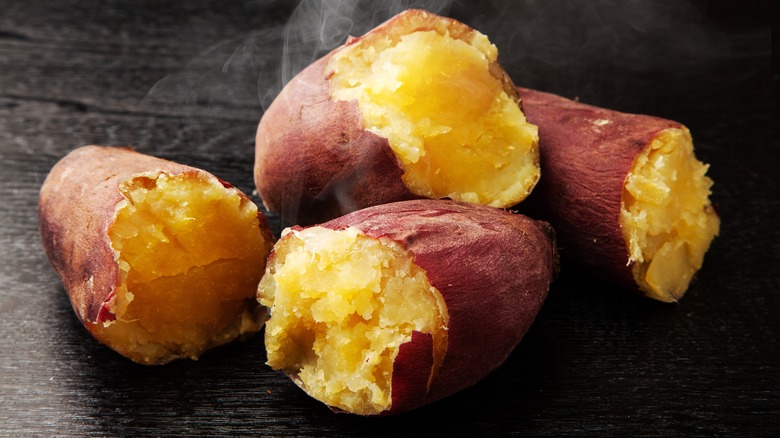 sasazawa/Shutterstock
If you're a fan of sweet potatoes, you might want to try a lesser-known kind — the Japanese sweet potato or satsumaimo. One thing that makes this sweet potato different from the American variety is its appearance; it has red-purple skin and a pale interior. Whereas the American sweet potato is slightly stringy, the Japanese sweet potato's fluffiness comes from its higher starch content. This results in a lighter potato, texturally similar to a russet, with a mild flavor that isn't as sweet as the American variety. It might not be perfect for a classic Thanksgiving casserole or pie, but it has many other amazing uses.
The subtle sweetness of this potato allows it to flourish in sweet and savory dishes. For example, you might see them fried in a tempura batter at Japanese restaurants. Their naturally sweet flavor makes them a good pairing in desserts, too. Japanese sweet potatoes are wedged and candied to create a dessert-like food called daigaku imo. They're also baked with sugar, cream, and egg and formed into sweet potato-shaped cakes, a dessert that happens to be called "Sweet Potato" in the Japanese language. 
Other ways to use Japanese sweet potatoes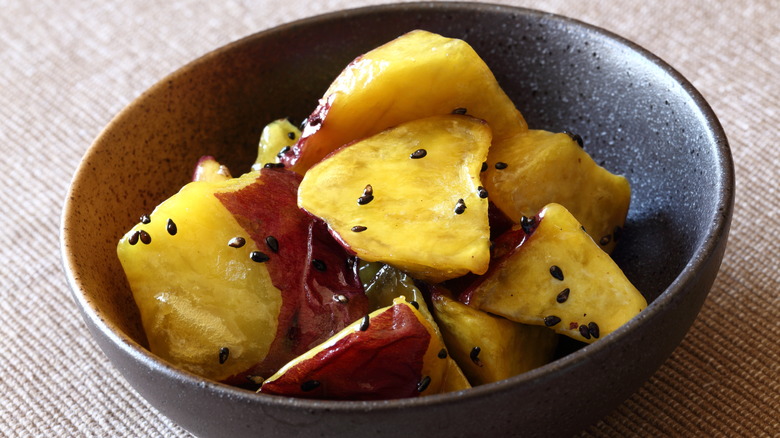 gontabunta/Shutterstock
There are numerous ways to enjoy Japanese sweet potatoes, but one of the simplest ways is to bake them. In Japan, a baked sweet potato – or yaki imo — is a common winter snack. American baked potatoes are typically made with russet potatoes, but using a Japanese sweet potato imparts the same airy texture and more flavor. It's simple to make and tasty enough to eat by itself or with a bit of butter.
If you have Japanese sweet potatoes, you can use them for some recipes that usually call for the American variety. In many cases, the starchiness of Japanese sweet potatoes makes them an even better option for certain preparations. For starters, they make a crispier sweet potato fry. They can also hold their shape better when cubed, so they're an ideal base in a veggie breakfast hash recipe with onion, bell pepper, and a fried egg on top. 
Before you purchase and prepare them, be mindful of common mistakes people make when cooking sweet potatoes, such as buying them wrinkled or blemished and disposing of their nutritious skin.