Philly-Style Summer Beer Shandy Recipe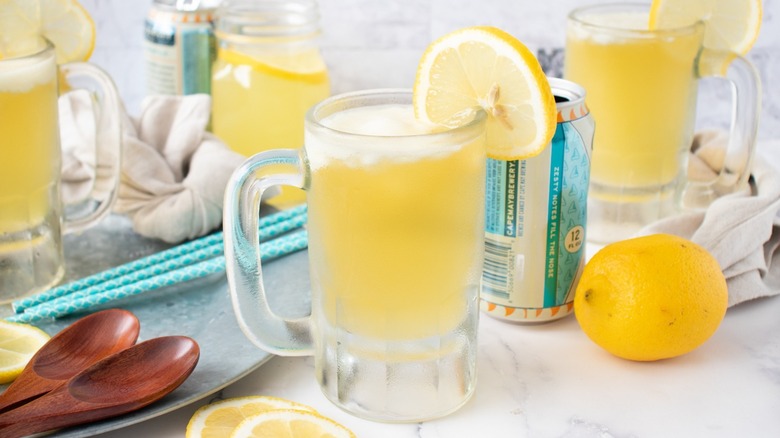 Patterson Watkins/Mashed
While ice cream floats are a delightful summertime dessert, recipe developer Patterson Watkins tells us that in Philadelphia, people like to put a different spin on things. In the City of Brotherly Love, they sometimes use water ice, also known as Italian ice, in place of the ice cream, and over-21s may choose to substitute a beer-lemonade mix for soda. The resulting beer shandy float is "refreshing and flavorful" and perfect on a hot day, Watkins says.
Watkins likes to use lemon ice in her shandy recipe, calling it "one of the more popular and well-stocked flavor options" of Italian ice. If you can find other varieties in your grocery store's freezer aisle, she says, "Feel free to experiment with other available fruity flavors as well." When it comes to picking a beer, Watkins advises against using anything too heavy like a porter or stout. Lagers and wheat beers both work well, although Watkins also expresses a fondness for session IPAs. If you prefer an alcohol-free shandy, that's doable, too. "Feel free to use your favorite non-alcoholic beer option," says Watkins, adding, "Seltzers are great, too."
Gather the ingredients for these Philly-style summer beer shandies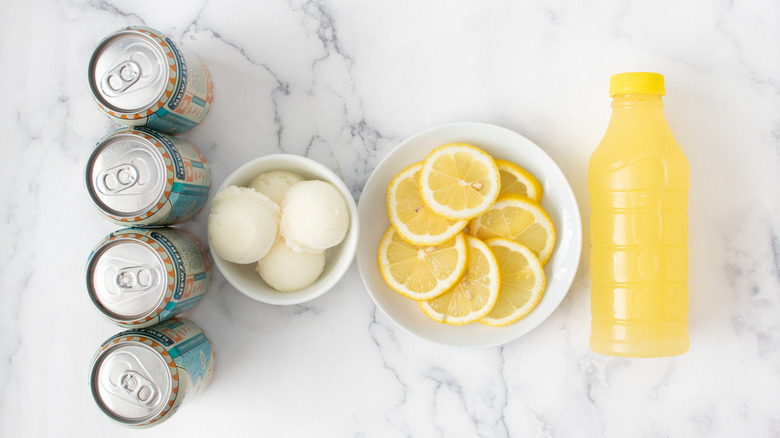 Patterson Watkins/Mashed
You'll only need four simple ingredients to make these summery shandies. Beer and lemonade form the base shandy, Italian ice adds some slushy sweetness, and a sliced lemon makes an attractive garnish. Even if you live far from Philadelphia, you should have no trouble finding Italian ice just about anywhere you shop — Dollar Tree's food aisles carry pints of a brand called Philadelphia Water Ice, for example.
Combine the beer and lemonade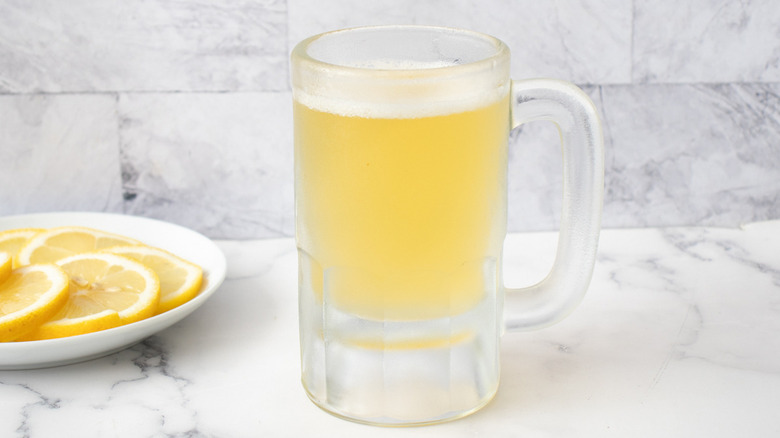 Patterson Watkins/Mashed
If you have room in your freezer for eight pint glasses, Watkins says it's best to start off with chilled ones. Once the glasses are nice and cold, pour half a (12-ounce) beer into each one, then top it with some lemonade (about ¼ cup per glass). Don't be too heavy-handed with either the beer or lemonade pours, as Watkins advises: "Make sure you leave ample room in your glass for a good scoop of water ice" so the drinks don't overflow.
Float the lemon ice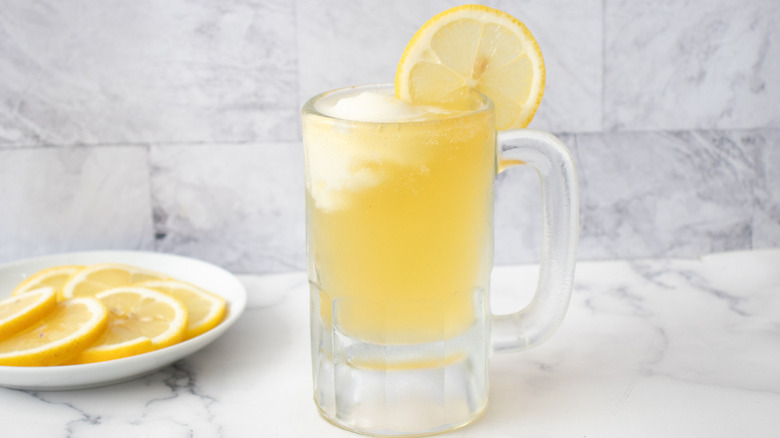 Patterson Watkins/Mashed
Scoop up about ¼ cup of the lemon ice and add it to each glass. While you want your ice to be as solid as possible, you may need to take it out of the freezer a few minutes ahead of time so it can soften to a scoopable consistency. Once all of the drinks are assembled, distribute the lemon slices as a garnish.
You can just make a single drink if you like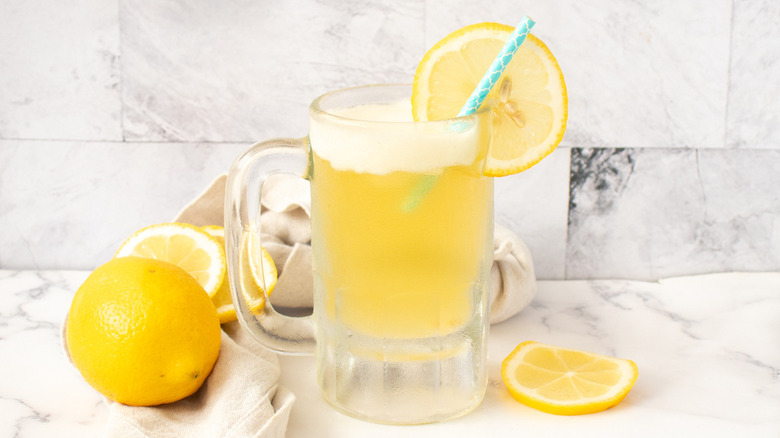 Patterson Watkins/Mashed
While this drink recipe makes for quite a generous amount, the shandies themselves don't really lend themselves to leftovers, as the beer would go flat and the lemon ice would melt if left to their own devices for too long. If you're not likely to have seven friends simultaneously stop over for drinks, you can simply reduce the recipe accordingly and use the amounts given on a per-glass basis. If you make just a single drink, you'll still have half a beer left over, but you can either drink this on its own or make two of these low-ABV shandies. A third option would be to buy a 6-pack of pony bottles, as each one contains just 7 ounces of beer.
Philly-Style Summer Beer Shandy Recipe
With a scoop of lemon ice in each glass, this Philly twist on the classic beer-and-lemonade shandy is even more refreshing for summer.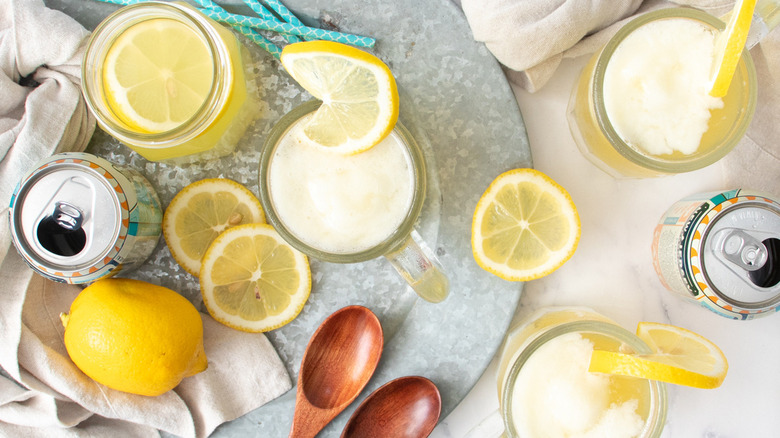 Ingredients
4 (12-ounce) beers
2 cups lemonade
1 pint lemon-flavored Italian ice
1 lemon, sliced
Directions
Chill 8 pint glasses.
Pour 6 ounces (¾ cup) beer and 2 ounces (¼ cup) lemonade into each glass.
Scoop ¼ cup lemon ice into each glass.
Garnish the drinks with lemon slices, and serve immediately.
Nutrition
| | |
| --- | --- |
| Calories per Serving | 85 |
| Total Fat | 0.1 g |
| Saturated Fat | 0.0 g |
| Trans Fat | 0.0 g |
| Cholesterol | 0.0 mg |
| | |
| --- | --- |
| Total Carbohydrates | 9.4 g |
| Dietary Fiber | 0.3 g |
| Total Sugars | 2.6 g |
| Sodium | 13.3 mg |
| Protein | 0.9 g |