Baked Beans Belong On Pizza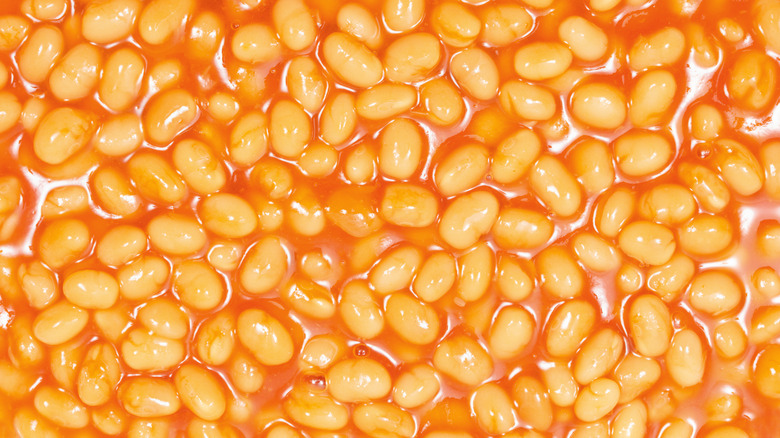 Bunhill/Getty Images
When it comes to pizza, what toppings you put on it is an entirely personal matter. Some ingredients, like pepperoni, are listed so often as a favorite pizza topping that it's more unusual to find someone who doesn't like the spicy salami on their pizza. Others, such as pineapple, strongly divide camps into those who love it and those who think it's an abomination. But the idea that baked beans belong on pizza may split people just as sharply.
Considering how delicious the combination of canned baked beans on toast with shredded cheese is, it's actually surprising that baked bean pizza isn't more of a thing. The taste of zesty beans along with tomato sauce, pizza dough, and cheese sounds pretty appealing, so it's not surprising that recipes for baked bean pizza began appearing more in the past several years.
Cookbook author Deb Perelman even created her own version called Pizza Beans as a way to convince her child to eat more beans. While it's not essentially a pizza due to the lack of dough, it uses pizza sauce and plenty of cheese, and the whole dish is broiled into melty goodness. She serves it on toast, but it would work equally well on a pizza crust.
The concept of baked beans on pizza may be newer to Americans, but for many in the U.K., it was a childhood staple.
Baked bean pizza was popular in the UK
Heinz first released its Baked Bean Pizza in the U.K. in the 1990s, and then it disappeared from existence in 2003. In 2017 someone started a Change.org petition asking for support to convince Heinz to bring it back. To the excitement and delight of fans of the tangy pizza, it was brought back for the month of November 2022 to celebrate Heinz's 150th birthday. "We know there are some true fans of our frozen Beanz Pizzas out there and — after a 20-year hiatus from supermarkets — we hope they're as happy today as we are to hear this absolute classic is available again in stores," Sophie Higgins of Heinz's Growth Platform, New Ventures told The Daily Mail.
For curious Americans who haven't had the chance to try a Heinz Baked Beanz Pizza, you can always make your own. It can be as simple as four ingredients: pizza dough, pizza sauce, one can of Heinz baked beans, and a mix of mozzarella and cheddar cheese. You can also experiment with different flavors of beans and cheese: hickory smoked baked beans with smoked mozzarella or spicy baked beans with pepper jack. Or try a twist on pepperoni with a can of franks and beans. Who knows, you might decide this is the next best topping since pineapple.