14 Tips To Elevate Canned Baked Beans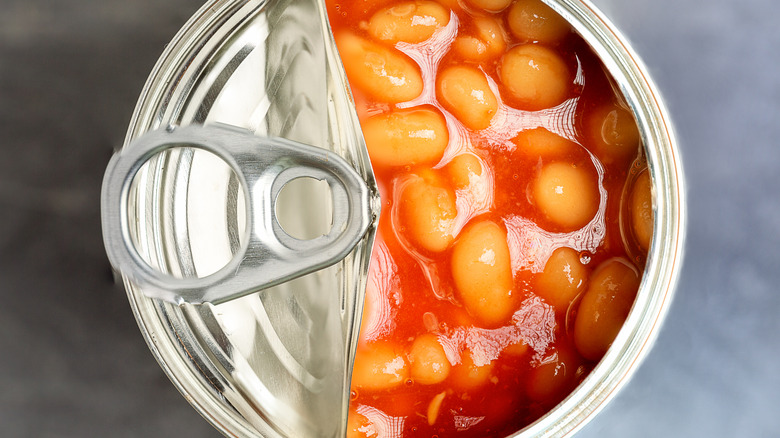 Gordonbellphotography/Getty Images
Sometimes you can't beat a simple recipe that's quick, easy, and tasty. If it's got a comfort food flavor, then even better. A can of baked beans can bring instant culinary warmth and, what's more, there are plenty of brands to choose from. One of our favorite brands happens to be Bush's Baked Beans, but there are plenty more out there to try. 
Of course, why stop there? Before you simply heat some beans on the stove, consider trying out a few ways to give baked beans a serious culinary upgrade. These tips will help to elevate canned baked beans and, with this sort of boost, you'll likely never look at this pantry staple in the same way ever again. You certainly won't cook with them in the same way, either. Just make sure you've got enough cans in your cupboard because you'll want to try more than one of these methods.
Wrap baked beans in puff pastry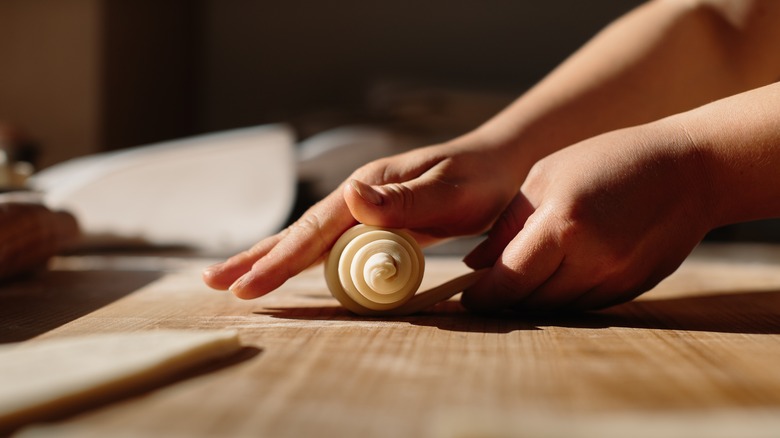 Dmytro Sheremeta/Shutterstock
Kids love baked beans, but you might now want to send your little one to school with a whole can. While beans are a good source of protein and high in fiber, baked beans also contain salt and sugar. Also, hot beans in a flask can prove to be a messy lunch that could also burn skin and stain clothes. 
Instead, there's a neater way: wrap those baked beans in a puff pastry wheel. Simply lay out a sheet of puff pastry (easily found in the frozen foods section of your grocery), then spread some beans on top. Sprinkle on some grated cheese, then roll the pastry up from the short edge to get several layers of dough inside. Press down on the edge to seal and then cut it into nine sections. Lay these on a baking sheet with the swirl facing up. Brush the top and sides with beaten egg, then bake in the oven until they puff up.
Give baked beans a meaty BBQ flavor
Our BBQ baked beans recipe is the bomb. That's because it's got a beautiful mix of smoky flavors — and bacon. Meat and a barbecue sauce transform the taste of a simple can of beans, while liquid smoke and the sweetness of onion enhance the flavor and create a rich sauce as you bake it all in the oven. The crispy bacon adds a delicious salty crunch. 
Bake beans with other yummy ingredients that evoke a similar flavor, like Worcestershire sauce, apple cider vinegar, and a barbecue rub. Try this with chopped-up salt pork or bacon.
You can also follow our slow-cooker cowboy beans recipe for a similar result. The secret ingredient: a couple of tablespoons of molasses, which gives the sauce a rib-sticking quality. Ground beef and bacon bring meaty flavor, along with a little jalapeño kick. You can also leave out the bacon and make a more intense beef bean bonanza.
Create Indian-style tarka beans
If there's one cuisine you probably don't associate with baked beans, it's Indian food. But if you think about it, there's not much culinary difference between a dhal and a spicy bean dish. Make crispy pappadams to go with spiced tarka beans that you've made from a can of baked beans. If you love the tradition of beans on toast, then you can serve tarka beans on naan bread, too.
Experiment with this spicy dish to produce something fiery hot or with a gentle, aromatic edge. Use ingredients that create the aroma of curry, including green chilis, ginger, cumin, and turmeric. Consider other additions like garlic, cinnamon, cloves, cilantro, fennel, or red chili powder. To keep your spicy beans cool add yogurt on top and a spritz of fresh lime juice. Make with red onion and marsala and serve for breakfast on toast with a fried egg on top. 
Cook a baked bean dip in the air fryer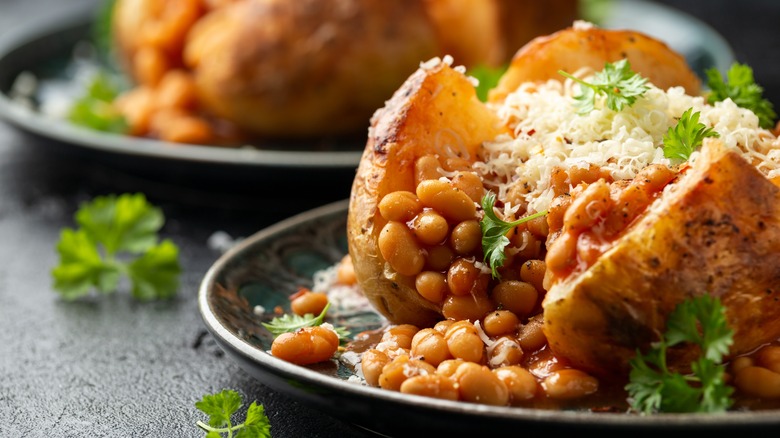 DronG/Shutterstock
Baked beans with cheese are a pairing that you can mix up in any way you like. You only have to imagine a forkful of beans with strings of molten cheese to feel hungry. Add baked beans and cheese to a baked potato or enjoy our cheesy beans on toast recipe which is no more complex than toasting some bread, buttering the slices, and pouring beans over the top. All you need to do then is sprinkle a generous amount of grated cheese over everything and chow down.
To elevate canned baked beans you could make a cheesy baked bean dip. Even better, bypass the pan and stove and cook it in a serving ramekin in your air fryer. What's great about this tip is that you can use a wide variety of ingredients. Mix in some minced garlic and herbs, for instance. For protein, make a well in the middle and crack an egg in it. Of course, you can always crumble on some cheese. Toast some bread and cut it into strips that you can dip into the eggy, cheesy beans.
Top nachos with baked beans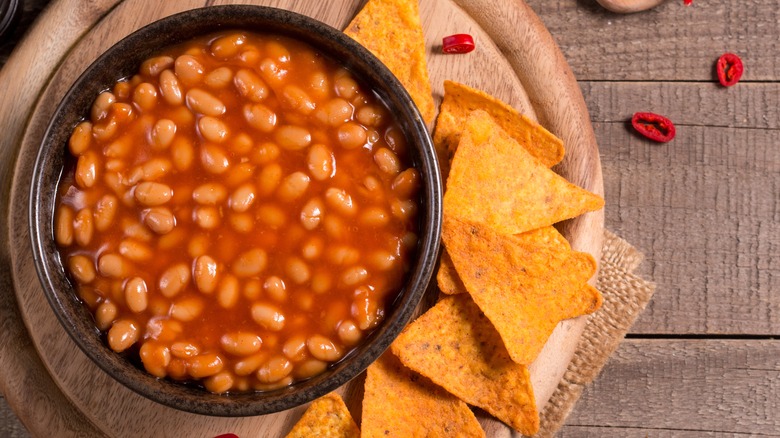 CreatoraLab/Shutterstock
There's nothing like a fusion of culinary traditions to give a simple food an enhanced flavor. Baked beans are great when they are spicy, so it shouldn't be too much of a stretch to imagine how good they could be in a Mexican-style dish. After all, nothing is stopping you from spooning a few beans in a tortilla instead of refried beans or adding them to a taco. But have you thought about turning them into a topping for nachos?
It might sound strange, but all you're doing is swapping out the classic toast for tortilla chips. This is a great idea if you want a quick snack that kids will love that you can make without too much fuss. Add a layer of tortilla chips to a dish and spoon baked beans from the can straight on top, making sure that they are evenly distributed. 
Sprinkle on some grated cheese and bake until it melts. Add whatever other toppings you like, such as salsa and chopped jalapeños. You could always try making our breakfast nachos recipe but, instead of using black beans, why not swap in baked beans? Given that baked beans are traditional in British breakfasts, this isn't much of a stretch.
Sprinkle in dried herbs and spices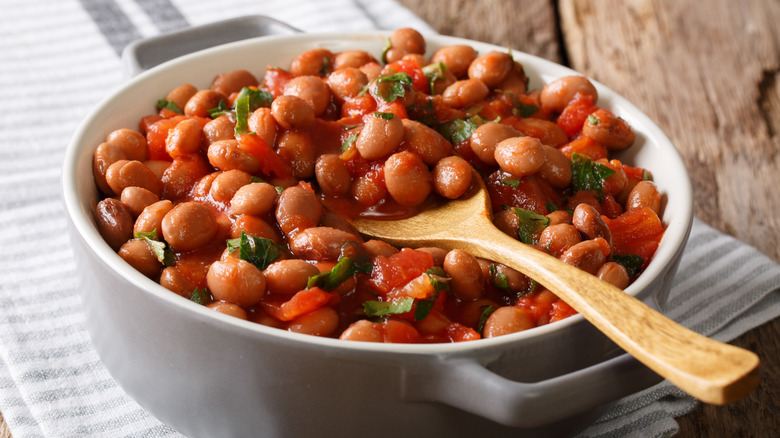 AS Foodstudio/Shutterstock
If you want to add a few more layers of flavor to your canned baked beans, you don't have to create a brand-new dish. Beans can still be the star, with a few other ingredients added as you warm them up on the stove. You don't need to buy any expensive products either. Just reach into your cupboard or peruse your herb and spice collection.
Try heating some beans in a pan with a little oil and then add smoked paprika, chili flakes, and some dried mixed herbs. Simmer for a few minutes to cook through and serve as a side. You could also kick up the heat with some curry powder and dried coriander. What about adding dried parsley and cayenne to make baked bean burgers? Or combine mixed herbs and paprika with stock, veggies, and tomato puree for a baked bean version of a stew. Baked beans go great with meat, too, so why not follow our breakfast sausage recipe and serve them with your herby spiced beans?
Bake with condiments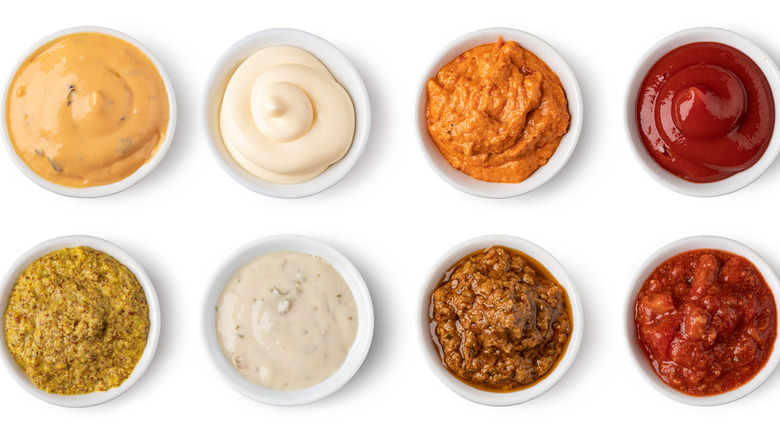 gresei/Shutterstock
Cans of baked beans are worth stocking up on because they are so versatile and are such a great staple. To pep up the flavor you don't need to reach for gourmet ingredients, either. A good dollop of ketchup and spicy brown mustard works wonders, as does maple syrup. If you stir in sugar and chopped onion and layer raw bacon on top before baking, then you've got a heck of a tasty baked bean dish. You can also make the same bacon-topped beans with regular yellow mustard. 
Another condiment to consider: Marmite. Yes, this is a love-it-or-hate-it spread, but when you add it to stews and baked beans you might become a fan. When you add it to a dish, Marmite can lend a salty depth of flavor and deepens the color, too. So, the next time you're heating beans on the stove add a teaspoon of Marmite and some dried spices, too.
Make a cheesy bean bake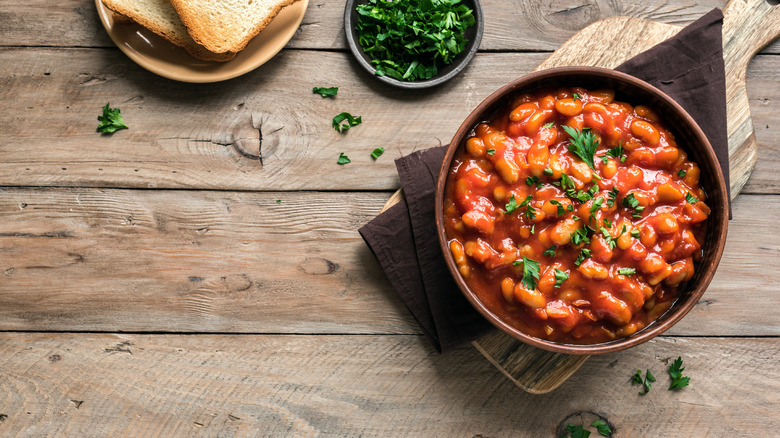 Oksana Mizina/Shutterstock
If baked beans remind you of childhood suppers and you want an elevated taste of nostalgia then pair them with some potatoes and c cheese to create a cheesy bean bake that you can serve in the middle of the table. It's the perfect weekday family meal that everyone can enjoy. To make it, simply add baked beans to a casserole dish and cover evenly with mashed potatoes. Sprinkle grated cheese and halved cherry tomatoes on top, then bake in the oven. You can also add hot milk to the potatoes and additional cheese for a creamier texture.
In another variant, layer thin slices of potato in a greased baking dish. Cover with baked beans and grated cheese. Add another layer of potatoes before adding beans and cheese again. A third lot of potato slices goes on top. Heat cream with stock, then ladle this on your bake. Put it in the oven, then add one more round of grated cheese and pop this back in for another few minutes to let it get brown and bubbly on top.
Add chorizo to baked beans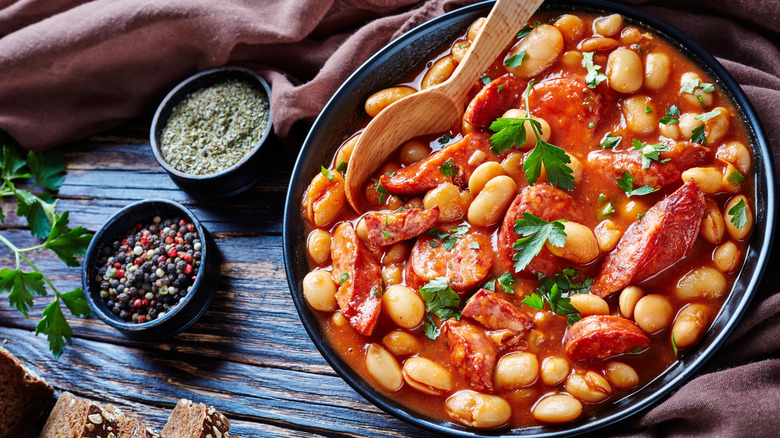 from my point of view/Shutterstock
The salty, spicy, fatty flavor of chorizo sausage is undeniably delicious when it's served as part of a charcuterie board and is downright fantastic in a hot dish such as Mexican breakfast casserole. While this recipe uses black beans, you can also combine chorizo with baked beans to elevate the result. If you want to keep the flavor of Mexico in the mix, add hot sauce with cilantro. To contrast with the heat, top with a spoonful of sour cream and serve with crunchy nachos.
Fried chorizo releases plenty of oil, which can be useful for cooking other ingredients, too. Chop chorizo into cubes and fry with diced white onion and green onion. Add a can of baked beans, stir, and heat through. Serve with toast for elevated beans on toast. Whenever you're upgrading your baked beans, ask yourself whether a helping of spicy and seriously flavorful chorizo might boost the flavor too.
Enjoy baked bean pizza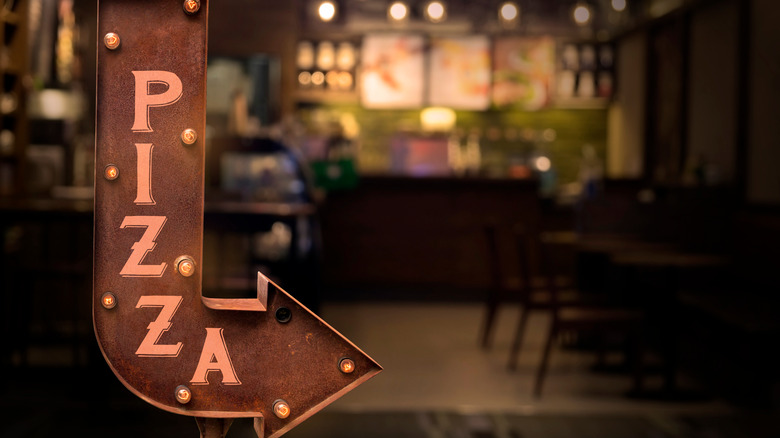 Nacimert/Shutterstock
In 2022, Heinz announced that it was bringing back its frozen "Beanz Pizza" to U.K. consumers after a break of 20 years. Yes, Brits were happily munching on baked bean pizzas decades ago. And the canned bean giants are also adding baked beans to burgers and hash brown ready-made meals.
Keep your at-home bean pizza simple by adding pizza sauce to a dough base and then covering it with canned baked beans before sprinkling with cheese and baking it in the oven. Consider this an Italian-American version of beans on toast with cheese. 
For extra credit, make your own pizza dough and stretch it out with a thick edge to stop the saucy beans from running out. Add cheese and chopped chili peppers, then brush the dough with olive oil before baking. You might also try a pizza-style version with bagels. For this, add beans to a pan with garlic, paprika, butter, Italian herbs, tomato puree, and some pepper. Spoon onto lightly toasted bagel halves with chopped-up cooked sausage and cheese. Broil for a few minutes and prepare to be converted.
Make baked bean shakshuka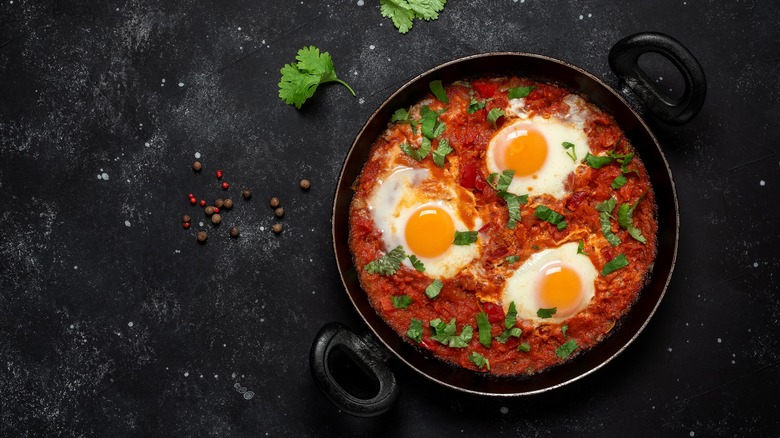 Yulia Gust/Shutterstock
If you can add Indian, Mexican, and Italian culinary influences into baked bean recipes, then what about Middle Eastern cuisine? Our simple shakshuka recipe combines veggies with spices, crushed tomatoes, and eggs in a skillet and is fabulous served at brunch with crusty bread. Since baked beans pair so well with tomatoes, eggs, and spicy flavors, you can easily elevate them by adding them to this classic dish.
Try frying some mushrooms and bacon bits before adding the tomatoes and baked beans. You can use baked beans instead of tomatoes too. Keep the ingredients simple by adding chopped green onion, whole cumin seeds, and some chili oil for an extra hit of flavor. 
Towards the end of the cooking time, break the eggs into the beans and cover so that the whites cook through. If you don't have lots of different spices then season tomatoes with a stock cube and some curry powder after frying an onion. After adding the beans and cooking the eggs sprinkle on some fresh coriander for a burst of color and flavor. However you make your shakshuka, baked beans go so well with the other ingredients that we think you'll want to add them every time. Want to test it out? Turn our 3-ingredient shakshuka recipe, which is great served on toast, into a four-ingredient dish with some baked beans in the mix.
Bake baked bean breakfast muffins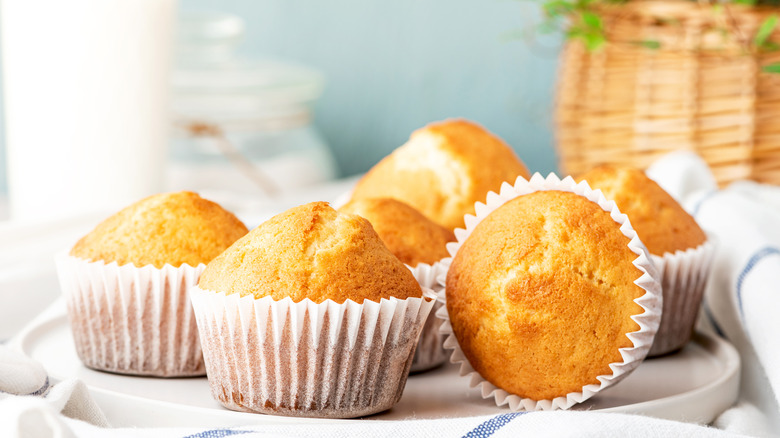 Svetlana Monyakova/Shutterstock
Baked beans on their own are already plenty comforting as part of a weekday light dinner or a warming weekend supper. They are also a classic breakfast food, but that doesn't mean you have to just add a spoonful on the side of a traditional Irish breakfast with egg, hash browns, and tomato. So, think outside the frying pan and grab a muffin tin.
To make baked bean muffins, first press hash browns into the bottom of each muffin cup so that the potato covers the base. Spoon on baked beans and chopped tomatoes. Fill the cups with eggs that you've whisked up with some spinach. Crumble on some cheese and bake in the oven. 
This meal is especially wonderful because it takes far less fuss than making a full breakfast. If you don't have any ready-made hash browns, don't worry, as they are easy to make. You only need a large russet potato, seasoning, pepper, and olive oil to follow our hash brown recipe.
Serve baked bean chutney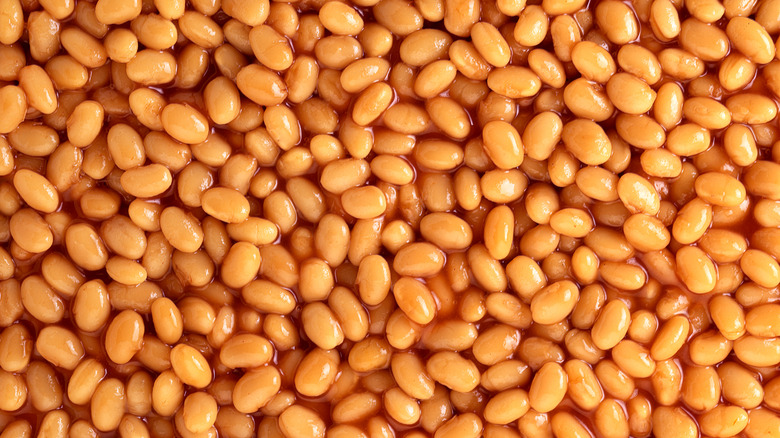 CKP1001/Shutterstock
Our sweet and savory mango chutney recipe showcases not only mangoes but the sweetness of maple syrup and heat from paprika and red pepper flakes. Incredibly, you can combine some seemingly basic ingredients in one seriously flavorful side. Yet one ingredient you probably don't associate with this condiment is a can of baked beans. However, they could be key, especially when you learn that you can turn those beans into a wonderfully flavorful chutney without any cooking at all.
For an ultra-simple chutney, mix baked beans with chopped raw onion, tomatoes, and green chilis. Season with salt and pepper, and add a little sugar plus some ground coriander. Serve on the side or with a hunk of toast. For a variation, fry onion, garlic, and curry leaf with ground spice and marsala mix. Add chopped tomatoes, salt, and water, and then baked beans to warm through.
Add baked beans to pasta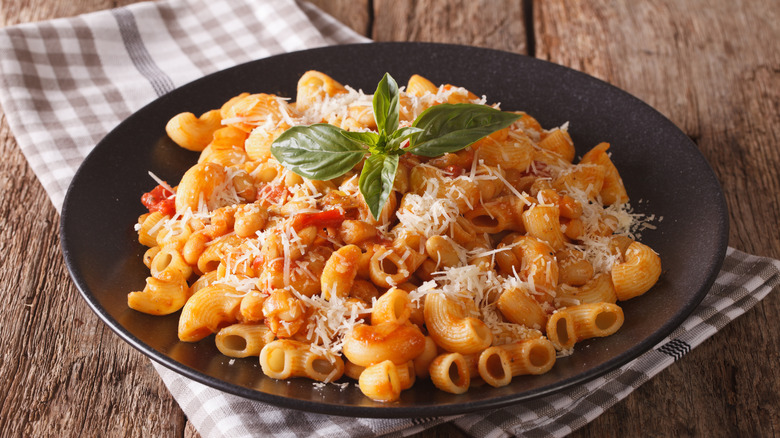 AS Foodstudio/Shutterstock
If you're already sold on the idea of adding beans to pizza, then you're surely ready to expand your Italian-baked bean repertoire even further. Believe it or not, baked beans and pasta are an established thing. There are many variations to choose from, many of which appeal to vegetarians and other plant-based diners. For instance, a classic pasta e fagioli combines three types of beans and pasta shells into a rich soup. Why not bring baked beans to the table?
Fry onion with spices before adding a can of baked beans to a pan. Mix in cream and some of the pasta water to create a super-creamy and delightfully thick pasta sauce. You can also add baked beans to tomato sauce with some diced or crushed tomatoes and red onion, then load that mixture into a baking dish with half-cooked pasta. Bake this in the oven with vegan cheese for a meatless and dairy-free meal. For a meatier bake, fry ham and onion, then combine with nearly-cooked pasta and baked beans. Top with cheese and bake in an ovenproof dish.