Unique Fast Food Combinations That Belong On Menus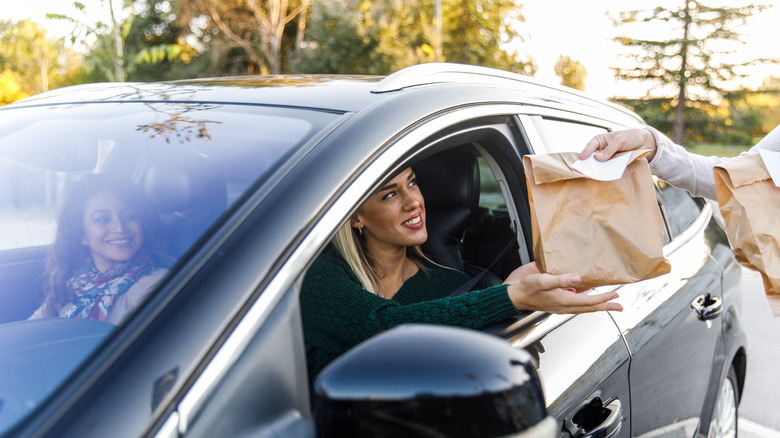 Fotostorm/Getty Images
There are many things that could be said about fast food restaurants, but one thing's for sure: At the very least, they have reasonably consistent menus. When you walk into your favorite burger joint or chicken chain, you likely already know what you're going to order.
But for the working fast food cook, preparing the same things day in and day out must surely become a little monotonous. Perhaps this is why behind-the-scenes experimentation by employees often occurs. Little do many consumers know, the edible staples, spices, and sides we think of as being cemented in stone are often secretly changed in the recesses of some of our favorite fast food kitchens and turned into brand-new edible creations. While most of these combinations are developed in good fun, some of them end up being accidental strokes of culinary genius, leading us to wonder if the chains themselves should consider recreating and bringing a few of them on officially. Here are some original, unofficial fast food creations that belong on menus.
American Cheese Corn Dog from Wienerschnitzel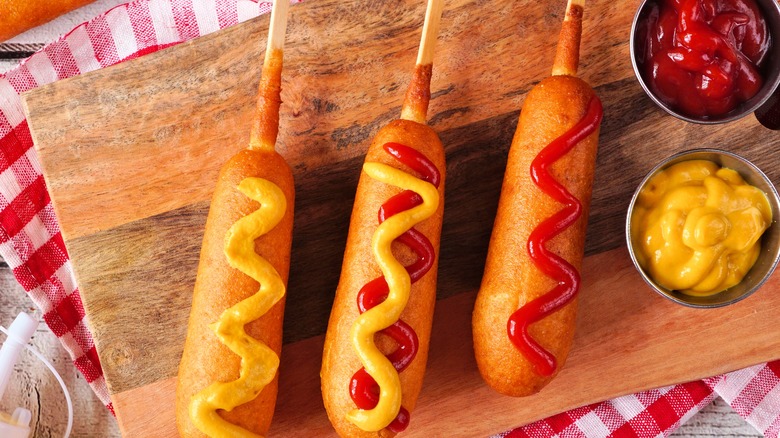 JeniFoto/Shutterstock
Corn dogs are an American classic, originating on the Oregon Coast in the 1930s. The deep-fried hot dog on a stick rose to popularity quickly, and now Wienerschnitzel — the chain known for its numerous hot dog variations — offers one of these breaded treats on its menu. It would seem as though the restaurant's corn dog — with its honey-battered coating and mustard-drizzled top — couldn't get any more delicious ... but we may just stand corrected.
A former employee on a Reddit thread titled, "Fast food workers of Reddit, what are some unique concoctions you've made...that aren't available on the public menu?" has blown our minds with a description of the distinctive corn dog variant they invented while working in the kitchen of the hot dog chain. It involved peeling open the breading of a regular corn dog and carefully removing the hot dog and stick. Then, a slice of American cheese from the fridge was wrapped around the meat. Finally, the newly blanketed frank was reinserted by the employee into its original breaded outer coat, closed again, and deep fried. The result? A corn dog with a gooey, melty layer of cheese surrounding the meat in the middle. Would we drop everything and head to the nearest Wienerschnitzel immediately if this version were added to the menu? Yes ... yes, we would.
Doritos Cheesesteak from Jersey Mike's
A cheesesteak is a mouthwatering hot sandwich originating in Philadelphia. Super thin slices of meat, generally steak, are cooked up, covered in melted cheese, and slid into a toasted hoagie roll or bun. Jersey Mike's, the popular sandwich chain, offers a number of delicious cheesesteak options on its menu, including variations with chicken, bacon — even portobello mushroom steaks. However, one variant you will not find listed among Jersey Mike's hot subs is one that is held only in the minds and stomachs of its staff ... the Doritos cheesesteak.
Fortunately for all of us, a former employee of the sandwich chain took to Reddit to describe this heavenly mashup to the masses. First the meat — either chicken or beef — is prepared using onions, peppers, jalapeños, and a crunchy, unexpected addition ... crumpled up Doritos from the mini bags that come as a side with orders. Added to the meat while cooking, the distinct and delicious flavor of the popular chips permeate the sandwich filling. Salty cheese is melted on the top while bread is prepared with a quick toasting and a dollop of the chain's delicious spicy chipotle mayo. After the Dorito-meat is placed within its vessel, the result is a crunchy sandwich creation that many consumers would no doubt pay to sample.
Mint and Reese's Peanut Butter Cup Blizzard from Dairy Queen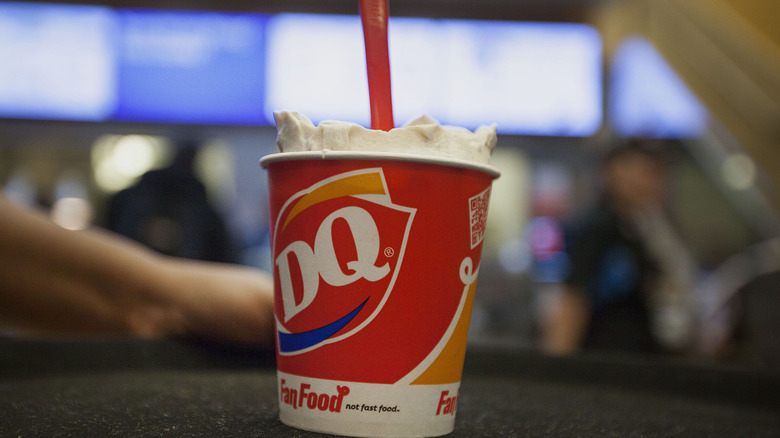 Bloomberg/Getty Images
Dairy Queen's signature Blizzards are combinations in and of themselves when you think about it — at their core, they are ice cream mixed with candies, chocolates, or pastries. There are Snickers Brownie Blizzards, Turtle Pecan Cluster Blizzards, M&M Blizzards, Royal New York Cheesecake Blizzards ... but have you ever heard of a mint and Reese's Blizzard? Neither had we.
While not an official offering on the Dairy Queen menu, the bizarre yet oddly satisfying ice cream and candy combination was created by a former employee and their coworkers one summer while in the kitchen letting their creativity soar. Using a standard Reese's Peanut Butter Cup Blizzard — typically made with chunks of the popular milk chocolate candy stirred into vanilla ice cream — and mint derived from the now-discontinued Mint Oreo Blizzard, a pairing many aren't quite sure about came into existence. "Peanut Butter and mint?" asked a Reddit user responding to the admission. "I'm equal parts disgusted and really wanting to try it." We'd say that whether or not the peculiar combination sounds appealing to you personally, one thing is probably certain: Curiosity alone would likely bring people into the restaurant just to try the mentally throwing flavor for themselves.
Nut Butter Frozen Yogurt Waffle from Jamba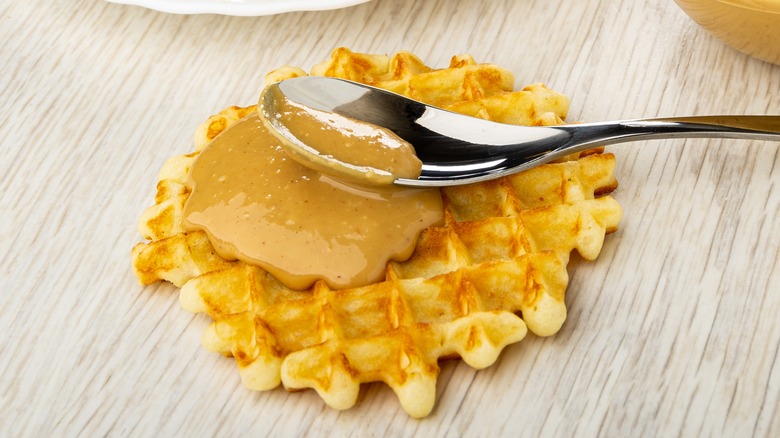 Evgeny Tomeev/Shutterstock
Jamba, formerly known as Jamba Juice, is perhaps more well known for its liquid calories than for its solid ones. With a menu full of smoothies, iced matcha beverages, and yogurt parfaits, one can expect to exit the chain restaurant with a refreshing, blended concoction in hand.
However, when one Jamba customer on Reddit evidently craved something a little more solid one morning, they explained the way in which a creative employee at their local location stepped in and invented something on the fly which required a fork as opposed to the standard spoon or straw. First, the worker extracted and warmed some of the large chunks of waffles which come in both Jamba's Peanut Butter and Banana Waffle Bowls and the Belgian Waffle Yogurt Parfaits. Next, he laid them on a plate and spread them with two different nut butters generally used as add-ins for protein smoothies: peanut and almond. Finally, he topped the waffles generously with chilly, probiotic-filled vanilla frozen yogurt. Not only does the combination sound delicious, but it becomes even more appealing when you consider that it would make a very filling and nutritious treat to help you power through the day. We could definitely see a winning Jamba breakfast hit with this one.
Mashed Potato Meatballs from KFC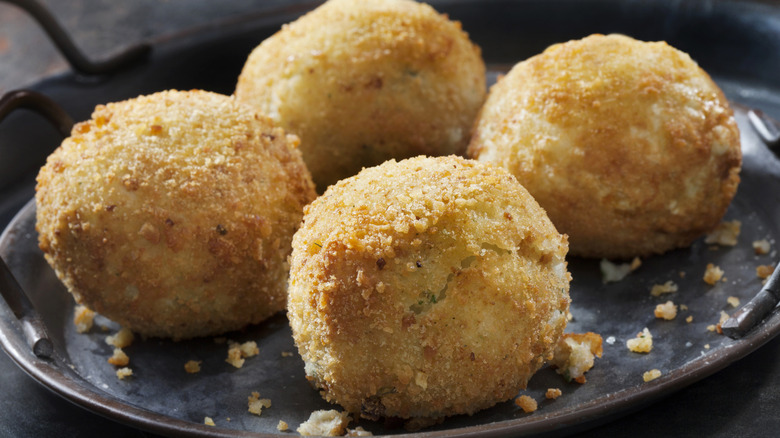 Lauripatterson/Getty Images
KFC has two current potato sides available on its menu; The Secret Recipe Fries, and the Mashed Potatoes and Gravy. However, an additional and unique spud invention created by employees behind the scenes using the latter, creamy potato dish as inspiration sounds so delicious that it has us wondering whether or not the world-famous franchise should consider including a third.
A Reddit user — as well as a KFC kitchen employee — described what they and their coworkers felt compelled to try during a shift in the fried chicken chain's kitchen. They grabbed lumps of prepared mashed potatoes and balled them up, coating them generously with breading. The deep fryer was set to crispy, and the newly battered potato chunks were thrown in. After a few minutes, the result was pulled out of the sizzling hot oil ... and the KFC potato meatball was born. Of course, the group of culinary pioneers then finished their edible invention off with a slathering of gravy — because naturally, any freshly invented potato side of Kentucky Fried Chicken wouldn't be complete without it.
Grilled Chicken Wrap Deep Fried Burritos from Sonic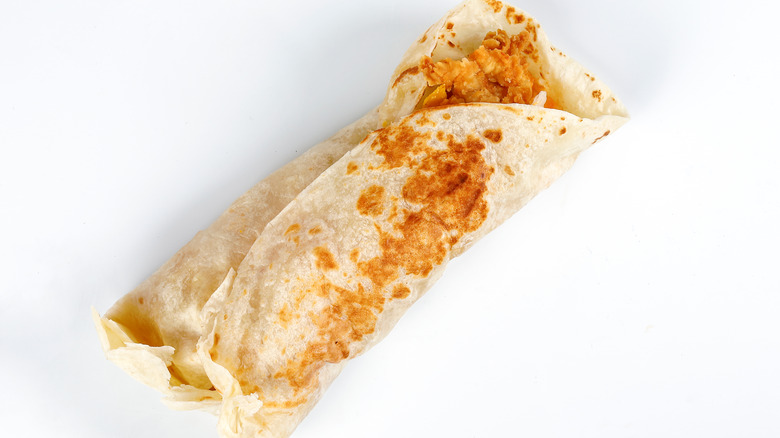 Oqbas/Shutterstock
At the drive-in restaurant chain known as Sonic, the famous carhop waiters will occasionally skate out an order of the Grilled Chicken Wrap to a customer's car. The roll-up's elements include chicken chunks, shredded lettuce, juicy tomato, and ranch dressing housed in a soft flour tortilla shell.
Apparently, some hungry Sonic workers were craving a tortilla-based meal with a little more of a kick and had an epiphany: Why not utilize that large soft shell for a different culinary purpose? That's right — burritos. A redditor who works at Sonic shared that once the group stripped the tortilla off the wrap, they threw in a mix of different desirable ingredients pulled from the kitchen stores: sliced onions, spicy jalapeños, savory cheeses, different meats, and complimentary sauces. Once they ensured that both sides were sealed well to avoid any of the new inspired filling spilling out, they threw the new tortilla combination into the deep fryer to melt the cheese within and create what the user described as being a creation with a "phenomenal crunch." That's one noisy bite we feel lots of hungry customers would happily park their cars at Sonic for.
Pizza Dough Soft Pretzels from Domino's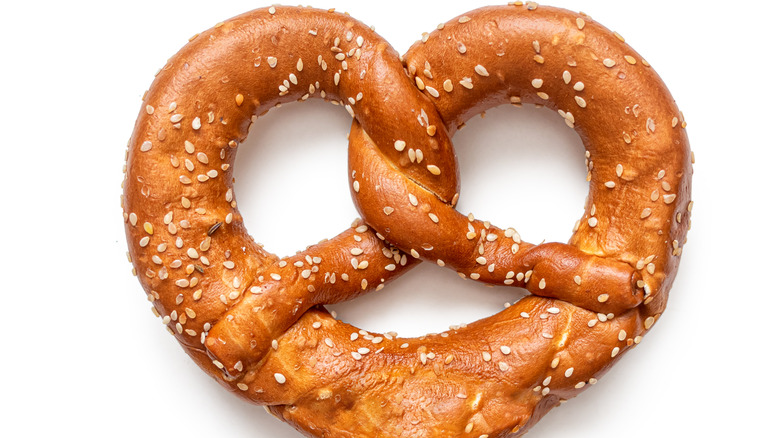 roundex/Shutterstock
Arguably the most important part of the ever-essential pizza — the dough — starts with a few basic elements: flour, water, yeast, oil, and a pinch of salt. Before all the flavorful additions and toppings are piled on, pizza dough itself is actually a rather basic formula — which means the possibilities for what it could be used to create are virtually endless.
This can lead some adventurous, creative kitchen employees to try new things with the clumps of yeasty, stretchy potential. And one redditor had an idea that only a true foodie would come up with: Why not use the dough to create soft pretzels? In the subreddit r/Dominos, the poster and Domino's employee described one of his favorite treats to make on a slow day in the kitchen. Pan dough is rolled out, morphed, stretched, and bent into the quintessential shape of a pretzel before being baked. When it's done, those tiny, pre-filled cups of marinara sauce we can all visualize from past pizza orders are ripped open, becoming the most perfect sauce to pair with the bready masterpiece we are suddenly really, really wishing was available for order at Domino's.
Cinnamon Twist Mac and Cheese from Taco Bell
Ahh, the Taco Bell Cinnamon Twists. One of the chain's few sweet treats is made with fried corn-based spirals which are sprinkled with spicy cinnamon and crystallized sugar. But what happens when those frozen, pasta-like twists are prepared differently and made savory as opposed to sweet? A creative combination for the books, is what.
One innovative Taco Bell employee had an idea for a completely different dish using the Cinnamon Twist spirals as its base, and after executing it successfully, took to Reddit to share it with the world. Generally, the Cinnamon Twists are fried to create their crunchy exterior, but on the day of the culinary discovery, the employee chose to prepare them using a different method — dunking the frozen spirals in a hot tank of water to soften them instead of crisp them. Then, once the "noodles" were tender, the employee removed them and stirred in hot nacho cheese instead of the usual, cinnamon-sugar topping. After a few other craveable additions to be found in the Taco Bell kitchen were mixed in — voila. The employee had a brand new, Southwestern-inspired bowl of mac and cheese. Can someone get this person on Chopped, please?
Hot 'n Spicy Filet-O-Fish from McDonald's
The origin story of the combination of two popular McDonald's sandwiches is one that is completely and totally accidental, coming in the form of a mistaken order. "Had a customer come through upset that their filet o fish was spicy," explained a McDonald's employee on Reddit to shine light on the curious and coincidental mash-up. Normally, the celebrated McDonald's sandwich made with a breaded pollock patty is mild and, well, fishy tasting ... not strongly spiced.
The employee checked within the folds of the bun and drippy tartar sauce to get to the root of the problem and found something out of place — a spicy McChicken patty was slid inside the sandwich instead of a fish one. "We all laughed including her," the employee continued, ending by sharing their ultimate inspiration for recreation. "Opted to make one later for myself. Now my go to." Our mouths are watering just thinking about how a Hot 'n Spicy patty paired with the bun and toppings of the popular fish sandwich would taste. Take notes, McDonald's menu developers.
Meat and Cheese Everything Bagel from Starbucks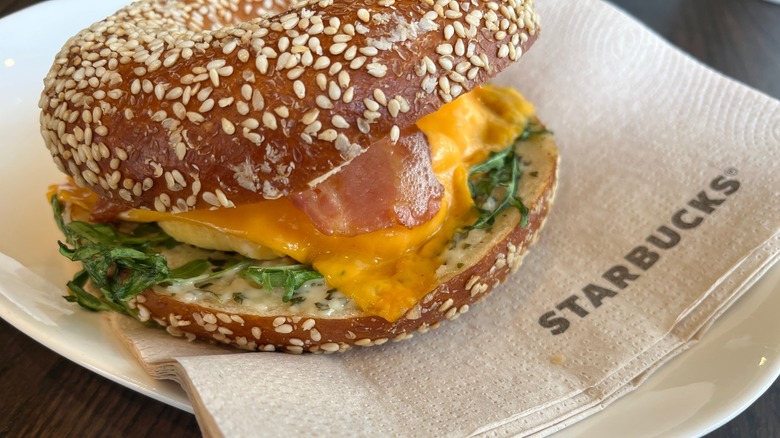 Mindaugas Gelunas/Shutterstock
Sometimes it is the simplest of combinations that yield the most incredible results and make the rest of us wonder, "Why didn't I think of that?" This mashup coming from a hungry, innovative barista at Starbucks is truly genius in its simplicity, combining the perfection of an earthy, seedy Starbucks everything bagel with the contents of a delectable Creminelli Snack Tray.
The Creminelli Snack Trays are double-sided rectangular plastic plates containing both slices of salami and Monterey Jack Cheese. While they make a decently filling protein-heavy option for an on-the-go snack, one employee of the world-famous coffee chain took things a step further and created a full-on meal. On a Reddit thread titled "Favorite food creations?" under r/Starbucks, one employee detailed how she would often set the toaster to "medium," grab an everything bagel from the bakery section, and load it up with the components of a meat and cheese tray. The result was a melty, gooey, perfect open-faced breakfast sandwich we feel pretty confident famished customers of Starbucks would line up for. We certainly know we would.
Breakfast Burrito Quesadilla from Chick-Fil-A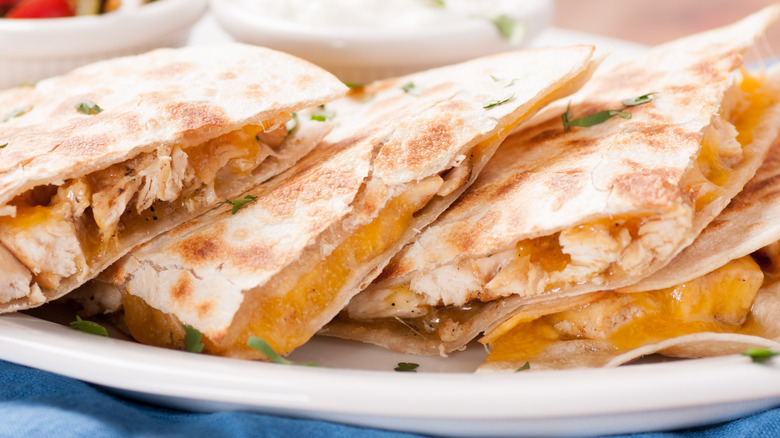 Wirestock/Getty Images
Chick-Fil-A is best known for juicy chicken sandwiches, Chick-n-Strips, Cool Wraps, creamy mac and cheese, and Waffle Potato Fries — not quesadillas. That's because there's never been one on the menu ... at least, not officially. But as it turns out, employees of the chicken chain's kitchen have been whipping up their own, secret version of the cheese-and-meat-filled tortilla delicacy for years.
According to multiple threads on Reddit, employees have often utilized the tortilla shells that come surrounding the restaurant's breakfast burritos as the basis for personalized quesadillas. Pulling shredded cheeses, black beans, corn, and lettuce from salad kits, as well as cut up Chick-Fil-A patties or strips and sauces, delicious grilled quesadilla combinations were prepared not only for hungry working staff — but even reportedly for customers, on occasion. "They made me a custom chicken quesadilla," reads one customer thread on Reddit. If people are asking, and employees are making, it could be taken as a sign that the Chick-Fil-A Breakfast Burrito Quesadilla should be given some serious consideration.
Cinnamagic Pizza and Cinnamon Rolls from Domino's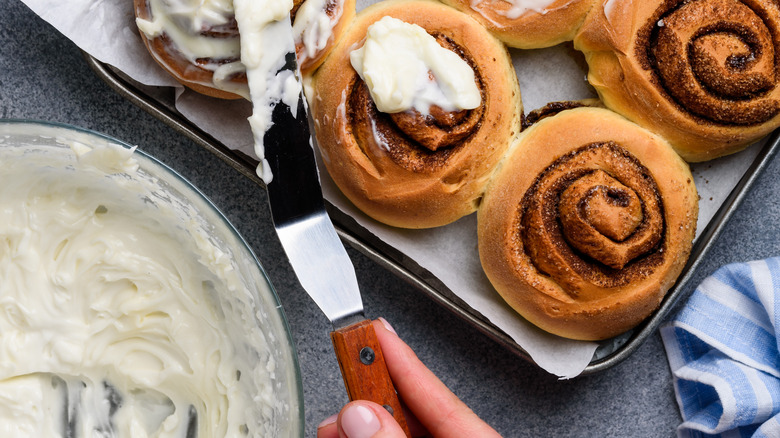 rom_olik/Shutterstock
Domino's employees across the Internet have admitted to using pizza dough balls to create their own culinary inventions and bizarre mashups. But since the addition of cinnamon, sugar, and sweet white icing (the combination playfully referred to as "cinnamagic" by employees) into the pizza chain's kitchens for use on the company's signature Cinnamon Bread Twists, kitchen staff has become inspired anew to create a slew of sweet pastries — two of which include cinnamon rolls, and the "cinnamagic" pizza.
"I love to make cinnamon rolls," said one employee on Reddit. "...put some cinnamagic on the long strips of dough and roll it up." This first combination of in-house Domino's crust dough and sweet toppings does sound delicious, but so does this next item, named after the title of the Reddit thread under which it is found. "Ever made a cinnamagic pizza?" it reads, featuring an image of a huge, round, icing-covered pizza-like pastry sprinkled with cinnamon and topped with pineapple chunks. Regardless of which of these recipes appeals to you more, you have to admit — cinnamon and pastry is always a combination worth exploring — and eating. Who knows? Thanks to the thinking of some gifted employees, maybe we'll see a few new sweet additions to the Domino's menu in no time.