Dutch Bros' Fall Menu Is Somehow Late (Even Though It's Not Autumn Yet)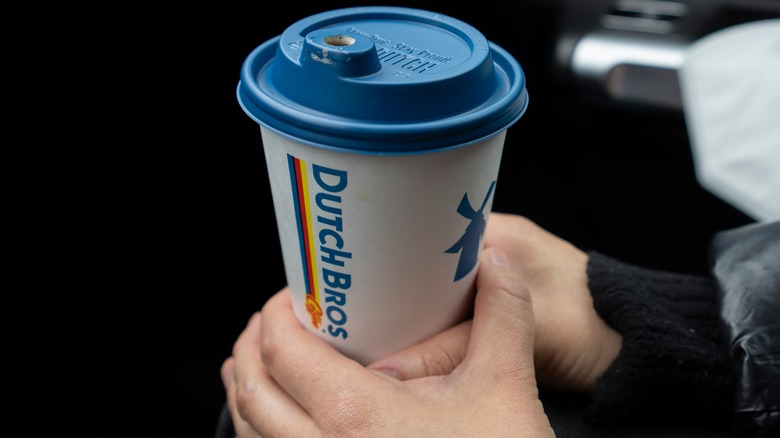 Tada Images/Shutterstock
Fall is officially arriving at Dutch Bros Coffee, even though it's a bit late to the pumpkin spice party. The Oregon-based coffee chain has finally released its fall drink lineup, just in time for the beginning of September. Its selections join those of other chains that have already revealed much-awaited autumn beverage menus in the past couple of months. In addition to Dunkin' bringing back pumpkin and maple fan favorites in August of this year, Starbucks leaked its fall 2023 menu at the end of July.
In an official press release on September 1, Dutch Bros Coffee finally announced its featured drink menu, available now until October 31. The drinks lean heavily into all things pumpkin, with a dash of other seasonal classics like cinnamon and caramel. The menu also notably features the return of the Caramel Pumpkin Brûlée, which can be ordered three different ways — hot, cold, or frozen. Additionally, there's the second appearance of Sweater Weather Chai, which comes hot or iced and features co-mingling flavors of white chocolate and cinnamon. Lastly, there's the Pumpkin Pie Frost, the chain's take on a pumpkin pie-flavored milkshake, which is topped with whipped cream.
The fall beverages feature many returning favorites
Dutch Bros fans may recognize the Caramel Pumpkin Brûlée. The chain first rolled out the drink back in 2020 and it has become a seasonal favorite with a delicious blend of pumpkin and caramel. It also comes in a few varieties: A Breve (the chain's creamier version of a latte made with half-and-half), a Freeze (Dutch Bros Coffee's take on frozen blended coffee), and cold brew. Topping off the drink is the chain's signature Soft Top, aka pumpkin drizzle and raw sugar sprinkles.
The Sweater Weather Chai is another comeback. First introduced in fall of 2022, the drink offers a unique mix of chai, white chocolate, the proprietary Soft Top, cinnamon sprinkles, and a double shot of Dutch Bros' unique white coffee. This espresso option is made of coffee beans that have been roasted low and for half the normal time, allowing drinks an even higher caffeine content while lending it a nuttier flavor. Last fall, one fan on Twitter compared the taste to marzipan, but was ultimately ambivalent in their reaction.
The final limited-edition, fall-themed drink — the Pumpkin Pie Frost — is a veteran of the Dutch Bros Coffee seasonal menu. The chain advertised this milkshake back in 2015, and since then, it's picked up many loyal fans over the years. With a mixture of pumpkin, sugar, and spice, Dutch Bros appears to be prepared for fall, even if its announcement is a bit tardy.